In 1984, Michael Jordan stepped onto the court wearing his first-ever signature shoe. Though His Airness may have hated it at first, the Air Jordan 1 would go on to launch one of the most successful sneaker lines of all time. Over the past 35 years, Jordans have played an integral role in sneaker culture. They have been a gateway for many sneakerheads to learn more about the story behind a shoe, as well as a rite of passage for any collector to own a pair (or 23).
With that, some of the most expensive Jordans of all time have been created. As you would expect, over the past three decades there have been some eye-watering prices paid for rare Jordans. Believe us, there are rare Jordans and there are rare Jordans. With that in mind, we thought it was about time that we put together a list of some of the most expensive Air Jordans ever sold.
We'll be covering everything from sample Jordans to game-worn Jordans, and every kind of Jordan in between. Without further delay, let's take a look at some of the most expensive Jordan shoes ever sold.
Jordan 11 Derek Jeter – €37,500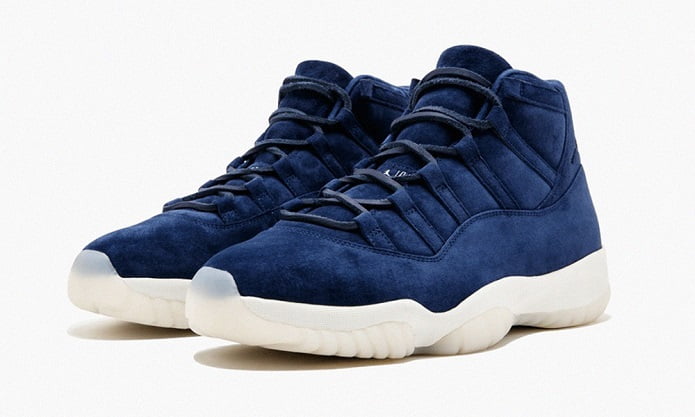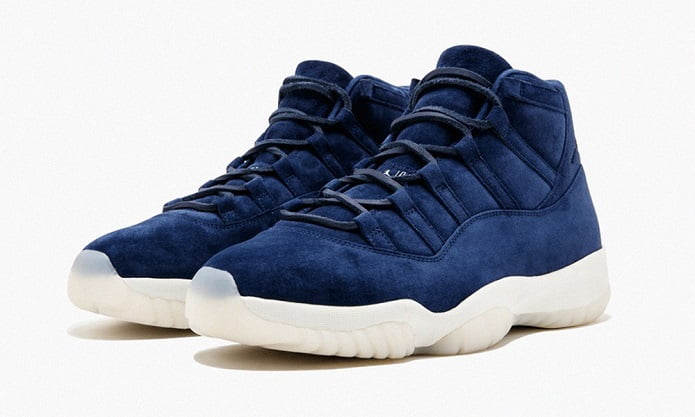 When Derek Jeter announced that he would be retiring from Major League Baseball in 2014, the sporting world was left downhearted. After spending his entire 20-year career with the New York Yankees, and winning countless accolades, the Hall of Famer had finally called it a day. In order to celebrate, Jordan Brand treated a select few fans to one of the rarest Jordans of all time.
Draped in a premium navy suede, these Air Jordan 11s were the pinnacle of luxury. Thick leather rope laces, a completely white midsole and white outsole, as well as Jeter's number 2 on the back, made these the perfect sneaker for any Yankees fan. Housed in a navy box with "Jeter's New York" on the front, the shoes came included with a flag with Jordan brands message for Jeter "RE2PECT". However, with only five pairs raffled of to the public, chances of owning a pair were slim.
A pair hit the resell market soon after the launch and was listed for an eye-watering $40,000. However, as the hype around these Jordans has risen, so has the price. One pair is online at the moment for €60,000. If you've got deep pockets, then copping these most expensive Jordan 11s is a no brainer.
Air Jordan 1 "Silver Shoe" – €55,000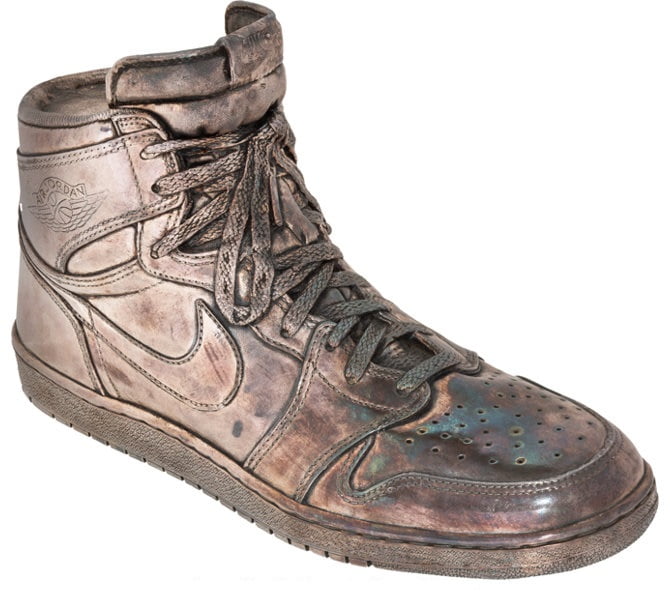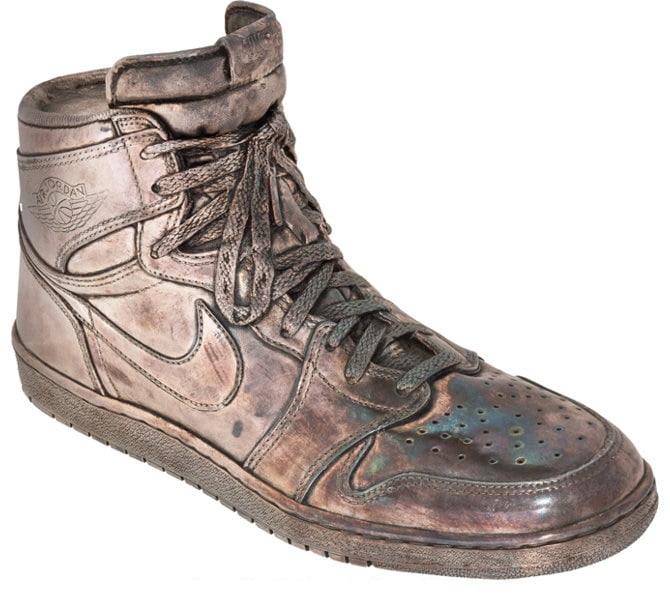 When your husband is Michael Jordan, there is little that he cannot afford to buy. Having realised this, His Airness' ex-wife Juanita decided to create 10 silver casts of the Air Jordan 1 to celebrate his 32nd birthday.
Jordan kept two for himself, the manufacturer kept one and the remaining seven were all sold at various charity events around the United States. The sneaker has been spotted at restaurants that Jordan owns, as well as golf courses that he plays at. The detail on the shoe is pretty amazing, with the stitching, holes in the toe and individual lace threads all being visible. Weighing an incredible 4.5kg and made completely of silver, this shoe is not one to try and wear on the court.
In 2018, one was listed on Heritage Auctions and had an estimated value of €55,000. Given the rarity of this piece, it's a must-have for any serious Jordan memorabilia collector.
Eminem Air Jordan 4 "Encore" – €47,000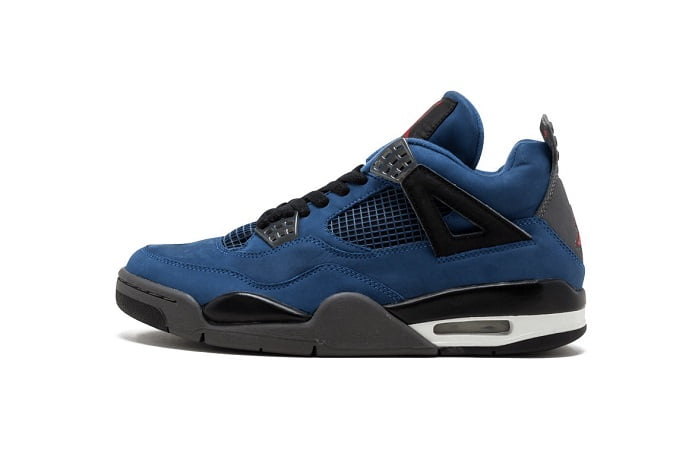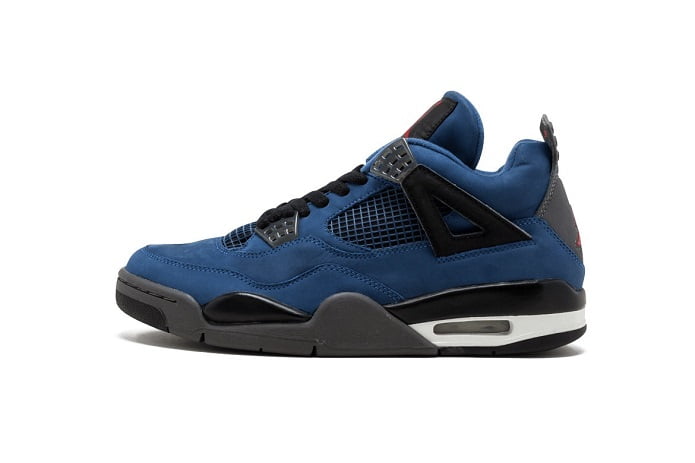 Fewer Air Jordans have more mysticism and grail like status than the Encore 4s. For those of you who don't know about this sneaker, here is a little history lesson for you.
In 2004, Eminem released his fifth studio album Encore. The album was widely recognised as one of Slim Shady's greatest and earned him a Grammy nomination. To coincide with the release, Jordan Brand worked with Eminem and Shady Records on a special Air Jordan 4. Draped in a premium blue nubuck, and featuring details such as "Eminem" under the tongue, the shoes were given to friends and family. Only 25 pairs of the sneaker were ever produced, making them one of the rarest Air Jordan 4s of all time.
Eminem revealed in an interview that he did not realise how limited the sneakers truly were explaining that: "I actually had two pairs. I played basketball in one and gave the other pair away." With that in mind, these are probably one the most expensive Jordan 4s of all time. With an eye-watering price tag of €47,000, chances of owning these are slim to none.
Air Jordan 1 "Signed All-Star Game" – €23,000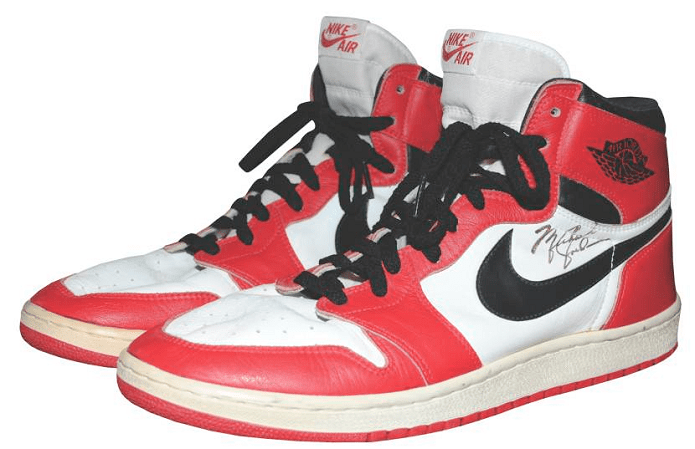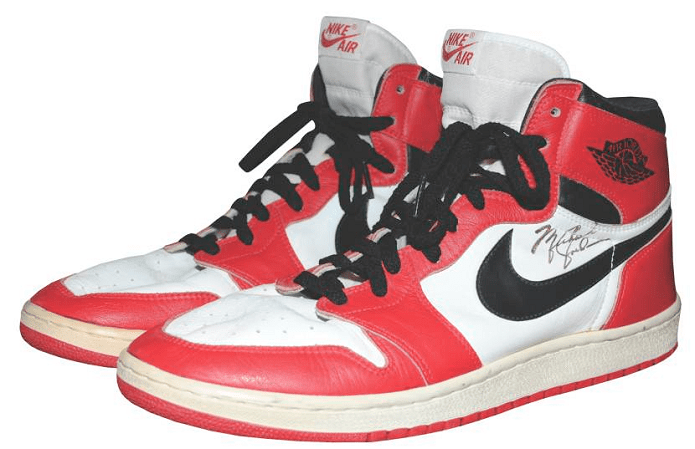 In 1985, Michael Jordan had just started his professional career. As a rookie, Jordan was one of the very few players to be selected for the All-Star Game; one of basketball's most highly coveted matches. The annual competition between East and West saw Jordan frozen out of the game by senior players because of the attention Jordan was receiving.
All of this only adds to the allure surrounding this sneaker. In 1985, a man named Robert Crawford had been promised by His Airness that the next time they met he would receive his game-worn shoes. Fortunately enough for Crawford, that game would be on All-Star Weekend. After the game Jordan was finished, he was bombarded with media. Not forgetting the promise, Jordan had thrown the shoes and his socks over the media to Crawford. Crawford grabbed a Sharpie, put it back in the shoes and thrown them back for Jordan to sign.
Furthermore, this shoe is arguably one of the most important game-worn shoes by Michael Jordan. Back in 2011, the shoes were auctioned off and hit €23,000 before the end. For that reason, it makes these one of the most expensive pairs of Jordan 1s ever.
Air Jordan 12 "OVO" – €92,000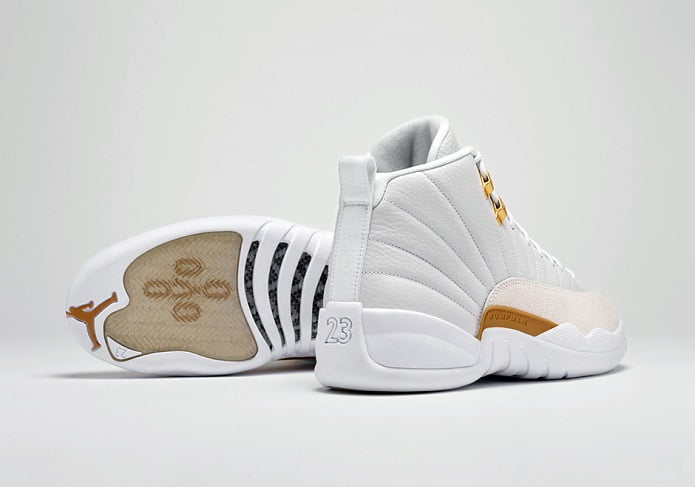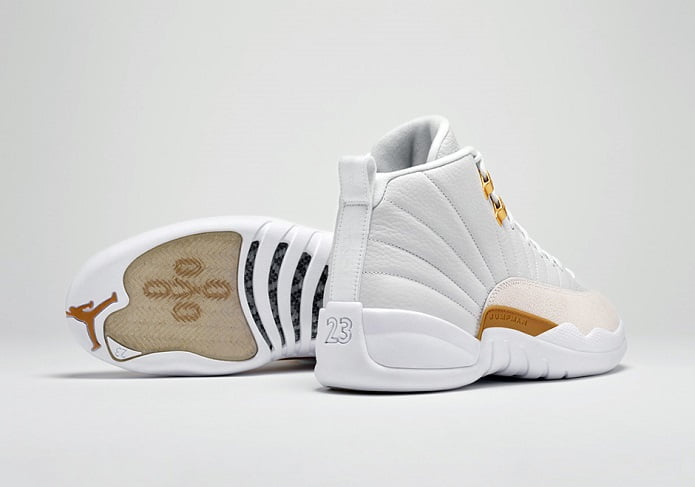 Drake has had some pretty big sneaker moments since he burst onto the world music stage in 2007. It would take eight years for the OVO head honcho to receive his own Air Jordans, but the wait was worth it.
In 2016, Drake and OVO were treated to friends and family pairs of the Air Jordan 12. An all-white leather upper adorned with stingray leather accents across the mudguard made for a luxury sneaker. Unique details such as the gold accents and OVO branding on the sole and tongue also added to the allure. Whilst the shoe may have seen a general release later that year, one lucky fan was gifted a pair from the man himself.
At the Toronto Raptor's annual Drake Night in 2016, Drake gifted a female fan his pair of Air Jordan 12s. Realising what she had just been given, the fan quickly sold the pair for a cool $100,000. It's safe to say that a Drake superfan picked these up.
Air Jordan 5 "Transformer Sample" – €48,000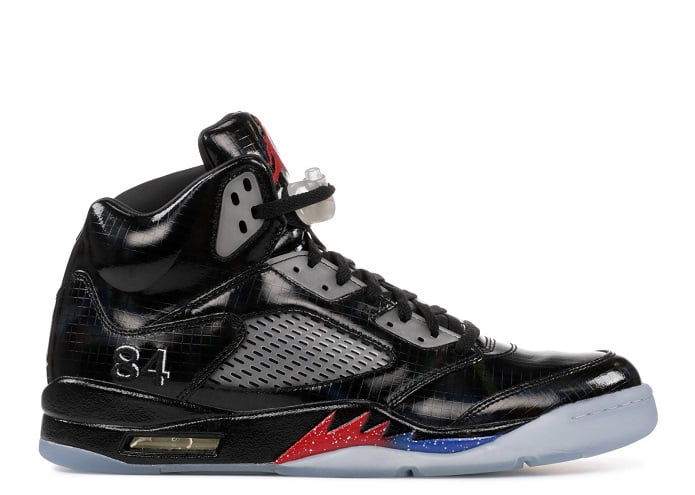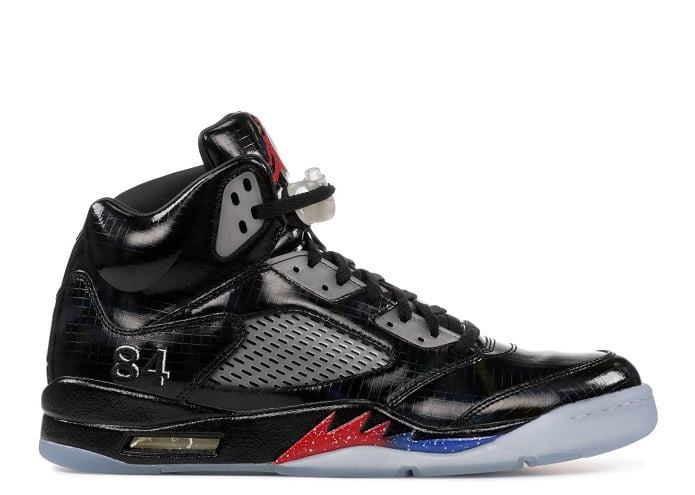 What started as a kids TV programme in the 1980s has become one of the largest grossing movie sagas in history. Transformers has racked up an amazing $4.3 billion since the first film in 2007. When Mark Wahlberg joined the franchise in 2017, it marked the start of an exciting time ahead. As one of the most widely respected celebrity sneakerheads on the planet, Walhberg is no stranger to exclusives.
Recognising the achievement of joining the franchise, Jordan Brand treated Wahlberg to an exclusive pair of Jordan 5s: the Transformer samples. Coated in black patent leather with an almost iridescent colour in the light, the shoe is packed with unique details. The red and blue paint on the shark teeth references Optimus Prime, with the number 23 on the heel being replaced by 84: the year Transformers released. A glow in the dark sole features the Autobots logo underneath, transforming this shoe entirely.
Given that these were samples, they were given to Wahlberg and select members of the cast on the Transformers set. Wahlberg eventually sold a pair for charity, raising $52,900 (€48,000).
Air Jordan 2 OG – €28,500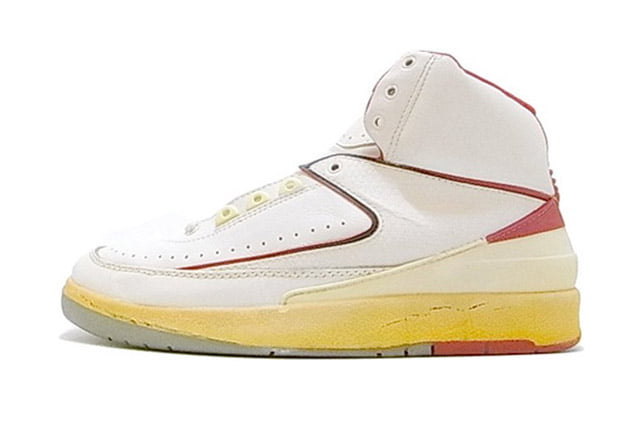 Whilst it may be one of the least popular Air Jordan models, there is no denying the importance of the Jordan 2. Designed in 1985 by Nike Air Force 1 creator, Bruce Kilgore, the Jordan 2 was only worn a handful of time by His Airness. Jordan had broken his foot a few games into his second season, meaning he was left out for 64 matches. The minimal branding and high cut left Jordan wanting to leave Nike before Tinker Hatfield saved the day.
Made in Italy using luxury leather with a reptile-like texture, the Air Jordan 2 was nothing like the Air Jordan 1. The familiar combination of white and red leather, as well as a cushioned sole and grip, made the Air Jordan 2 a good athletic shoe. The Jordan 2 was a sneaker that divided many and, ultimately, still does. However, that didn't matter for one eBay user.
In 2014, an eBay seller had listed an original pair of Air Jordan 2s in their OG form. The shoes were not deadstock and were falling apart. Apparently, that didn't matter for the buyer though. This Air Jordan 2 sold for $31,000 (€28,500) and has not been seen since. Whatever the case, this seller got extremely lucky.
Air Jordan 3 "Be Grateful" – €27,500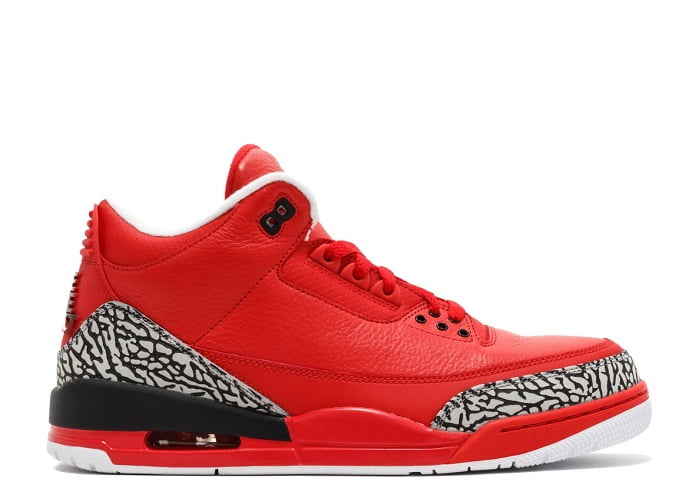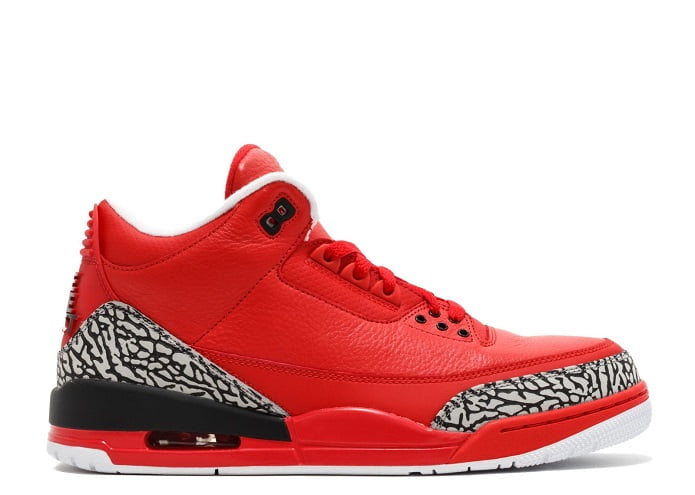 DJ Khaled is arguably the biggest celebrity sneakerhead on the planet. The 44-year-old DJ and music producer has one of the craziest sneaker collections of all time. Having close relationships with the likes of Drake, Kanye West and Benjaminkickz allow Khaled access to some of the rarest shoes anywhere on the globe. In 2017, Jordan Brand recognised Khaled's long love affair with the brand and treated him to his own exclusive Air Jordan 3s.
Comprised of a luxury red tumbled leather, the "Be Grateful" 3s are certainly eye-catching, with a contrasting white sock liner for good measure. The familiar AJ3 cement print can be found on the toe and heel, with a red midsole and white outsole creating a perfect balance. DJ Khaled's catchphrase and record label "We the Best" can be spotted on the heel tab, being underneath the Jumpman. Hidden details on the heel tab include hashtags with Khaled's catchphrases.
Considering that these are a sample and exclusive to friends and family of Khaled, the price is pretty high. A pair sold in 2017 for $30,000 (€27,500) which is no chump change. Bless up to whoever bought these.
Air Jordan 12 "Flu Game" – €96,000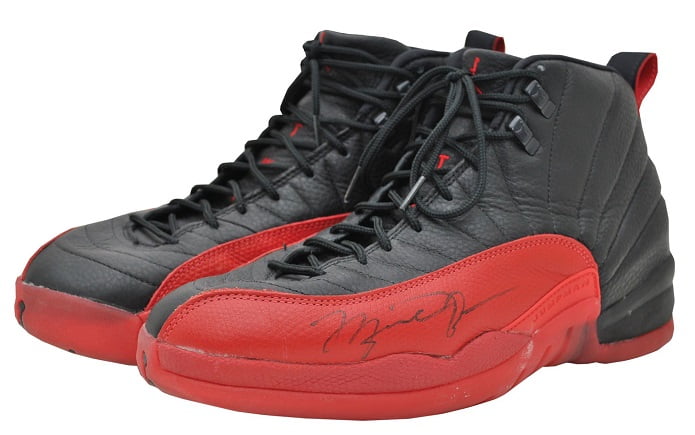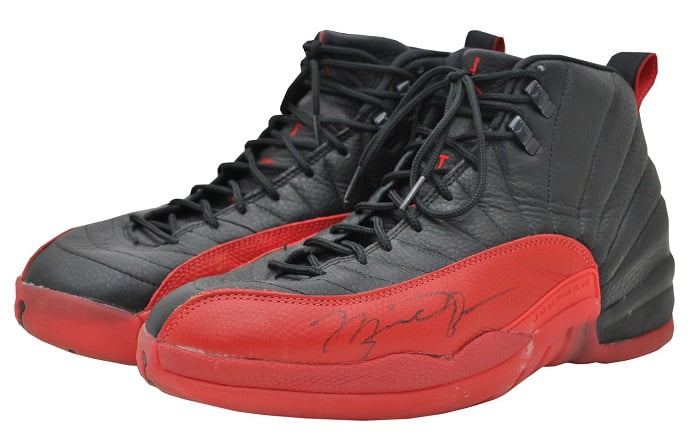 In the world of sports and sneakers, there are few shoes that need an introduction. This is one of them. In June 1997, the Chicago Bulls were heading to Game 5 of the NBA finals against the Utah Jazz. With the series tied 2-2, it was a match that the Bulls needed to win. However, Michael Jordan had begun experiencing flu-like symptoms when he arrived in Salt Lake City. Determined to carry on, Jordan would not miss the game.
In the first quarter, Jordan looked weak. He looked tired, ill, stricken with fatigue and was not his usual self. In between plays, Jordan was chugging fluids, sat with ice packs on his head and profusely sweating. However, in the second quarter, it looked as though Jordan had perked up. He dropped 17 points and began dominating the game. By the fourth quarter, Jordan had racked up 38 points, 7 rebounds, 5 assists, 3 steals and 1 block. The Bulls won 90-88 thanks to a last-minute three-pointer from His Airness.
The game would go down as one of the strongest performances in Jordan's history. Furthermore, it also became one of the most remembered nights in sneaker history. The Jordan 12s that Michael Jordan had on gained the "Flu Game" which has stuck ever since. One lucky Utah Jazz ballboy, Preston Truman, was fortunate enough to be blessed with the actual Jordans that the GOAT himself had on.
Truman auctioned the game-worn Jordans in 2014, with record-setting results. An anonymous buyer paid $104,765 for the historic shoes, making these the most expensive Jordans ever sold. Are they worth it? Definitely.
Air Jordan 4 "Eminem x Carhartt" – €28,000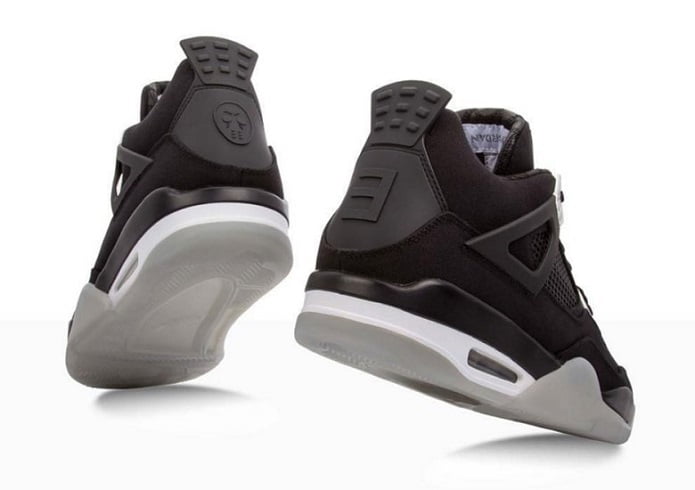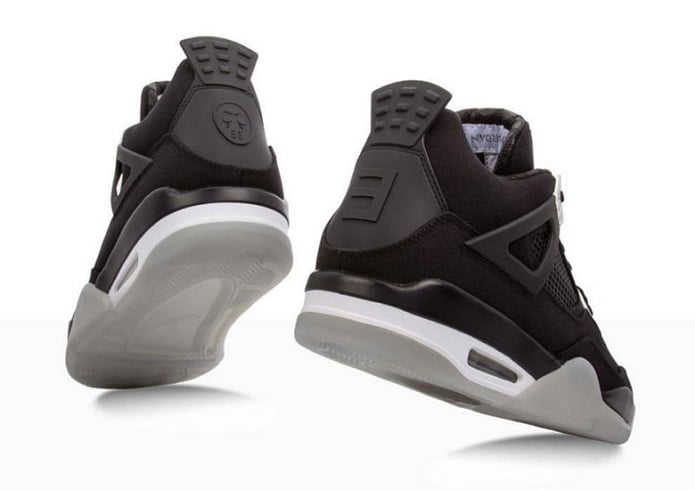 Eminem may have taken a step back from the limelight in recent years, but his sneaker collaborations have continued to be centre stage. The 47-year-old musician has had some of the most exclusive Nike's and Jordan's of all time, as we have already discussed. Clearly, Eminem's sneakers have always had an allure, just as we have seen with the Encore 4s. However, in 2015, fans were given a chance to own a collaborative pair.
In order to raise money for his charity, Eminem worked with Carhartt and Jordan Brand to design 10 pairs of this Air Jordan 4. Carhartt's signature all-black denim wraps around the shoe, with contrasting silver details making the shoe pop. A black quilted leather inner lines the shoe and features Eminem branding, with the inside tongue bearing co-branded logos. Adding to the Eminem vibe is the heel tabs which feature a hockey mask and a reversed E. Finishing the shoe off is a translucent sole, allowing the shoe to pop on its own.
Auctioned on eBay, these shoes raised money for The Marshall Mathers Foundation, a charity set up by Slim Shady to help underprivileged children in Detroit. One Air Jordan 4 sold for $30,100, the most expensive of all. Considering the low run and high price point, owning a pair of these is near impossible.
Final Thoughts
We've taken a look at some of the most expensive Jordans ever. If you're looking after some Jordans that won't break the bank then head to KLEKT now. We've got a vast array of limited Jordans, rare Jordans and exclusive Jordans. Take a look!