It's arguable that sneakers and food go hand in hand. For decades, the link between footwear and sneakers has been thought about. Whether kids have stocked up on supplies for their campout or brands joining forces for playful collaborations, there is no denying the relationship between food and shoes. With the release of the Ben & Jerry's x Nike SB Dunk Low "Chunky Dunky" happening this week, it got us thinking: what are the best food-themed sneakers out there?
Over the past two decades, there have been a number of high profile food shoes out there. Some of the best sneaker collabs have often involved food and drink companies. From the unofficial "Heineken" Dunks to taco covered Vans, food sneakers are out there. And, with the popularity surrounding food sneakers growing, they won't be going anywhere soon. With that in mind, we decided that it was time we rounded up some of the best food sneakers out there.
We've picked our top 10 food sneakers. Now, this list is in no particular order, let's just make that clear. All of these food shoes have a story and ranking them was simply too tough. Without further delay, let's take a closer look at the best food shoes out there.
Dave's Quality Meats x Nike Air Max 90 "Bacon" (2004)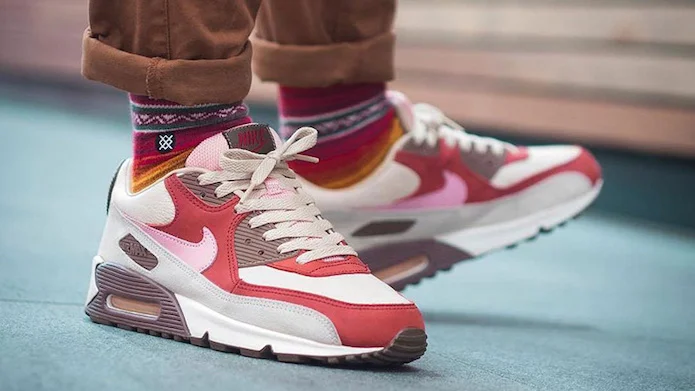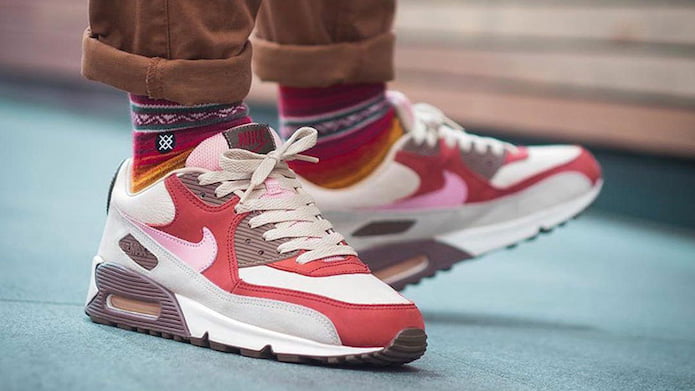 Kicking this list off with an absolute classic, we have Dave's Quality Meats x Nike Air Max 90 "Bacon." Released in 2004, the DQM Air Max 90 is inspired by founder David Ortiz's many years in New York's meatpacking district. After launching his own store in the late 90s, Ortiz used his store as a way to showcase his previous career. The store's layout features shirts hanging from meat hooks as well as T-shirts kept in a fridge.
When Nike presented Ortiz with the opportunity to create his own Air Max 90, he kept the meat-theme going. Aptly dubbed the "Bacon", this AM90 features various shades of pink, red, brown and cream to give it that pork look. The premium leather really helped to sell this sneakers appeal, with contrasting suede panels adding to the look. It was an instant sell-out and has remained a firm favourite of sneakerheads ever since.
END. x Saucony "Burger" (2014)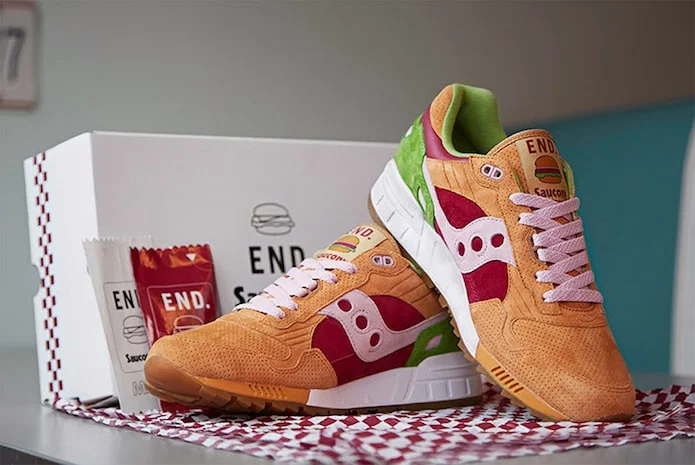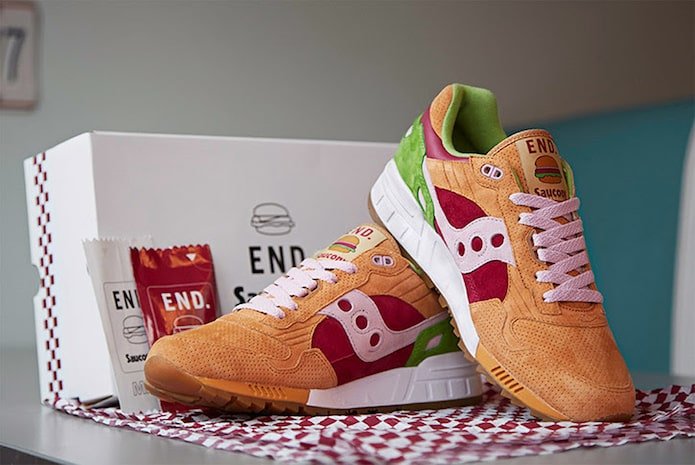 This is probably one of the simplest yet most effective food sneakers out there. In 2014, END. teamed up with Saucony to create the "Burger" Shadow 5000s. Inspired by a hamburger, the sneaker is a perfect reflection of one of the world's greatest inventions.
Well-matched tones of beige, pink, red and green make up the key ingredients of the hamburger: bun, patty, ketchup and lettuce. Premium suede adorned the shoe, making this one tasty sneaker to look at. END. and Saucony didn't stop there, however, even making a limited edition box with diner-style tissue paper on the inside. These Saucony food shoes even came with spare laces wrapped inside ketchup and mayo sachets.
Andy Warhol x Converse "Campbell Soup" (2015)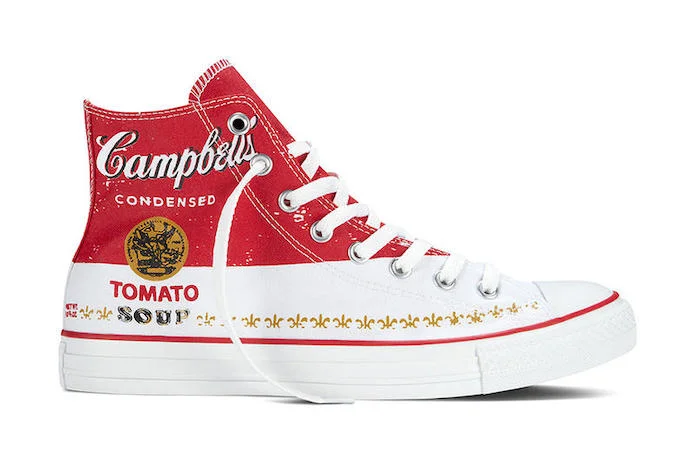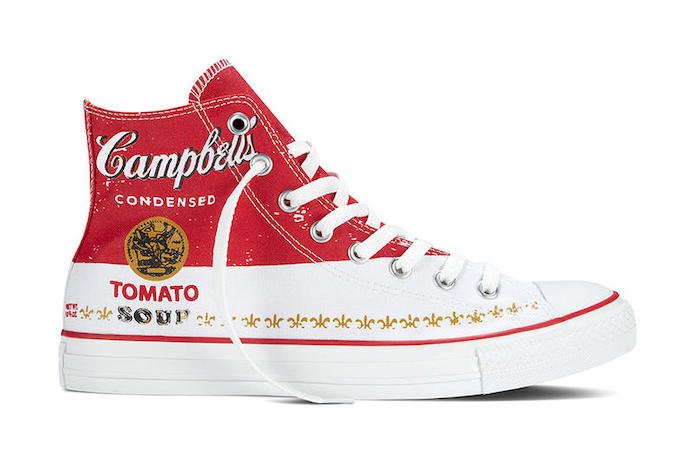 Andy Warhol's art is still some of the most sought after in the world. The pop artist, who made his name in the 1960s, created an entirely new kind of art. His famous works such as the Marilyn Diptych and Campbell's Soup Can are still referenced in the art world to this day. For this food collaboration, Converse teamed up with the Andy Warhol Foundation to create a limited set of Converse Chuck Taylor's.
Referencing Warhol's Campbell's Soup Can, the shoe features a split canvas with a graphic printed across the side. Campbell's famous logo can be seen on the lateral section, with the red and white canvas hosting the gold print. These may be one of the best Converse food sneakers out there and for a very good reason.
Nike SB Dunk "Chicken and Waffles" (2016)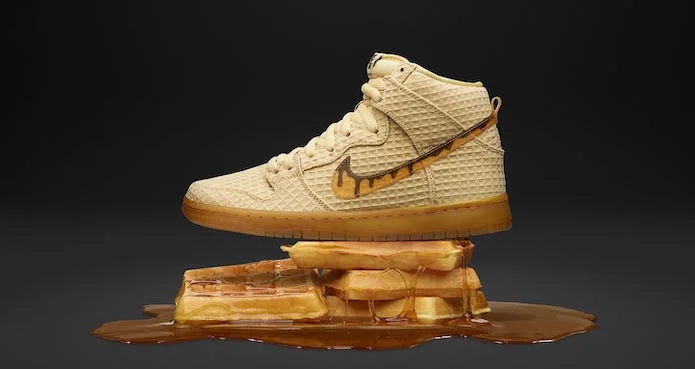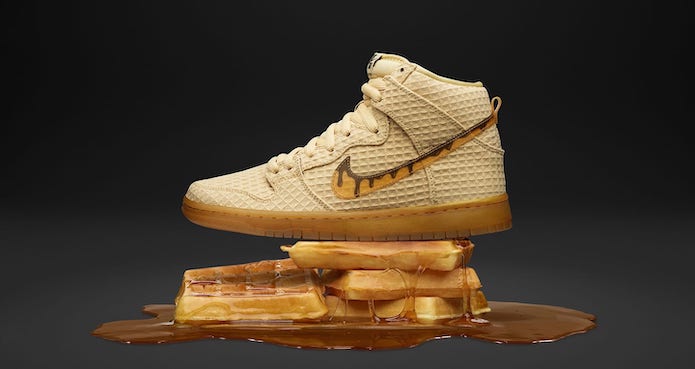 There are few dishes more famous in America than chicken and waffles. Since the 1800s, fried chicken and waffles has been a popular dish in the USA. The unlikely combination of deep-fried poultry paired with sweet batter has long been debated outside of America. However, that hasn't stopped it from becoming a staple in many communities throughout the country. Recognising this story, Nike SB created a "Chicken and Waffles" Dunk in 2016.
Using a beige and gum combination, the sneaker referenced the unlikely food colour combinations. The featured a grid-like pattern throughout the panels, referencing the waffles. A Swoosh with a dripping effect also links to the maple syrup that is used to cover the dish. All in all, these Nike food shoes really hit the spot. Selling out fairly quickly on release day, the "Chicken and Waffle" Dunks have remained a favourite of many sneakerheads around the world, even if the food hasn't.
Dunkin' Donut x Saucony Kinavara 10 (2018)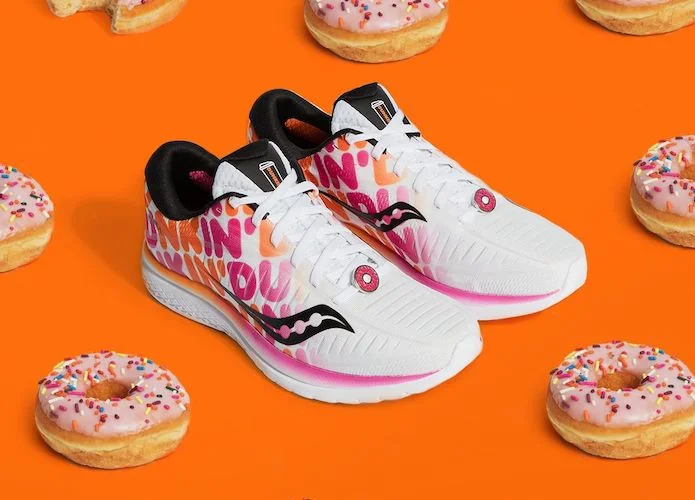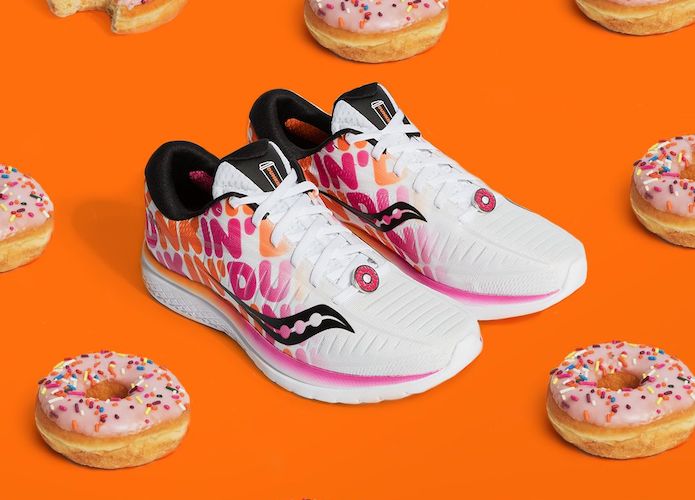 Coffee and doughnuts go hand in hand. Coffee, doughnuts and running? Perhaps not. Either way, the iconic American coffee chain Dunkin' Donuts joined forces with Saucony in 2018 to create a number of Kinavara 10s. The athletic sneaker featured the Dunkin' Donut colours as well as a large graphic pattern on across the upper. Unique details like a doughnut lace dubrae and a Dunkin' Donut cup on the tongue made these a big hit. Whilst they may not be the prettiest of sneakers, they are certainly one of the most playful.
Pizza Hut Pie Top (2017)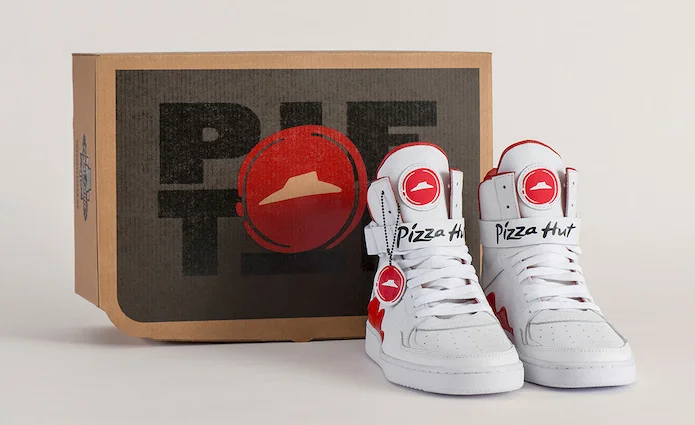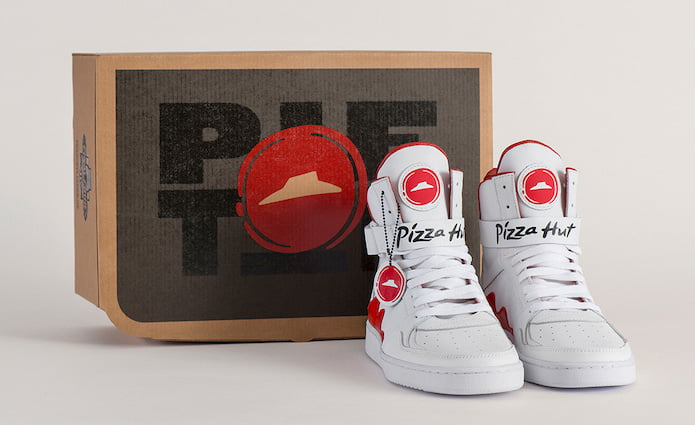 These are one of, if not, the most advanced food sneakers on this list. In 2017, Pizza Hut launched a marketing campaign dubbed the "Pie Top." With the college basketball tournament being one of the most-watched sporting events in the USA, Pizza Hut introduced a pair of sneakers that could literally order pizza for you.
Using a white leather base and accented by Pizza Hut's famous red logo, the sneaker features a button in the tongue that lets the wearer order a pizza to their location. What makes this sneaker even better is the fact that it is so limited. Only 64 pairs were produced, making them one of the rarest sneakers on this list. The campaign was so successful for Pizza Hut that they released two more pairs the following year, although they were equally as difficult to get a hold of. Who's hungry?
Concepts x Nike SB Dunk Low "Lobster Dunk" (2009)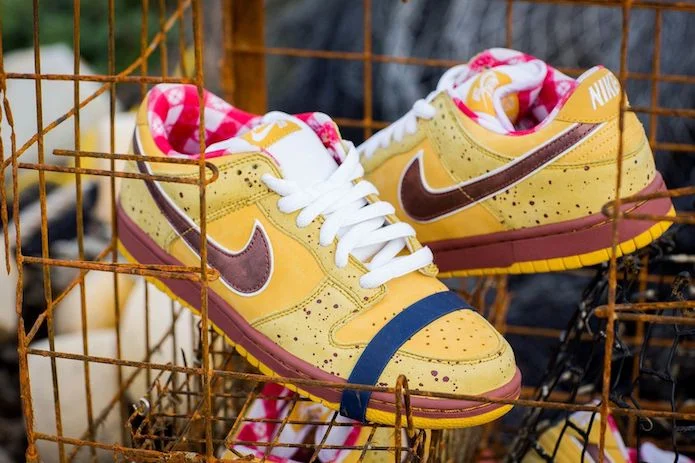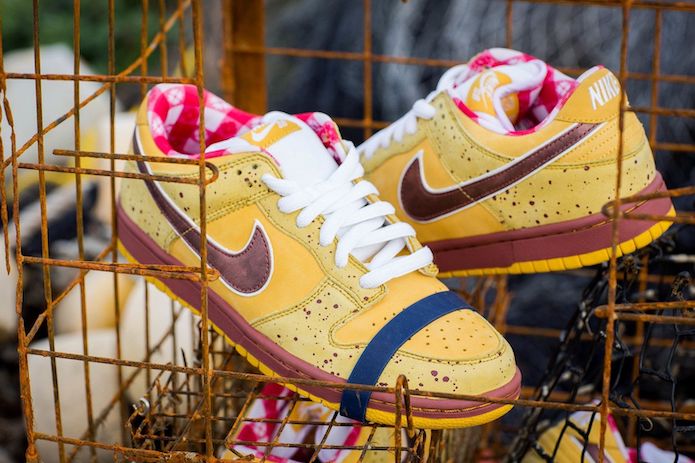 There are food sneakers on this list and there are food sneakers on this list. This particular pair is the latter. Back in 2009, sneaker boutique Concepts teamed up with Nike to create one of the most popular SB Dunk Lows of all the time: the "Lobster Dunk." Not only is it one of the rarest sneakers on this list, but also one of the rarest sneakers on the planet.
Whilst the Blue Lobster Dunks may have been the first, these are without a doubt the best. Concepts worked with Nike to create just 34 pairs of the Yellow Lobster Dunks which were given exclusively to friends and family of Concepts and Nike SB. Featuring yellow nubuck, maroon leather and a red pattern across the top, the sneaker was an instant hit among the community. If you're looking to find these, get in line.
END. x ASICS Gel-Lyte III "Wasabi" (2019)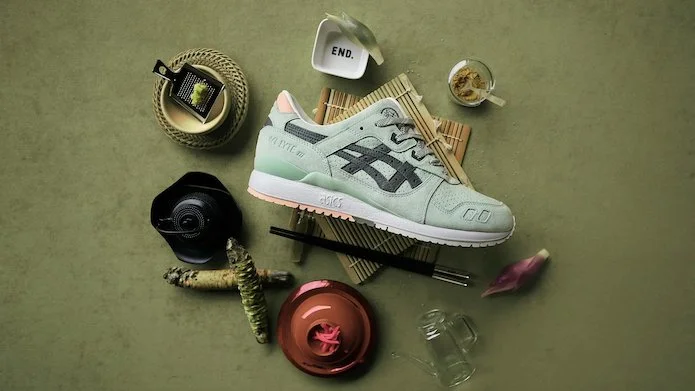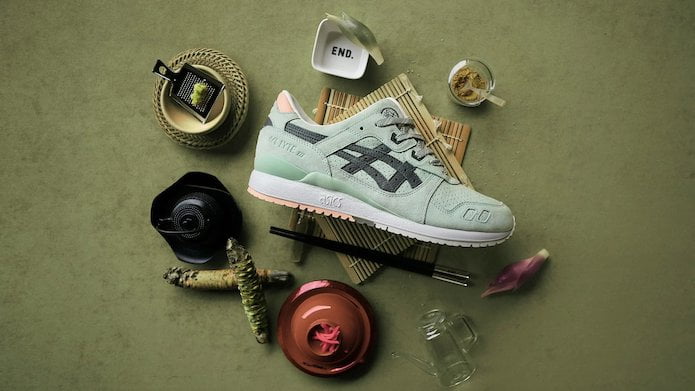 It can be hard getting a food shoe right but somehow END. and ASICS managed to get these spot on. The inspiration for the sneaker comes from one of Asian cuisine's most widely used and respected ingredients: wasabi. Playing on this idea, END. and ASICS really executed this Gel-Lyte III perfectly.
A soft perforated suede upper is dressed in a light green colour. The black Tiger Stripes on the side of the shoe is accented by splashes of pink on the heel tab. A crisp white midsole uses a pink black and green on the outsole to bring the whole shoe together. However, it was the accessories that really got sneakerheads excited. Packaged in a custom bento box, END. and ASICS included a set of chopsticks and wasabi dish with every pair.
Saucony Shadow 6000 "Avocado Toast" (2019)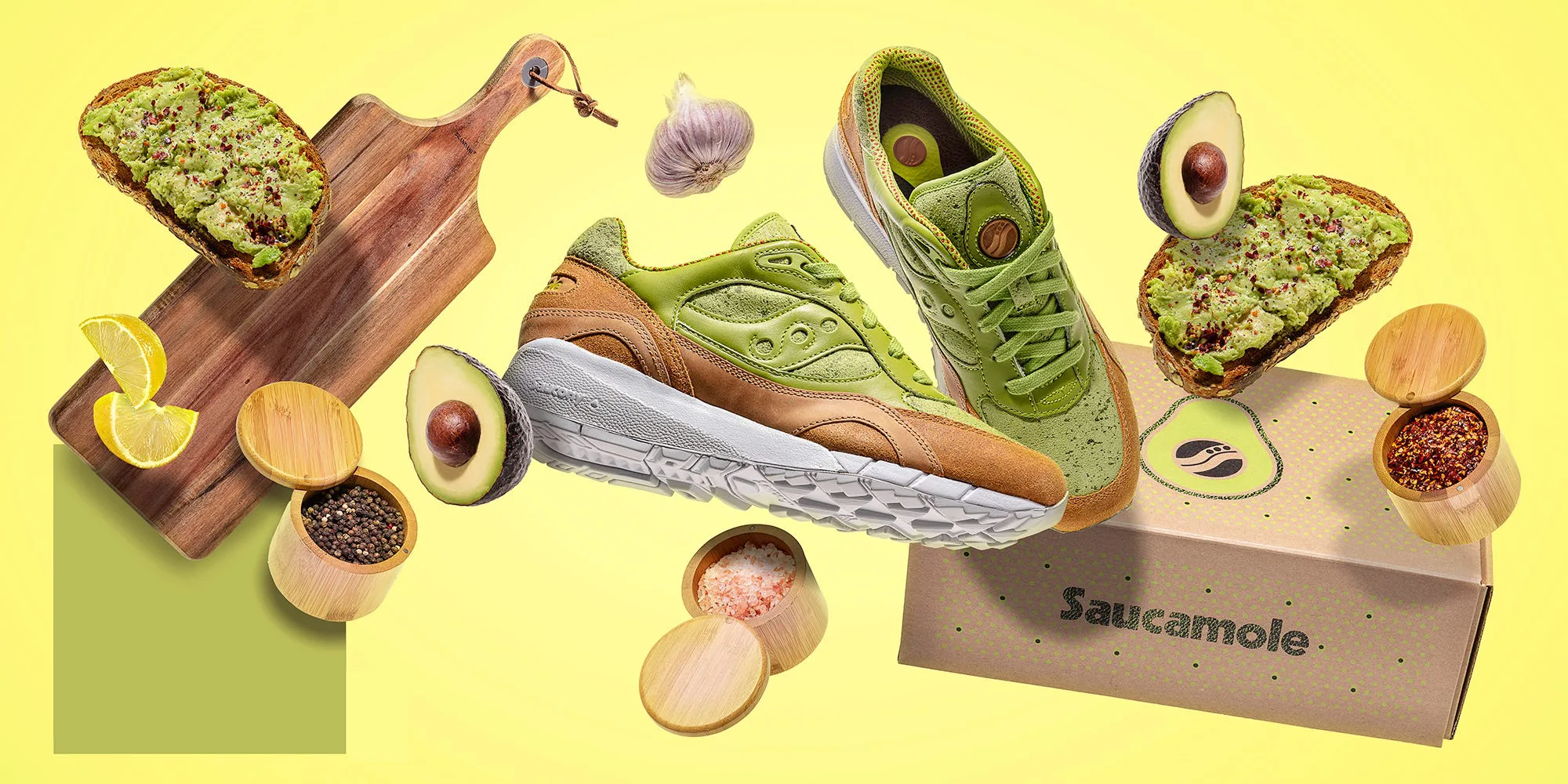 When it comes to food sneakers, Saucony really knows how to do it well. So much so that it took one of the most popular dishes in the world at the minute and turned it into a sneaker. These "Avocado Toast" Saucony Shadow 6000s are one of the most playful shoes on this list, and it's easy to see just why.
Using a beige and green combination, Saucony split this Shadow 6000 in order to make it look like the popular breakfast dish. Featuring premium materials like suede and leather, the shoe was a big hit. The unique details really gave it the edge, such as an avocado insole and custom tongue tag. Even the packaging featured the word "Saucamole" for good measure. Saucony nailed this one.
Momofuku x Nike SB Dunk (2017)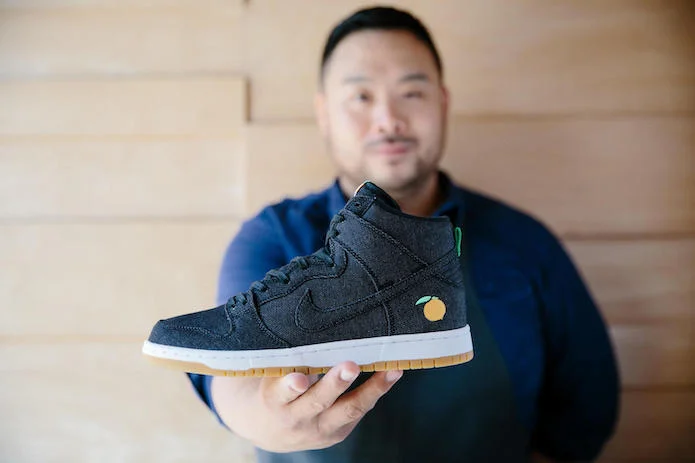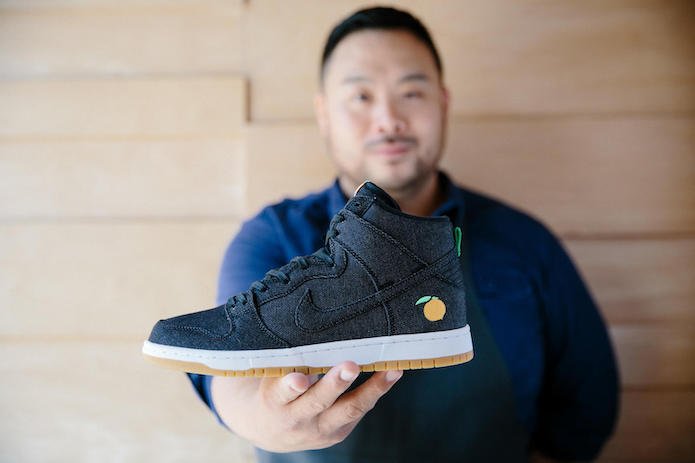 David Chang is one of the world's leading chefs and restauranteurs. When he opened Momofuku in 2004, it took New York by storm. Chang is largely credited for bringing popularised noodle bars to NYC, something which helped make this collaboration so historic. With Chang's Fuku and Ssäm noodle bars feeding the hungry skaters of New York for so many years, it made sense for a Nike collab to take place.
In 2017, Nike gave Chang the opportunity to create a limited edition SB Dunk. Chang used the restaurants peach logo on the heel, as well as the numbers "163" and "207" on the inside referencing the restaurant's locations. A custom tongue tag comes complete with Momofuku branding and leaves across the Nike SB logo. These sold out pretty quickly on release day and launched at Fuku restaurant, with Change signing boxes.
Final Thoughts
We hope you enjoyed our top 10 food-themed sneakers! With so many great sneakers on offer, it was tough whittling them down to just 10. However, we think we've picked some of the best out there. If you're looking to cop any food-themed sneakers or just sneakers in general, then head over to KLEKT!