Es difícil vencer a un Air Jordan 1. Durante los últimos 35 años, la silueta de Michael Jordan ha seguido siendo un ganador constante en la comunidad de zapatillas, a menudo difícil de complacer. Desde 1985, Jordan Brand y Nike han traspasado constantemente los límites de la zapatilla. Colaboraciones con la talla Off-White™ han visto el zapato deconstruido, mientras que las versiones de Travis Scott torcen el Swoosh por completo. Sin embargo, a veces es mejor mantener las cosas simples.
Siguiendo con el 2018 Air Jordan 1 "Court Purple", Jordan Brand lanzó una versión aún más simple apenas el mes pasado. La zapatilla presenta una base de cuero blanco y negro, con toques de púrpura en el tobillo, el talón y el guardabarros. Fue un éxito instantáneo, vendiendo en tiendas de todo el mundo. Esta toma real del clásico Air Jordan 1 es una de las mejores caídas de AJ1 este año. Sin embargo, con toda esa emoción, una serie de falsas zapatillas Air Jordan 1 "Court Purple" han entrado en el mercado.
Para el episodio de esta semana de Real vs Fake,nos llevamos a la Jordan 1 Court Purple. Nuestro experto en autenticación residente Dr KLEKT le mostrará las diferencias entre Jordanias reales frente a falsos. Con esta zapatilla tan popular y una versión bastante nueva, nunca ha habido un mejor momento para mejorar su educación falsa. Echa un vistazo al video de YouTube a continuación para ver lo que el Dr. KLEKT puede enseñarte en el AJ1 Court Purple!
La prueba
Al igual que con cualquiera de nuestras guías Real vs Fake, queremos ver lo bueno que es su conocimiento. Uno de los Air Jordan 1 Court Purples abajo es real y uno es falso. Queremos que escojas cuál crees que es cuál.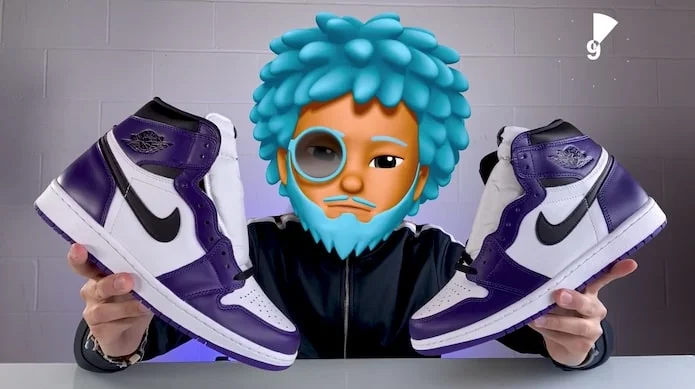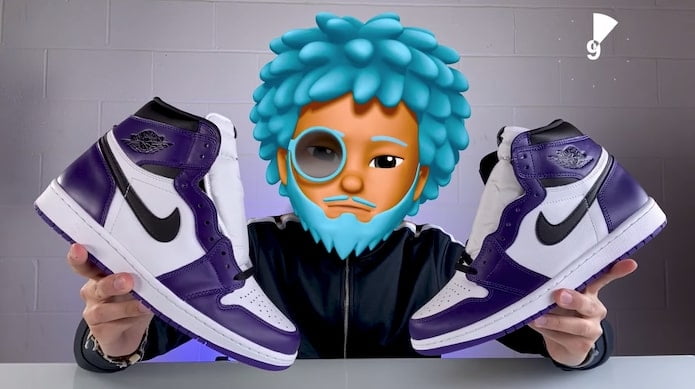 El precio
Ahora, aunque esta zapatilla estaba en acción, el precio de reventa en ella no es demasiado loco en este momento. Con este ser uno de los Más Abastectos Air Jordan 1s en un tiempo, hay unas pocas parejas justas en el mercado. Eso no disuade a los fabricantes falsos de Jordan de tratar de conseguir que compres.
La mayoría de los fabricantes falsos, y la mayoría de los falsos Air Jordan 1s, a menudo tienen un precio por debajo del valor minorista y de mercado como una manera de atraer a los clientes. El verdadero Air Jordan 1 Court Purple se suelda a 170 libras esterlinas y está en KLEKT en el momento a partir de 210 libras esterlinas. No se sienta tentado sólo porque usted ha visto un par por un precio más bajo en línea. Recuerda, si es demasiado bueno para ser verdad, normalmente lo es.
The Reveal
Si usted dijo que el zapato de la derecha era real… felicidades, tenías razón! Esta fue sin duda una de las comparaciones más duras de Air Jordan 1 falsas que hemos llevado a cabo. Aunque este falso AJ1 era bueno, hay algunas señales reveladoras que el Dr. KLEKT recogió. Sin más demora, echemos un vistazo más de cerca a cómo detectar un falso Air Jordan 1 Court Purple.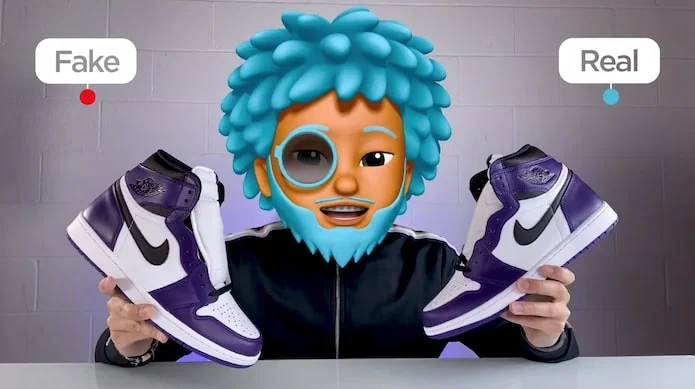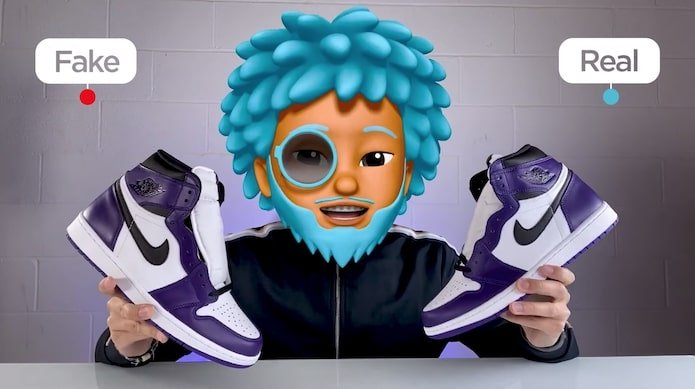 The Box
Una de las áreas más grandes para comprobar cualquier falso Air Jordan es el embalaje. Más a menudo que no, la caja puede ser uno de los sorteos clave cuando se trata de llevar a cabo una comprobación de fiar. Aquí, te mostraremos cómo detectar un falso Air Jordan 1 solo desde la caja.
La estructura
Ahora, esto puede parecer un pequeño detalle, pero cómo llega la caja Air Jordan 1 es un gran problema. A la mayoría de los fabricantes falsos de Air Jordan 1 no les importará cómo llegan los zapatos mientras lleguen. En su mayor parte, Jordan 1s falsos tendrán cajas dañadas, abolladuras e incluso agujeros en la parte superior. Si la caja se ve muy dañada y sneakeres una zapatilla "nueva", entonces tenga cuidado.
The Font
If you want to know how to tell fake Air Jordan 1 Court Purples, the font on the box can be a big giveaway. As you can see on the fake AJ1 box, the font is faded and far too thin. It looks patchy in some sections and the overall appearance of the font is poor. However, if you take a closer look at the real Air Jordan 1 box, you can see the clear difference in quality.
The real box has a crisply defined font throughout and uses a clean print. On closer inspection, you can also see that the font is much thicker than the fake. Although this is only a small detail, it can make all the difference when carrying out a legit check on an Air Jordan 1.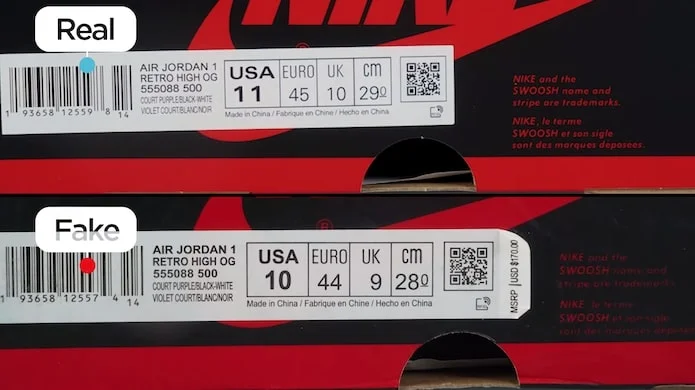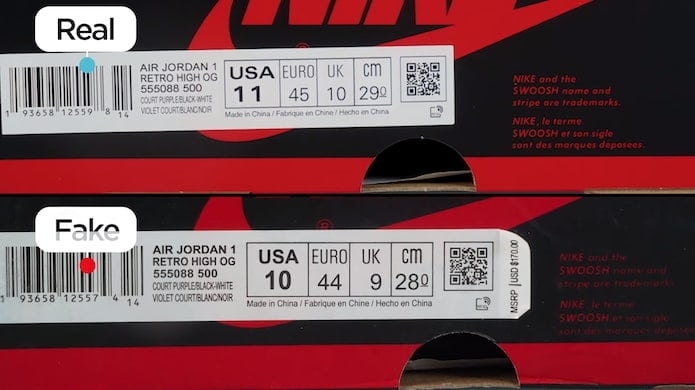 The Laces
One of the best parts of the Air Jordan 1 Court Purple is the second set of laces. Whilst we personally think that they should have been white, it's hard to top that eye-catching second set. However, the laces are also one area that you can take a look at if you want to know how to tell fake Jordan 1 Court Purples.
On the real Air Jordan 1 Court Purple, the secondary laces use a tie-dye pattern made up of white and purple. The effect is quite unique and would definitely make for a statement set of laces all on their own. However, on the fake AJ1 Court Purple, you can see that the laces are completely different. The fake pair comes with a set of purple laces, something that was easy to spot straight away. If you're looking for signs of a fake Air Jordan 1, this is one of them.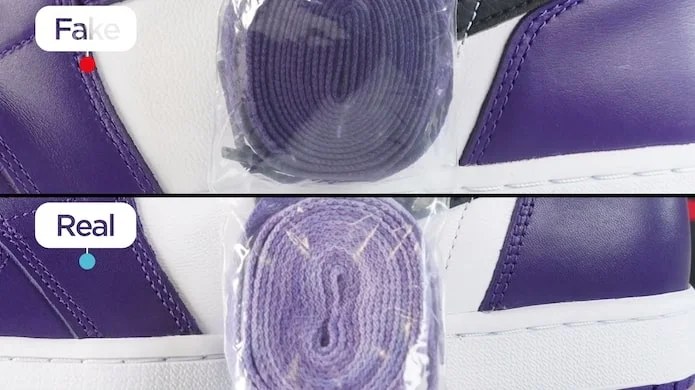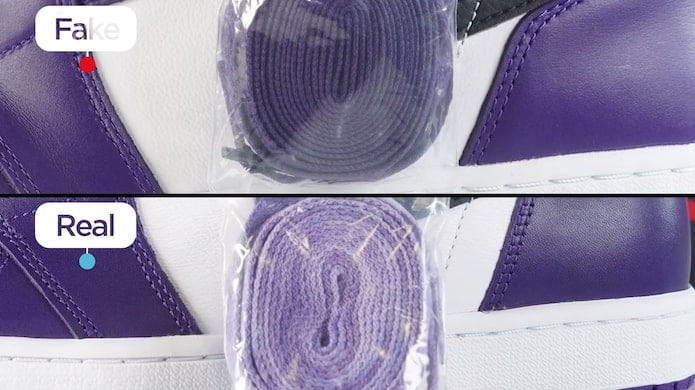 The Sole
We mentioned that this was one of the better fake Jordans that we have seen, but there are still some differences to check for. One of those areas is the sole, a detail that replicators usually get wrong. We'll show you what we mean below.
The Definition
You can see that the real Air Jordan 1 Court Purple has smooth edges around the entire sole. This means that Nike has taken the time to ensure that the edges are not rough to the touch. Rather interestingly, this fake Air Jordan 1 has a very defined sole unit. Now, what we mean by that is that the edges around the midsole sole are quite cleanly cut. This fake, for once, actually had a better finish than the real, but it was a big giveaway when comparing the two.
This definition can also be seen on the "Nike Air" logo on the sole unit. As with all Air Jordan 1s, the Nike Air is a signature detail. On this particular fake AJ1, this logo is too clearly defined whereas the real Air Jordan 1 is a lot smoother and subtle. When touching this logo, it is rough, making it very uncomfortable. If you want to know the difference between a real vs fake Jordan 1, this can help.
The Sole Line
On every Jordan 1, the sole features lines. With this particular fake, the line that surrounded the sole was far too thin. If you take a closer look at the image below, there is a line that flows from the midsection of the sole in a semi-circle. On the fake, this line was far too thin, whereas on the real it was much thicker.


The UV Test
As with all of our Real vs Fake guides, we've got one final test to carry out. When it comes to checking fake sneakers, UV light can show you signs that you otherwise would not have known about. If you want to know how to tell fake Jordan 1 Court Purples, and how to tell fake Jordan 1s in general, a UV light can help you out. They're relatively inexpensive and they can show you some things that your eye otherwise wouldn't pick up on.
The Midsole
On pretty much every fake Air Jordan, the manufacturer will leave a little calling card. This could be a keychain in the box or something like a UV stamp as you can see below. Now, depending on the replicator, they may decide to put this on the shoe or the box.
You can see that on the fake shoe, there are a number of UV characters on this box. They have stamped the midsole multiple times, making it easy to spot the fake. However, if you look at the Jordan 1 real vs fake, there are no stamps at all. This is one simple thing that your eye would not be able to pick up on in normal light.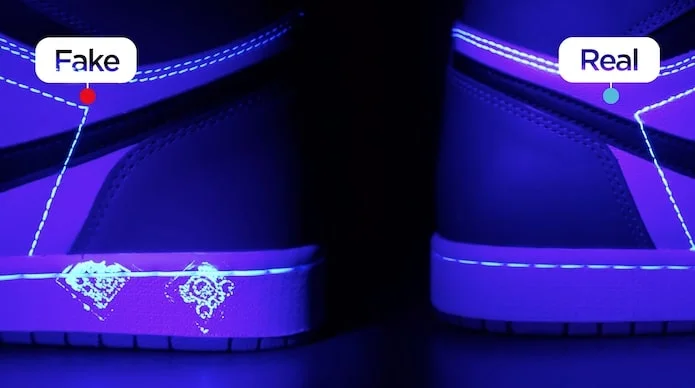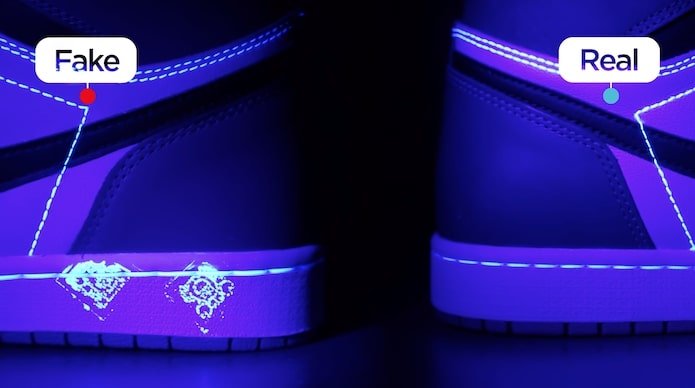 The Insole
Another simple difference that this UV light showed up was the insole colour. When you take a look at the real Jordan 1 Court Purple, you can see that the "Nike Air" does not light up. However, on the fake Jordan 1 Court Purple, this logo glows a bright red. This is a small detail but one that the replicators have failed to master.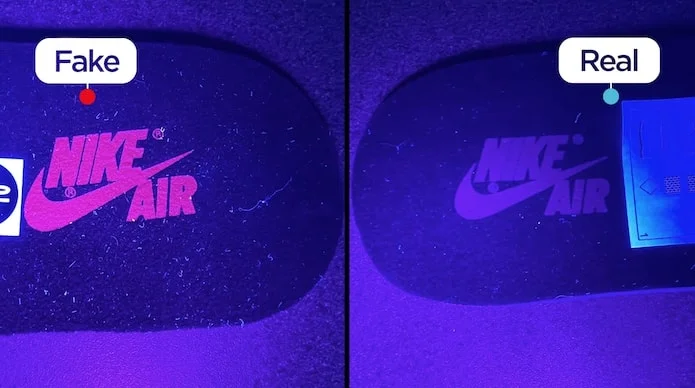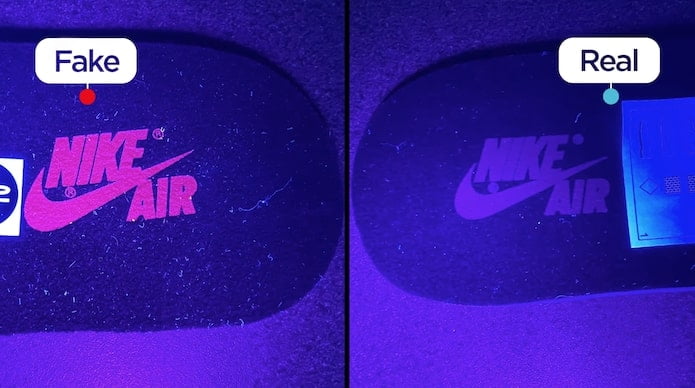 Recap
If you want to know how to spot a fake Jordan 1 "Court Purple" just remember to check for the following details:
The Price – if it's too good to be true then it usually is!
The Box – check the overall structure of the box, is it damaged? Also be sure to take a look at the font, it should be thin or faded
The Laces – make sure that the laces are tiedye and not a solid purple
The Sole – the sole should be smooth to the touch and subtle in detail, not rough or too bold on the lines. Make sure that the sole line is thick rather than thin!
The UV Test – check for any stamps on the shoe as well as the insole; nothing should light up!
Final Thoughts
That concludes this Real vs Fake guide! We hope that you found this guide useful and you now know how to tell fake Air Jordan 1 Court Purple sneakers. As with all our fake education posts, we want to show you just how good fake sneakers are. If you're looking at getting a new pair of Air Jordan 1s, or just don't want the hassle of authenticating yourself, then head over to KLEKT!