Junio marca el inicio del Mes del Orgullo; una oportunidad para que la comunidad LGBTQ celebre su rica historia. Da a los miembros la oportunidad de reconocer hasta dónde han llegado, con los partidos que a menudo se producen en todo el mundo. Aunque las celebraciones del Mes del Orgullo pueden no seguir adelante este mes, el sentido del espíritu que rodea el evento no se ha puesto en espera. En los últimos años, las marcas de zapatillas ayudan a mostrar su apoyo a la LGBTQ, a menudo lanzando paquetes temáticos especiales.
Con eso en mente, hemos decidido reunir las 10 mejores zapatillas del Mes del Orgullo. Como era de esperar, ha habido una serie de zapatillas de orgullo gay, muchas de las cuales se han vuelto populares en la comunidad de zapatillas. Todo el mundo, desde adidas hasta Vans y Nike a Converse, ha lanzado zapatillas de orgullo, cada una de las dos reconociendo la influencia de la comunidad LGBTQ. Afortunadamente para nosotros, eso sólo significa que hay una gran selección de zapatillas para elegir.
Without further delay, let's take a look at the top pride sneakers!
Disclaimer: this list is not in order!
New Balance 327 "Pride" (2020)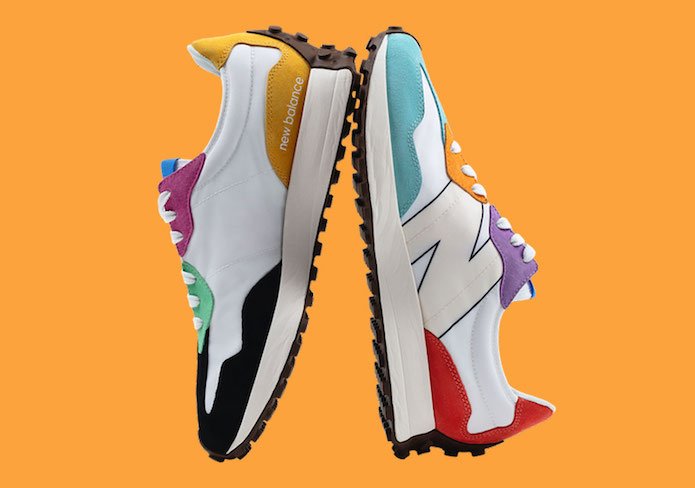 Since the introduction of the 327, many sneakerheads have been patiently waiting to see more of the silhouette. First unveiled on the Casablanca runway show at Paris Fashion Week, the 70s inspired sneaker has become a firm favourite for many. Kicking this list off with one of the strongest new Pride sneaker releases, we have the New Balance 327, aptly dubbed "Pride."
In keeping with the sneakers vintage aesthetic, the silhouette features a whole host of coloured suedes against a white mesh base. The large "N" motif on the side of the shoe uses a soft cream, allowing the eye-catching colourway to pull you in. A heart-shaped "NB" logo can be seen with an accompanying rainbow accent on the tongue. Even the insole features the words "love since 1906", showcasing New Balance's support of the LGBTQ community.
Nike Air Max 90 "Be True" (2019)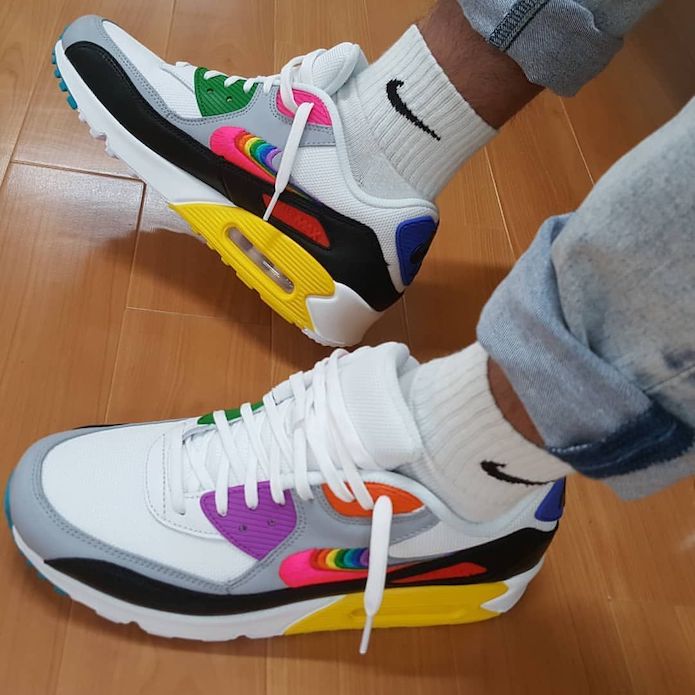 Nike has been running its #BeTrue campaign since 2012. During that time, Nike has released a number of slick gay pride sneakers. As the years have gone by, the hype surrounding the packs has only increased, with a number of sought after releases. 2019 saw the introduction of arguably Nike's best Pride sneaker so far.
Taking the Air Max 90, Nike opted for OG style colouring on the base. The familiar combination of white mesh, grey suede and black leather was the perfect backdrop for the rainbow coloured features to work against. Splashes of purple, orange, green, pink and yellow covered the eyelets, Air Unit and heel. It was the multi-coloured Swooshes that really set this sneaker apart though, with each building up to create a rainbow. These quickly sold out and became one of 2019's best Air Max 90s.
adidas Superstar "Pride Pack" (2015)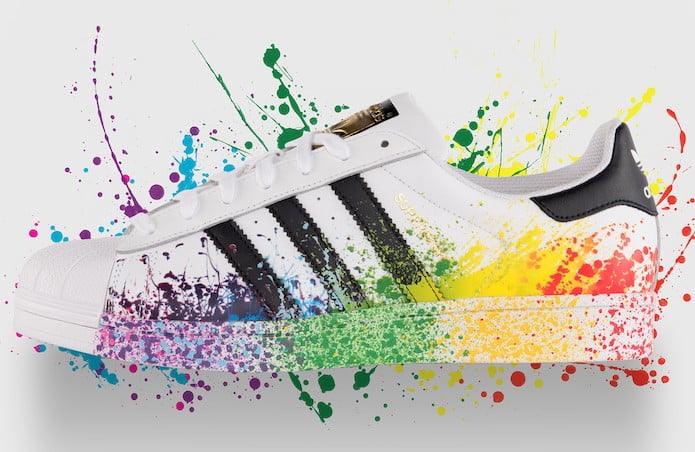 2015 marked 50 years since the first Gay Pride Parade in Philadelphia. In 1965, members of the LGBT community started the first-ever picket demanding legislation to secure rights of LGBT Americans. To honour this achievement, adidas created the "Pride Pack" which featured some of its most iconic sneakers. One of those in the pack was the adidas Superstar.
Taking the iconic silhouette, adidas kept things very simple on the upper. A classic base of white and black, complete with a gold adidas Superstar tongue, was draped in rainbow-coloured paint splashes. The paint worked its way from the midsole all the way up the upper, giving the impression that the shoes had been stamped in paint. This is one of the simplest adidas gay pride sneakers, but it's definitely one of the best.
Reebok Classic Leather "Pride" (2019)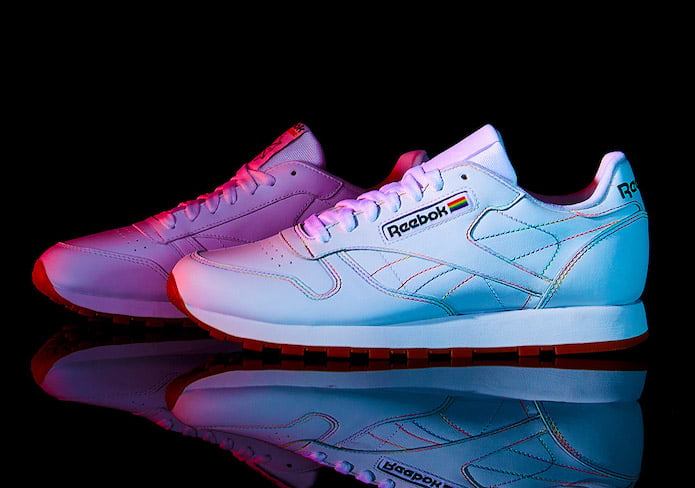 Last year, Reebok made its entrance into the pride sneaker world last year, much to the delight of many. Never ones to go overboard, Reebok kept things very simple, offering a three shoe pack with simple updates. The three chosen models were the Club C, Freestyle and the Classic Leather. Of all three Reebok pride sneakers, this is arguably our favourite.
A white Reebok Classic Leather features rainbow stitching across the entire upper. The subtle detail would be easy to miss, but that's where the beauty of the shoe lies. On the side, the United Kingdom flag has been replaced with the Rainbow flag of the LGBTQ community. If you're looking for an understated pair of gay pride sneakers, then look no further than these Reeboks.
Todd Snyder x New Balance 997 "Love" (2019)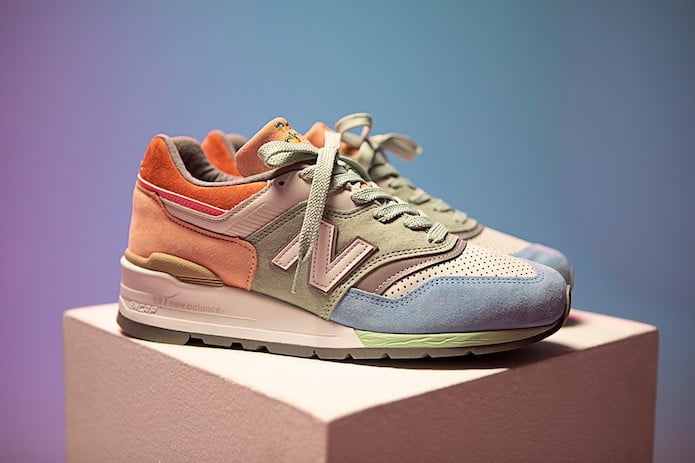 Todd Snyder has a fantastic relationship with New Balance. Over the past few years, the two have cooked up some of the best 997s, each opting for a unique style. Thankfully, the two don't seem to be stopping any time soon either. Last year, New Balance worked with Snyder to create a Pride 997, making for one of our favourite sneakers on this list.
Opting for a premium take on the 997, Snyder used perforated leather on the toe with suede overlays on the shoe. The multi-coloured suede featured shades of light blue, orange, green and red. Subtle details like the rainbow "New Balance" on the tongue and heel gave these shoes a bit of edge, whilst the neutral ENCAP midsole let the uppers do the talking. The campaign featured members of the LGBTQ community explaining why they marched, creating a powerful message for this release.
Nike Air Force 1 "#BeTrue" (2020)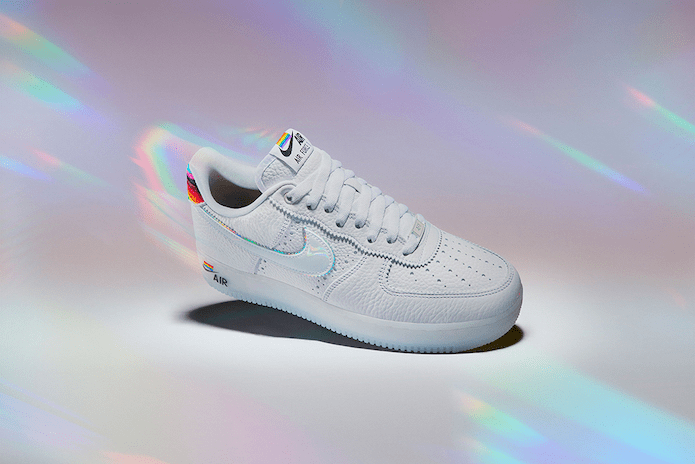 As we've already mentioned, Nike has continued to release pride sneakers for almost a decade. The Swoosh has long helped the LGBTQ community, with various initiatives besides the #BeTrue campaign. This year, Nike is reworking another of its iconic sneakers to release during Pride Month: the Air Force 1.
Taking Bruce Kilgore's classic design, Nike has elevated this Air Force 1 with premium materials. High quality tumbled leather is accented by a patent leather Swoosh comes complete with rainbow detailing on the outside. A semi-translucent midsole features a rainbow Swoosh above the "AIR", with the same design being featured on the tongue and heel. These are a must cop.
adidas Originals Ozweego "Pride Pack" (2019)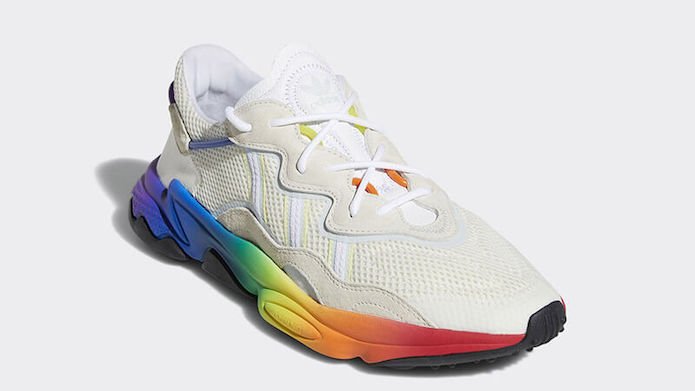 Over the past few years, adidas has really begun to experiment with the models it uses in its Pride Packs. In 2019, the adidas Originals Ozweego saw a dramatic return, bringing with it a large number of coveted colourways and collaborations. With that in mind, it seemed the perfect time for the brand with the three stripes to use it in last year's Pride Pack.
Featuring a neutral white and cream base, the adidas Pride Ozweego boasts suede, mesh and leather at its core. Subtle colouring on the tongue, ankle and heel gave this shoe discrete rainbow vibes, but its the bright sole that's the eye-catching piece on this sneaker. A gradient rainbow midsole can be seen throughout, spanning from deep reds to royal purples. This is certainly one adidas Pride sneaker you won't forget in a hurry.
Converse All-Star "Pride Pack" (2017)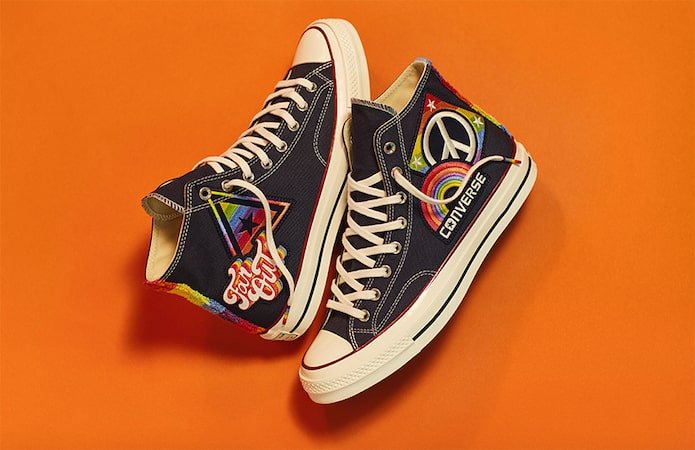 As one of the world's earliest sneaker brands, Converse has been around for over a century. During that time, the brand has seen some of the largest movements in history. Honouring this in 2017, Converse unveiled a Pride Pack that played on the various eras of the LGBTQ movement, resulting in eight sneakers that were equally as brilliant. However, this is arguably our favourite from the pack.
Taking the classic Chuck Taylor sneaker, Converse adorned the sneaker with rainbow patches against a black canvas base. Up the heel, a furry rainbow can be seen, with the silhouette featuring a red outline on the midsole. Even the lace aglets featured small rainbow detailing, turning this Converse gay pride sneaker into an instant hit.
Burberry Vintage Check Sneakers (2018)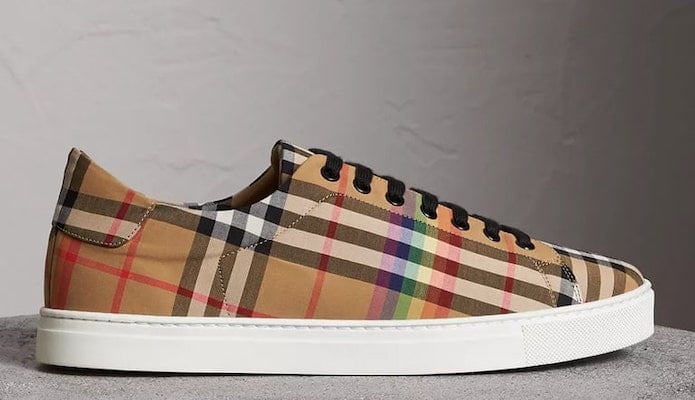 High fashion brands are not exempt from creating Pride sneakers, with Burberry being one of the best labels to do it so far. In 2018, the British heritage brand unveiled an entire collection designed to raise money for various LGBTQ charities. Taking the signature check print, Christopher Bailey placed a rainbow stripe throughout, making for one of the most memorable Burberry collections of all time.
These Vintage Check Sneakers feature the iconic Burberry pattern with a subtle rainbow through the middle. A crisp white midsole and contrasting black laces allow this subtle rainbow check to take pride of place. These Burberry pride sneakers quickly sold out soon after release, showing how powerful high fashion brand pride collections are.
Nike Flyknit Racer "#BeTrue" (2017)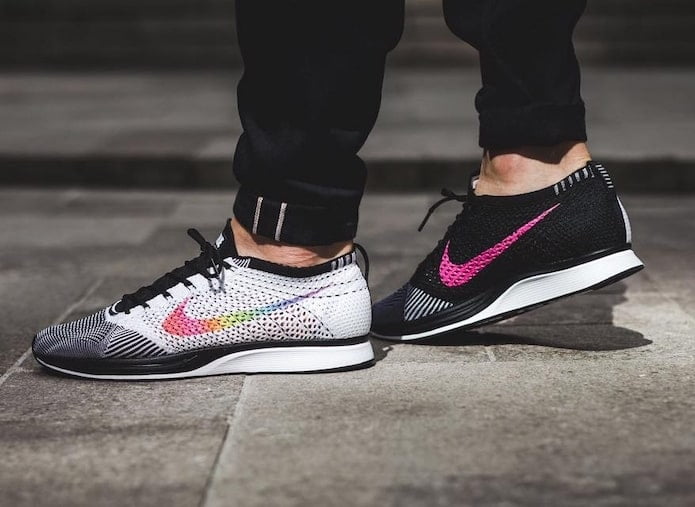 2017's #BeTrue Nike collection may just be the best in history. Nike decided to use a combination of classic and futuristic silhouettes. Comprised of the Nike Cortez, Nike Pegasus 34, Nike Vapormax and Nike Flyknit Racer, it was a big release for sneakerheads. Although all of the aforementioned silhouettes were great, our favourite has to be the Flyknit Racer.
Featuring a monochromatic Flyknit base, the #BeTrue Flyknit Racers were simple yet effective. The Swoosh featured the first-ever eight-colour rainbow pattern, something never seen in Flyknit racers before. A pink Swoosh on the medial side, as well as a white midsole and black outsole, made these Flynkit Racers ones to remember. Prices have steadily climbed in recent years, and for very good reason.
Final Thoughts
We hope you enjoyed our list of the best pride sneakers out there! As you can see, big brands have helped a number of LGBTQ charities through these releases, with donations coming from the sale of pride sneakers. With the pride month festivities continuing to grow, there has never been a better time to pick up a pair of pride sneakers.