There are fewer shoes that have had more impact in the sneaker game than the Nike SB Dunk Low. Since they first dropped in 2002, the Nike SB Dunk has been a staple for many. In recent years it has had a resurgence thanks to celebrities like Virgil Abloh and Travis Scott; the latter of which launched his own "JackBoys" Nike SB Dunk Low earlier this year.
Travis Scott's Nike collaborations have always been an instant sellout. By putting his signature on this classic SB Dunk, it was an instant hit. The Travis Scott x Nike SB Dunk Low sold out immediately on release day, with the skate shop exclusive drop only adding to the sneakers allure.
For our latest How to Style guide, we'll be showing you how to wear the Travis Scott Nike SBs. It's certainly one of Travis Scott's more adventurous Nike collaborations. The mismatch panelling, hidden details and eye-catching colour palette make it a tough one to get right. However, we'll be showing you some of the best Travis Scott Dunk outfits to use as a reference. Let's get into it and show you how to style Travis Scott Nike SBs.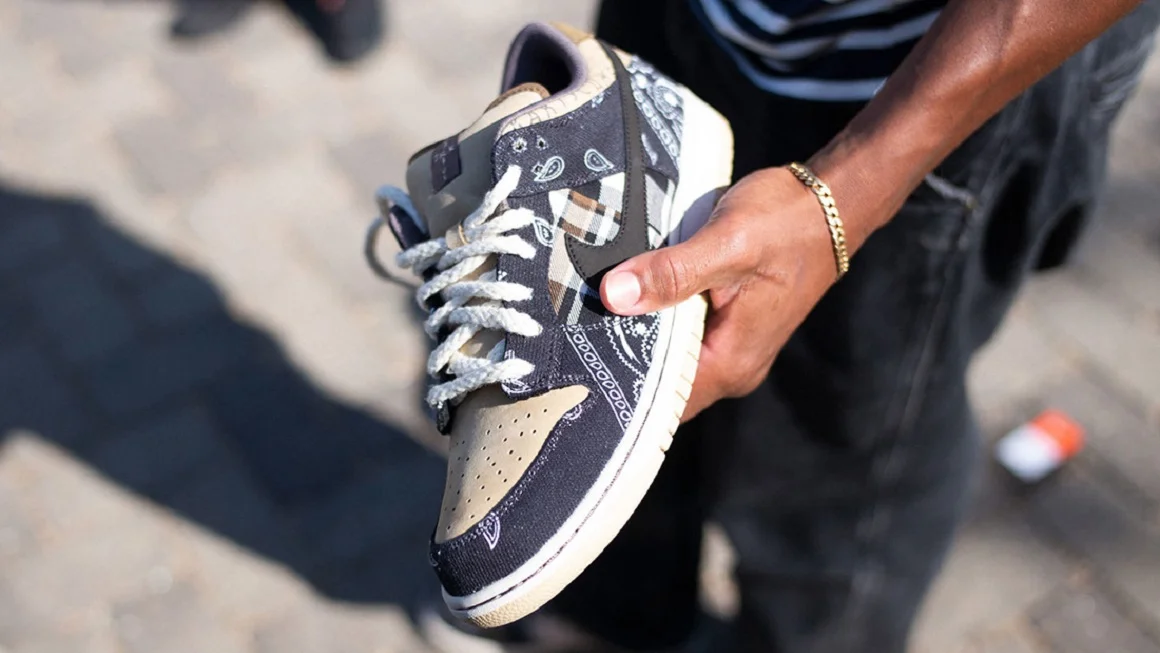 Keep Things Simple
With the Travis Scott Dunk having a lot going on, it's important that you make sure your outfit isn't too out there. For our first pointer, we're gonna tell you just to keep things simple. Travis Scott SBs have a number of colours, panels and different textures. That's why you need to make sure that your outfit lets the shoes take pride of place. For our first Travis Scott Nike Dunk outfit suggestion, we think you'll agree that it defines just what we are talking about.
Up top, the simple combination of a crewneck jumper and tan gilet makes for a finely balanced start. Of course, the fact that the crewneck is a Cactus Plant Flea Market piece adds a little more to this outfit. However, the basic principle of simple items that have been well put together has not been ignored. If you don't have a crewneck or gilet, you could wear a varsity jacket instead to achieve the same look.
By pairing upper with a pair of relaxed fit beige chinos, the shoes are the key focus. With the Travis Scott Dunks using a denim print, wearing a pair of navy jeans wouldn't work here. The shoes get to stand out whilst the rest of the outfit does enough to compliment the overall style. Accessories such as a bandana and some layered jewellery also add to this look without a lot of effort too. Good accessories go a long way, trust us.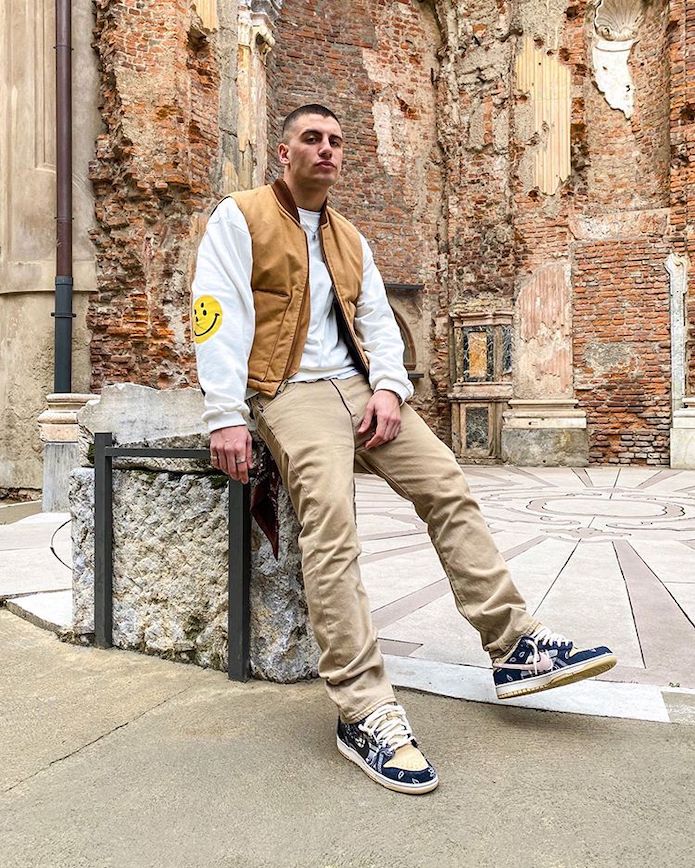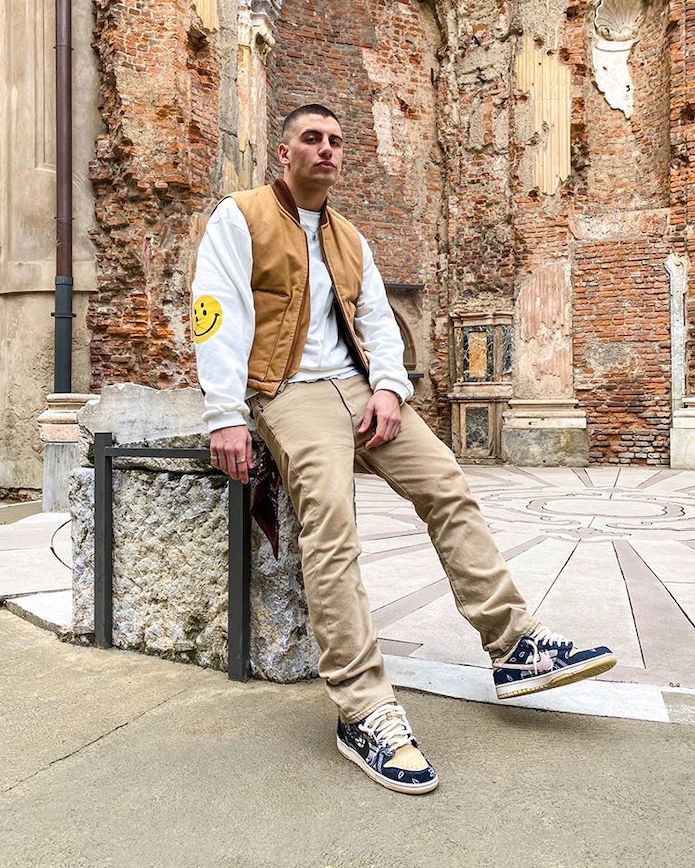 SHOP THE LOOK
Comfort is Key
Travis Scott x Nike collaborations always have one great characteristic: they can be dressed either up or down with relative ease. When images of the JackBoys SBs first surfaced, La Flame himself was wearing a pair of baggy sweatpants. Since then, we have seen a number of outfits that have featured these rare Dunks being worn with jogging bottoms. No one has done this better than Travis Scott's girlfriend mother to his child, Kylie Jenner.
When your boyfriend is Travis Scott and you're worth $1 billion, it's safe to say that life has a few perks. Kylie Jenner was spotted rocking a pair of the Travis Scott Nike shoes on a private jet. The effortless look was a perfect blend of casual styling with premium pieces. A simple pair of grey tracksuit bottoms, a black leather biker jacket and a pair of black sunglasses really is all you need. However, Kylie also shows that you don't have to cop a lot to style your Nike Dunks.
Of course, the Hermes Birkin bag is a nice touch, but if you haven't €40,000-€500,000 to spend, a nice bag will do just fine.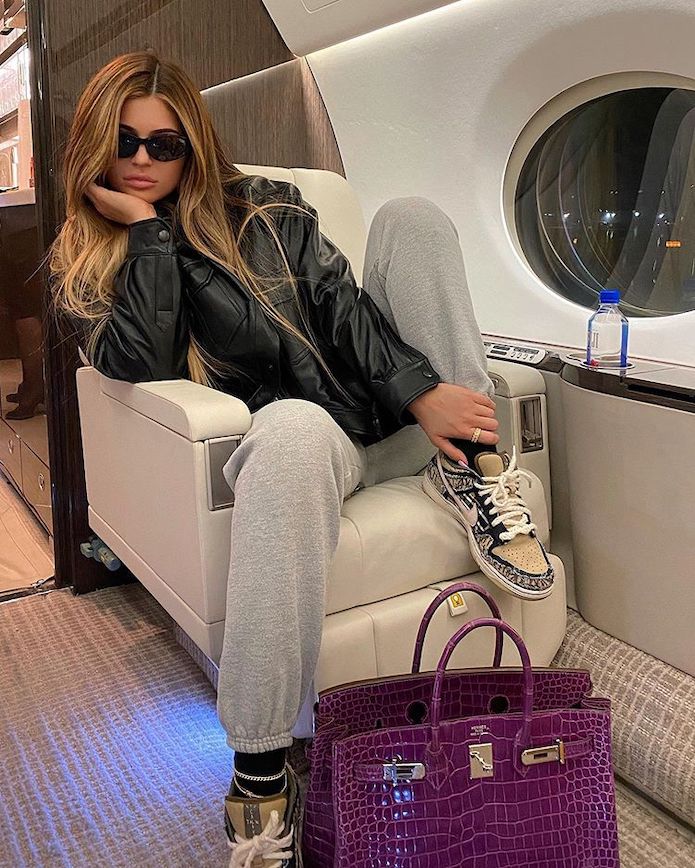 SHOP THE LOOK
Layer Your Outfits
As with any Nike SB style, you want to make sure that you layer your looks properly. Nike SB fashion is rooted in skateboarding and, as you would expect, wearing pieces that are durable and easy to layer is an important part of getting the look right. Travis Scott fits also follow this same principle. When it comes to these Travis Scott shoes by Nike, you need to make sure that you add as much depth to your look as you can. As you would expect, the Nike x Travis Scott Dunks will require a lot more attention to get the look right. Layering your outfits is one of the easiest things you can do to help that.
The outfit below is a good example of this. You can see that this look is well layered and paired with similar tones. A cream hoodie underneath an oversized check overshirt adds an added depth to this look. The baggy cargo pants also add to the skater chic that we mentioned earlier. Of course, the additional accessories on this outfit really help to bring it together. Black sunglasses and a clean side bring the whole look together without really having to do much. Travis Scott shoes require a bit more care when planning your outfits. This look is a good example of how you can show off your Travis Scott Nike SBs with a few simple pieces.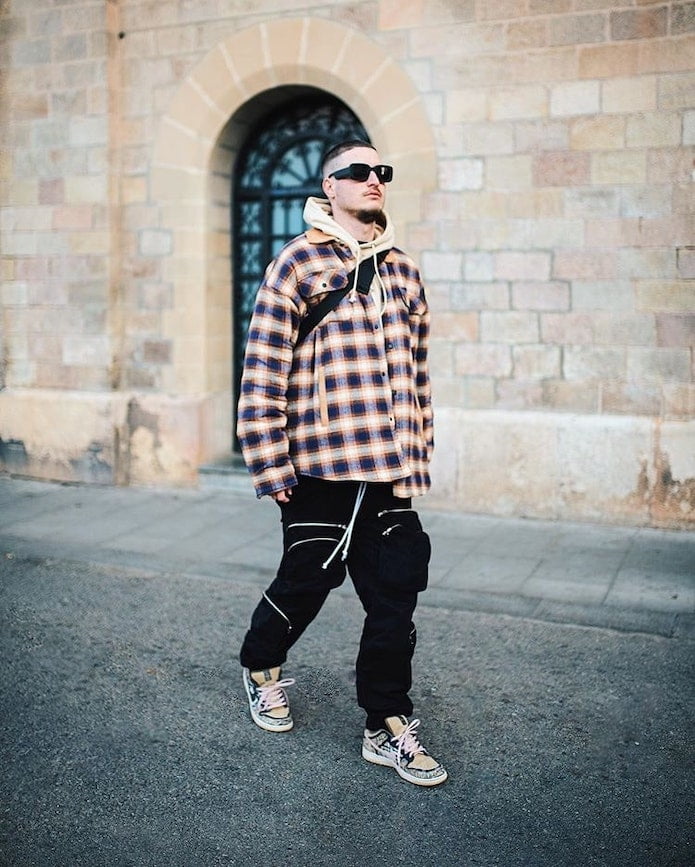 SHOP THE LOOK
Less is More
Sometimes, simple outfits really are the best. A few pieces that are well-balanced and thought out can go a long way. It's about striking the right look without having to do a lot. Although the Nike x Travis Scott collaboration is certainly bold, you can dress these Nike SBs up with just a few simple items. In the Nike SB outfit below, you can see how this sneakerhead has managed to get her Nike SB Dunk Lows to take pride of place with a simple ensemble.
Using a simple grey top and a pair of pleated pants goes to show that you don't have to spend a lot of money to make a good outfit. Here, the focus has been on ensuring that the shoes draw your attention in. By using neutral colours, you can see that more emphasis has been placed on the shoes. the slightly flared trouser, complete with ribbed detailing, means that additional textures have been included on this outfit.
The use of gold accessories also adds a bit more to the style of this outfit. A simple gold chain or some gold sunglasses can really elevate your Nike Dunk outfits when you know how to pair them. Less really is more sometimes!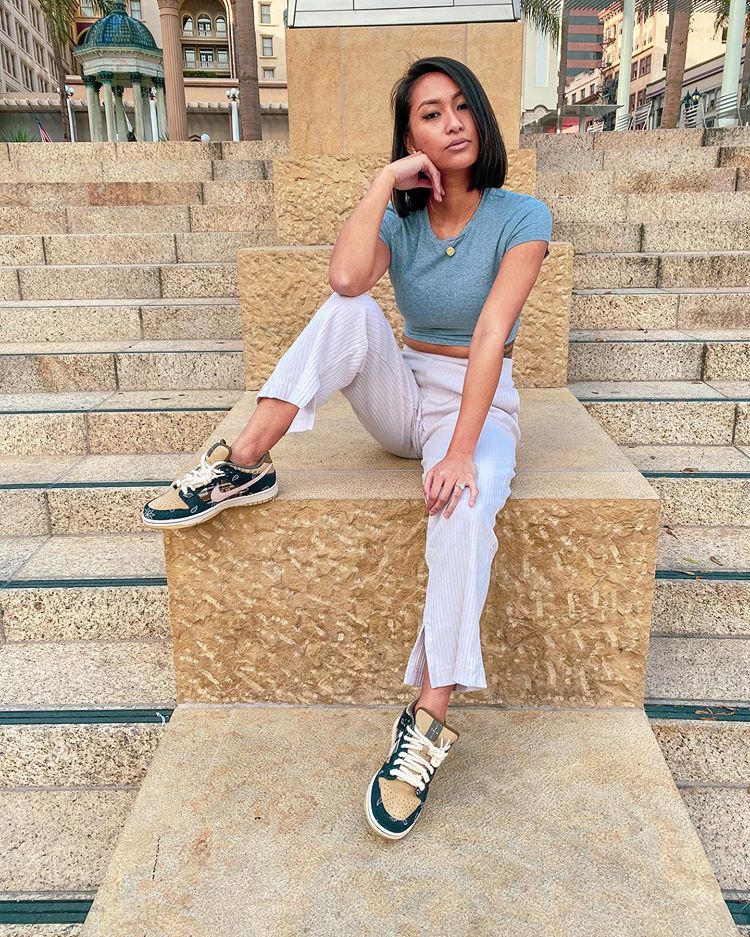 SHOP THE LOOK
Final Thoughts
We hope you've enjoyed this How to Style guide on the Travis Scott x Nike SB Dunk Low. As one of the boldest Nike Travis Scott shoes currently out, this shoe can be tough to style. Nike Dunk outfits have a few simple elements as you have seen. If you get stuck on how to wear your Travis Scott Nike SBs, just check back to this handy guide. Our team of experts will be happy to show you how to style your Travis Scott Nikes.
If you're looking to cop a pair of new SB Dunks, then head over to the KLEKT store! We stock a wide variety of colourways, Nike SB collaborations and many more.