Over the past 33 years, Nike Air Max sneakers have become a staple part of sneaker culture. The long line of running trainers has transcended its original purpose of providing comfortable running footwear into something completely different. For the past three decades, Nike Air Max collaborations have also become a talking point in street society. As we edge ever closer to Air Max Day, KLEKT thought it was about time we rounded up some of the best Air Max collaborations of all time.
It's been tough to put this list together. There's been a lot of debate at KLEKT HQ and believe us, a lot of heated discussions. With hundreds of collabs, you can imagine it was tough picking just 10. However, we've put together a list that we think you will agree with. There will be some old favourites here, as well as brands that you will have definitely heard of. Without further delay, let's take a closer look at the 10 best Air Max collaborations of all time.
Disclaimer: these are in no particular order! Picking just 10 was tough as it is, to then put those in order would have been a whole new challenge.
Dizzee Rascal x Nike Air Max 90 "Tongue N' Cheek" (2009)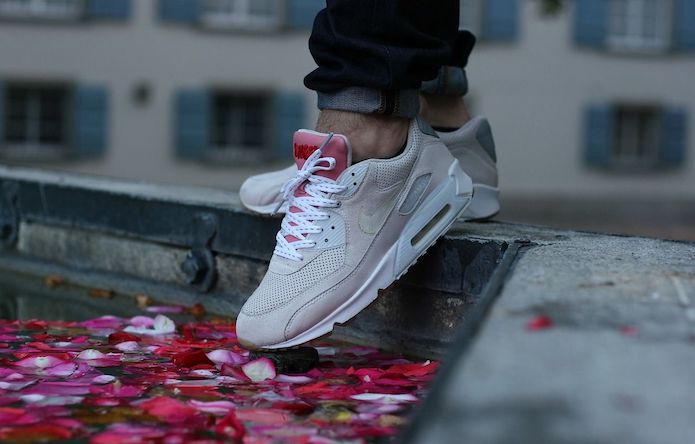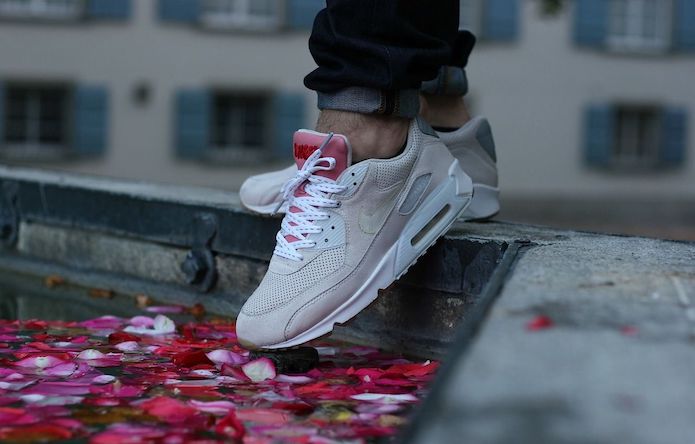 What better way to kick things off than with this Dizzee Rascal collaboration. Back in 2009, Dizzee Rascal was celebrating the launch of his album Tongue N' Cheek. He recruited long time friend Ben Drury to create the album's artwork, as well as the unique details on this Air Max 90. Constructed in a premium cream leather, brushed suede, and breathable mesh, the shoe was one of the best Air Max 90s ever made.
Custom details can be seen throughout this shoe. The shoes pink tongues featured "TONGUE" "N' CHEEK" stitched onto them. On the heel tab, the silhouette of Dizzee Rascal can be spotted, whilst the clear outsole features the Dirtee Stank Records emblem underneath. These 90s dropped in extremely limited quantities back in 2009 and prices have only continued to rise. Getting your hands on a pair now isn't impossible, but it isn't cheap either.
atmos x Nike Air Max 1 "Safari" (2002)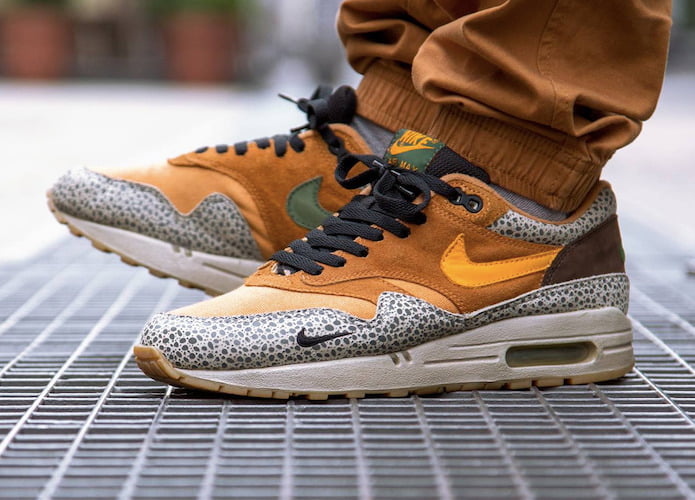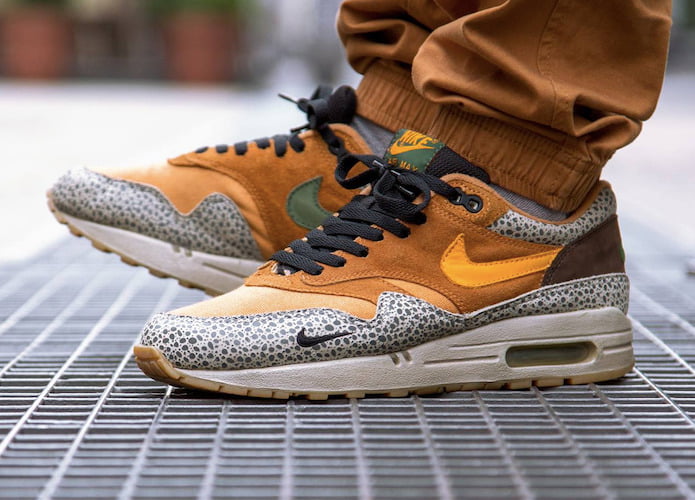 Back in 2002, Nike recruited atmos to reinterpret the Air Max 1. Taking inspiration from animals, the atmos "Safari" Nike Air Max 1 has become a legend in sneaker collaborations. The upper used a combination of textures in deep oranges, browns and a distinct pebble grey leather overlay. A stitched mini Swoosh on the mudguard gives the shoe another added detail too.
In 2016, atmos and Nike reissued the atmos "Safari" Air Max 1 much to the joy of sneakerheads around the globe. Over the past 18 years, atmos x Nike collabs have always been special in the footwear community and its easy to see why. This collaboration between atmos and Nike kickstarted one of the most important relationships in sneakers.
Kidrobot x Nike Air Max 1 Hyperstrike (2005)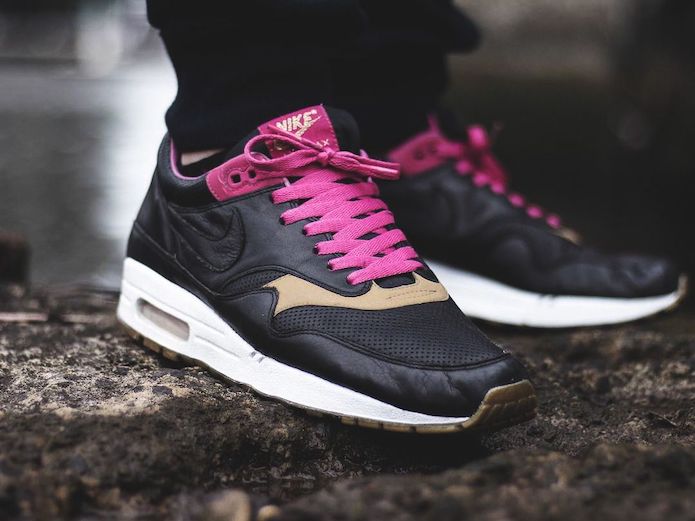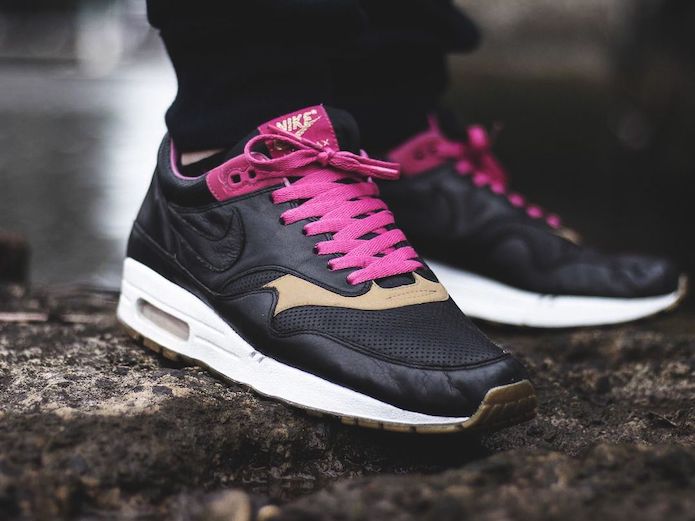 Fewer pairs have a more mythical status than the Kidrobot x Nike Air Max 1. Back in 2005, Nike partnered with iconic retailer Barneys New York to create a luxurious AM1. Using a black leather base, the shoe featured hits of pink, red and beige throughout. The premium nature of the shoe was based on the exterior of Kidrobot's 1986 Maserati Quattroporte III Royale. Perforated leather throughout, as well as the exclusivity of the drop, meant that this Air Max 1 became one for the history books.
The shoe was one of the rarest Air Max sneakers on this list, with only 250 pairs made and sold at Barneys New York flagship. If that wasn't enough, a rarer pair also exists. With just 72 pairs rumoured to be gifted to those close to Nike, Barneys and Kidrobot, the pink hyperstrike Air Max 1 is one of the most exclusive Air Max 1s of all time. If you are looking to get your hands on these, you'll need deep pockets. Resell prices are currently over €3,000 online.
Dave's Quality Meats x Nike Air Max 90 "Bacon" (2004)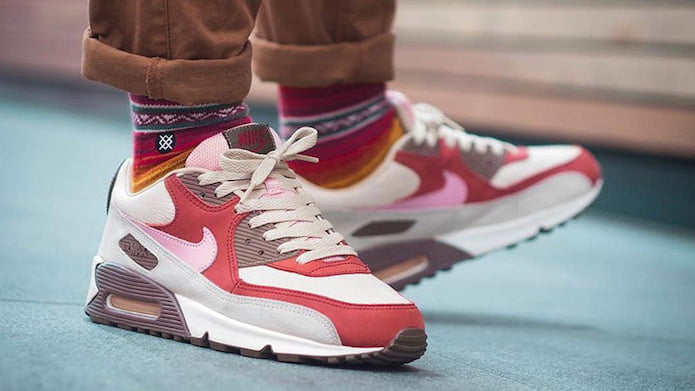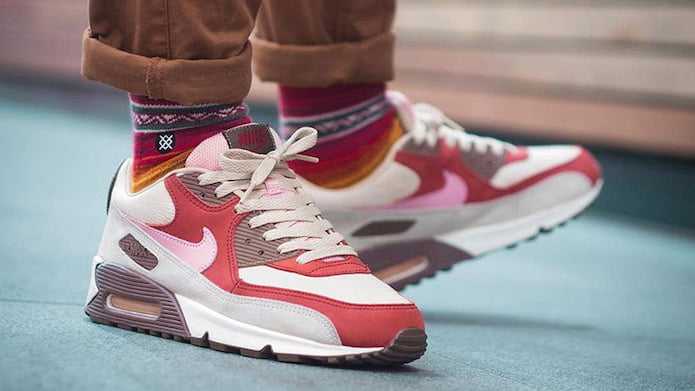 Whenever a shoe has a story to tell, sneakerheads want to cop it immediately. That's exactly what the Nike x Dave's Quality Meats collab does. In 2004, Nike partnered with Dave's Quality Meats (DQM), an independent streetwear store located in New York. The store takes inspiration from co-founder Dave Ortiz's years in the New York meatpacking district. When it came to designing this shoe, that inspiration really showed.
The "Bacon" Air Max 90s became a shoe of legend. Comprised of premium leather and suede, the shoe features varying shades of red, pink, cream and tan. When they dropped, the shoe cemented itself as one of the best Nike Air Max 90s of all time. So much so that in 2009, Nike reissued the colourway as part of its Current Huarache PRM release. With rumours suggesting that a retro of the DQM x Nike Air Max 90 taking place this year, fans will have a third time to cop.
Parra x Patta x Nike Air Max 1 "Cherrywood" (2010)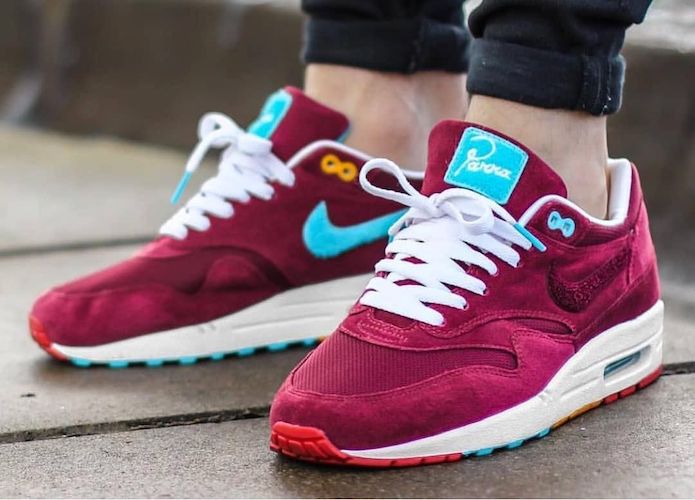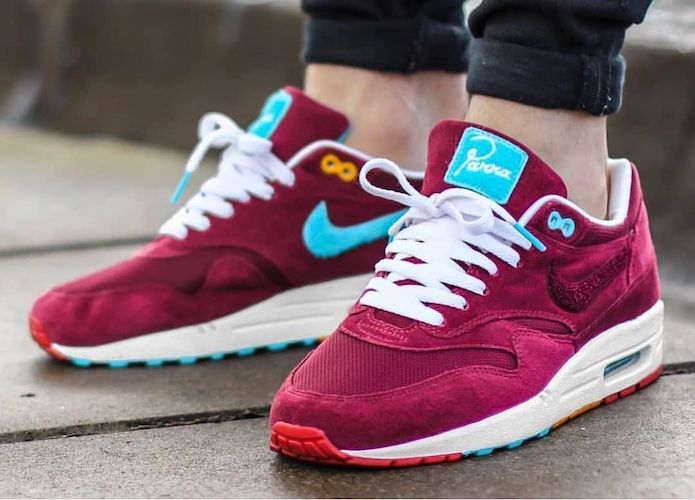 There are fewer Air Max 1s that have as much hype around them as the Parra x Patta x Nike Air Max 1 "Cherrywood". In 2009, Patta was celebrating its fifth birthday. The Dutch sneaker boutique had worked with Nike to create four unique Air Max 1 colourways: Chlorophyll, Purple Denim, Denim and Lucky Green. After the hype of the drop, the shoes quickly became the stuff of Air Max legend. However, Dutch artist Parra teased fans that a potential fifth shoe was on the way.
The silhouette featured burgundy suede and was contrasted with burgundy and blue chenille Swooshes on the side. A satin sock liner, as well as a tri-branded insole, added to the hype of the shoe, with a multicolour outsole finishing the shoe off. With only 258 pairs made available to the public, it was one of the rarest Air Max 1 releases. As time has gone on, the value of the shoe has only gone up with pairs varying from €4,000-€12,000 depending on size and condition.
Parra x Nike Air Max 1 "Albert Heijn" (2005)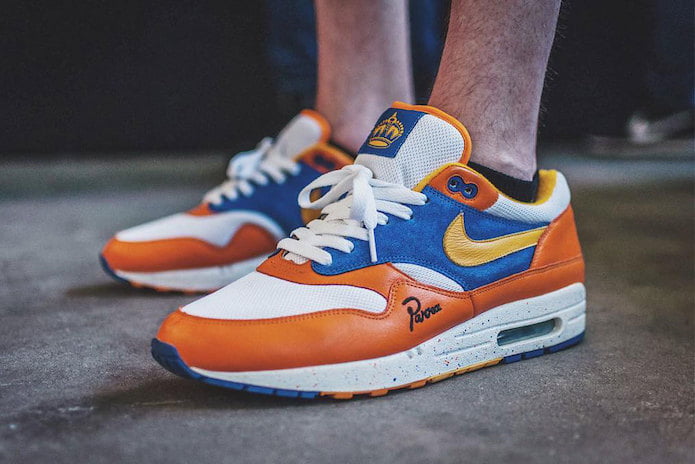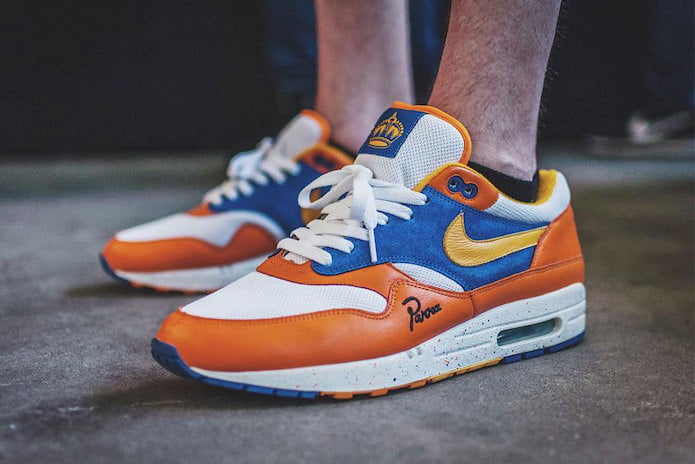 Fewer shoes have a more mythical status than the Albert Heijn Nike Air Max. The story goes that in 2005 Nike approached the Dutch artist Peter Janssen aka Piet Parra, to design a shoe that represented his home city of Amsterdam. Jansen came back with two designs and colourways; the Albert Heijn, taking inspiration from the Dutch supermarket of the same name, and the now well-known chocolate, fuschia and brown "Amsterdam" release pair.
Rumour has it that the Swoosh was going to release the Albert Heijn Nike Air Max 1 when the Dutch supermarket suddenly changed their branding. This meant that Nike subsequently pulled the Albert Heijn from production, leaving a mere 24 pairs for friends and family. Chances of owning a pair of these are pretty much non-existent. If you're looking for a cheap pair of Air Max 1s then this certainly isn't the pair to go after. The last pair that came up for sale went for a cool £15,000 on eBay, making it one of the most expensive Nike Air Max 1s in existence.
Parra x Nike Air Max 1 "Amsterdam" (2005)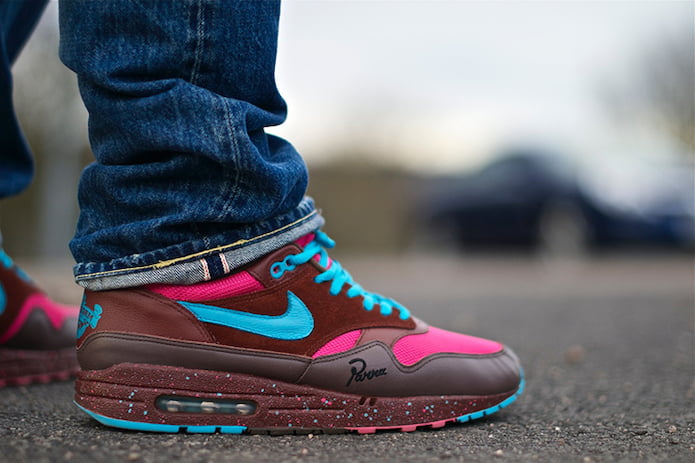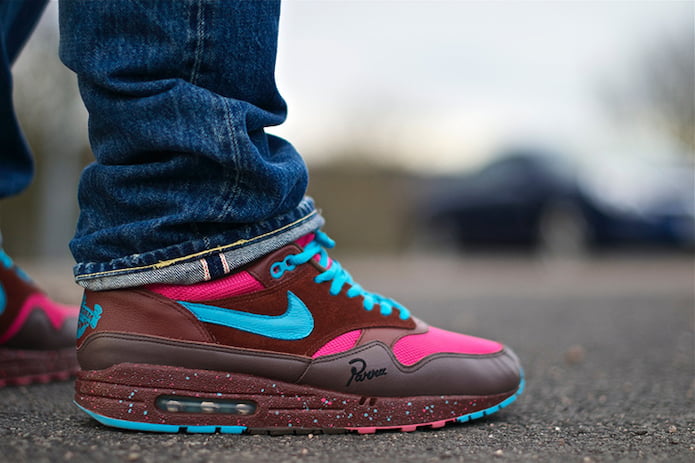 We couldn't mention the Albert Heijn without following it up with the shoe that actually released in its place. The Parra Nike Air Max 1 "Amsterdam" is easily one of the greatest sneakers of all time. Taking inspiration from his home city, Parra created a shoe that showed off "Amsterdam" from his perspective. He probably didn't know it at the time, but he made one of the nicest looking AM1s in history.
Constructed using premium leather, the Parra x Nike Air Max 1 features baroque brown, turquoise and pink across the upper. On the heel a cut out of Amsterdam can be spotted, whilst custom insoles feature artwork from Parra. Initially limited to just 250 pairs, the Parra "Amsterdam" was one of the rarest Air Max 1s to ever drop. However, Nike noticed that the toebox began to separate after being worn.
They recalled the pairs, but sneakerheads were very sceptical about sending them back. Nike eventually dropped another 250 with the flaw rectified, meaning that only 500 ever made it off the production line. If that wasn't enough, an even rarer friends and family pair with Parra's signature inscribed on the mudguard. With just 24 pairs in existence, these are just as rare as the Albert Heijn pair.
atmos x Nike Air Max 1 "Elephant" (2007)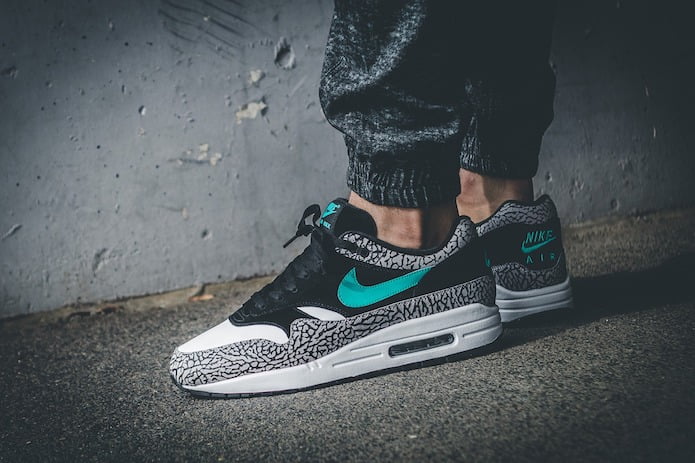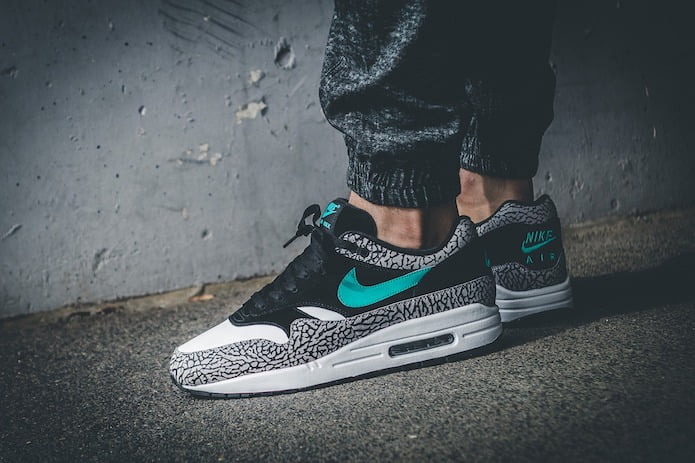 It's hard to imagine where Air Max 1 collabs would be if atmos didn't set such a high standard. After the success of it's "Safari" and "Animal" releases, the brand had made a name for itself when it came to out there Air Max collabs. The bar atmos set itself was high, but the rate at which it executed its collaborations is what set it apart from the rest. In 2007, atmos created the "Elephant" Air Max 1, a shoe that has since become a legendary sneaker.
The use of premium materials throughout the shoe made it such a hit. A crisp white leather, paired with black suede and an eye-catching jade Swoosh gives this shoe its edge. Using a similarly crisp white midsole with grey outsole only allowed the upper to thrive even more. Although the "Safari" may be the original collaboration between atmos x Nike, the Elephant is definitely the winner between the two. In 2017, the shoe was re-released thanks to the Vote Back campaign by Nike.
HUF x Nike Air Max 90 "Hufquake" (2007)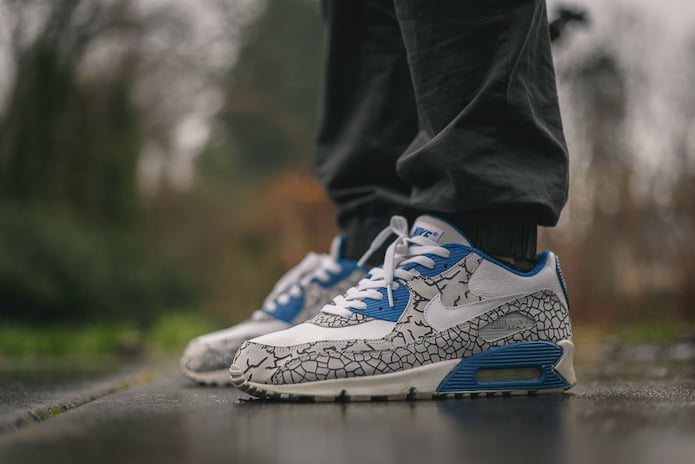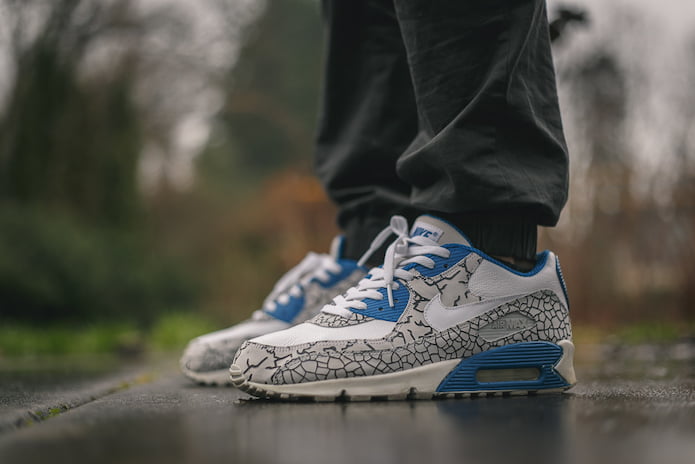 Founded by Keith Hufnagel in 2002, HUF has become synonymous with skatewear over the past 18 years. The brand has remained constant throughout the evolution of streetwear. Its affiliation with skating and surfing has allowed HUF to become one of the leading brands in the world. Recognising the importance of this, Nike teamed up with HUF in 2007 to create a limited Nike Air Max 90.
The design took inspiration from Tinker Hatfield's original "Military Blue" Air Jordan 4. Using a white leather base, the shoe featured splashes of blue and black across the upper. However, the real star of the show was the elephant print across the mudguard. A native of San Francisco, Hufnagel and his team placed this cracked earth panel which replaced the traditional suede; an ode to the pavement of The Golden City.
The shoe has remained a classic for many sneakerheads and, when Nike was pushing its Current Huarache model, the HUFQuake was given a futuristic update. Pairs are available on the secondary market but with over a decade since they first released, it's getting harder to find a brand new pair.
Patta x Nike Air Max 1 "Fifth Anniversary" (2009)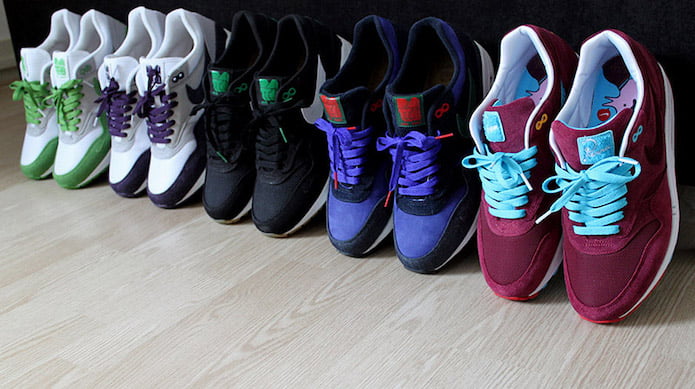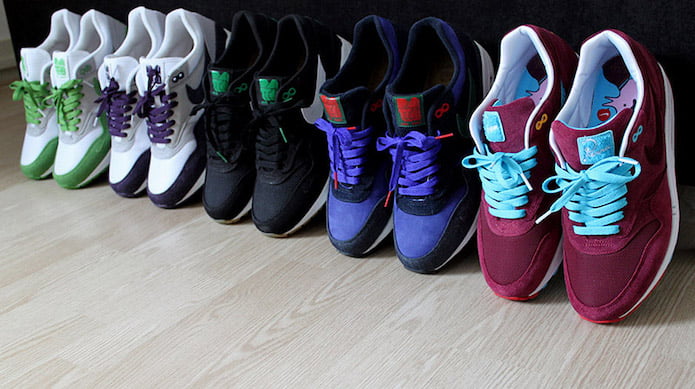 Ok so technically this is cheating but there is no way that we could pick one of these without picking the others. As we've already mentioned, back in 2009, Patta was celebrating its fifth anniversary. Patta had recruited Nike's help to create four colourways, each being very desirable. The Amsterdam based sneaker store created the: Chlorophyll, Purple Denim, Denim and Lucky Green Air Max 1s.
The pack was, and still is, one of the most desirable Air Max 1 packs of all time. Each shoe features a unique colour combination, as well as premium materials throughout. Even now, almost 11 years later, the Patta x Nike Air Max 1s are some of the most sought after sneakers. Since then, Patta and Nike have dropped a number of slick collabs but these remain our favourite.
Final Thoughts
We hope you enjoyed our selection of the best Nike Air Max collaborations of all time. As you can imagine, this was a tough list to put together, but there were a few key names that cropped up. Brands like atmos and Patta have remained a constant over the past 15 years or so. Artists like Parra and even Ben Drury have also become part of the fabric of Air Max culture. With the Air Max line going nowhere, let's just see what the future holds.