Pop music would look ever so different if it were not for Rihanna. Real name Robyn Rihanna Fenty, Rihanna took the world by storm in 2005 and hasn't looked back since. After signing with Def Jam, the then 17-year-old would go on to become one of the most famous people on the planet. Whilst it may have been only 15 years since we first heard of Rihanna, she has gone on to be one of the most successful musicians on the planet, winning nine Grammy's and countless other accolades.
However, it isn't just Rihanna's music that has a lot of people envious. The 32-year-old musician turned fashion and beauty mogul has one of the most recognisable styles on the planet. Having signed a deal with PUMA in 2014, Rihanna's PUMA sneakers would go on to be some of the biggest sellers for the German sportswear brand. As you can probably imagine though, Rihanna isn't always spotted wearing just Fenty PUMAs on her feet.
For this post, we're taking a closer look at some of Rihanna's best sneaker moments. We'll be cataloguing some of the best shoes Rihanna has worn as well as her insatiable sneaker style. Without further delay, let's look at some of the best sneakers Rihanna has worn.
Air Jordan I "Bred"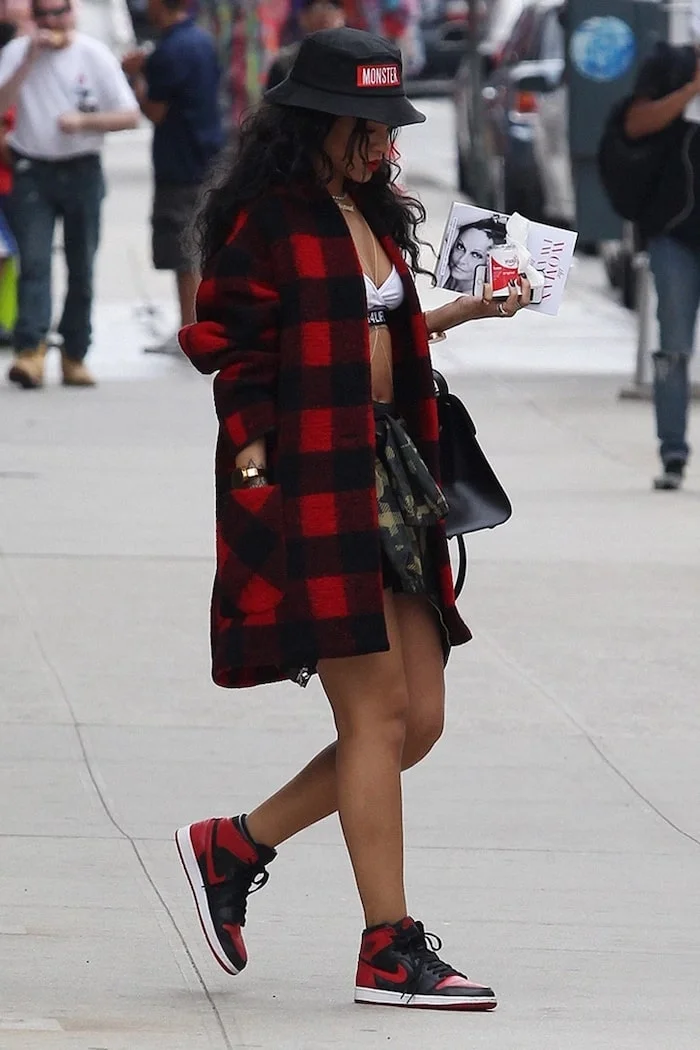 It's hard to beat a pair of Air Jordan 1s, especially when they're in the iconic Bred colourway. Designed by Peter C. Moore in 1984, the Air Jordan 1 has remained one of the most important sneakers in history. Combining the Chicago Bulls colours across the silhouette, the "Banned" Air Jordan 1 became a key seller for Nike when it released in 1985. Even today, 35 years after its original release, the Air Jordan 1 "Bred" is one of the best sneakers of all time. Rihanna can be seen here on the streets of New York donning the iconic shoe with a matching red and black oversized check shirt.
PUMA x Sophia Chang Brooklynite Basket Classic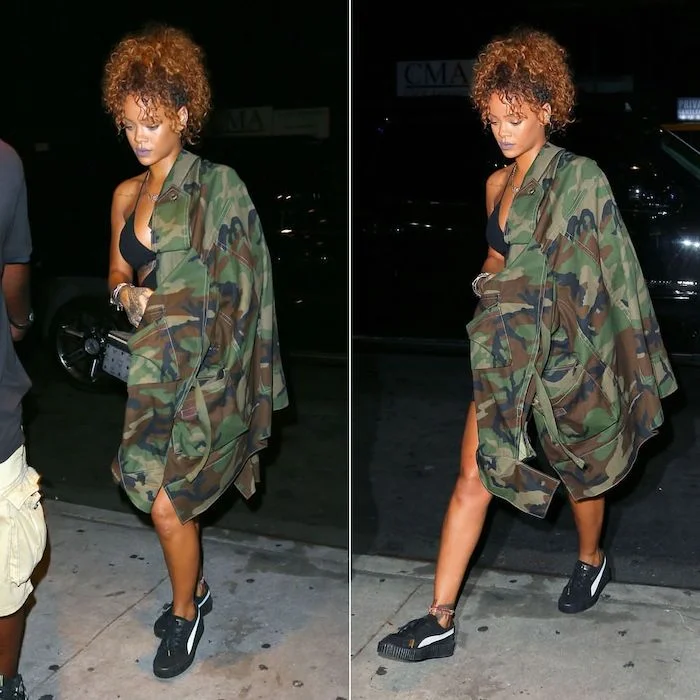 After Rihanna signed with PUMA in 2014, it didn't take long for the brand to usher in an entirely new wave of collaborators. One of the most memorable was without a doubt Sophia Chang, who in 2015 worked with PUA to put her spin on Rihanna's Basket Creeper silhouette. The results were an instant hit, combining a traditional monochromatic upper with an oversized midsole. As you can probably imagine, it didn't take long for Rihanna to rock a pair. Paired with an MCM bag and an oversized camouflage jacket, this is certainly a look you won't forget.
Nike Air Force 1 "White"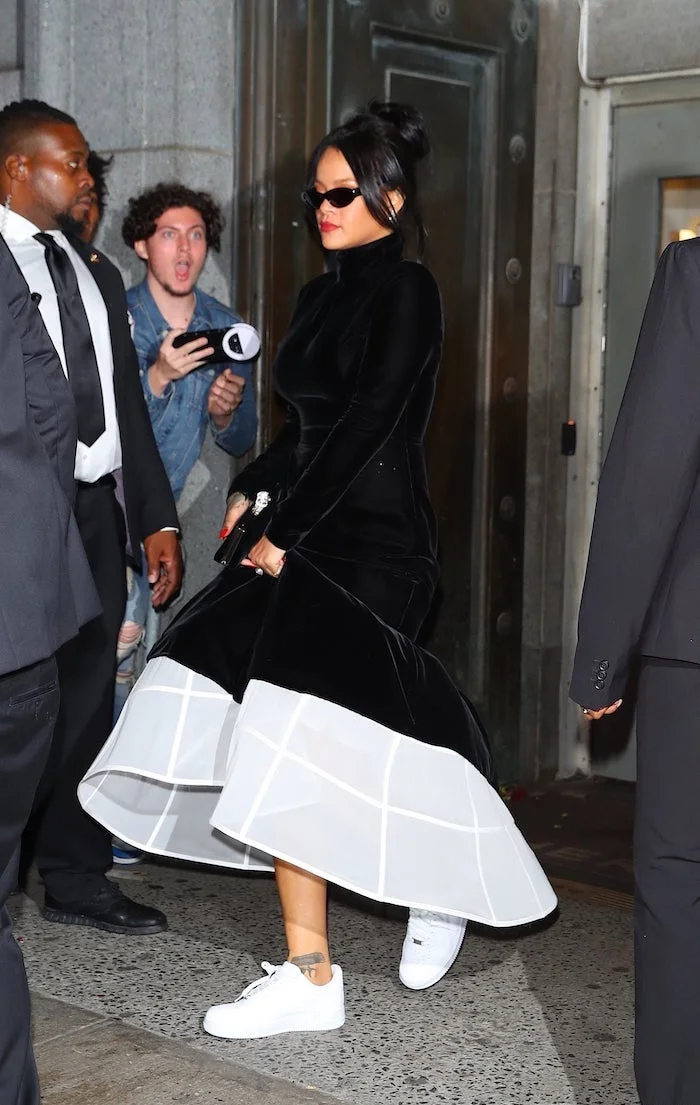 Designed by Bruce Kilgore in 1981, the Nike Air Force 1 is without a doubt one of the greatest sneakers ever made. Having been a success on the court, it was the popularity off the court that forced Nike to rbing the shoe out of retirement in 1986. For the past 34 years, sneakerheads have ensured that is legacy has lived on. Worn by almost everybody on the planet, the Air Force 1 "White" is arguably the best all-white shoe that Nike has ever made.
We're gonna be honest, our exact reaction was like the guy in the photo above when we saw this. Being able to wear a Givenchy haute couture ballgown alongside contrasting white cage skirt and a pair of crisp white Nike Air Force 1s, yet somehow Rihanna made it look effortless. The monochromatic ensemble is a showcases Rihanna's style perfectly. Not many people can combine high-end fashion with a pair of white AF1s.
Air Jordan VII "Golden Moments Pack"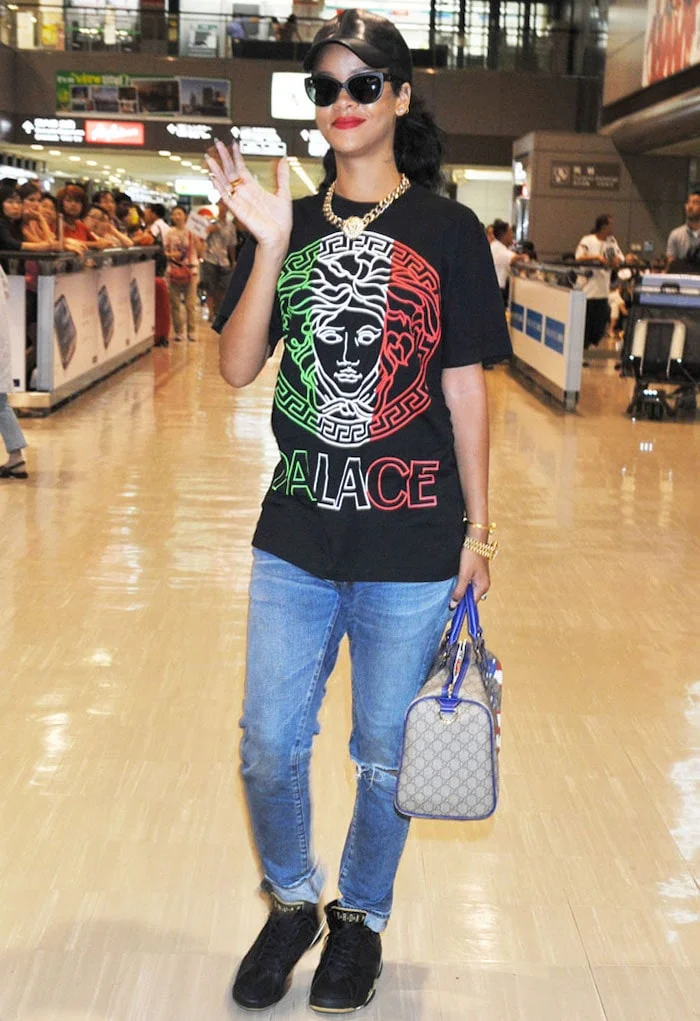 Fun fact: this was one of the first times that a Palace T-shirt was worn by a celebrity, putting people onto Lev Tanju's independent skate label. The Air Jordan 7 Rihanna is wearing also happens to be one of the best of all time. Released in 2012 as part of the "Golden Moment's Pack," this Air Jordan 7 dropped alongside an Air Jordan 6. Featuring simple black leather and nubuck throughout, the golden accents reference the trophies Michael Jordan won with the Chicago Bulls.
Nike Air Yeezy II "Solar Red"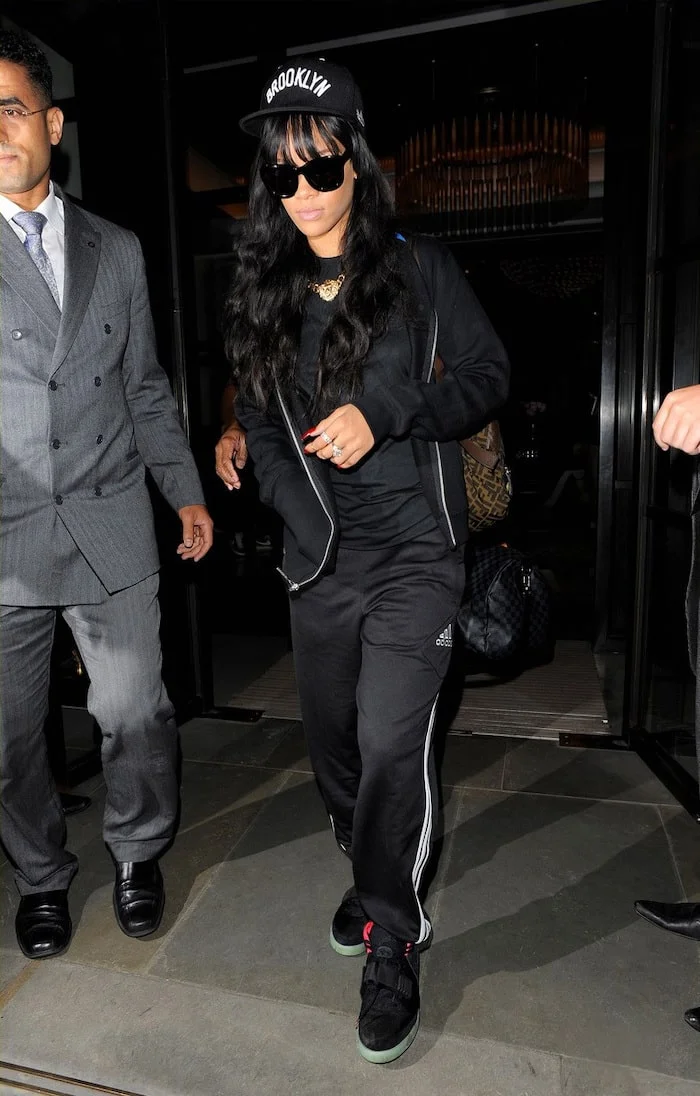 Following on from the widely successful 2009 Nike Air Yeezy, Kanye West and the Swoosh linked up once again in 2011. Whilst it would take almost an entire year for the shoes to be put into production, that didn't stop the hype surrounding the Nike Air Yeezy 2 from growing exponentially. Dropping in two colourways, "Solar Red" and "Pure Platinum," the Air Yeezy 2 was, and still is one of the greatest Yeezy sneakers of all time.
Referencing Egypt and using animal-like patterns throughout, the striking combination of bold design and features such as a glow in the dark sole only helped to sell the sneaker to the community. Unveiled during the Watch the Throne tour, this is without a doubt one of Kanye's greatest sneakers. When you're friends with Yeezus, you don't have to worry about getting a pair on release day. Fortunately for Rihanna, she got her pair of Yeezys way before.
Mr. Completely Creepy x adidas Samba "White"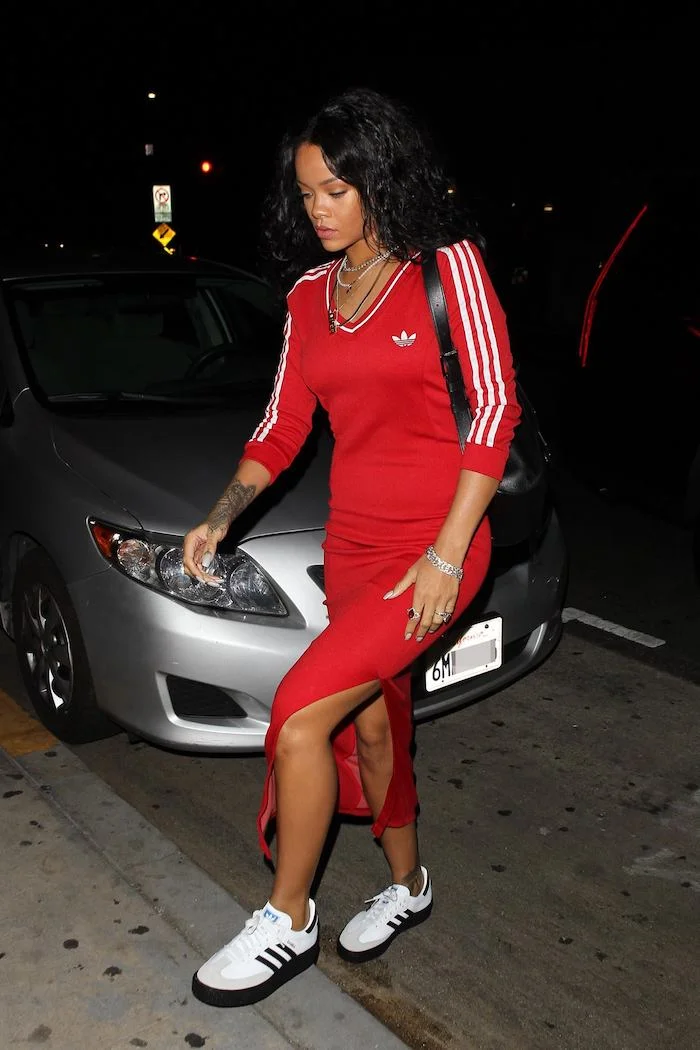 It is safe to say that the Rihanna Fenty Creeper effect permeated almost every brand in fashion. Having seen the success of the chunky silhouette, adidas teamed up with Mr Completely Creepy on a Samba. As you can probably imagine, the sneaker was a big hit. Taking the familiar Three Stripes silhouette, Mr Completely Creepy kept the original shape whilst adding a thick black midsole section. The extended model caught the attention of Rihanna in 2014, who paired these adidas Creepers with a Jeremy Scott x adidas Maxi Dress.
Off-White™ x Air Jordan 1 "UNC"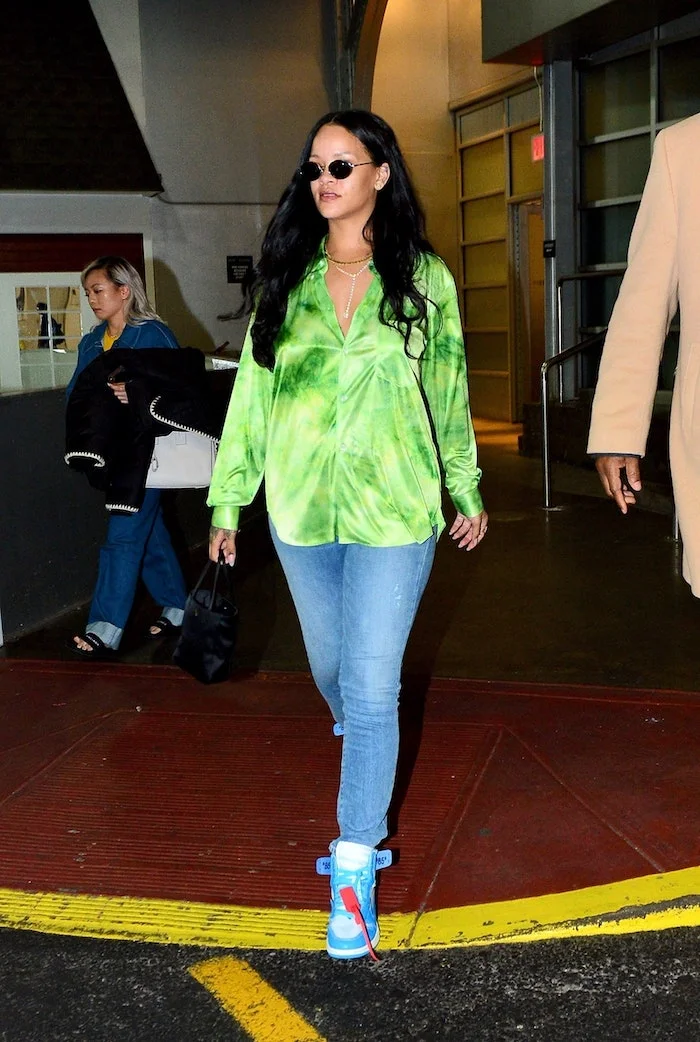 When a collection between Virgil Abloh and Nike was announced in 2016, the sneaker community was excited. "The Ten" as it was dubbed saw Abloh reinterpret 10 Nike silhouettes. Though there was a wide variety of choices, there was really only one winner: the Air Jordan 1. Originally dropping in the classic Chicago colourway, sneakerheads were treated to two more versions of the shoe; the NRG and UNC. The latter referenced Jordan's time as part of the University of North Carolina's Tar Heels. Seen above on the feet of Rihanna, this is arguably one of the best Air Jordan 1s to drop in the last few years.
PUMA by Rihanna Creeper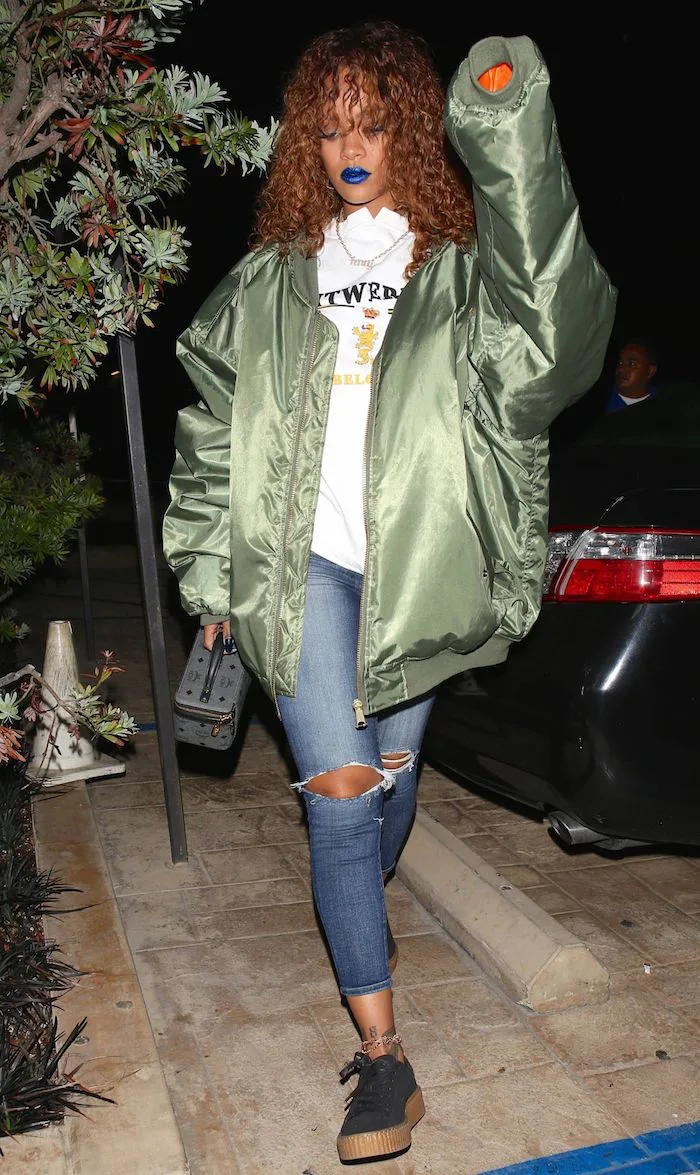 Rihanna's PUMA Fenty sneakers took the world by storm throughout 2015. The chunky sneaker was something that kickstarted a revolution, giving female sneakerheads a silhouette that they could call their own. Over the past few years, the hype surrounding the PUMA Rihanna sneakers may have slowed down, but their influence is immeasurable. This is one of Rihanna's best sneaker moments because it marks such a big movement, not only in her career but also in fashion.
Air Jordan I "Black Toe"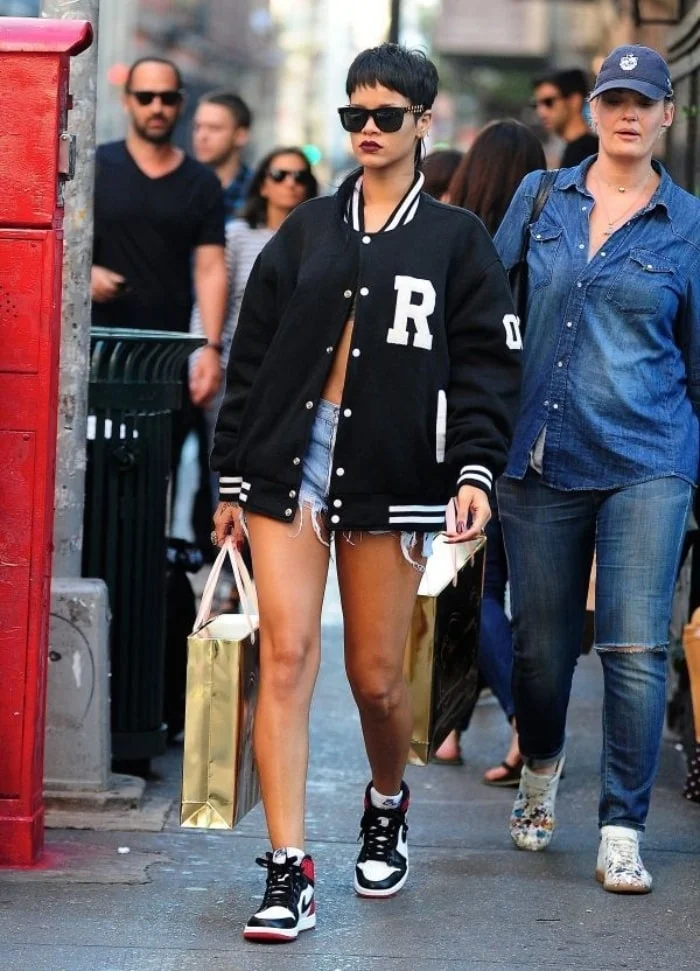 As you've probably seen from this post, Rihanna likes a classic Air Jordan 1 colourway. Pictured above in the "Black Toe" version, this is one of the simplest AJ1s on the planet. Released by Nike in 1985, the "Black Toe" Air Jordan 1 features all three colours of the Chicago Bulls. It became a favourite of Michael Jordan's on the court, with His Airness donning it a number of times in his first season. Re-released very few times since 1985, the Jordan 1 "Black Toe" is something of a grail to sneakerheads.
Off-White™ x Nike Air Max 90 The Ten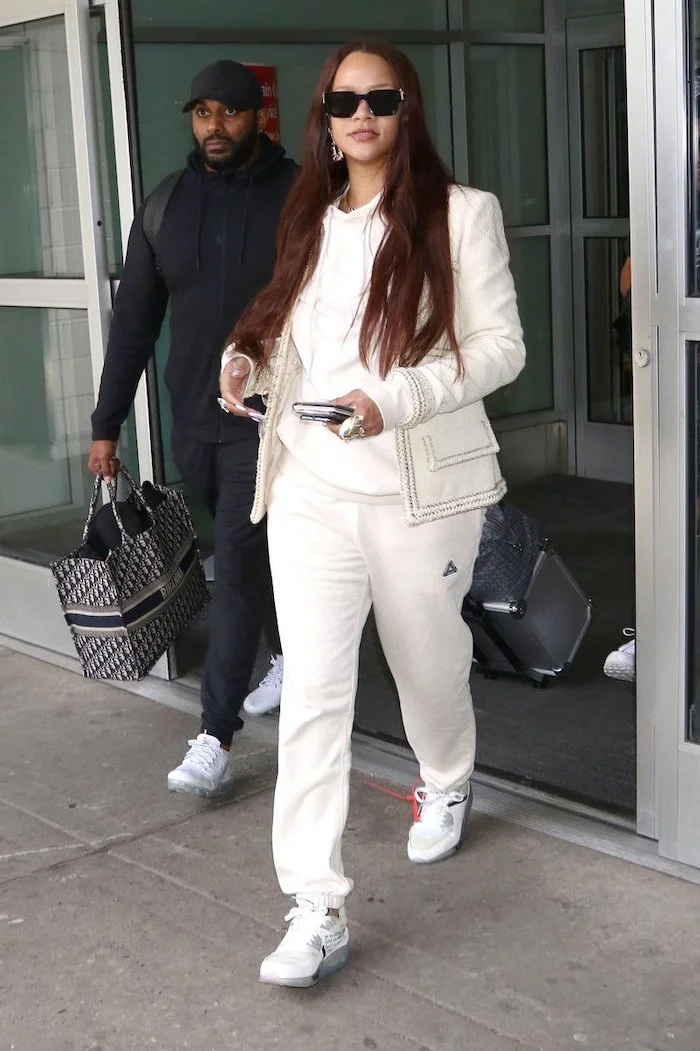 Virgil Abloh is easily one of the most important people in sneakers. The Off-White™ and Louis Vuitton head honcho has asserted himself as a formidable force in the fashion industry. Back in 2017, Abloh was invited by Nike to recreate 10 of it's most iconic silhouettes. One of those was the Nike Air Max 90. The OG Off-White™ x Nike Air Max 90 has remained one of the most sought after sneakers in the world, selling for a pretty hefty price tag.
It didn't take Rihanna long to get her pair. Paired with a simple cream Palace tracksuit and a matching jacket, this is one of Rihanna's best sneaker looks. However, arguably the best part about this look is the Dior bag in the back. You're absolutely right, it does have "Rihanna" embroidered across the middle.
Final Thoughts
That concludes this piece on Rihanna's best sneakers! As you've probably seen, Rihanna has one of the most diverse sneaker collections out there. Rihanna wearing sneakers is nothing new, something we've seen over the past 15 years. As she's gotten older, however, her tastes have certainly gotten more mature. Classic colourways of Jordans have remained a feature and her love of bold colourways has fallen by the wayside. However, with a new album on the way, we're sure that some music videos will feature some heat.