There is no denying how popular the Casablanca x New Balance 327 has been. Since first being previewed back in January 2020, the 327 has been one of New Balance's most popular silhouettes. Debuted at Casablanca's Paris Fashion Week show, the 327 skyrocketed into sneaker culture almost instantly. Now, five colourways and five smash hits later, it looks as though another Casablanca x New Balance 327 is on the way: the "Red Monogram."
First leaked back in December, the "Red Monogram" colourway has been on the hit list for many NB collectors. Taking the same familiar Casablanca monogram used on the recent 327 and 237, the updated design is already a clear winner for us. A light red satin is paired with a gold and green motif pattern repeated throughout. This monogram stretches from the mudguard to the toe and heel to tongue, covering every inch of this 327 perfectly.
The scarlet red "N" emblazoned across the middle of this New Balance is another feature that we love, meticulously detailed with a dark green for good measure. Thankfully, the perforated white leather allows all of this colour to thrive perfectly, matched by cream suede on the lace eyelets for good measure. Crisp white laces come complete with gold lace tips, adding to the allure of this Casablanca sneaker even more. Finally, a split white and cream midsole sits atop the extended dark green sole, bringing this 327 to a close.
If you like the look of the Casablanca x New Balance 327 "Red Monogram" then sit tight. As it stands, there's not much release info on the shoe. Casablanca shared the first official image we've seen last night but no other drop info. For now, check out the image below and let us know if you'll cop these Casablanca x New Balance sneakers.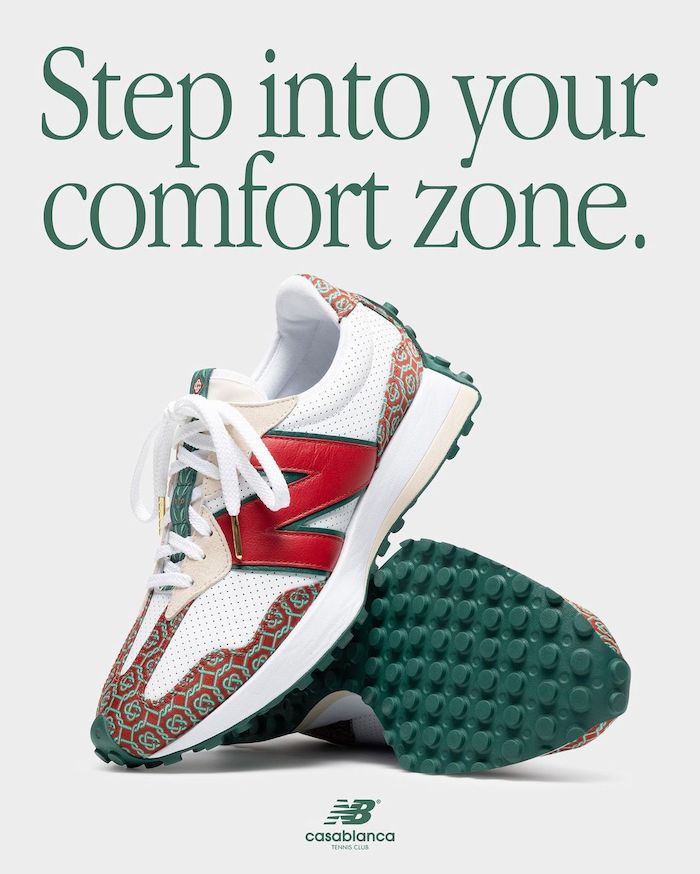 Image Source: Casablanca