Chinese New Year sneakers are not new in the sneaker industry. For over a decade, brands have been dropping Chinese New Year shoes to get involved with the festivities. In that time, we've seen everything from Air Max to Ultraboost released in order to bring in the New Year. Thankfully, things are no different in 2021. As we approach Chinese New Year 2021, we decided to take a look back at some of the best Chinese New Year sneakers in history.
What makes Chinese New Year sneakers so unique is the sheer variety in aesthetics. With 12 different Chinese zodiac signs (rat, pox, tiger, rabbit, dragon, snake, horse, goat, monkey, rooster, dog and pig), the designs for each sneaker are so greatly varied you never know what you'll get. What animal is Chinese New Year in 2021 you ask? It's the Year of the Ox. That means that you can expect to see some bold CNY sneakers to celebrate.
Now, let's take a look back at 10 of the best Chinese New Year shoes. You can expect to see some crazy aesthetics, clever faux animal skin and even some good luck charms. Without further delay, let's check out some CNY shoes!
Disclaimer: these are not in order!
Nike Air Max 1 "Chinese New Year Longevity" (2020)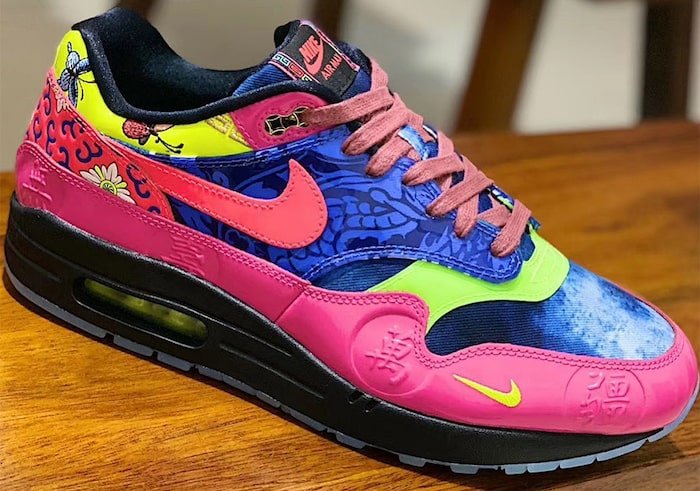 When it comes to Chinese New Year sneakers, few brands on the planet do things as well as Nike. Nike's Chinese New Year sneakers have often been some of our favourites. Always staying close to the respective zodiac sign of each year, Nike knows just how to get its CNY shoes done right. Last year Nike really pushed itself to create a memorable CNY drop. This pair of Nike Air Max 1s absolutely had to make the list and you'll see why.
This eye-catching AM1 was based on the theme of longevity and had a bold design to match. A combination of bright colours, different materials on each panel and hidden details ensured that this was one Air Max 1 you couldn't forget. Patent leather featured embossed Chinese characters and worked perfectly with acid-washed bleached denim. Finished off with a dragon design and butterfly motifs, this CNY Nike Air Max 1 was a great pair. Limited to just 7,000 pairs and released exclusively in Asia, these were also a tough cop.
adidas NMD "Chinese New Year" (2019)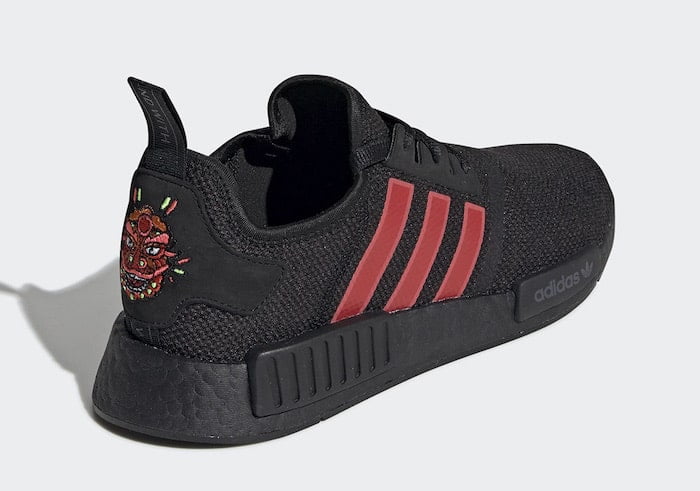 It should come as no surprise that adidas Chinese New Year sneakers are also extremely well-thought-out. Whilst there have been a huge number of Chinese New Year adidas shoes, there are some that are far greater than others (as you'll see on this list). What makes CNY adidas sneakers so good is the fact that the brand likes to go for a combination of flamboyant and much subtler pairs. In our opinion, the adidas NMD "Chinese New Year" was the latter.
The simple black mesh upper on this adidas NMD "Chinese New Year" gives it a sleek look. adidas finished the Three Stripes on the side in a deep red which created a nice contrast against the black sole unit. However, it was the detail on the heel that was our favourite element. A dragon's head patch was embroidered into the heel and gave this shoe a show-stopping feature that we couldn't forget. What's not to like about this adidas NMD?
Air Jordan 12 "Chinese New Year" (2019)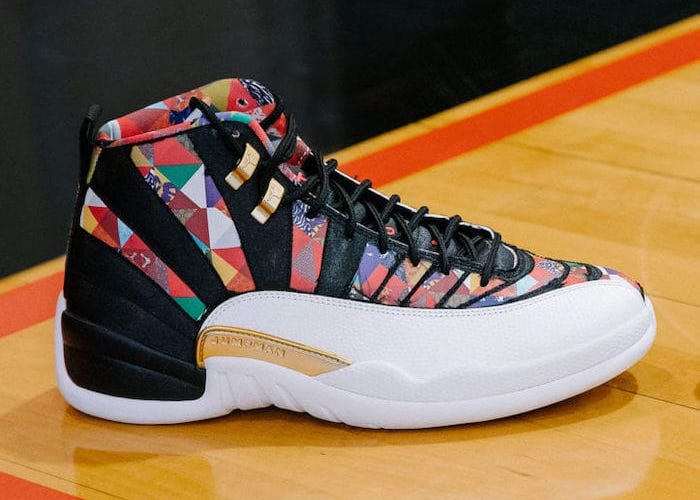 With Air Jordans playing such a huge role of sneaker culture in China, Jordan Brand started to create exclusive pairs to celebrate Chinese New Year. These CNY Air Jordans are often limited and play an important part in Jordan Brand's success in the country. Over the past few years, we've seen some of the best Chinese New Year Air Jordans release pretty much back to back. Getting its name on this list was the 2019 Air Jordan 12 "Chinese New Year".
At first, the pair looks like a premium version of a regular Air Jordan 12 "Reverse Taxi". However, what separates this from any other AJ12 is the quilted upper. Chinese patchwork has been given to children as a symbol of prosperity, strength and appreciation for centuries, something that this Air Jordan 12 highlighted. Underneath the seemingly plain black upper was multicoloured geometric patterns that could be removed to transform the Jordan 12 into something entirely new. For us, this Chinese New Year Jordan is a classic,
Nike Air Max 98 "Chinese New Year" (2019)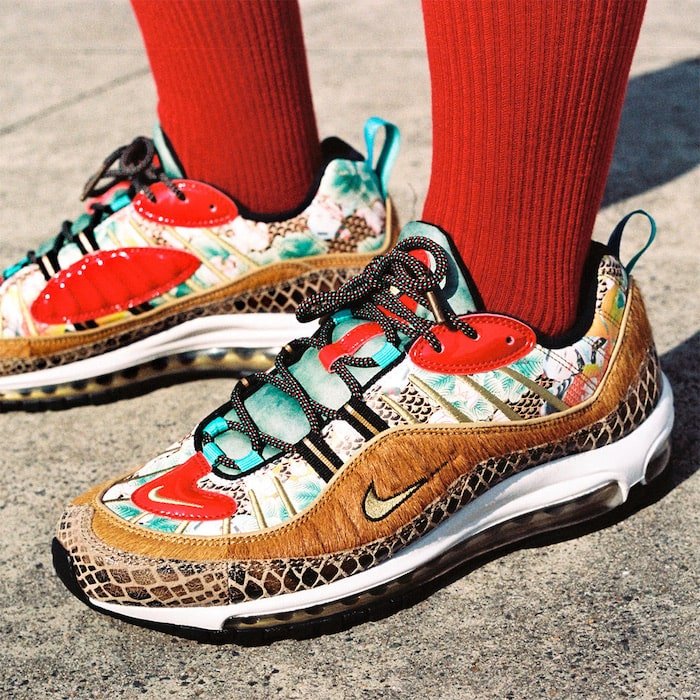 During Nike's Chinese New Year celebrations for the Year of the Pig, there were a lot of standout pairs. For the Swoosh, the story of each shoe needed to be made very clear. Whilst we could have included any number of them, these Air Max 98s had to come out on top. When the Air Max 98 was celebrating its 20th anniversary, Nike decided to take things up a notch for this CNY inspired pair. As Air Max 98s go, you'll struggle to find a pair more vibrant than these.
Taking a similar design concept to the "Tianjin" Nike Air Foamposite One from 2015 (more on that shortly), these CNY Air Max 98s were sublime. Lotus flowers and other traditional Chinese artwork featured throughout, but it was the choice of materials that made these great. In total, six different materials were used to give this shoe its unique appearance. Whilst they may not have been a big hit, these hold a soft spot in our heart as one of the best Chinese New Year sneakers.
New Balance 574 "Year of the Snake" (2012)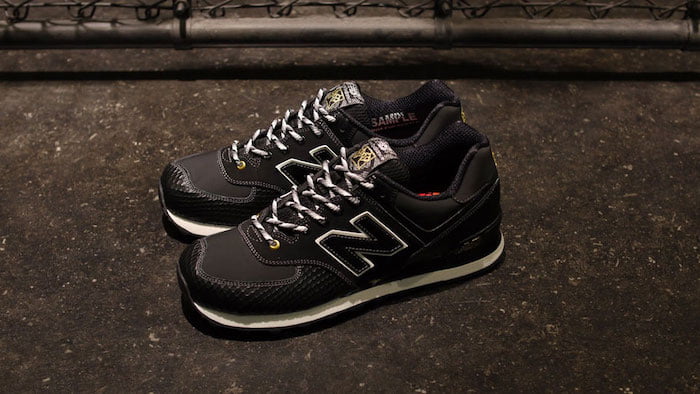 New Balance is a brand synonymous with craftsmanship and storytelling. The Boston-born brand has been supplying the world with high-quality footwear for over 100 years. In that time, Chinese New Year New Balance sneakers have become something of a staple for the brand. Although there were a number of CNY NBs that we could have chosen, we dug back into the archives to find this gem: the 2012 New Balance 574 "Year of the Snake".
In total four pairs of New Balance 574 "Year of the Snake" sneakers released. Four colours were chosen for each shoe: Black, Red, Green and Iridescent. Each pair was made up of premium leather, suede and mesh, with faux scales covering the toe and the heel tab. A set of multicoloured laces, as well as Chinese characters on the tongue, completed the shoe, with subtle New Balance branding on the rear panel. If we had to pick a favourite colourway, it would probably be the black!
Nike Air Force 1 "Year of the Dog" (2005)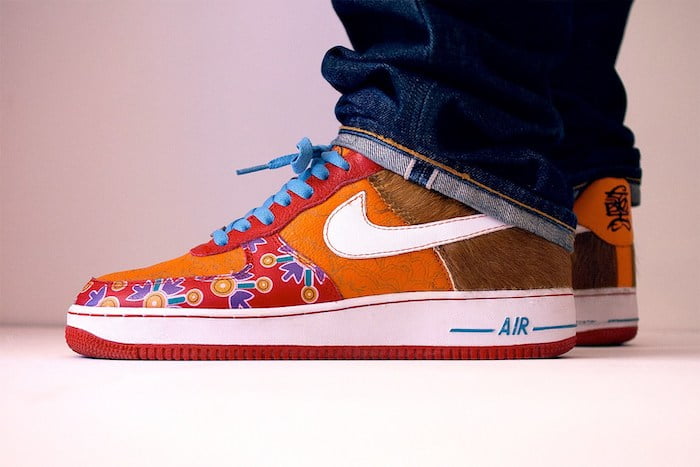 Quite simply put, this is arguably the best Chinese New Year Nike Air Force 1 in history. Although there have been multiple CNY Nike sneakers, the detailing on this particular pair is crazy. Released back in 2005, the Nike Air Force 1 "Year of the Dog" should be a blueprint on how CNY sneakers are made. Taking inspiration from Tibet, this AF1 was a tribute to all things found in the Chinese region. Now, we'll explain the story of these Air Force 1s.
A clever colour palette featured bright reds, oranges and blues which represented the architecture of Tibetan temples. On the AF1 rear panels, faux fur was an ode to the Tibetan mastiff dog whilst the midsection was a knowing nod to the bright orange robes worn by monks in the region. The hyperstrike release was given to Tier 0 Nike accounts and came housed in an engraved, custom wooden box. Even the box was insane, with a laser-etched leather lining and Chinese characters throughout. These are a phenomenal pair of CNY shoes.
adidas Superstar "Chinese New Year" (2020)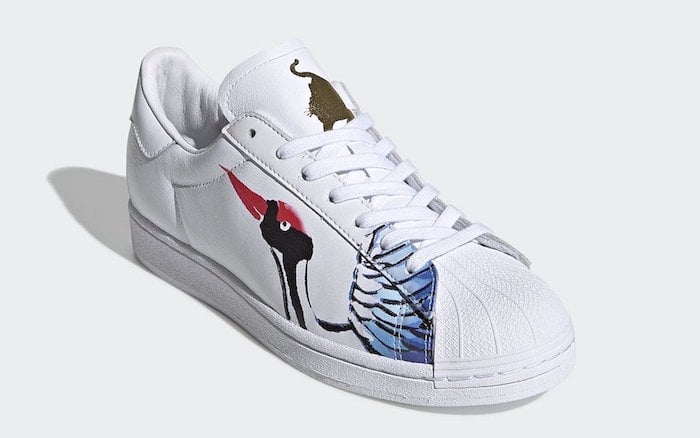 China is filled with a deeply rich history and surrounding culture. The detailed artwork and ornate designs have been a part of Chinese for thousands of years, something we are all very familiar with. There have been a number of Chinese New Year adidas sneakers, but these are probably our favourites. Whilst the CNY sneaker theme can go a bit overboard sometimes, adidas decided to strip things back with this Superstar last year.
The crisp white leather upper on this adidas Superstar was contrasted by three detailed animals found in Chinese culture: a crane, tiger and koi fish. A watercolour aesthetic was applied to each animal, giving it a very traditional Chinese look. Gold detailing featured on the tongue and insole, with the white allowing the watercolours to take pride of place throughout the shoe. Although these may not have been a resounding success at retail, we are big fans of the story placed behind these adidas Superstars.
Air Jordan 1 Low "Chinese New Year" (2021)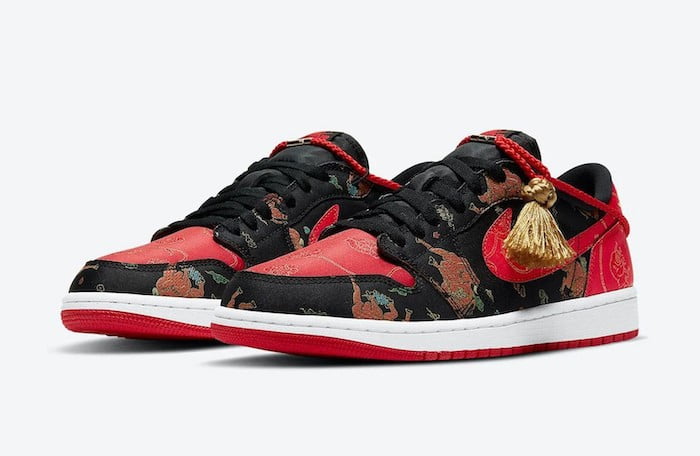 Ok, so these may be the newest pair on our best Chinese New Year sneakers list, but that's for a very good reason. When Nike revealed its 2021 Chinese New Year sneaker pack, there were a few standout pairs. Although there were two very bold Nike Dunks on offer, it was the subtlety and combination of CNY and the "Bred" colourway that made this Air Jordan 1 Low such a hit. Now, we'll give you a brief rundown on what makes this Chinese New Year Jordan so good.
As previously mentioned, Nike combined two perfect things into one on the Air Jordan 1 Low "Chinese New Year". Referencing the OG Bred colourway of the Jordan 1, the shoe features golden embroidery throughout to give this shoe a luxurious look. This intricate gold detailing references the Year of the Ox and there are a number of clever features on this AJ1 Low. A golden tassel wraps around the top of the shoe, with a matching gold Wings logo on the heel only adding to the premium feel of this Jordan 1 Low. Limited to just 8,500 pairs, these are a real gem in any sneakerheads collection.
Kangaroos Coil R1 MIG "Chinese New Year" (2020)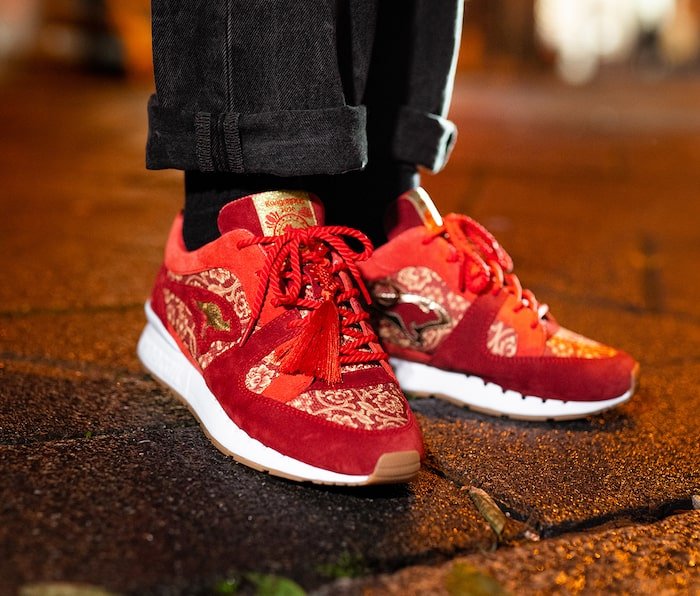 When it comes to sneakers, Kangaroos tend to have a niche following. The American sneaker brand has never fully made it into mainstream sneaker culture, but those who know, know. Its focus on creating premium sportswear silhouettes has been going for over 40 years and, to be honest, we love its underdog status. Last year, however, Kangaroos had a lot of sneakerheads interested in a special R1 MIG "Chinese New Year".
Celebrating that "Year of the Rat", this limited edition Kangaroos Coil R1 MIG was a big hit. Dressed in a traditional red and gold colour scheme, this Coil R1 was always going to be popular. Premium calf suede and recycled materials ensured that this shoe was luxurious from the start. Made in Germany (MIG), the shoe referenced "The Renminbi", a symbol of hope for many benefits. On the tongue, a small rat was placed on the tongue, whilst a lucky bow could be seen on the laces. With only 306 pairs produced, these are a real gem.
Nike Air Foamposite One "Tianjin" (2015)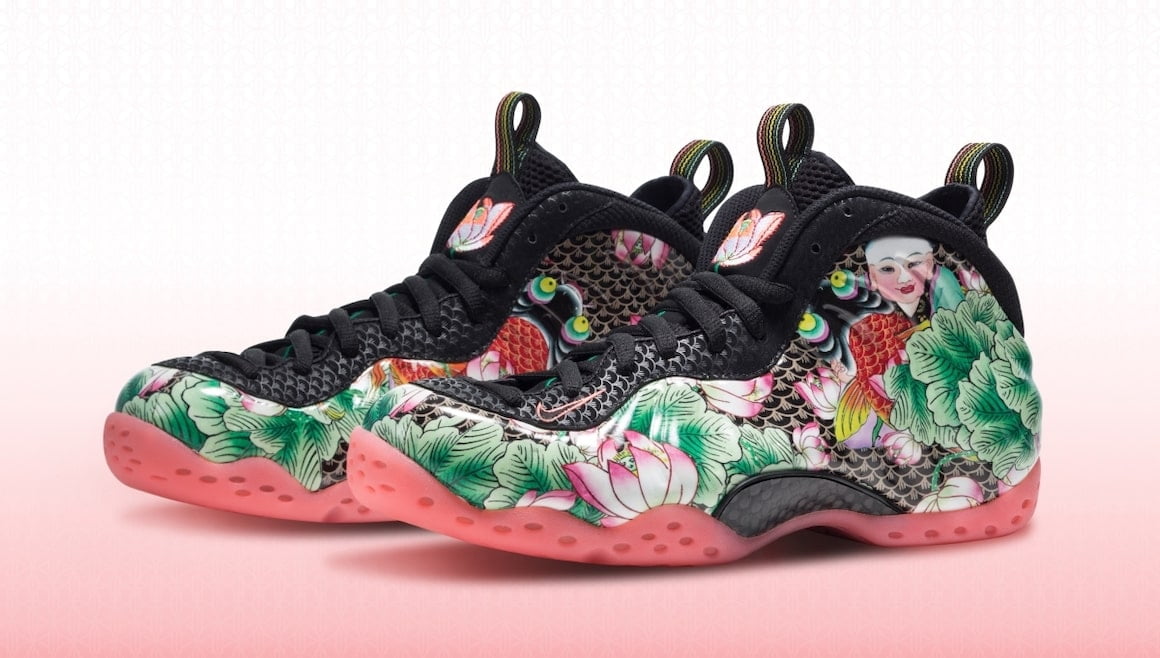 During the second peak of Air Foamposite madness back in 2015, there was no theme that Nike didn't explore. From collaborations with Supreme to Yeezy inspired pairs, Foamposites had a big impact on sneaker culture. At the time, we thought that Nike was running out of ideas. That was until things got very interesting around Chinese New Year. Simply put, this is one of the most intricately detailed shoes on this list: the Nike Air Foamposite One "Tianjin".
The Foamposite celebrated the Year of the Goat and had a distinctly unique upper. Traditional Chinese artwork adorned the panels and featured graphics like lotus flowers. Soft jade, pink, yellow and green hues could all be seen throughout and made this shoe look like a wearable piece of art. An embroidered lotus flower was also used on the tongue, with a matching set on the heel. When these CNY Foamposites first came out, the resale price went crazy and things haven't changed since.
Final Thoughts
That concludes our list of the best Chinese New Year sneakers of all time! There were some great pairs that didn't make this list and we're sure that you'll be thinking of some other classics. For us though, these represent everything that's great about Chinese New Year shoes. We hope that you enjoy celebrating CNY this week and wish you a prosperous 2021!