When Supreme opened its doors in 1994, it launched a plain T-shirt featuring the store logo. Since then, James Jebbia's independent skate shop has become one of the leading brands on the planet. Now, there are few items more coveted in streetwear than the Supreme box logo T-shirt. Dozens of designs, collaborations and ripped brand logos have helped Supreme's box logo tees become a force of their own. It's easy to see why Supreme box logos have become such a status symbol.
Let's face it, there are thousands of ways that you can style a Supreme box logo tee. The bogo tee is one of the easiest items to dress either up or down. Whether you're wearing it with a pair of sneakers or with a relaxed blazer, its versatility is what makes it such a key piece to own. For that reason, it can be tough trying to find the right streetwear style inspiration. Well, thankfully, we're going to help you out.
Here at KLEKT, we thought it was about time that we showed you how to style a Supreme bogo T-shirt. We'll be showing you how to wear a Supreme bogo tee the best way with a few simple additions to your wardrobe. Without further delay, let's take a look at how to wear Supreme.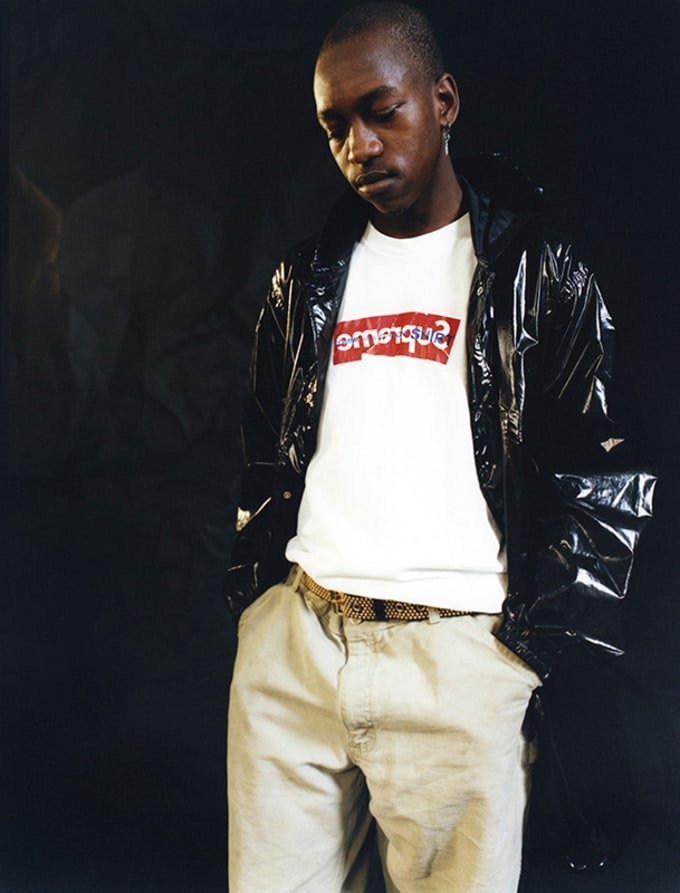 Keep it Simple
With the Supreme box logo design being so iconic, you want to make sure that it is the main focus of your outfit. Layering your outfit is a good way to make sure that your Supreme bogo T-shirt is the key piece but won't look too forced. Depending on the colour and design of your Supreme bogo tee, you may have a few options that you can choose from. Of course, choose complementary colours that help your streetwear outfit pop. A good example of simple layering comes from our old friend Kanye West.
As you'd expect, Kanye has opted for a plain all-black Supreme box logo T-shirt. Pairing the T-shirt with a pair of slim black jeans and his signature adidas Yeezy Boost 750s, the all-black ensemble is very simple. West's baggy overshirt adds a splash of colour and depth to this whole look, with a thin gold chain bringing it all together. This is a great example of how your Supreme box logo outfit can have very few elements but still carry itself.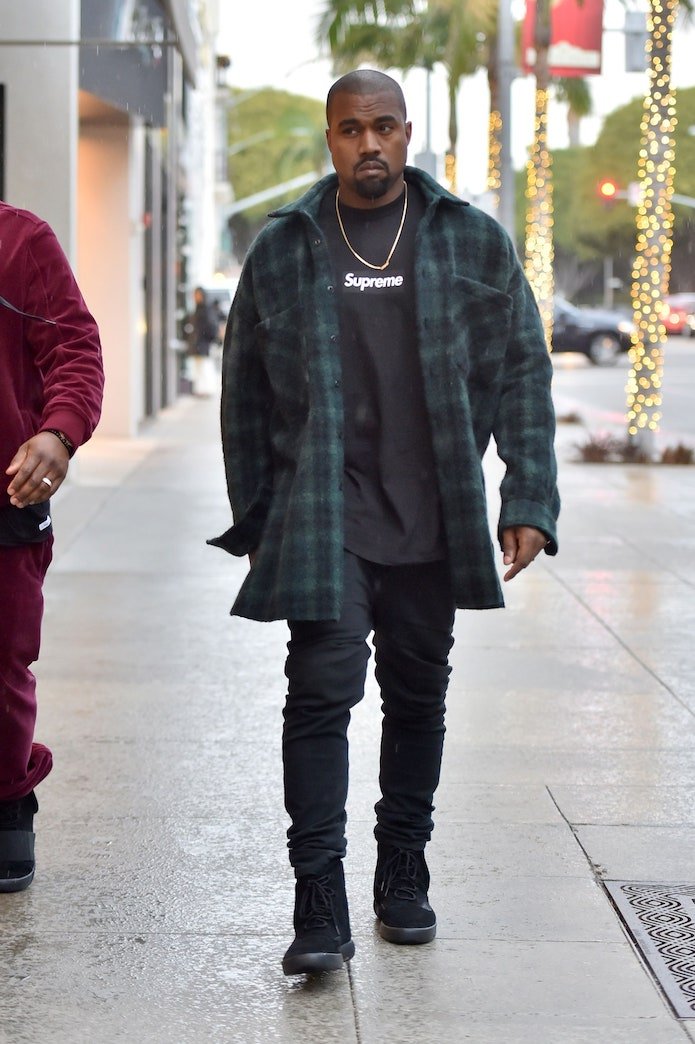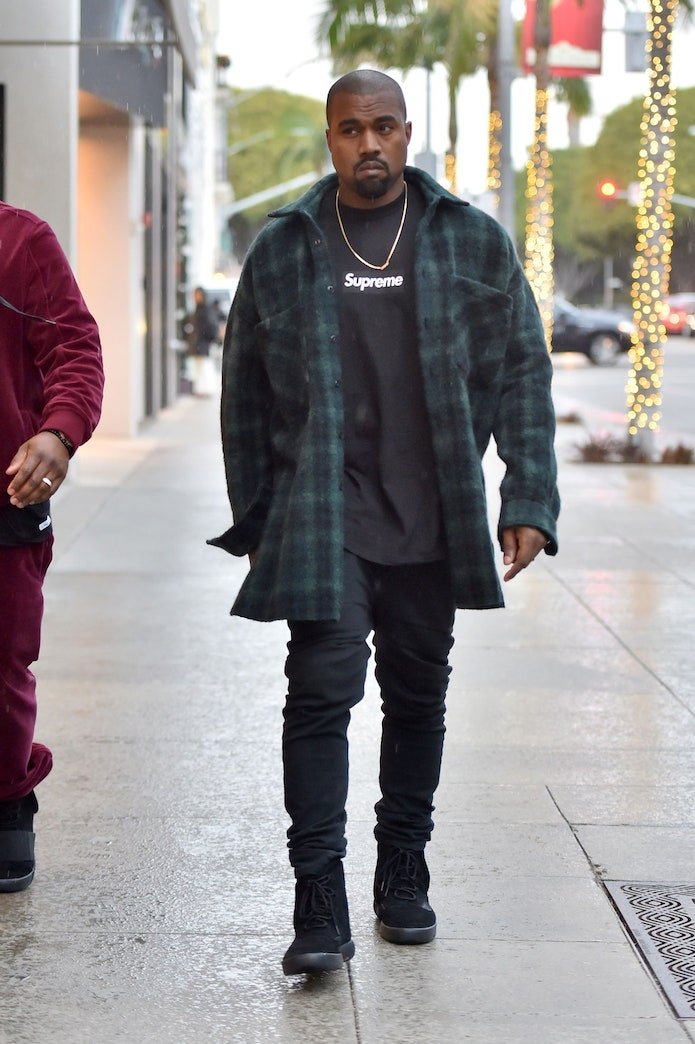 SHOP THE LOOK
Create Textures
There is an easy way to create textures in your streetwear outfits. One of the easiest ways to do this is to wear slightly baggier fits. Now, this could be wearing a slightly oversized Supreme bogo or it could be wearing a set of loose fit trousers. By doing this, you're creating an added element of depth that will give you more edge. There are no real right or wrong answers on how you can do this, however, we would say don't wear anything too baggy. You don't want people thinking you've bought the wrong size trousers or T-shirt!
A good example of this texture can be seen in the outfit below. The slightly baggier Supreme x COMME des GARÇONS box logo is contrasted by a set of loose grey trousers. This gives the overall look a lot more depth and creates new textures due to the way the pieces are fitted. Up top, accessories such as a black beanie and set of thin black sunglasses add to the style without having to do much. If you're looking for women's streetwear inspiration then look no further.
SHOP THE LOOK
Getting the Balance Right
Finding accompanying pieces for your Supreme bogo fashion is vital. Whilst you may have a wardrobe full of things that you want to wear, it's about getting the balance of your outfit right. You want to make sure that you bogo is on show, but also that your other items work well together. As we mentioned, layering is a great way to make sure that your Supreme box T-shirt can shine.
One of Supreme's biggest celebrity fans is Travis Scott. He also happens to be a very popular rapper who has been spotted in rare Supreme box logo T-shirts. Below, La Flame highlights just what we mean about getting the balance right. Having attended the Supreme x Louis Vuitton fashion show in 2017, he showed the world the box logo design. As a close friend of both Kim Jones and Supreme, Travis Scott shows us just how you can rock the box logo design well.
Rocking a large leather aviator jacket, Scott pairs his box logo with a pair of simple Champion jogging bottoms. The oversized fit of the jacket allows a drop shoulder to form, showing off the Supreme box logo design in its glory. A pair of Louis Vuitton sandals and Supreme x Louis Vuitton sunglasses and bandana also help to strengthen this look, as do the various chains and rings.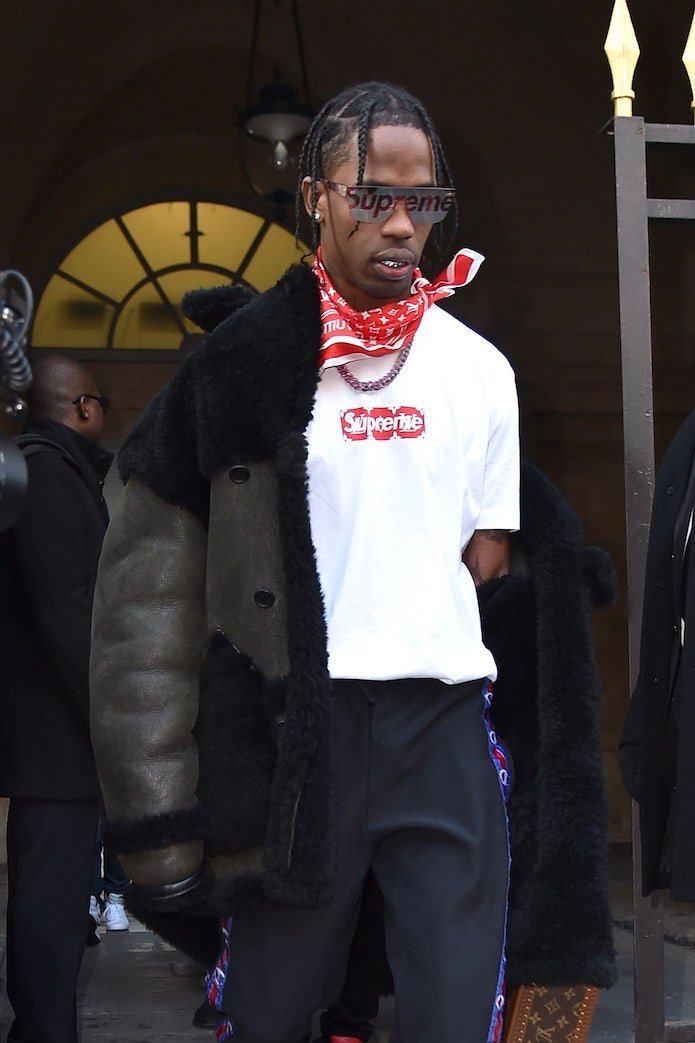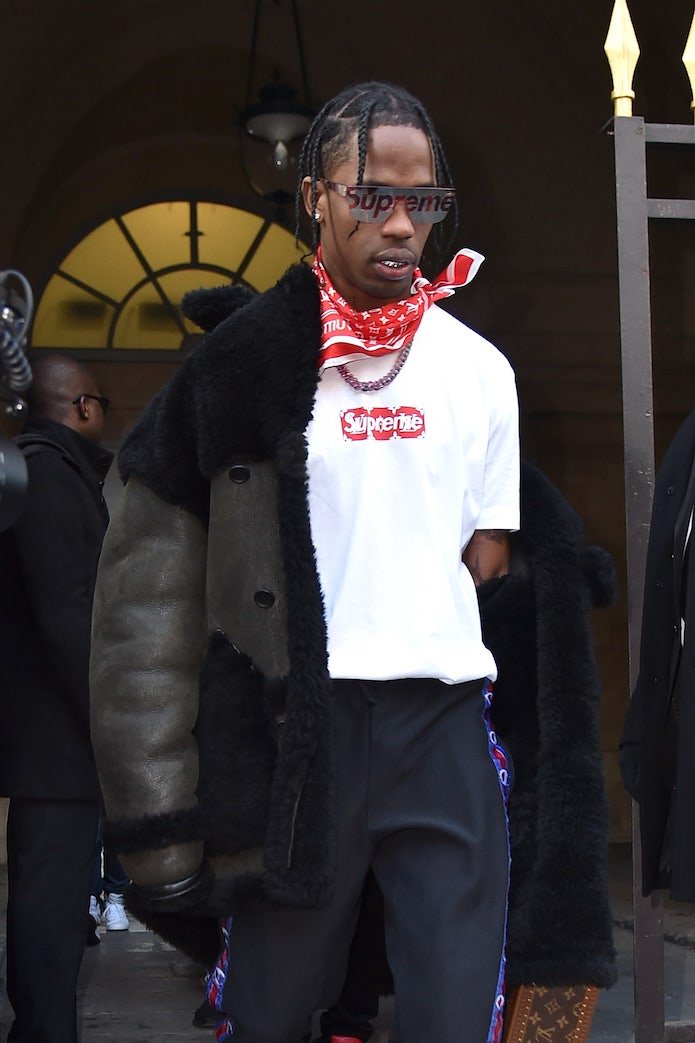 SHOP THE LOOK
Keep it Relaxed
As we've constantly mentioned throughout this piece, keep this as simple as possible. You want your Supreme box logo outfit to have as little elements as possible, especially with the warm weather fast approaching. It's important that you show off the T-shirt without it looking so forced. The more elements that you start to add the more the focus will be pushed away from your Supreme shirt. Here, we found a good example of women's street style that shows off exactly what we mean.
The less is more approach definitely works in this case. You can see that this outfit focuses on the Supreme Bandana Box Logo. However, clever additions in the form of relaxed fit cord trousers, a Supreme 5-panel and a pair of Air Max 98s all help too. This particular outfit also focuses on using complementary materials like corduroy. In turn, this creates a nice partition between each piece, without taking away from anything. The outfit has very few elements, but they all work together nicely.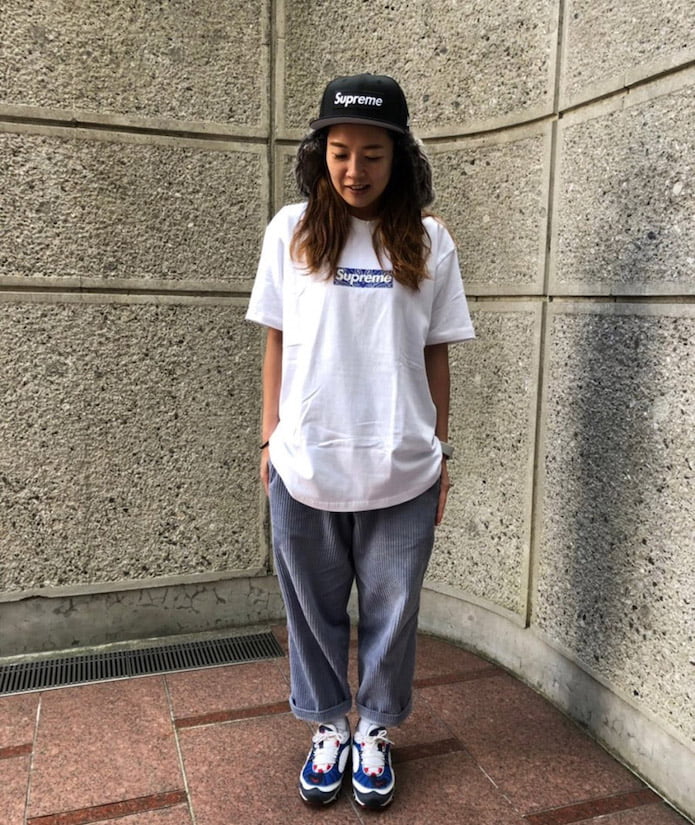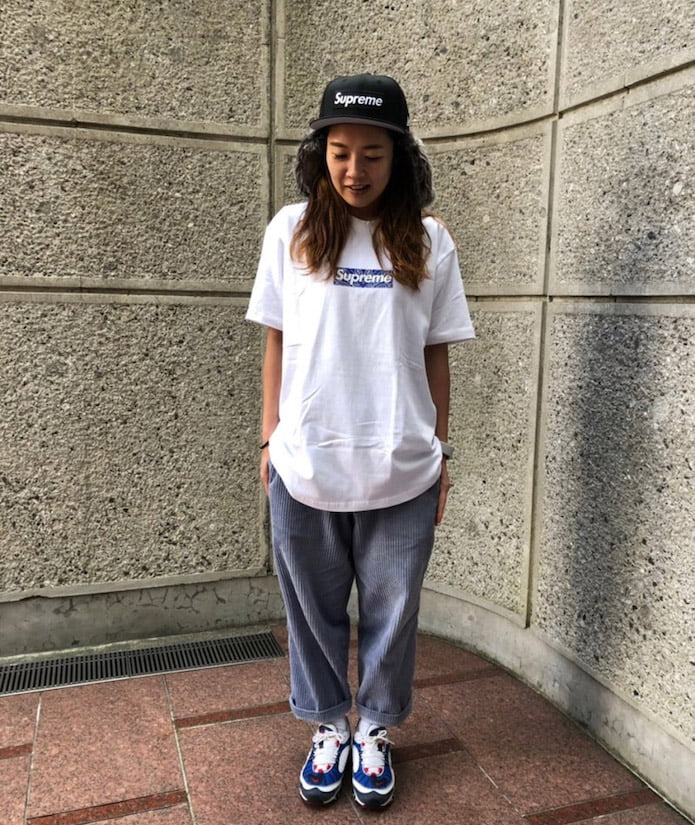 SHOP THE LOOK
Final Thoughts
We hope that you enjoyed this guide on how to style a Supreme box logo T-shirt. Whether you've been looking for streetwear style, or just some accessories to go with your bogo, we hope this helped. If you're looking for any other style advice, then head to the KLEKT Blog. Our team will show you how to rock Yeezys, Air Jordan 1s and more. Head over now for all your fashion needs.
If you're looking to cop some new Supreme items, then head to KLEKT! We have a wide variety of accessories, box logos and Supreme clothing for you to choose from. Whether you need a bandana box logo or a Supreme cap, we've got you covered.