There are few artists on the planet who's work, and collaborations are as instantly recognisable as Daniel Arsham's. The 39-year-old contemporary creator has been on the radar for many in the art world for over 15 years. His work is timeless; taking simple everyday objects and transforming them into what he describes as "future relics." This style has earned him critical acclaim, as well as the title of one of the most influential people in street culture.
Whilst Daniel Arsham's art is coveted, his collaborations are equally so. Over the past decade, Arsham has worked with some of the biggest brands and names on the planet. His fans include the likes of Pharrell, James Franco, Jay-Z and Usher just to name a few, as well as being close friends with streetwear king, Ronnie Fieg. As you would probably have guessed, Arsham has created some of the most desirable collab's in streetwear history. Today, we're rounding up Daniel Arsham's best collaborations.
We'll be rounding up our top 10 Daniel Arsham collabs for you in one simple place. The eclectic selection covers our favourites from the past few years, as well as some that you may not have heard of. Without further delay, let's take a closer look at the best Daniel Arsham collaborations.
Dior x Daniel Arsham (2018)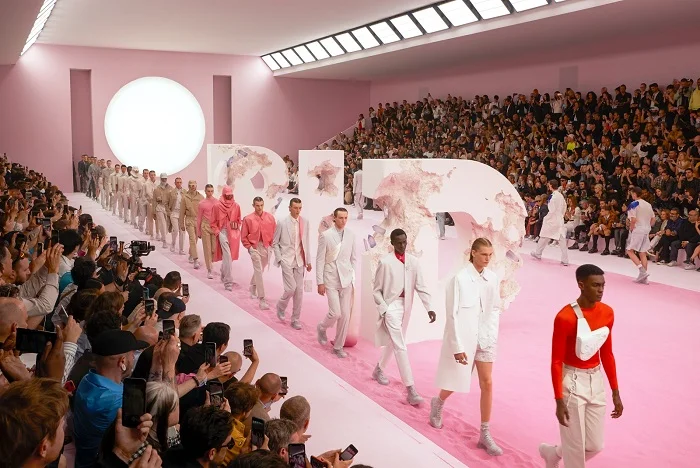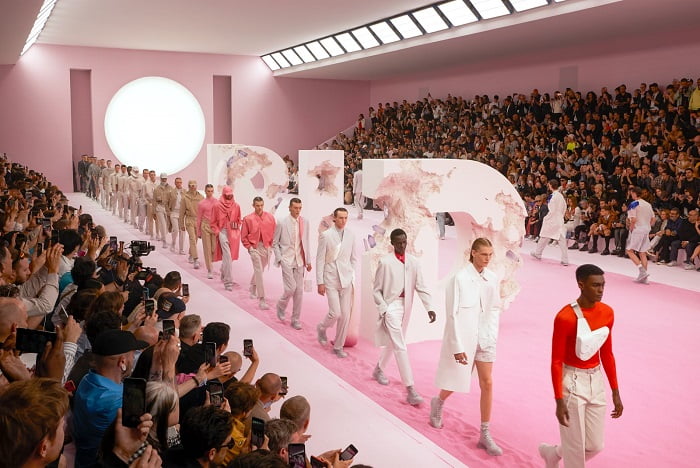 When Kim Jones took over the reins of Dior Homme from Kris Van Assche, there was a lot of excitement. As the man behind the roaring success of Supreme x Louis Vuitton, Jones was certainly the right man for the job. After bringing Kaws to the runway in his first season, the crossover between art and haute couture had already been made. On June 21st, 2019, the Kim Jones Dior Homme set was revealed, with Daniel Arsham being the mastermind behind it all.
Having been a fan of Arsham's for a number of years, Jones partnered with the New York City artist to create one of the most memorable shows in fashion. The perfect bright pink sand laid perfectly ahead of the show, with four oversized eroded letters spelling out the name of the house. Besides the runway, Jones and Arsham also worked together to create a number of relics of Monsieur Christian Dior, referencing his office in the process.
The collection sold out almost instantly last year, quickly hitting the resell market for much more than the retail price. Whether you love it or hate it, there is no denying just how big Dior x Daniel Arsham was.
Pokémon x Daniel Arsham (2020)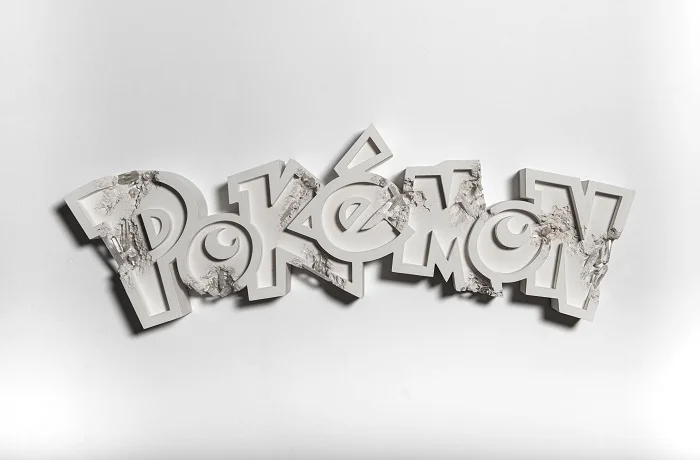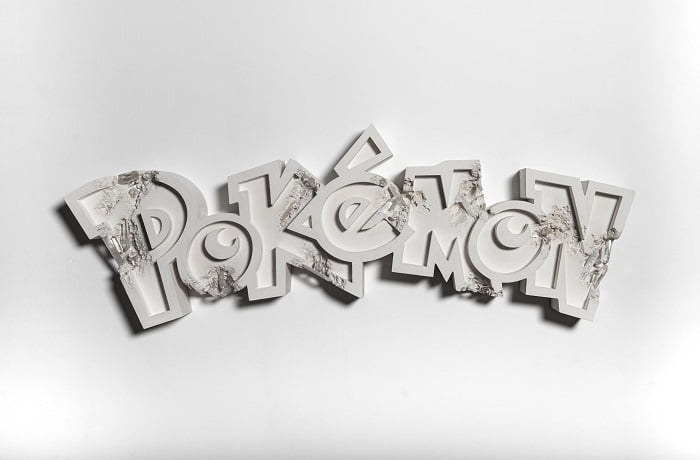 When rumours began circulating of a collaboration between Pokémon and Daniel Arsham, the streetwear community began to listen. As one of the most iconic cartoons come playing card come lifestyle brands on the planet, the cultural importance of Pokémon for a whole generation is undeniable, as are its characters. Although it would take a while for the collaboration to be revealed, it was most definitely worth the wait.
Taking one of the most iconic logos on the planet, Arsham completely reworked the number of instantly recognisable Pokémon pieces. From life-size versions of Pickachu and Charizard to playing cards cast in calcite, the collection was an instant hit. As well as the limited edition art pieces, Daniel Arsham x Pokémon also released a clothing collection with Uniqlo. This may be one of the newer collaborations on this list but it is without a doubt one of the best.
Daniel Arsham x adidas Consortium Future Runner 4D (2018)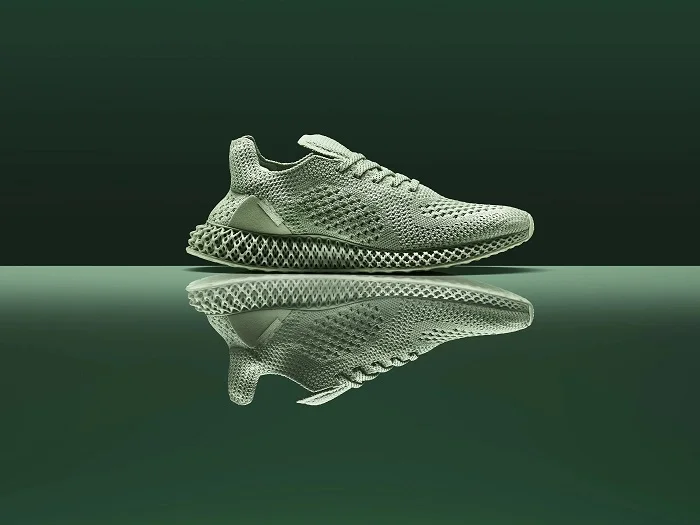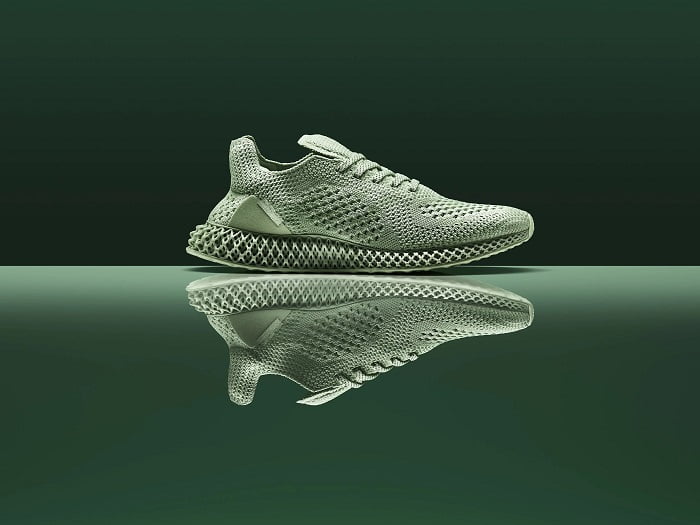 By 2017, Daniel Arsham had cemented himself as one of the most important people in streetwear. His name was being shared amongst some of the biggest brands on the planet, as well as in some of the most important circles. Futuristic bronze casts of Spalding basketballs and calcite cast Sony Walkmans had gained him a huge amount of respect in the streetwear community. As a self certified sneakerhead, Arsham had also got on adidas' radar, leading him to get his own collaboration that very same year.
Released as part of a three-part series, the Daniel Arsham x adidas Consortium Future Runner 4D was the strongest pair of the pack. The seamless blend of adidas game-changing 4D material combined with Arsham's love of creating futuristic pieces was a match made in heaven. These were one of the most sought after sneakers of the year, creating a huge level of hype. As you would expect, these do not come cheap!
Heinz x Daniel Arsham (2019)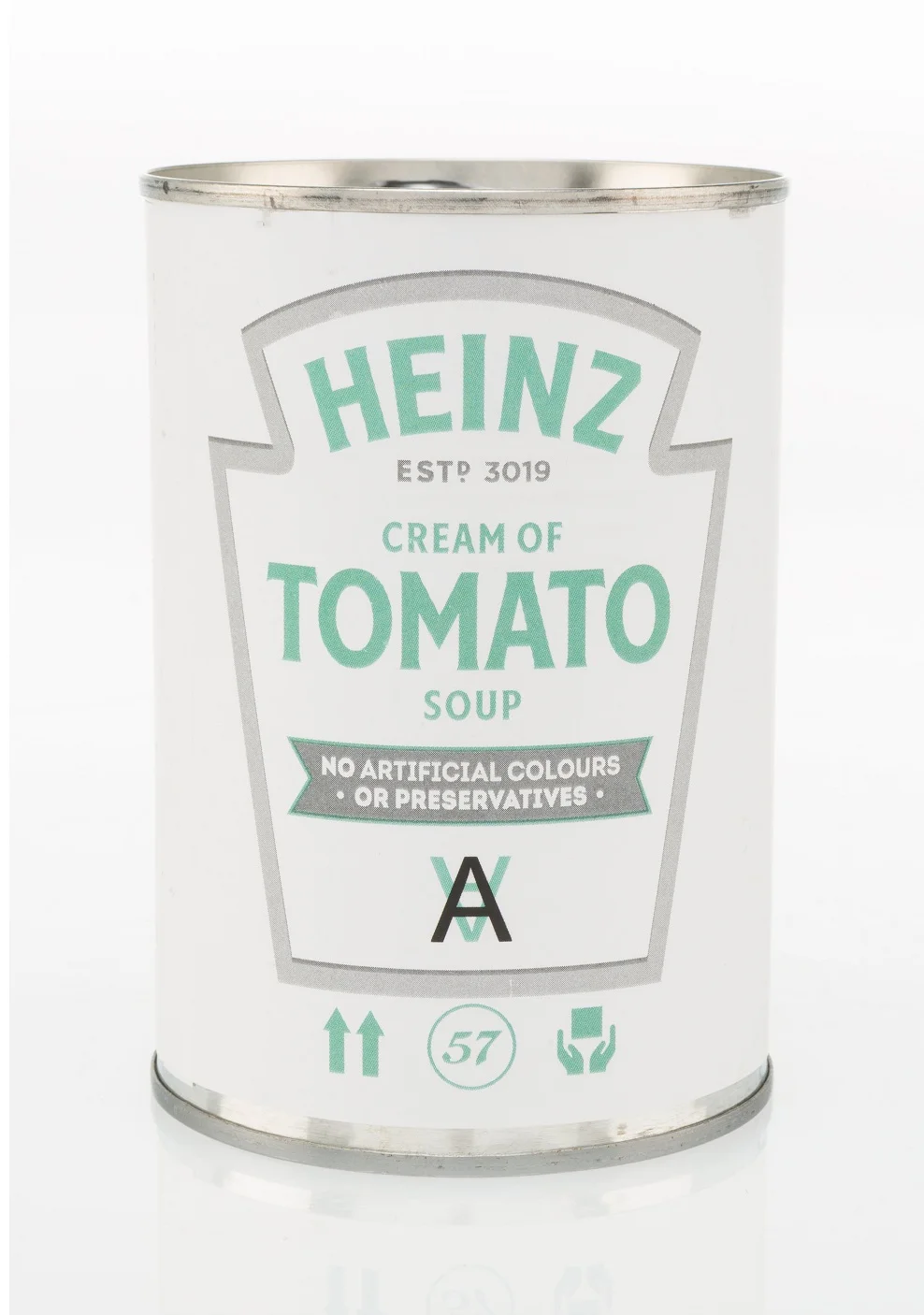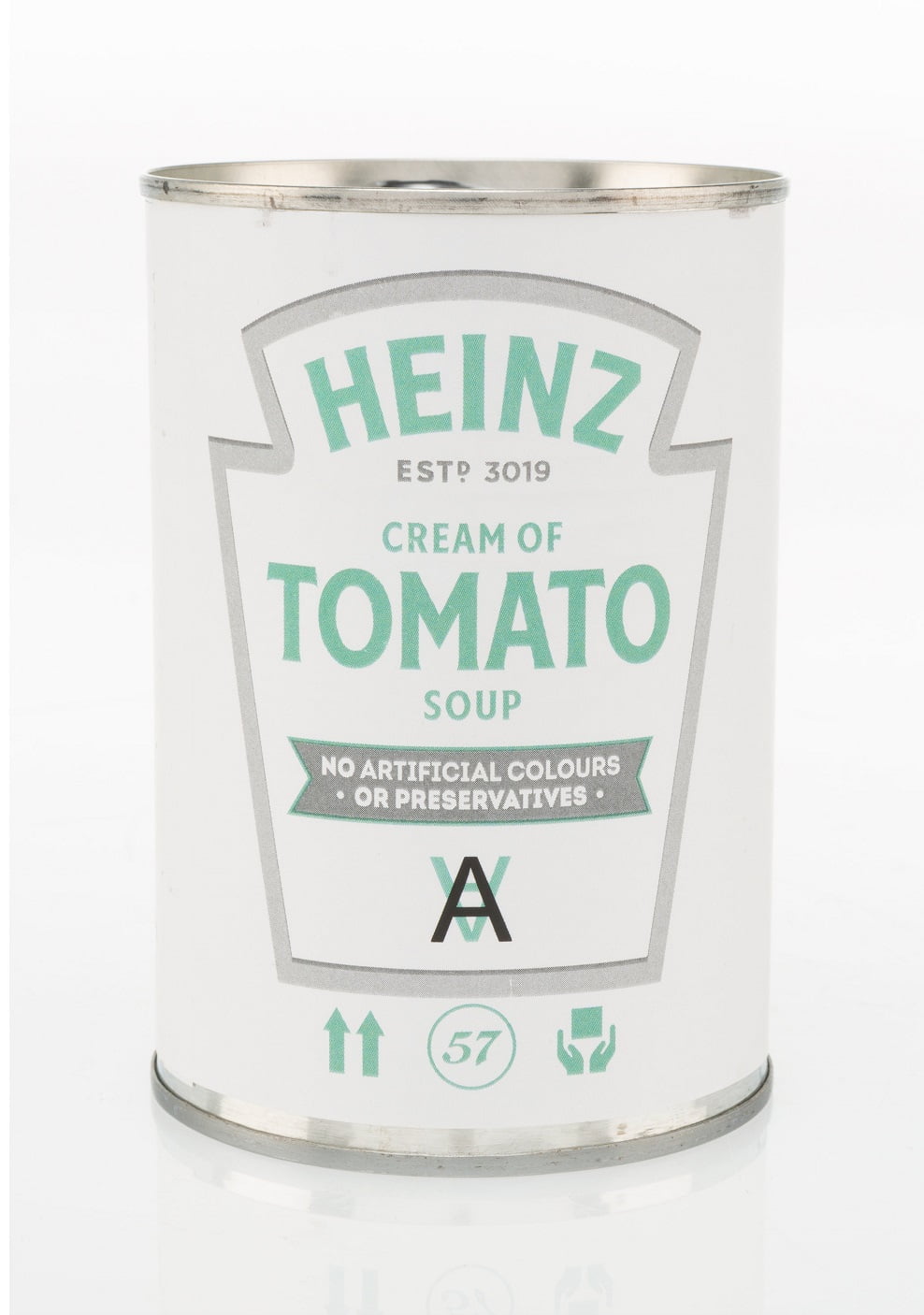 By 2019, Daniel Arsham had become one of the most in-demand artists of the 21st century. Just like Jeff Koons and Takashi Murakami, Arsham's work had put him miles ahead of the competition. Towards the second half of 2019, Arsham announced that he would be working with Selfridges for an instalment at the London store. In the process, Arsham also revealed that he would be working with a number of brands for the pop-up, one of which was Heinz.
The humble Cream of Tomato soup tin was transformed in Arsham's preferred white and mint green colouring. Everything about the label was transformed, with Arhsam's interlocked "A" logo sitting underneath the traditional "No artificial colours or preservatives." On top of that, it was the subtle detailing that made this an instant hit. "Estd. 3019" sat at the top of the can, referring to Arsham's love of futurism in his work.
Whilst this is arguably the simplest Daniel Arsham collab on this list, it is without a doubt one of his best.
Kith x Snarkitecture (2015)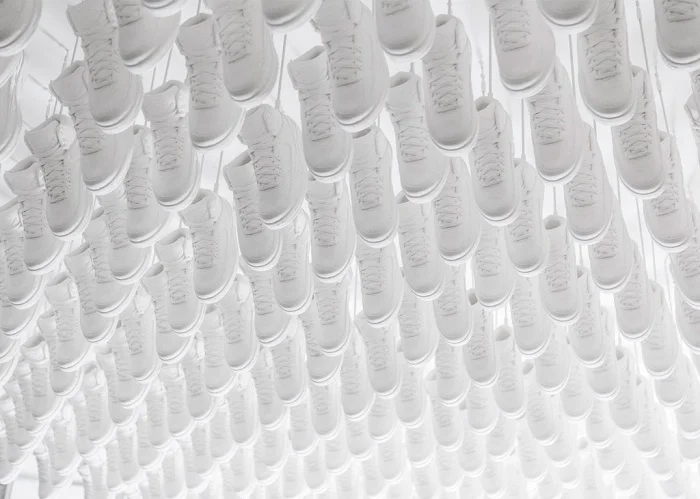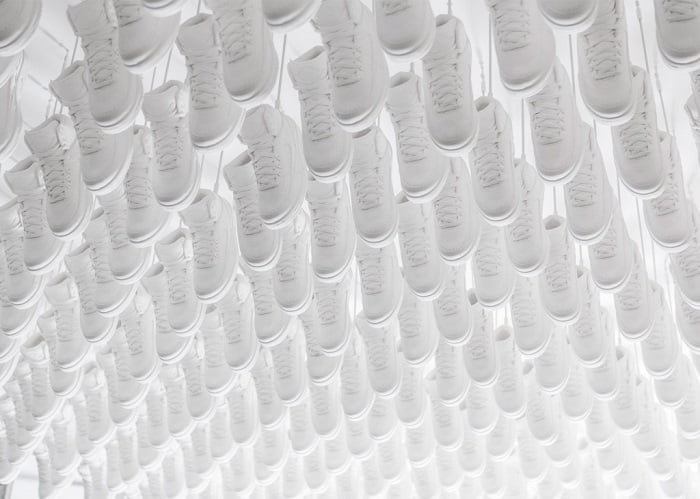 Kith is without a doubt one of the most revered brands in streetwear. Founded by Ronnie Fieg in 2011, the New York-born label has remained a constant in street fashion for the best part of a decade. During that time, it has transformed from a small New York boutique to a global brand with stores in three countries. As a long time fan and close friend of Fieg, it has always been up to Daniel Arsham to design the brands new locations. This is our favourite.
Located in the Kith New York flagship in Brooklyn are 700 individually cast and hung Nike Air Jordan 2s. Designed by Arsham's Snarkitecture firm in 2015, the store is a classic example of everything both Fieg and Arsham stand for. The unique aesthetic is what has enabled Fieg to set Kith apart from other brands in New York, creating a store that feels more like a gallery.
In Age of Ideas words: "Arsham's work makes the stores more like immersive art exhibits than retail stores, and that makes Kith a place to experience, and even gather, rather than just shop." We couldn't agree more.
Porsche x Daniel Arsham (2019)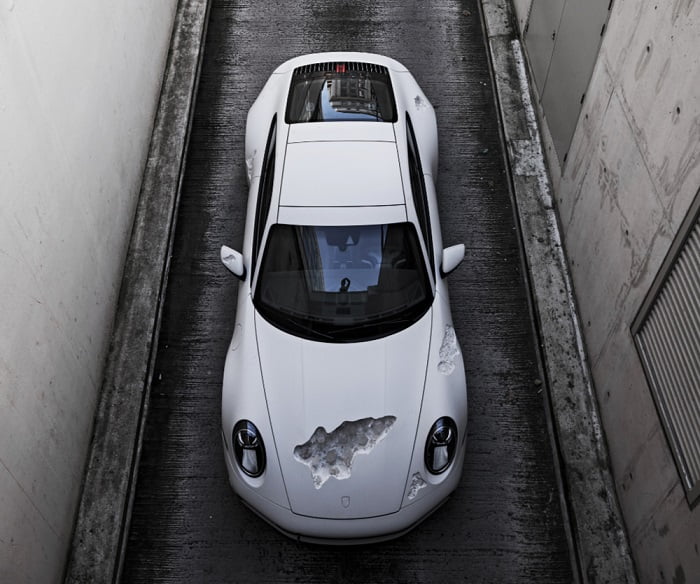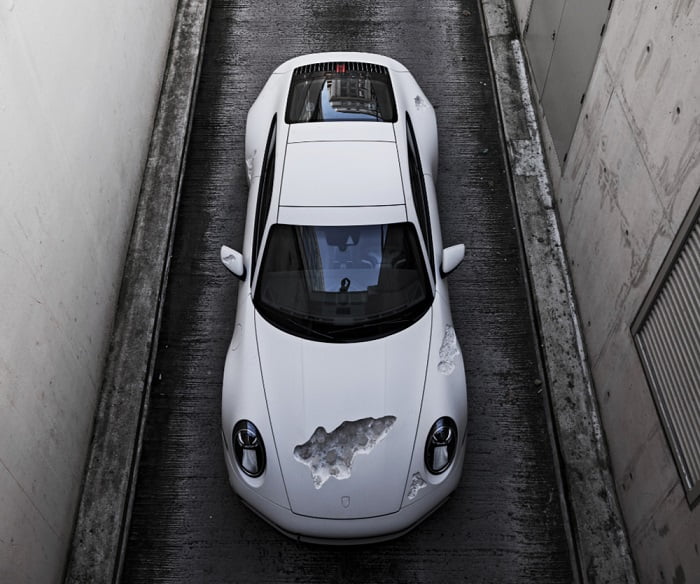 Few sports car manufacturers on the planet are as big as Porsche. Founded by Ferdinand Porsche in 1931, Porsche is without a doubt one of the most recognised car makers on the planet. It's safe to say that when you see that tail end, you know who it's by. Just last year, Porsche made 246,375 cars, more than it ever has in its history. However, there was just one Porsche that was the talking point of the year for the brand, designed by none other than Daniel Arsham.
Arsham revealed the collaboration in arguably the best way possible: himself drawing all over a Porsche 992 with a white permanent marker. Though it would take a further three months to see the fully-functioning Daniel Arsham x Porsche 992, it was certainly worth it. The crystal erosion process was used on the bonnet, underneath the headlights, the handles and even the rear end. Unique details like the "ARSHAM 3019" number plate as well as the interior which featured Arsham's hand-drawn designs.
A fully functional Porsche that's also an art piece? This is definitely the most insane Daniel Arsham collaboration to date.
Rimowa x Daniel Arsham (2019)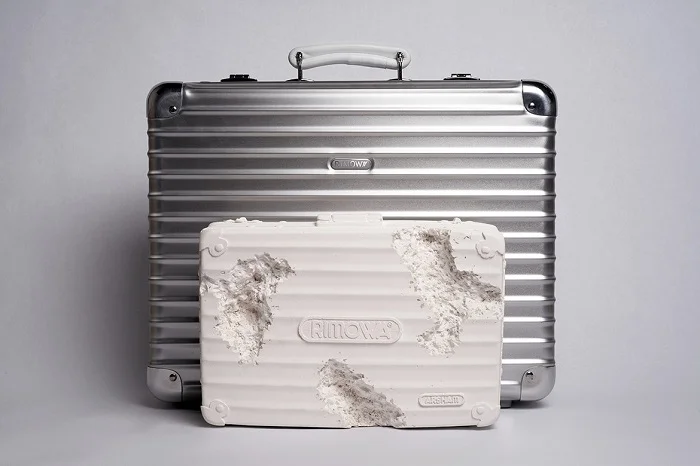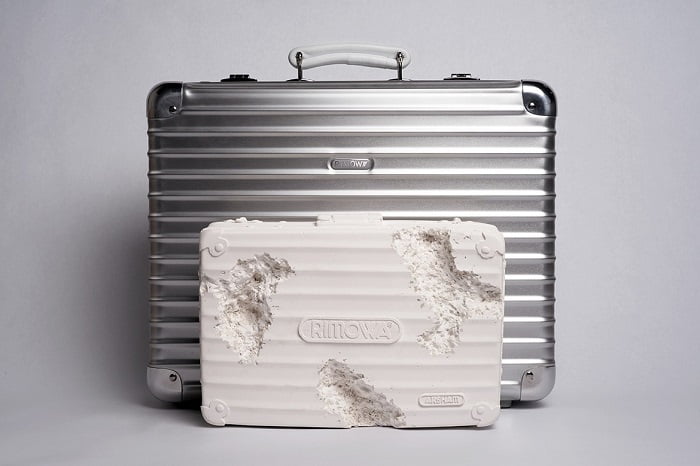 Rimowa is one the most successful brands in the LVMH family tree. Headed up by Alexandre Arnault, the traditional luggage manufacturer has seen a change in direction over the past few years. Collaborations with the likes of Supreme, Off-White™ and Dior have certainly helped, positing the case maker as a desirable brand to the younger market. In 2019, Rimowa recruited Daniel Arsham to create a limited edition run of pieces with killer results.
The future relic inspired piece sees a Rimowa vintage suitcase cast in calcite and given Arsham's usual eroded effect. Featuring a small "Arsham" logo in Rimowa's typeface at the bottom, the case became one of the most sought after art pieces. The details didn't stop just there, however. Housed in a limited edition and customised Rimowa aluminium case, the packaging was given subtle flips such as Arssham's interlocked "A" emblem. A future classic.
Disney x Daniel Arsham (2019)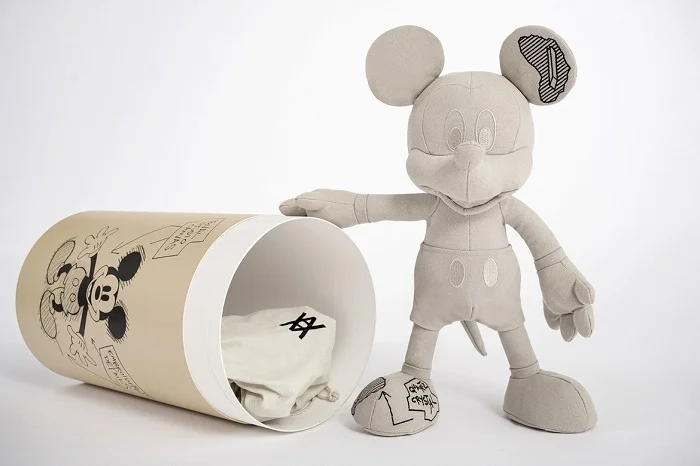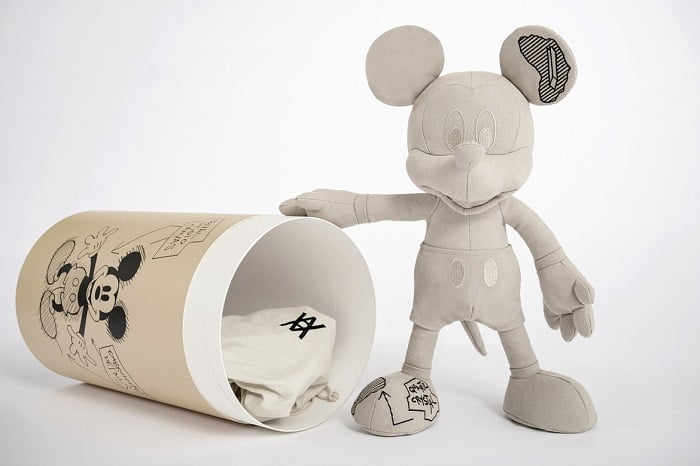 Few brands on the planet hold as much power as Disney. Since 1923, Disney has produced some of the world's most instantly recognisable characters. From Tinkerbell to Aladdin, Walt Disney's humble cartoon studio has grown into a $130 billion production behemoth. However, it has always kept its work true to the heart of Disney's imagination. Of course, one of Disney's most iconic characters is good old Mickey Mouse. Last year, Daniel Arsham reworked one of the worlds most famous mice.
Available exclusively at INNERSECT in Shanghai last year, Daniel Arsham's take on the Mickey Mouse toy was one of the standout moments. Coming in three different sizes, the Disney x Daniel Arsham Mickey Mouse figures featured hand-drawn patterns as well as embroidered Arsham Studio logos on the back. As you can imagine, these Mickey Mouse collectables quickly sold out and hit the resell market for considerably more than their retail.
Pharrell Williams x Daniel Arsham (2013)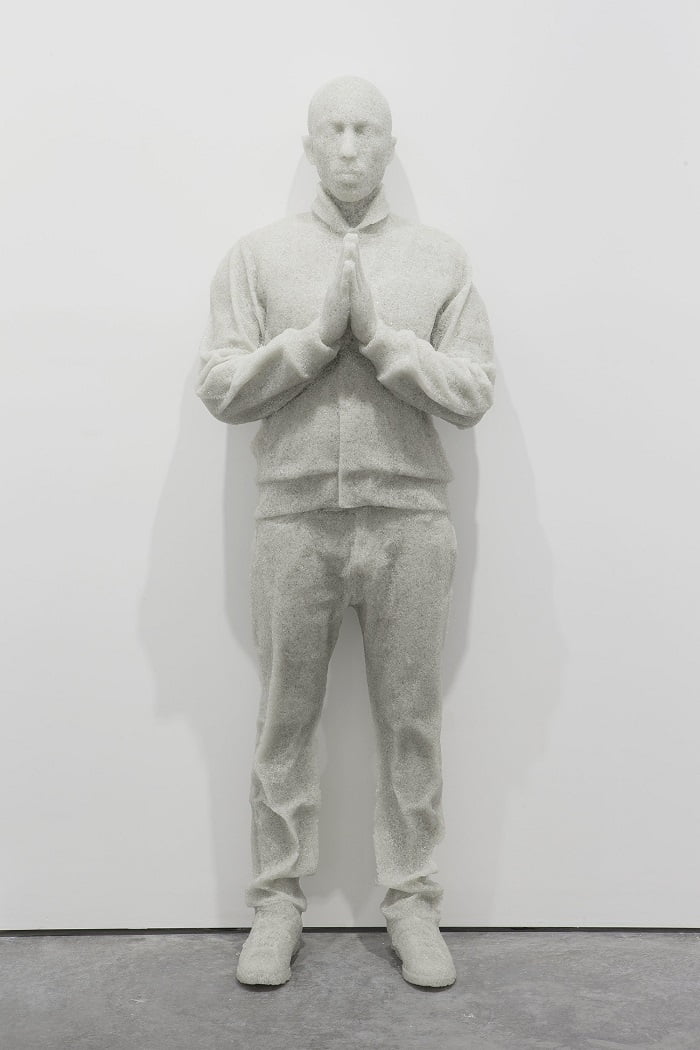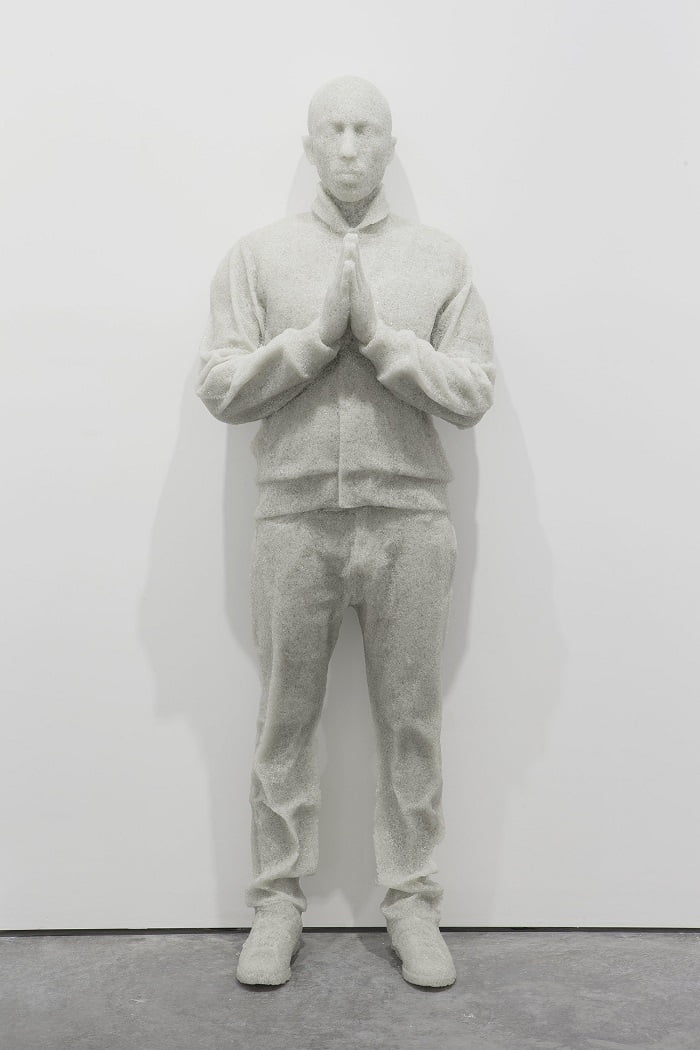 Pharrell Williams is without a doubt one of the most famous people on the planet. The music producer turned musician has been a key part of popular culture for over two years, cementing himself as one of the world's leading influencers. Known for his eclectic taste and individual style, Pharrell has always considered himself an artist. In 2013, Pharrell recruited Daniel Arsham for his "G I R L" exhibition in Paris, creating one of the best collaborations on this list.
A full-body cast of Pharrell was taken by Arsham and his team, with the work taking pride of place in the Galerie Perrotin located in Paris. The attention to detail is simply incredible, with fine-tuned elements being included such as the creases in the trousers. Over 200lbs of broken glass was used to bring the piece to life, with amazing results. This was arguably one of the turning points in Arsham's career and it's easy to see why.
Daniel Arsham x Hajime Sorayama (2019)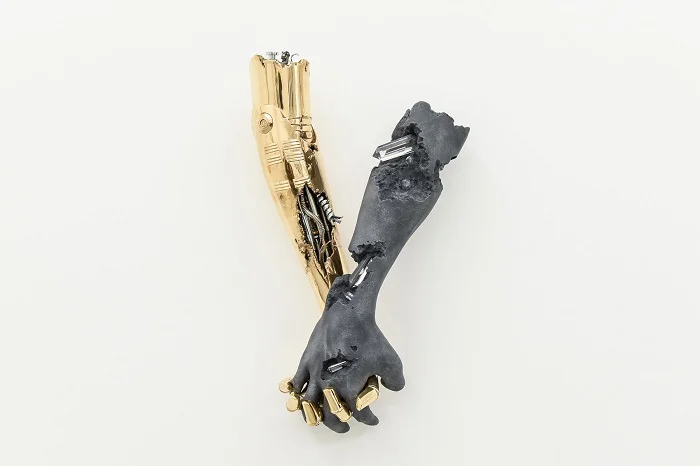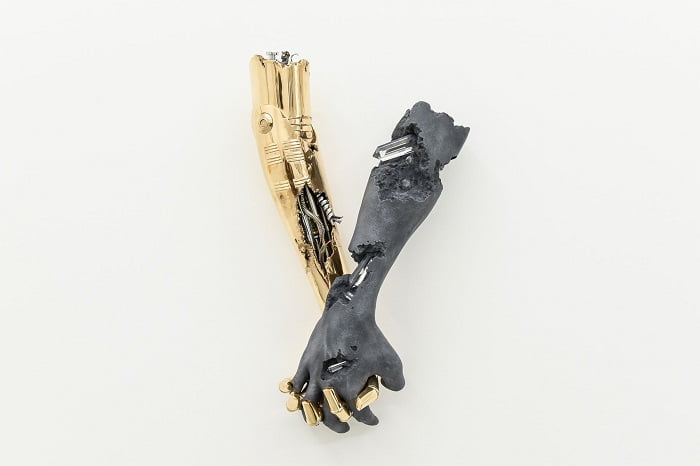 Hajime Sorayama is one of the most well-documented artists in Japan. Known for his provocative illustrations of feminine robots, Sorayama has gained a cult-like status in his home country, as well as fans across the globe. The 73-year-old has often inspired other artists, including the likes of Kaws and Daniel Arsham. Late last year, Arsham and Sorayama unveiled one of the most well-balanced collaborations the art world has ever seen.
The simple image of two interlocked hands in each artists style is something that got us excited. Sorayama's metallic gold arm featured exposed wiring as well as the traditional robot elements. The gold is perfectly contrasted by the calcite cast arm of Arsham, featuring crystals and erosion throughout. Housed exclusively in Tokyo's NANZUKA "2G," lucky residents were able to get a closer look at this beautiful piece of art.
Final Thoughts
That concludes this list Daniel Arsham's best collaborations. As you can see, Daniel Arsham's artistic talent is simply incredible. For the past two decades, Arsham has continually pushed boundaries with his work. It is interesting to see how Arsham has gone from designing stages at the ballet to Porsche's for a gallery, showing that he can really do anything. With the whole world poised to see what Arsham does next, we know one thing: it's going to be incredible. Head to the KLEKT store now and start shopping for Daniel Arsham!