Come gather around the virtual campfire. It's time for us to share some stories that are guaranteed to chill you to the bone: from lost sneakers to the dreaded fakes. We've all got or heard of a horror story or two, and we here at KLEKT want to ensure that it never happens again! We've got your back.
Go and grab yourself something to drink, or alternatively get right under the covers (torch optional) to get the full 5D experience. Let's begin!
I purchased my first sneakers on resell – super excited to receive them and was expecting them in a week didn't come. 2nd week didn't come. On the 3rd week, they arrived and were 2 sizes too small! It turns out the site had gotten their size conversion chart wrong – could have cried
Chloe Sintim, CRM Manager, KLEKT
Mids

– Anon
So I won the Off White Jordan 5 Muslin via raffle… I went to resell them and listed them on an online marketplace as I thought I'd just take a lower fee through PayPal instead of all the other fees from reseller sites.
The guy was fairly friendly and bought the shoes through PayPal. I made a lot of money and was pleased….and then… he got in touch telling me I had sent him damaged goods and that the box I had sent was damaged. This was obviously not true, and I started a PayPal case giving proof that nothing was wrong, and his evidence was photos of a fake box and fake shoes. I obviously knew they were fake but trying to explain that to Paypal was always doomed to fail. So I had to refund him, and he would send me "my shoes" back.
A week went by, and the inevitable came. He had sent me back the fake battered box and fake shoes, to which I proved everything to PayPal, but they sided with him. He sent me death threats and everything….shocking
The moral of the story, just sell on KLEKT. It really isn't worth the faff.
Jake Newell-Black, Graphic Designer, KLEKT
I ordered Dunks on Wish and got Jordan Dunks

– Anon
I got back from a work trip, and I had maybe 12 pairs of shoes waiting for me at home. I unboxed them all and threw a massive pile of empty boxes away. I realised two days later that I had thrown out a pair of Yeezy 700 cream… 🙁 I checked the bins, but they were already emptied.
Connor Ward, Logistics Manager, KLEKT
I have no money

– Anon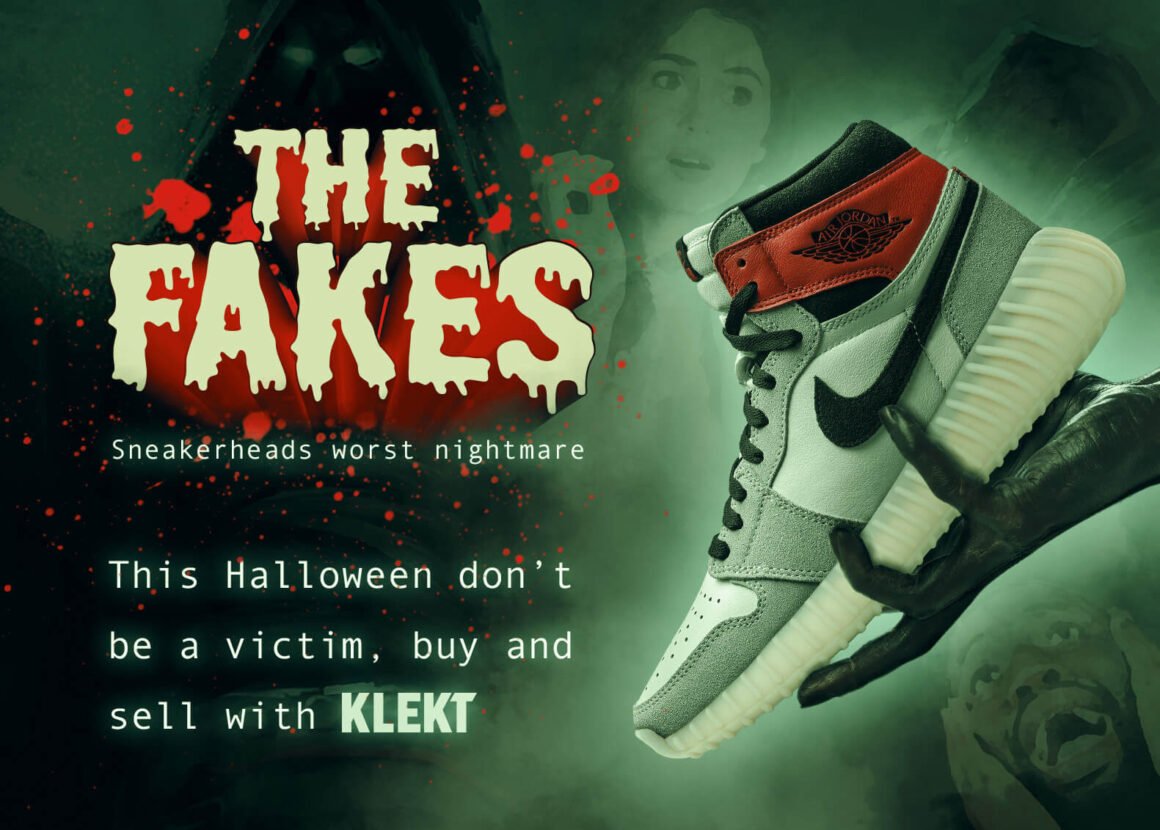 Have we got your hair standing on end? It's always a fright when sneaker shopping doesn't go quite right, but KLEKT is here to take the fear out of buying and selling sneakers online. Ensuring you never fall victim to fakes, damages or chargebacks.
Happy Halloween!