Over the past 10 years, Palace has slowly become a key thread in the streetwear tapestry. The brand, founded by proud Londoner Lev Tanju, has grown synonymous with hypebeasts and skaters alike. Its love of the unexpected, much like its American counterpart Supreme, is what has drawn people to it. Moreover, it's undeniable "like it or lump it" attitude makes it so exciting. In Tanju's own words "[Palace] has a personality and it's English and it's not really like anything else."
A decade is a blink of the eye when it comes to fashion. However, Palace has somehow managed to collaborate with some of the biggest brands on the planet, securing deals with Ralph Lauren and adidas. We thought it was about time we rounded up some of the best Palace collaborations over the past 10 years. We'll be taking a look at Palace's collaboration history and pulling out our firm favourites from the list.
Without further delay, here are the best Palace collabs of all time.
Palace x Umbro (2012)
Fewer collaborations sum up what Palace is all about than its work with Umbro. In 2012, Palace had the opportunity to work with the famous British sportswear brand on a special project. With this being Palace's first official collaboration, Tanju looked back at his youth for inspiration drawing on the wonderful world of football.
In a 2012 interview with DAZED, Tanju explained that "We all love and play football, and Umbro is wicked and super-English and I've liked it since I was a kid, so I thought it would be a fun project to do." The Palace x Umbro collaboration is without a doubt one of its best. Reimagining the classic Italia '90 England shirt, Palace placed a Triferg logo over the left chest, replacing the Three Lions. Even still, eight years later, this Palace collab is one that football fans and skaters alike wish they had copped.
Palace x EVISU (2020)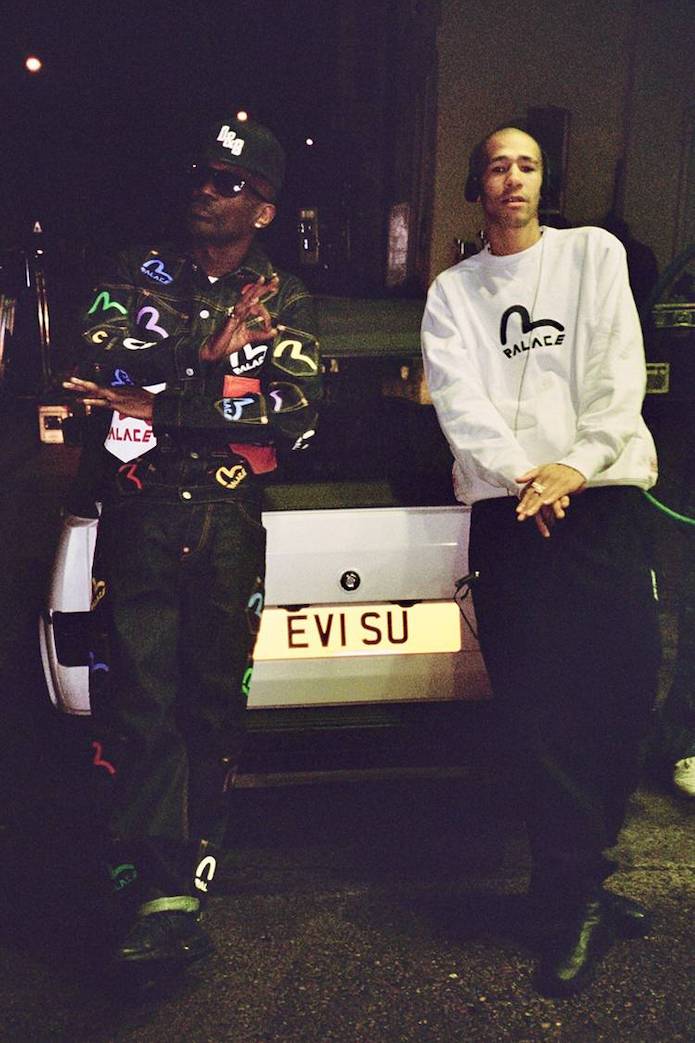 From one part of British culture to another, Palace has always drawn on the London influence throughout its entire lifespan. Earlier this year, Palace announced it would be collaborating with Japanese denim maker EVISU, much to the delight of fashion fans around the world. Throughout the late 1990s and early 00s, EVISU was a staple for garage and jungle ravers in the capital. Paying an "affectionate homage", Palace really nailed this collab.
Utilising EVISU's premium selvedge denim, Palace crafted a number of high profile items. A combination of the Palace Triferg and EVISU Seagull Graphic throughout this collab helped make it so successful. However, it was the fact that MC Skibadee was a model that really got people excited. Of course, this collaboration was a big hit with skaters and ravers, rightfully earning its place on this list. It may be a bit early to label this in the top 10, but trust us, Palace x EVISU is a future classic.
Palace x Jean-Charles de Castelbajac (2019)
When it comes to unexpected collaborations, Palace knows how to do it best. In 2019, Palace linked up with Moroccan fashion designer Jean-Charles de Castelbajac on a playful collab. Known for his love of playing cards, de Castelbajac released a number of items inspired by Kings, Queens, Aces and Jacks. It was an instant hit and one that has since gone down as one of Palace's strongest.
Not only did Palace x Jean-Charles de Castelbajac win over skaters, but fashion fans alike. Key pieces like the reworked JC/DC Triferg logo really won people over. The design featured a middle finger, devil horns and a peace sign and was featured on hoodies and T-shirts.
Palace x Reebok Classic (2013)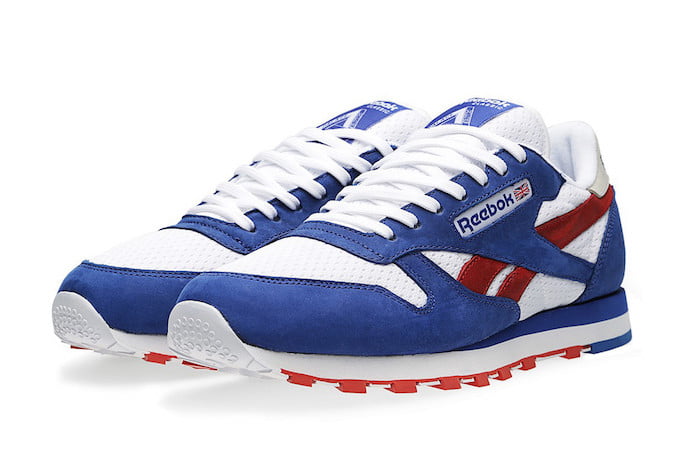 The 2012 collaboration with Umbro really helped to open doors for Palace to more conventional sports brands. In 2013, Palace announced that it would be collaborating with Reebok on a Classic and Workout. Whilst the large branding was kept to a minimum, Palace won over the hearts of the dubious sneaker community.
Keeping things patriotic once again, Palace used red, white and blue across its Reebok Classic. The ever so British approach to the sneaker featured Reebok's logo on the side and a small Triferg logo on the tongue. Palace x Reebok would eventually get the ball rolling for a number of large collaborations for Palace. Which leads us onto…
Palace x Ralph Lauren (2018)
Palace x Ralph Lauren broke the internet, it's as simple as that. Whilst Supreme x Louis Vuitton may have kickstarted things off, it alienated its core customer base. However, Tanju wanted to ensure that Palace was still for skaters. Not only did the 2018 collaboration cement Palace as a truly great streetwear label, but it also helped to show how the brand could keep things refined. Even the advertising was kept to a relatively simple standard.
"For Palace, there is no brand held in higher esteem than the one and only Ralph Lauren. Palace has been true fans of Polo for forever, but for many years, the prospect of collaborating with the iconic American fashion house remained in the realm of fantasy. Palace Ralph Lauren is a timeless collection that represents a love letter from a young London skateboard company to their favourite brand in the universe" the brand stated.
A number of classic Ralph Lauren pieces were subtly reworked by Palace. Co-branded logos featured throughout, with the iconic polo motif sitting above a simple "Palace" script. Polo shirts, puffers, caps and skate decks were adorned with simple branding. The key piece, however, was the Teddy Bear jumper doing a kickflip on a Palace deck. Palace was the first brand to collaborate with Ralph Lauren in its history and it did so in style.
Palace x Dover Street Market (2019)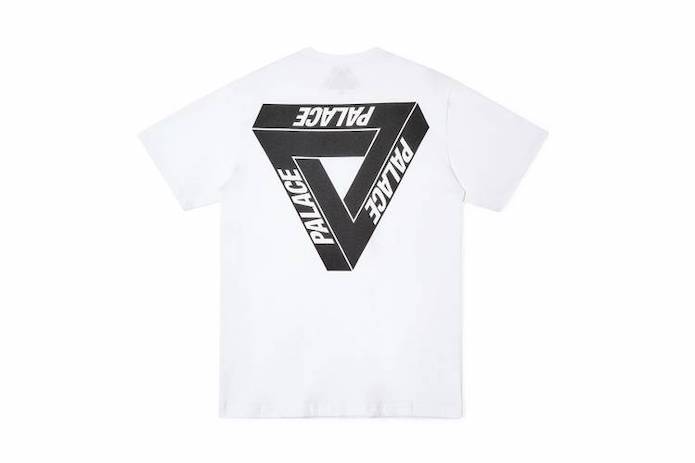 Rei Kawakubo's Dover Street Market is a powerhouse retailer. Since its inception in 2004, DSM has become a hub that is all things fashion. Having turned 15 last year, DSM decided it was time to collaborate with some of its favourite brands to celebrate. One of those brands lucky enough to work with DSM was Palace.
Keeping things fairly simple, Palace x Dover Street Market played on Kawakubo's favoured monochromatic palette. Two commemorative T-shirts released and both featured an upside-down Triferg logo on the back. Made in limited numbers and exclusively for DSM, this was one collab that sold out almost immediately.
Palace x Kickers (2019)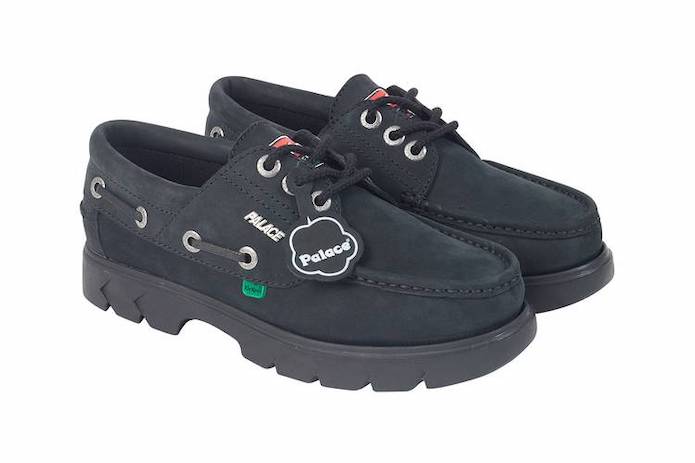 Once again delving back into the 90s, Palace x Kickers was one collab that was divisive in the streetwear community. Following on from the 2018 collaboration, Palace was once again worked with UK footwear brand, Kickers. Known for their chunky shoes, Kickers were a big hit in the mid-80s and early 90s, even permeating their way into British schools.
Taking a refined approach, Palace dropped three versions of the classic Moccasin. Simple branding on the side, as well as a Palace hangtag. Of course, the real star of the show was the co-branded tongue tag.
Palace x Avirex (2017)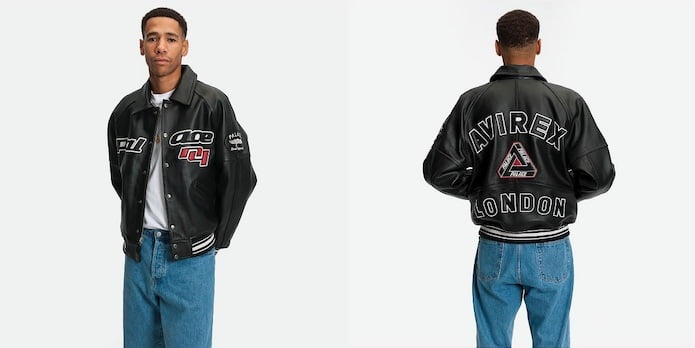 As Scott Garcia once said, "it's a London thing." In the late 90s and early 00s, Avirex jackets were a standard piece of attire for anybody in the British capital. The leather jacket, synonymous with rave culture, is still referenced by many brands throughout London. Showing a respectful homage to the classic piece, Palace put its spin on the Avirex jacket in 2017, much to the delight of customers around the world.
Featuring a large Palace logo across the front, the jacket used co-branding script on the arms and dropped in two colours. On the back, the fusion of two of London's prodigal sons was united in the form of "AVIREX LONDON" and a Triferg logo. Palace x Avirex really cemented the brand's love of London culture.
Palace x Juventus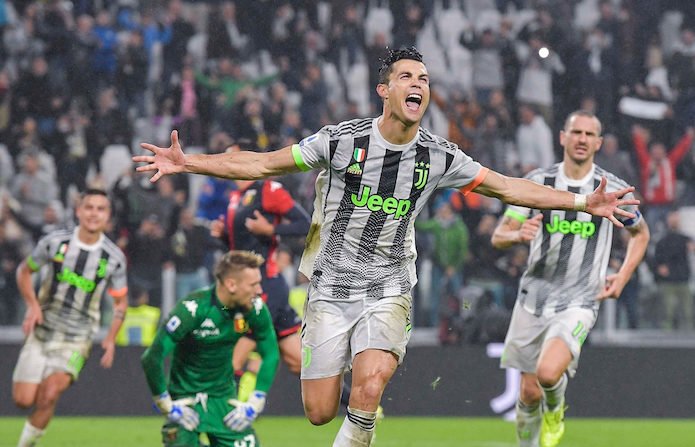 This is probably the greatest collaboration in streetwear and sporting history. Whilst Jordan Brand may have sponsored PSG, Palace was fortunate enough to work with one of football's oldest teams; Juventus. Rumours began circulating that a collaboration was in the works earlier in the year, however, it was very much silence from then on. The Palace x Juventus collab was announced in spectacular fashion, with a Triferg logo spinning at the Allianz Stadium. To top it off, Ronaldo bagged the winner.
Of course, the collection was an instant sellout. A number of training tops, tracksuits, gloves and footballs helped make the collab worthwhile. However, it was the official shirts that got people excited. Palace x Juventus truly broke the internet, not only in sport but fashion too. It marked a change in how streetwear brands could be taken as seriously as large sponsorships. Let's just hope more comes from this creative partnership.
Palace x adidas Originals Wimbledon (2018)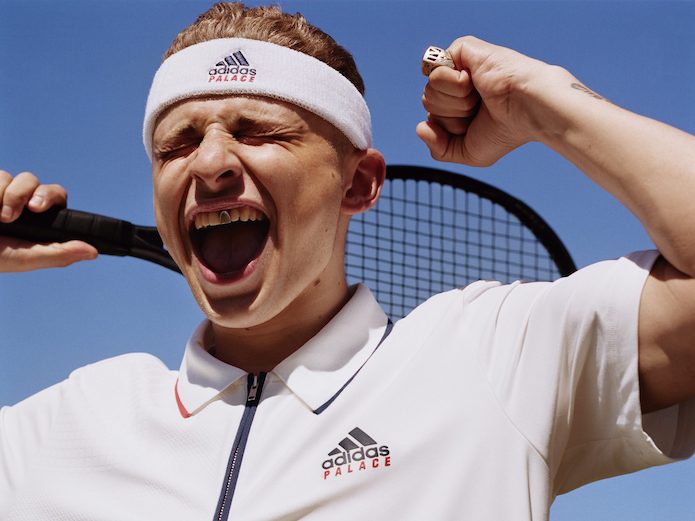 This is arguably the greatest Palace x adidas (Palidas) collaboration. In 2018, adidas revealed that Palace would be sponsoring the tennis player uniforms for the prestigious Wimbledon tournament. This collaboration is one of the strongest in the brand's history, and for very good reason. It defined what Palidas could become.
Palace helped to create a very simple set of tennis whites, in keeping with the painfully strict rules set by the All England Lawn Tennis and Croquet Club. It was an instant hit. Rocked on the courts by the likes of Angelique Kerber and Stefanos Tsitsipas all wore the Palace tennis clothes. In fact, Kerber went on to win the ladies tournament, sporting Palace x adidas in the process.
Final Thoughts
We hope you enjoyed our round-up of some of Palace's best collaborations. Palace has always sought to push boundaries on its collaborations, as you can see in the list above. With just 10 years under its belt, you can expect to see a few more exciting Palace collaborations to come.