It goes without saying that football players are very fortunate in their career choice. The talent that these players nurture can lead to multi-million-pound contracts, as well as playing for some of the biggest teams on the planet. With that in mind, football players are treated to a life that few people know. Earning hundreds of thousands of pounds a week, it got us thinking about what these players spend their money on. Of course, one of those outlets is sneakers.
With the return of the English Premier League happening imminently, we thought we'd round up 10 of its biggest sneakerheads. Unsurprisingly, there's a lot. Some of the biggest sneaker fans in the Premier League have some pretty crazy collections. We'll be showing you some unsuspecting players, as well as some more obvious ones. Without further delay, let's take a look at the top 10 sneakerheads in the Premier League.
Kyle Walker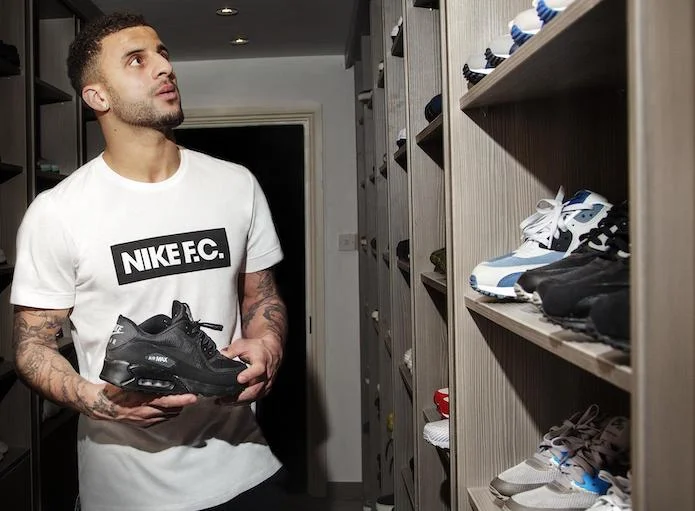 Born and raised in Sheffield, Kyle Walker was introduced to the world of Air Max early on. Since starting his career with Sheffield United, Walker has continued to add to his impressive collection. The picture above was taken in 2015 so you can only imagine how many pairs have been added to his closet since then. Comprised mostly of Nike Air Max, Walker explained his eyes were opened to sneaker culture when signing with Tottenham Hotspur.
"Coming from Sheffield and moving down to London at the age of 19, I found (trainer culture) a lot bigger down here and the trainers a lot louder," Walker explained to Nike. "You see all different varieties and the different ways people rock them. So I've taken a liking to some of these bolder styles." Just like any serious sneakerhead, as soon as a pair of shoes are off Walker's feet, they are cleaned. Growing up not always being able to afford the latest sneakers, Walker says his mum explained to him that if you "treat things with respect, and they'll last a little bit longer."
Mason Greenwood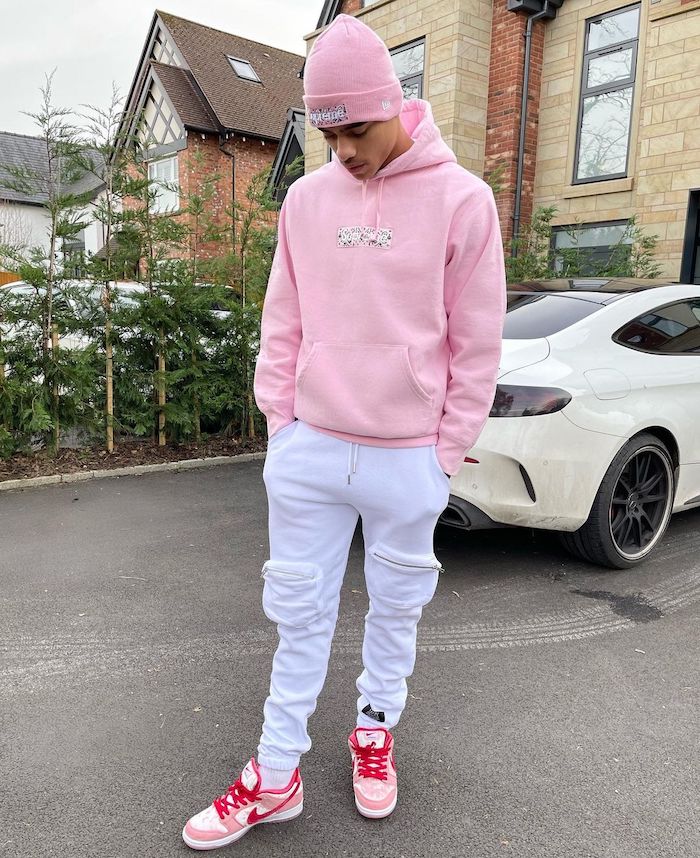 At the ripe old age of 19, Mason Greenwood has been making an impact both on and off the pitch for Manchester United since he was 17. The wonder kid is without a doubt one of the most exciting prospects in English football and has shown his resourcefulness for the Red Devils a number of times. When he's not breaking records, scoring crucial goals and making a name for himself, Greenwood is arguably one of the biggest sneakerheads in the Premier League.
Take a scroll through his Instagram and you'll see a real mixture of sneakers, covering the likes of Louis Vuitton, Christian Dior and Nike SB. The 19-year old can often be seen donning some of the rarest SBs around, with a mixture of OG colourways and new school releases. On top of that, it seems Greenwood also has a bit of a thing for streetwear too, with Supreme, Cactus Jack and Off-White™. With a long career ahead of him, we can't wait to see what other sneaker heat Greenwood brings out.
Dele Alli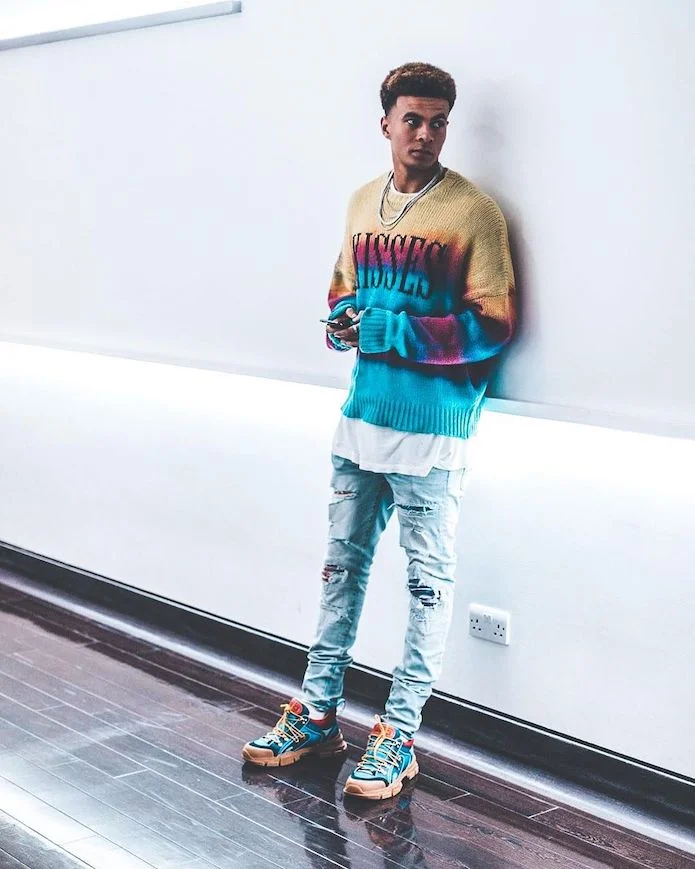 Since bursting onto the Premier League stage in 2014, Dele Alli has remained one of the most exciting prospects in British football. As an integral role in the Tottenham Hotspur squad, Alli has become one of the club's best-paid players. That, in turn, has meant that he can now branch out into buying more and more sneakers.
A fan of designer brands, Alli can often be spotted wearing high-end labels like Dior, Gucci and Amiri. His style is a perfect combination of premium designer combined with streetwear. As a key part of the adidas line up, Alli is often treated to the latest Yeezys, Ultraboosts and more. You expect his sneaker collection to grow as fast as his career.
Divock Origi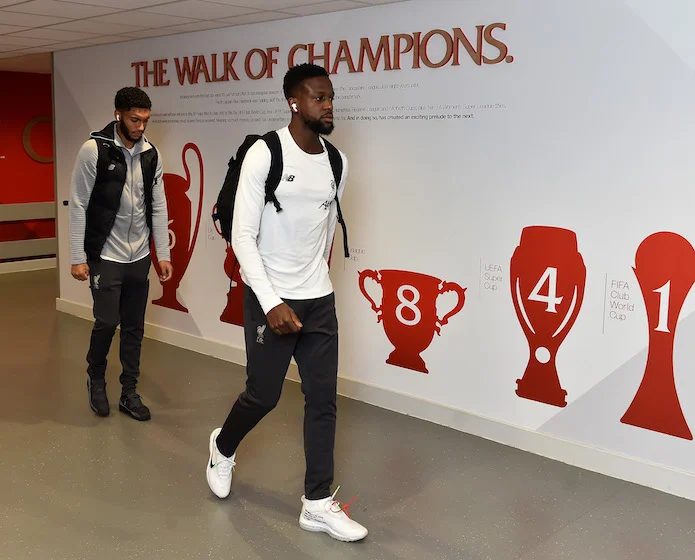 Divock Origi is arguably one of the most understated sneakerheads in the Premier League. Since joining Liverpool full time in 2015, the Belgium international has slowly flexed his love of sneakers before games. As a Nike sponsored athlete, Origi has been treated to everything from Off-White™ to Fear of God and everything in between. As you can imagine, this just means that his sneaker closet is filled to the brim with heat.
Often spotted wearing the latest Nike releases, Origi's style is a blend of streetwear labels and high-end fashion, much like other Premier League stars. His affiliation with brands like Louis Vuitton, as well as streetwear labels like Palm Angels. Origi has explained that his own style is influenced by the likes of A$AP Rocky, Jerry Lorenzo and Travis Scott. Considering the calibre of sneakers he's got in his arsenal, it's easy to see why.
Hector Bellerin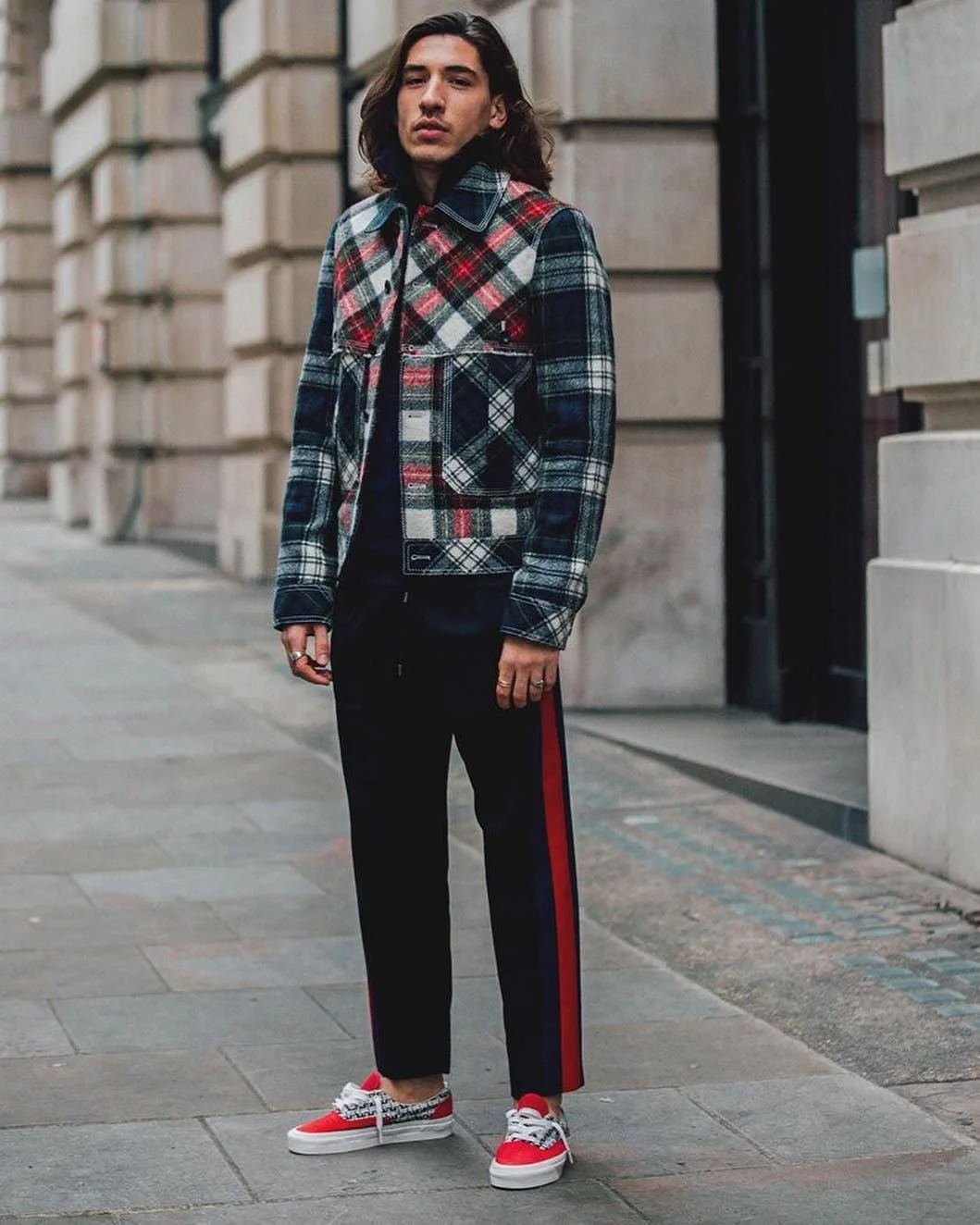 Hector Bellerin is probably the best-dressed man in the Premier League, let's be honest. The 25-year-old Arsenal right-back has gained a lot of attention for his style both on and off the pitch. A regular attendee of London Fashion Week, the star is a muse for many. In fact, in 2019, Bellerin even walked the catwalk for Virgil Abloh's Louis Vuitton show. With that in mind, it's safe to say that Bellerin's love affair with fashion also extends to sneakers.
Often spotted wearing luxury brands, Bellerin can seamlessly blend basic sneakers like Vans with a Loewe Coach Jacket. As a Puma sponsored athlete, Bellerin may not have access to the hottest sneakers in the world, but his wages certainly help him attain some more expensive ones. A fan of Balenciaga, Versace and Fear of God, Bellerin is one player in the Premier League that could definitely make it as a stylist after his career finishes.
Jesse Lingard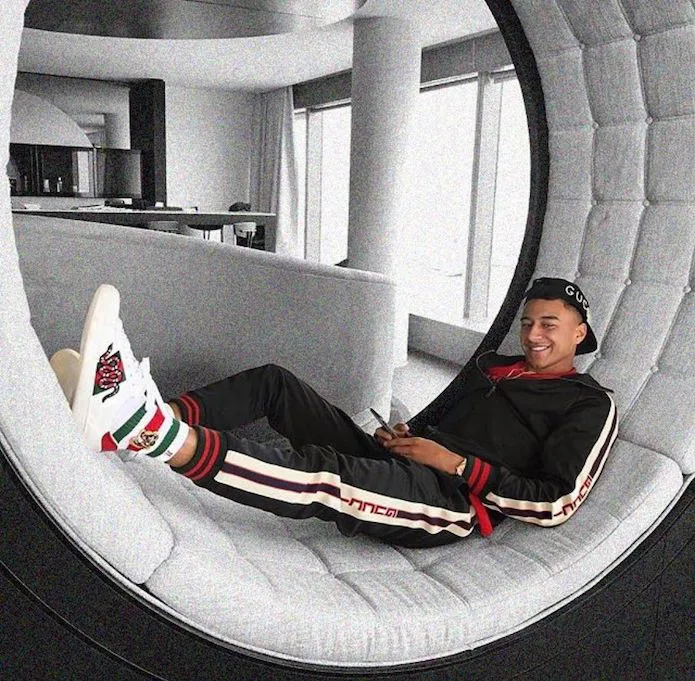 Love him or hate him, Jesse Lingard is one of the boldest dressers in the Premier League. His love for high-end brands like Gucci, Dior and Givenchy have seen him rock full branded looks. Sponsorships with adidas mean that Lingard can often be spotted rocking everything from Yeezy's to Ultraboosts. However, his penchant for designer labels has earned him a flashy status.
As you'd expect, J Lingz has one of the most diverse sneaker collections in the prem. His love for simple adidas tracksuits, paired with Off-White™ sneakers, means that Lingard is certainly a more high-end sneakerhead. If the full Gucci outfit pictured above is anything to go like, you can expect the 26-year-old England star to have a sneaker closet full of heart.
Paul Pogba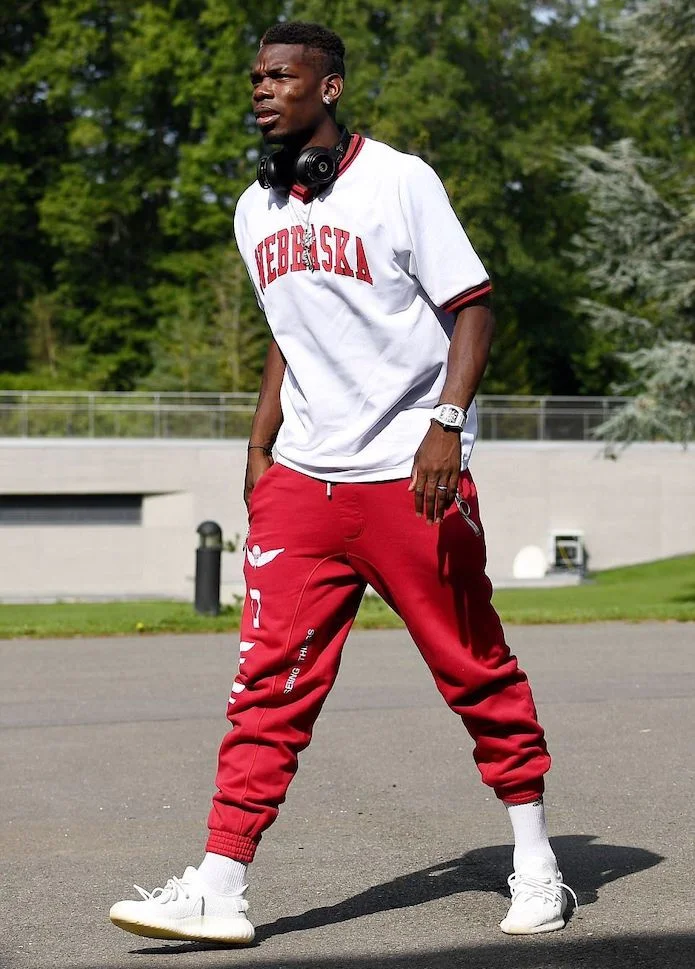 After joining Manchester United from Juventus for an eye-watering €105 million in 2016, Pogba has not been the big signing that the club had hoped. However, it hasn't stopped him from making a name for himself as one of the league's biggest sneakerheads. Before leaving Nike for adidas in 2016, Pogba had already cemented himself as one of the world stages most colourful players. From crazy haircuts to wild style choices, Pogba is eccentric, to say the least.
Joining adidas on a 10-year deal has meant that Pogba has been treated to almost every big Yeezy release since it started. The French international can often be spotted wearing Yeezy 350 V2s before games as well as on his way to training. In fact, there are rumours that one of Pogba's requests for joining adidas was an all-white pair of OG adidas Yeezy Boost 350s. The only other man on the planet to have a pair of these is Kanye himself!
Dominic Calvert-Lewin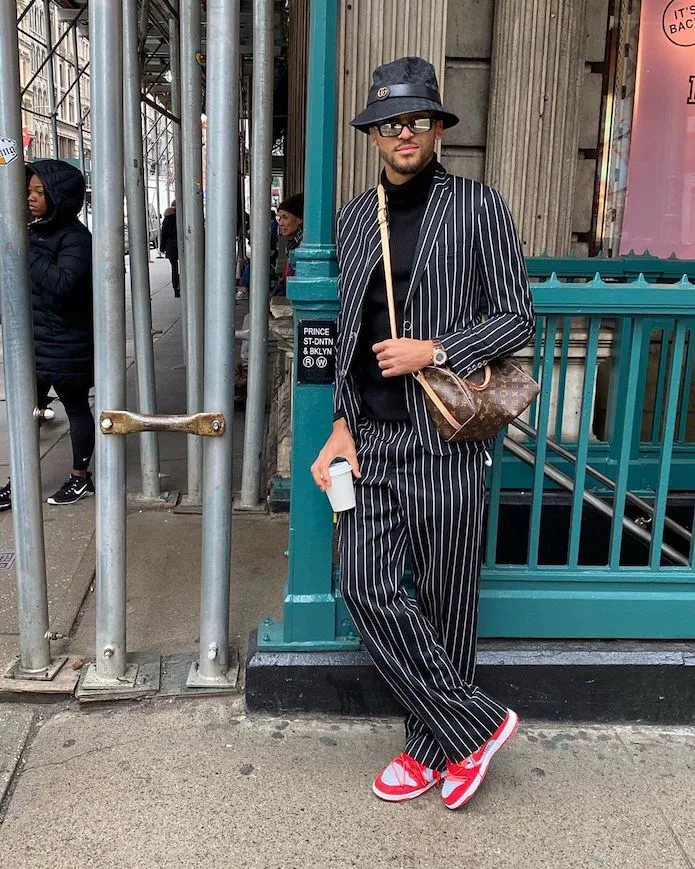 Everton's Dominic Calvert-Lewin has made a name for himself as one of the Premier League's most stylish players. Joined by fellow teammate Tom Davies, the two have often been spotted attending fashion week shows and wearing distinct pieces. Creating his own signature style, Calvert-Lewin is making waves in the football and fashion world. Since becoming a Nike athlete, Calvert-Lewin has been able to extend his sneaker collection somewhat.
In a recent trip to New York, Calvert-Lewin was spotted wearing the Off-White™ x Nike Dunk "University Red" with a bold pinstripe suit, Gucci bucket hat and Louis Vuitton bag. The 23-year-old forward can often be seen wearing Needles, vintage Chanel and Off-White™ Jordans. As you'd expect for a man of this style ability, Calvert-Lewin has one of the most diverse wardrobes out there. It's exciting to see just how his sneaker collection will grow as he gets older.
Raheem Sterling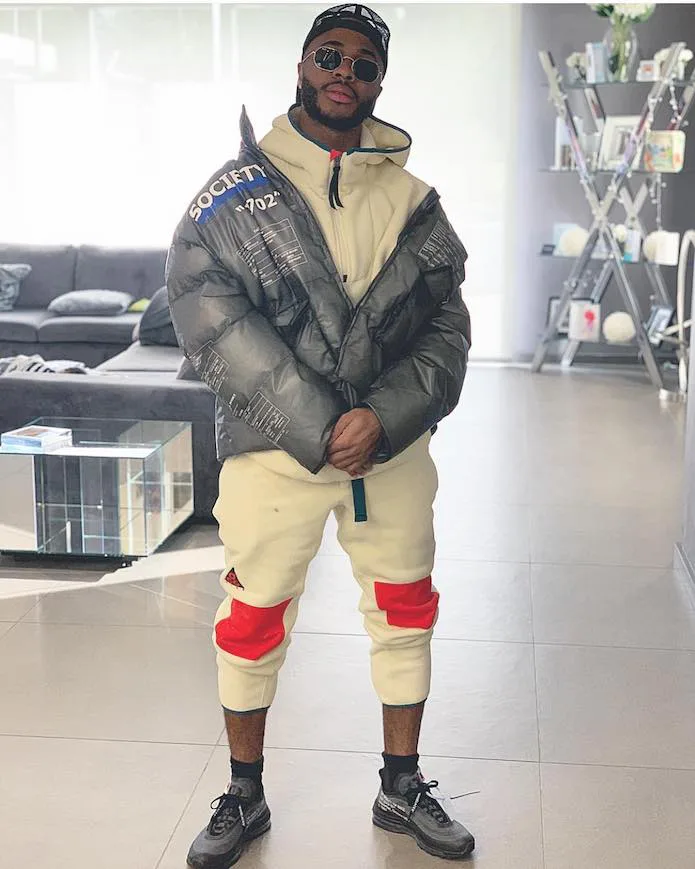 There is no denying Raheem Sterling's importance to English football. After joining Manchester City from Liverpool in 2015, the winger was already a household name due to his speed and ability. His contract with Nike has seen him rock a number of exclusive boots whilst also ensuring that he is kitted out in the latest sneakers.
Growing up in London, it is easy to see how Sterling's love for sneakers started at an early age. Various limited Nike releases can often be spotted on Sterling's feet. These range from Off-White™ x Nike Air Max 97s to Air Jordan 11 "Gammas." The 25-year-old England international has given us a glimpse of what he has in the locker, with Air Jordan 1s and Dior sneakers gracing his Instagram feed often. With his Nike contract recently renewed, it doesn't look Sterling will stop growing his sneaker collection any time soon.
Tammy Abraham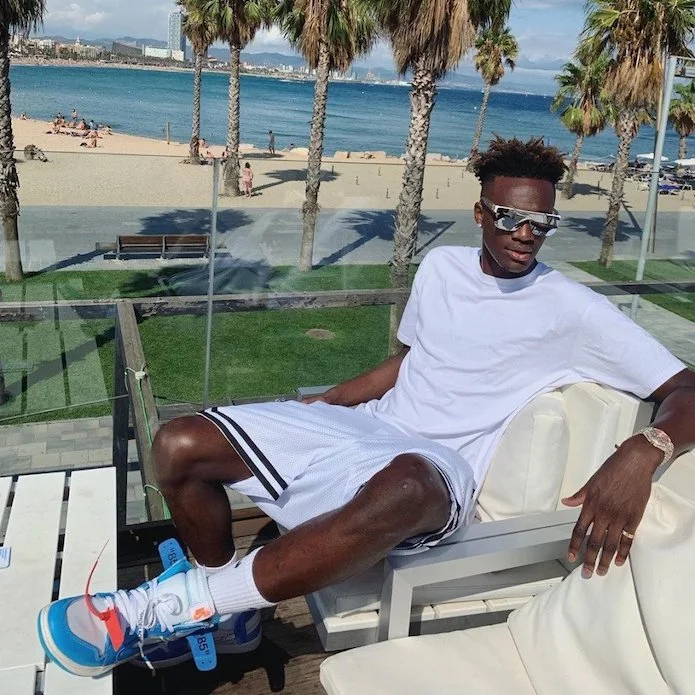 Tammy Abraham is one of the Premier Leagues most exciting prospects. The 22-year-old striker has already made a name for himself at Chelsea this season. Abraham scored a hat trick and became the youngest player to score three goals in a match for the London club in the Premier League era. Of course, as one of Nike's young golden boys, Abraham has been ensuring that he gets his hands on some of the rarest sneakers around right now.
Growing up in Camberwell, London, Abraham was no doubt exposed to sneaker culture from an early age. A fan of Off-White™, Abraham can often be seen in the latest offerings by Virgil Abloh. His love of the "UNC" Off-White™ x Air Jordan 1 was spotted on a trip to Barcelona. As you'd expect, that's not the only pair of Nikes he's got in the locker. Abraham has been seen rocking everything from the Air Jordan 1 "UNC to Chi" to sacai x Nike LDWaffles.
Final Thoughts
So that concludes the top 10 sneakerheads in the Premier League! We hope you learned about a few more players during this piece. As you can imagine, the sponsorships these players have certainly helped. Let's face it though, if you had the chance to get all these sneakers, you absolutely would. With the Premier League starting tomorrow, we can't wait to see what sneakers these players are rocking in the tunnel.