It is difficult to imagine what the world of sneakers would look like if it were not for the Black community, let alone what the world would look like. Black culture is so ingrained in sneaker culture that there is simply no way it could exist without it. This game that we love has given birth to some of the most incredible sneakers, many of which were made famous by the Black community. From Michael Jordan to Virgil Abloh and Aleali May to Serena Williams, the influence of the Black community in sneakers is simply undeniable.
As many sneakerheads will know, big brands tend to drop a number of Black History Month sneakers. Over the past two decades, we've seen Black History Month shoes become a key part of the release calendar. Not only do these sneakers help the Black community, but they also help to keep the conversation about racial injustice alive. Whether it's Air Jordans or adidas, pretty much every big brand will do its part to ensure that the Black community is heard.
With that in mind, here at KLEKT, we thought it was about time to round up some of our favourite Black History Month-inspired shoes. We'll be delving into the archives and showing you a number of Black History month colourways. As you can probably imagine, there's a lot of BHM sneakers and we can't show them all. However, we feel that you'll agree with our choices. Without further delay, let's take a closer look at some of the best Black History Month sneakers!
Nike Air Force 1 "BHM" (2005)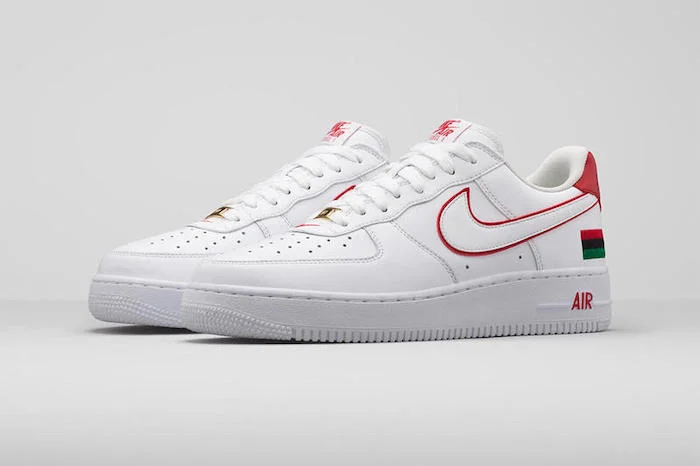 In 2005, Nike began its Black History Month sneaker journey. In the 40 years it had been around, Nike had witnessed first hand the treatment of the Black community and how little had changed. That's when it decided to do something about it. What started out as a one off shoe has since become a full yearly collection every year, designed to celebrate its African American heritage and create a more inclusive world for all.
A simple white leather base is contrasted with red detailing on the Swoosh, sock liner and tongue tag. On the heel, a Pan-African flag can be seen, a detail that is also replicated on the insole. Gold lace dubraes offer a slick touch too, with a crisp white midsole and red outsole bringing things to a close. Pictured above is the 2014 retro of the first-ever Black History Month Nike sneaker. Since 2005, Nike has millions of dollars and offered grants for members of the Black community.
adidas Stan Smith "Arthur Ashe" (2017)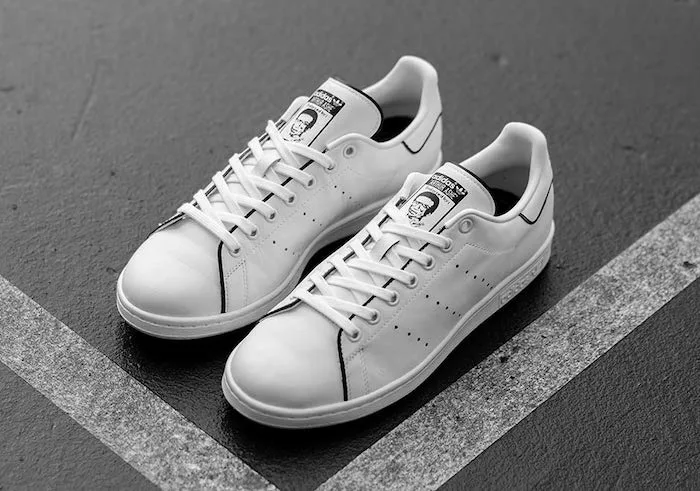 Arthur Ashe is one of the most important athletes of all time, but some of you may never have heard of him. The legendary tennis player and civil rights activist first burst onto the global tennis stage in 1959. Not only was Ashe the first black player selected to play as part of the United States Davis Cup team, but he is also the only black man to ever win the singles title event at Wimbledon, US Open and Australian Open. However, it was Ashe's work off the court that made him so well-respected by his peers.
As a pioneer for African Americans in the sport of tennis, Ashe was and still is considered one of the tennis' greatest players. In 2017, adidas honoured Arthur Ashe in its Black History Month sneaker line up. The simple monochromatic Stan Smith features a portrait of Ashe on the tongue, as well as a subtle black trim along the upper. Limited to just 1,975 pairs, the year that Ashe won at Wimbledon, the shoe was an instant sell-out.
New Balance 574 "Inspire the Dream" (2020)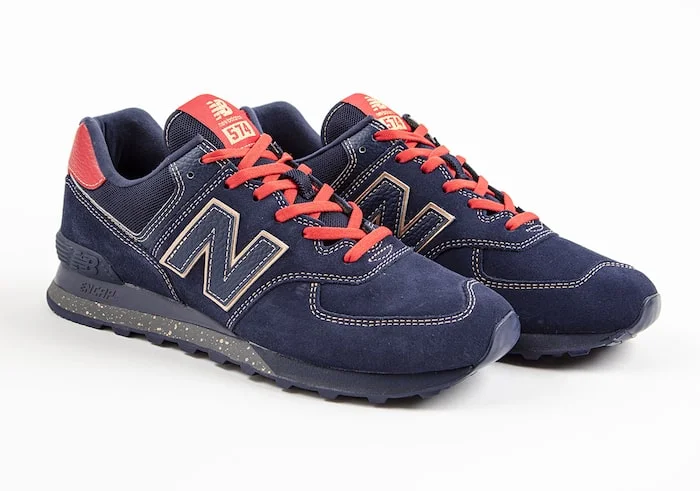 Although this may not be one of the most obvious Black History Month sneakers, it holds a special message. Since joining New Balance in 2018, Kawhi Leonard has been at the heart of the brand's development. His PE signature sneakers, the OMN1S, have often beared social messages. Earlier this year, however, a different approach was taken by Leonard and the team at New Balance. A collection dubbed "Inspired the Dream" was about his journey from high school to making it in the NBA.
Four sneakers made up the New Balance "Inspire the Dream" pack, but the 574 was definitely our favourite. Comprised of navy, grey, red and gold, the New Balance 574 honours the impact and achievements of African American heritage. Subtle details can be found on the shoe, such as the words "Inspire" and "Dream" featuring on the tongue tabs. As a member of the Martin Luther King High School alumni, Kawhi Leonard knows all too well the importance of being inspired to change the world, even if it is through sneakers.
Air Jordan III "BHM" (2011)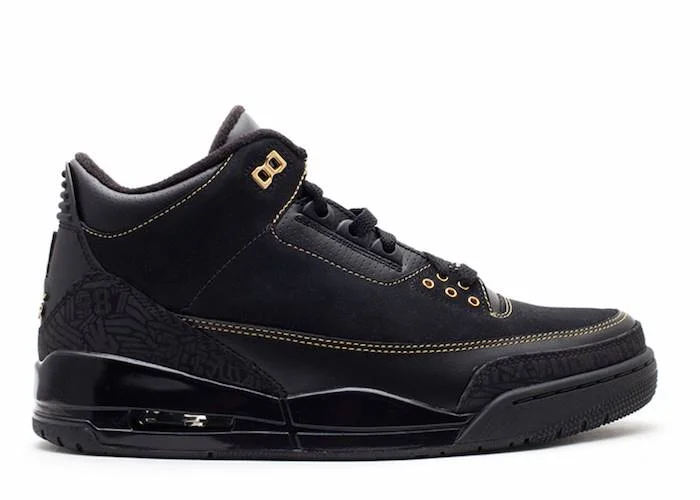 Few athletes are as important in the world of sports as Michael Jordan. After joining the Chicago Bulls in 1985, Jordan would go on to become one of basketball's most iconic players. Inspiring billions from around the globe, Jordan's work on and off the court has continued to serve as a constant reminder of the importance of the Black community in world sports. If there were no Michael Jordan then there would be no Air Jordans. Period.
For its seventh Black History Month collection, Nike took one of basketballs most iconic silhouettes and updated it: the Air Jordan 3. Released in 2011, the Air Jordan 3 "Black History Month" is a simple yet effective sneaker. Black leather and nubuck come together to create a subtle looking AJ3, whilst gold detailing feaures on the stitching, eyelets and branding. Replacing the usual elephant print on the upper is laser-etched graphics, bringing this Black History Month Jordan to a close.
adidas Ultra Boost "Black History Month" (2019)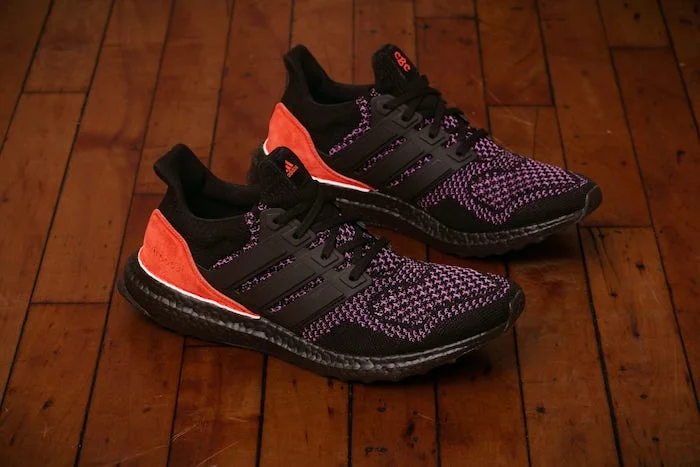 Over the past few years, adidas has slowly upped its BHM sneaker game. From celebrating iconic figures in the world of sport to creating BHM initiatives, adidas is ensuring that it supports the Black community as much as possible. Arguably one of the most memorable of its packs was from 2019. Inspired by the Harlem Renaissance, adidas took the Ultra Boost, Harden Vol. 3 and Dame 5 and transformed them through a slick colourway. Whilst the other two were good, the Ultra Boost is our favourite.
Constructed in a black Primeknit upper and featuring red and purple throughout, this bold adidas Ultra Boost is certainly eye-catching. Clever details such as "CBC" (Celebrating Black Culture) feature on the tongue tag and insole are an important reminder about why Black History Month sneakers are so important. As you can probably imagine, it didn't take long for this collection to sell out in the USA, with these quickly hitting the resell market.
Nike SB Dunk Low "BHM" (2013)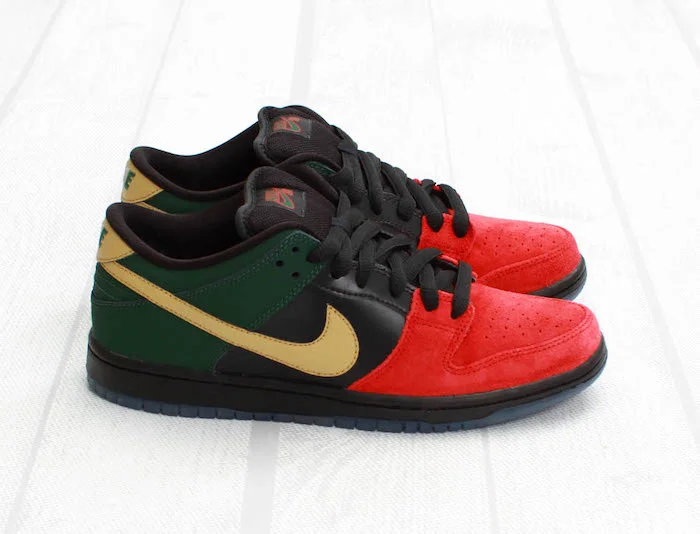 Nike's BHM offerings have often spanned a number of models, something the Swoosh is keen to do every year. In 2013, Nike took a different approach when it came to choosing a silhouette for Black History Month. Instead of the traditional Air Max or Air Force 1, it opted for something a little different: the SB Dunk. If this pair had released in 2020, you can bet that this would have been a tough cop, but in 2013, things just that little bit simpler.
Featuring an Afro-centric/Rastafarian colour scheme throughout, the Nike SB Dunk Low "BHM" had to be included on this list. The well-balanced combination of black, red, green and gold comes together effortlessly on this shoe, something that's reflected in the balance of materials. Soft leather on the upper is contrasted by premium suede on the toe; although it's the slick "Nike" on the heel that we love. Sitting atop a black midsole and translucent sole, this was one SB Dunk we wish we had copped.
Puma Suede "Black History Month" (2016)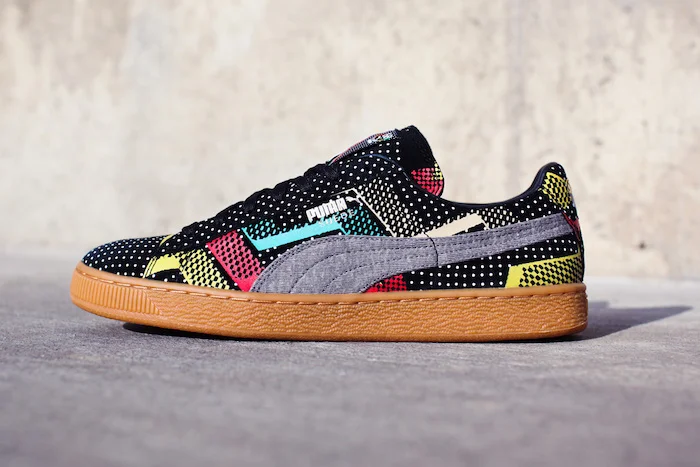 The Olympics has always been a place for athletes to make a statement, but there are some that are simply more memorable than others. At the 1968 Mexico City Olympics, Tommie Smith would create history when he took to the podium. Having won the 200-metre sprint in under 20 seconds, the first person in history to do so, Smith sat in the number one spot. However, when he took his place, Smith removed his Puma Suede sneakers, put a black sock in his hand and raised his arm above his head. It would come to be known as the "Black Panther Salute."
Although Smith and his teammate, John Carlos, were forced out from the games, the image is one that remains to this day. In 2016, Puma honoured Smith's action with a special sneaker pack inspired by his act of courage. In total, three shoes were used, the Puma Suede, Sky II and Puma Suede Jersey. A multicoloured geometric pattern was used throughout, with a tongue tag outlining the pose held by Smith and Carlos as well as "68." It didn't take long for these to become one of the best Black History Month sneaker releases, and you can see why.
Nike Air Max 1 "BHM" (2015)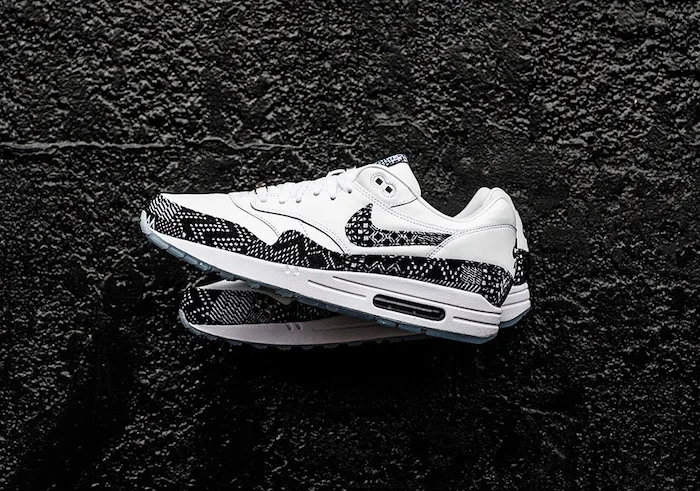 Although most BHM sneakers tend to be a celebration of colour, in 2015, Nike took a different approach. As the biggest BHM product release in Nike's history, 2015 was an important step in the right direction for the Swoosh. However, instead of going for a burst of colour, it decided to do the opposite. Constructed in black and white, the Nike BHM pack of that year was more subtle but equally as powerful in its messaging. It also cooked up one of the best BHM Air Max we've seen.
Much like the rest of the 2015 Nike BHM pack, the monochromatic look of this AM1 is what helped it stand out. A clean, premium white leather base was contrasted by a black and white geometric pattern throughout. Gold lace dubraes, as well as BHM on the tongue, gave this Air Max 1 an edge, with a crisp white midsole and translucent outsole bringing this to a close. Whilst this may not be the first Black History Month Nike Air Max 1, it is without a doubt our favourite.
Converse Chuck Taylor 1970s "BHM" (2019)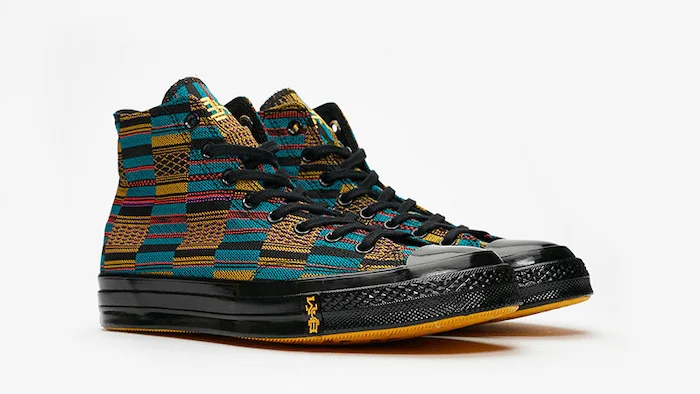 There is no denying thatConverse is just as important a part of basketball as the NBA itself. After being founded in 1908, it would take 13 years for Converse to make an impact in the sport. However, when a player named Charles "Chuck" Taylor began wearing Converse in 1921, the shoes quickly became a part of history. Almost a century later and the Chuck Taylor is a true icon in the world of fashion. In recent years, the Chuck Taylor has also been a part of Nike's BHM collections, with the pair above being one of our favourites.
Sometimes, loud sneakers really are the best. In the case of the Converse Chuck Taylor 1970s Hi, this is as bold as it gets. Whilst it may not have been one of the most successful BHM sneakers, the colourful woven upper is enough to ensure that it made its way onto this list. Released as part of Nike's Black History Month line up last year, this was a standout pair. Featuring "BHM" branding on the tongue and midsole, there's no way you'd miss these in a hurry. This is without a doubt one of the best Black History Month sneakers of all time.
Air Jordan 1 Nouveau "BHM" (2016)
Finishing off this list is arguably the best Air Jordan 1 "BHM" of all time. In 2016, Nike released another BHM pack. With 2015's being such a success, Nike decided to opt for a different approach yet again. Referencing by its African American athletes and their record-breaking, Nike looked within for a source of inspiration. In total, Nike released a number of signature shoes, from Serena Williams to Kobe Bryant. Arguably the standout model from the pack was this Air Jordan 1 Nouveau.
Constructed in a black leather upper, the Air Jordan 1 Nouveau "BHM" featured a multicoloured geometric pattern. Place on the Swoosh, collar and ankle, this pattern served as a reminder of the Black community's influence on everyday life. In Nike's own words "The [2016] Black History Month collection honors and celebrates Black heritage, in sport and beyond, around the world." We couldn't agree more. Selling out instantly ,this is one BHM sneaker you don't want to pass up on should you find it.
Final Thoughts
So, guys, we hope that you enjoyed our round-up of some of the best Black History Month sneakers! From adidas to Air Force 1s and Puma Suedes to Chuck Taylor's, there's been a huge number of BHM shoes drop in recent years. This month is about celebrating the richness of Black history but also about recognising there is much to be done. Here at KLEKT, we encourage you to educate yourselves and see how you can enact change.