Over the past few years, we've seen a huge increase in the number of eco-friendly sneakers. With people all over the world becoming more acutely aware of the impact they are having on the planet, there has been a huge shift in the way that they approach their purchases. In turn, we've seen a huge increase in the number of eco-friendly sneaker brands that people are beginning to shop with. Thankfully, big sneaker brands are also beginning to change the way that they source, produce and distribute their products.
In this post, we'll be taking a closer look at the best eco-friendly sneakers of all time. When compiling this list, we realised the vast improvements that brands have made when it comes to eco-friendly and more sustainable sneakers. From the work adidas carries out with Parley to Nike's recent Space Hippie line, there are some big changes happening in the sneaker industry at every level. This list will no doubt include some eco sneakers you've heard of and some that you haven't, but that's what makes it interesting.
Without further delay let's take a closer look at the top eco-friendly sneakers out there!
adidas Futurecraft.loop (2019)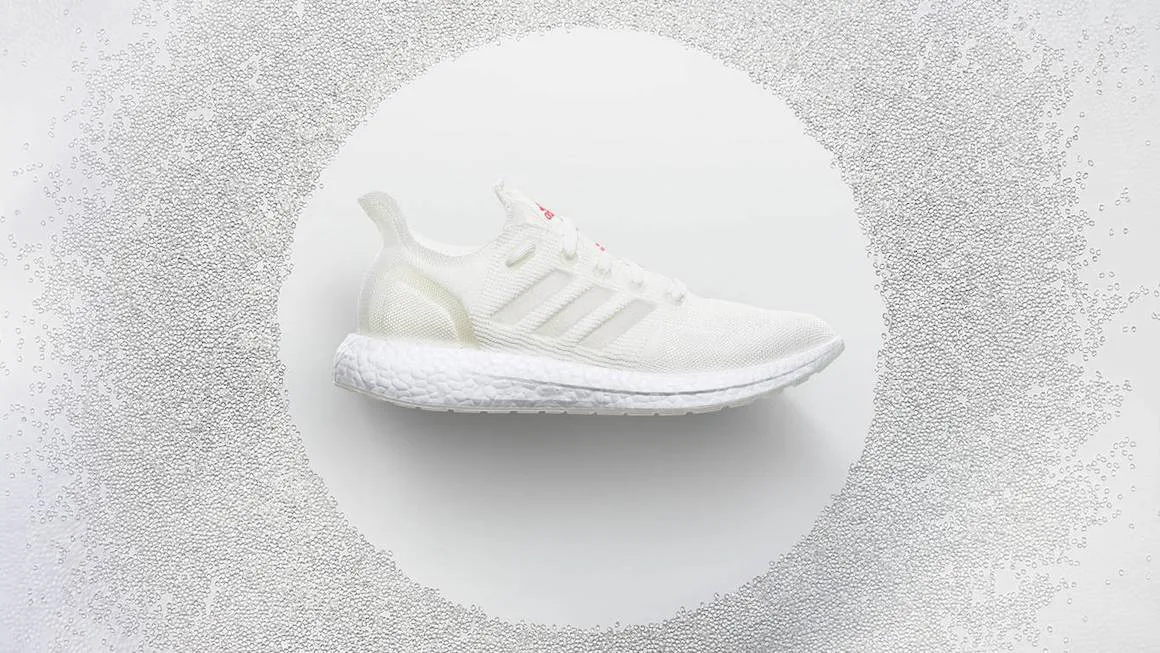 There are few brands more widely recognised as trying to change their production process like adidas. For the better part of a decade, adidas has been working to create more eco-friendly and sustainable shoes. During that time, it has released collaborations with Parley, redesigned its recycling programme and made huge strides in a more green direction. However, there was one shoe that really stuck in our minds that summed up all of adidas' work: the Futurecraft.loop.
Back in 2019, the adidas Futurecraft.loop was revealed to the world. adidas alone makes more than 409 million pairs of shoes a year, most of which will end up in landfill within a few years. The Futurecraft.loop signified a shift in the adidas production line. Made from entirely recycled materials, the Futurecraft.loop is made entirely from one piece of TPU, a TPU yarn and ground fabric in the Boost material. It didn't take long for the shoe to make waves when unveiled to the press. Although the shoe is yet to receive a retail release just yet, this could undoubtedly change adidas shoes forever.
Nike Space Hippie 01 "Hyper Crimson" (2020)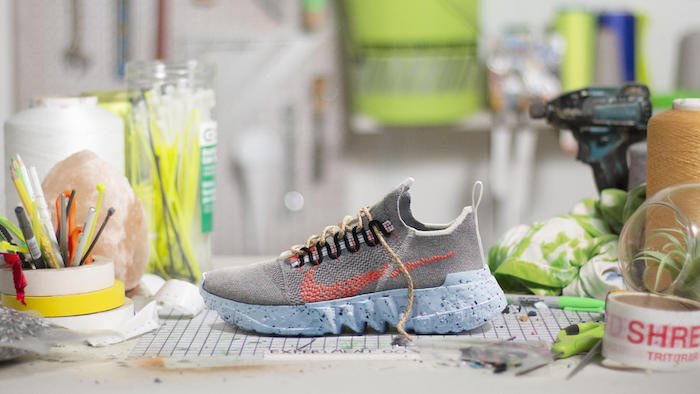 It's well-known that Nike has been making big steps towards its Move to Zero objective. If you don't know about Move to Zero, then are you even a sneakerhead? By 2030, Nike plans on producing zero carbon and zero waste in all of its products. To do that, Nike has changed a huge amount about its production process, from sourcing materials to closing the loop on old products. However, one of its biggest successes came last year with the launch of the Space Hippie programme.
The exploratory footwear collection saw the introduction of four sneakers made entirely from factory and post-consumer waste. In order to do so, Nike created two new manufacturing processes; Space Waste Yarns and Crater Foam. Space Waste Yarn is made from around 85-90% recycled polyester whilst Crater Foam is a blend of Nike foams and Nike Grind Rubber. If you were looking for evidence that Nike's eco-friendly sneakers are getting better, this is it.
Of the four silhouettes to drop, the Space Hippie 01 in "Hyper Crimson" was definitely one of the strongest. Constructed entirely from a light grey Space Yarn, the shoe features hyper crimson accents across the midsection and tongue. The distinctive light blue Crater Foam comes complete with multicoloured flecks throughout, giving it a signature aesthetic. Although there's been a number of Space Hippie 01s since this is still one of our favourites.
Converse Chuck Taylor All-Star "Crater" (2020)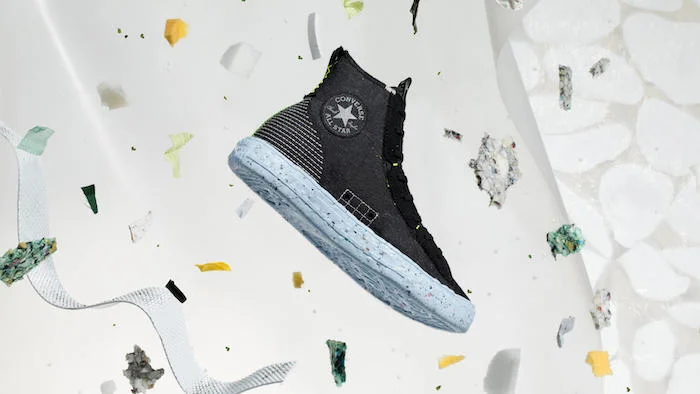 Converse is one of the oldest sneaker manufacturing brands on the planet. For well over a century it has been providing shoes to people from all over the world and made a name for itself. After becoming a subsidiary of the Nike family in 2003, Converse would soon be introduced to further technological advancements to bring it up to speed. One of the biggest changes, however, came last year soon after Space Hippie.
Redesigning a silhouette that is more than 103 years old is tough, yet somehow the Converse Chuck Taylor Crater made perfect sense. Converse kept the same iconic look but updated the shape of the shoe in order to meet the Space Yarn and Crater Foam needs. Over 100 people collaborated on the shoe, trying to solve some of the problems that come with a sneaker design that's older than adidas, Nike and New Balance. Recycled polyesters, post-industrial textile and waste scraps all come together with great results.
Despite the Converse Chuck Taylor All-Star not being a big hit with the sneaker community, the commitment to making it work is something that we applaud. As eco-friendly shoes become more popular, you can expect to see more Converse Crater sneakers.
Parley x adidas Ultraboost (2015)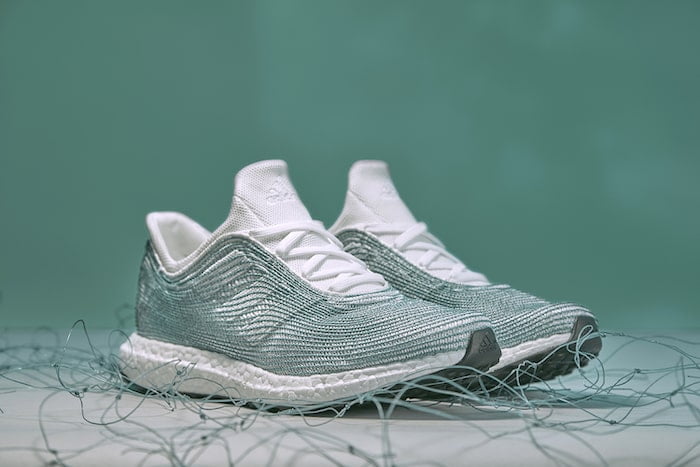 The work that Parley and adidas have carried out over the past six years is nothing short of amazing. After joining forces on World Earth Day in 2014, the two quickly went to work, examining how each could help one another. Now, adidas x Parley sneakers are a regular occurrence, with the two dropping some great pairs over the years. However, most sneakerheads will tell you that when it comes to eco-friendly adidas shoes, there is one that's a cut above the rest.
In 2015, the Parley x adidas Ultraboost was revealed to the world. The shoe caused waves in both the sneaker, design and green spaces, demonstrating how big brands could change the way they manufactured products. Parley and adidas used recycled and reclaimed deep-sea gillnets; an illegal net that causes over 100,000 marine mammal deaths a year. Taking the Ultraboost, these nets were wrapped around the plain white upper to create a distinct look, with the white Boost really shining. It didn't stop there, however.
Only 50 pairs of the original Parley x adidas Ultraboost were made and they were not sold but given away. Both Parley and adidas wanted to see how people were making a difference to the oceans, asking for people to show why they should be given a pair. The results meant that people who helped change the environmental impact were rewarded for their work.
Air Jordan 1 High Zoom "Space Hippie" (2020)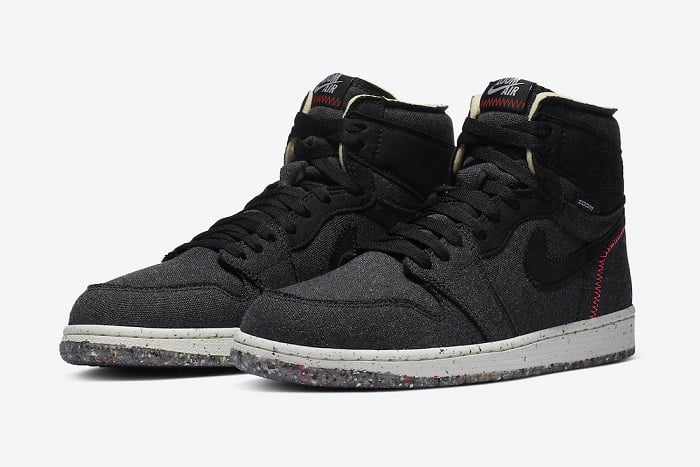 Few sneakers in history have been as impactful as the Air Jordan 1. Designed by Peter C. Moore in 1984, the shoe has become an icon in the footwear world. Whilst it may be over 36 years since its initial release, the hype for the Jordan 1 is still very much alive and well. Always looking to innovate, Jordan Brand has been reworking the AJ1 to ensure its kept fresh. Last year, however, a historic moment took place as we saw the first recycled Air Jordan 1.
Another of the Space Hippie models, the updated Jordan 1 was pretty crazy. Made entirely from Space Junk, the shoe embodied everything that Nike was trying to achieve: sustainable practices but with classic designs. Unlike the other Space Hippie models, the Jordan 1 opted for a black and grey textured upper and contrasting red stitching. The Nike Grind midsole was also a nice touch too and created another eye-catching element to the design.
Veja V-10 (2003)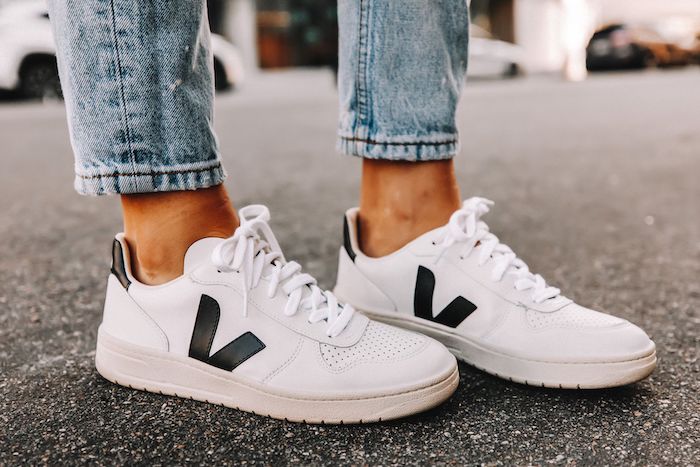 Veja is without a doubt one of the most well-known sustainable sneaker brands on the planet. Since being founded in 2003, the brand has made a name for itself thanks to its fair trade, raw organic materials and eco-friendly approach to footwear. The brand has since undergone a huge level of growth, creating a number of new models and even collaborating with Rick Owens. Why are Veja sneakers so popular you ask? It's simple.
The first Veja sneaker was the V-10, a shoe that is still a huge part of the brand's arsenal 18 years later. Taking a chunky basketball design, the shoe boasts a responsibly sourced all-leather upper as well as a rubber sole sustainably harvested from the Amazonian rainforest. In short, Veja is one of, if not the most sustainable sneaker brand on the planet. The process production for a single Veja sneaker is around five times more than that of bigger brands. With a lot of popularity and countless improvements, Veja's eco-friendly sneakers are shaping the future.
Nike Space Hippie 04 "Black/Volt" (2020)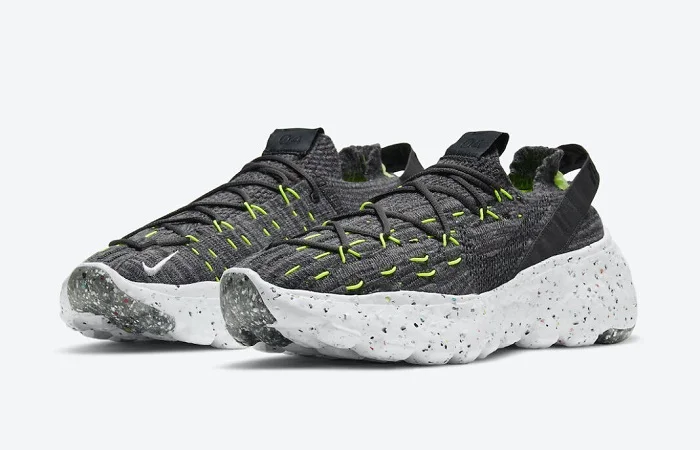 Although there have been a number of eco-friendly Nike shoes on this list, there's always room for more. The Space Hippie programme is going to change a lot about Nike's future so you'd better get ready for more eco-friendly shoes from the Swoosh. Undoubtedly the most popular model of the Space Hippie is the 04. Since first dropping last year, the sneaker has been released in multiple colourways, with some being a big hit.
Arguably our favourite of the Space Hippie 04 colours is the "Black/Volt." Constructed in a simple black Space Yarn upper, the shoe featured volt accents throughout for a distinctive look. Flecks of volt thread across the shoe also gave this shoe a unique aesthetic, with the white Crater Foam midsole bringing it all together. Despite the pair not quite hitting the mark in the sneaker world, sometimes less really is more. As the Nike Space Hippie 04 is going to be a big shoe in the coming year, trust us.
Parley x adidas Ultra 4D "Black" (2020)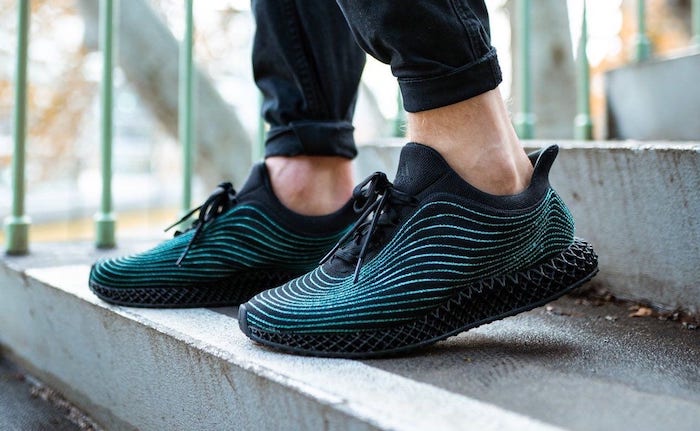 It should come as no surprise that another Parley x adidas sneaker has made it to this list. Since first joining forces back in 2014, the two brands have worked hard to drop eco-friendly shoes that are both functional and look great. Over the past years, adidas has really started to up its 4D sneaker output with the technology now becoming cheaper to produce. So, last year it made perfect sense for a Parley x adidas Ultra 4D to hit the sneaker market.
Taking the same familiar design as the original Parley x adidas Ultraboost, the 4D iteration of the shoe was a big hit. Streaks of blue recycled material were woven throughout the black Primeknit upper. However, the real start of the shoe was the all-black 4D midsole unit. As you can probably imagine, it didn't take long for these to be a smash hit in the sneaker community. Recycled materials, a great story and a slick design; what's not to like?
SNS x New Balance 1500 (2021)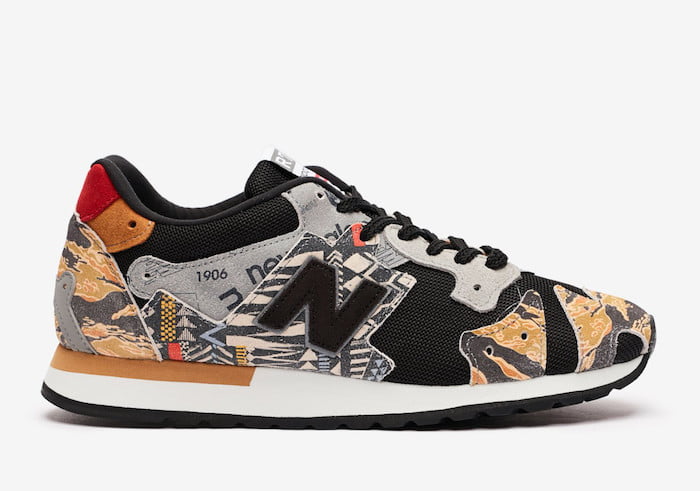 One of the surprising sneakers to drop earlier this year came from Sneakersnstuff and New Balance. Taking the classic 1500 silhouette, SNS used scraps from three other 1500 colourways to create a very unique upper. A tiger, camouflage and tribal pattern all combined for a distinct look and a sneaker that's certainly eye-catching. Alongside the eye-catching graphics, carefully sourced suede and mesh also come as standard, sitting atop an ENCAP midsole for a great SNS collab.
Nike Dunk Low E "Crater" (2020)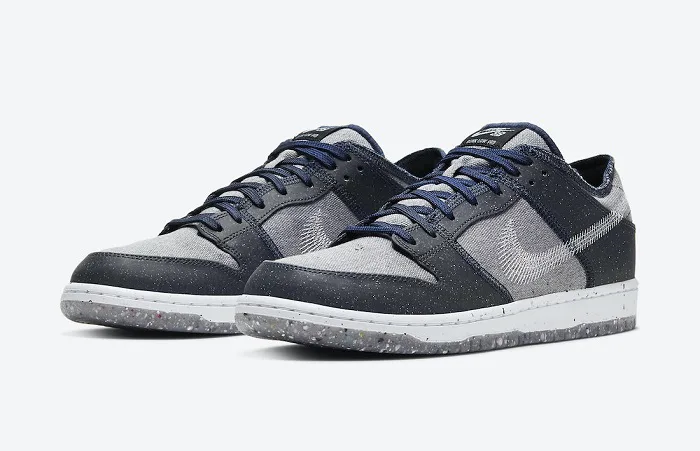 There were a number of eco-friendly Nike sneakers to drop last year, as you've already seen. As Nike makes headway on its Move to Zero campaign, we saw everything from Air Max 90s to Air Jordan 1s all draped in the futuristic Space Hippie make-up. Arguably one of the most underrated pairs to drop, however, came towards the end of the year. Given that 2020 undoubtedly belonged to the Dunk, the Nike SB Dunk Low Pro E "Crater" was always going to be a hit.
Earning the eco title (shortened to "E"), the "Crater" Dunk was the most sustainable Nike SB shoe in history. The simple colourway uses a careful combination of grey shades made from recycled materials. A mixture of recycled canvas, polyester and rubber could be seen throughout this Dunk, with a "Crater Foam" midsole and sole bringing the shoe together. As you can probably imagine, it didn't take long for these to sell out on release day.
Final Thoughts
That concludes our list of the best eco-friendly sneakers of all time! As you've seen, there's been some great eco-friendly sneakers to drop, especially in the last year. Brands have really started to up their game and we're certain that we'll be seeing more sustainable sneakers soon. Thankfully, if they look as good as the previous ones, we're sure these will be a smash hit. If you're looking for more eco-friendly sneakers then why not head over to KLEKT!