Being one of the most well-known rappers on the planet, Travis Scott is often in the limelight. The Houston native is not one to shy away from the camera, known for his unique style. As a sneakerhead through and through, Travis Scott has been fortunate enough to attain some of the rarest sneakers on the planet. His collection and collaborations have helped spike prices of forgotten models like the Nike SB Dunk.
With that in mind, and the rapper celebrating his 28th birthday today, we thought it was about time to pull out some of Travis Scott's best sneaker moments. We'll be taking a look at everything, from Travis Scott wearing Vans to old school Jordans. As you can imagine, Cactus Jack has got some pretty wild pairs. Often spotted in sought after, rare items, Travis Scott's sneakers are often the first thing shoe fanatics will take a look at.
Without further delay, let's take a look at best Travis Scott sneakers.
Nike SB Dunk "Paris"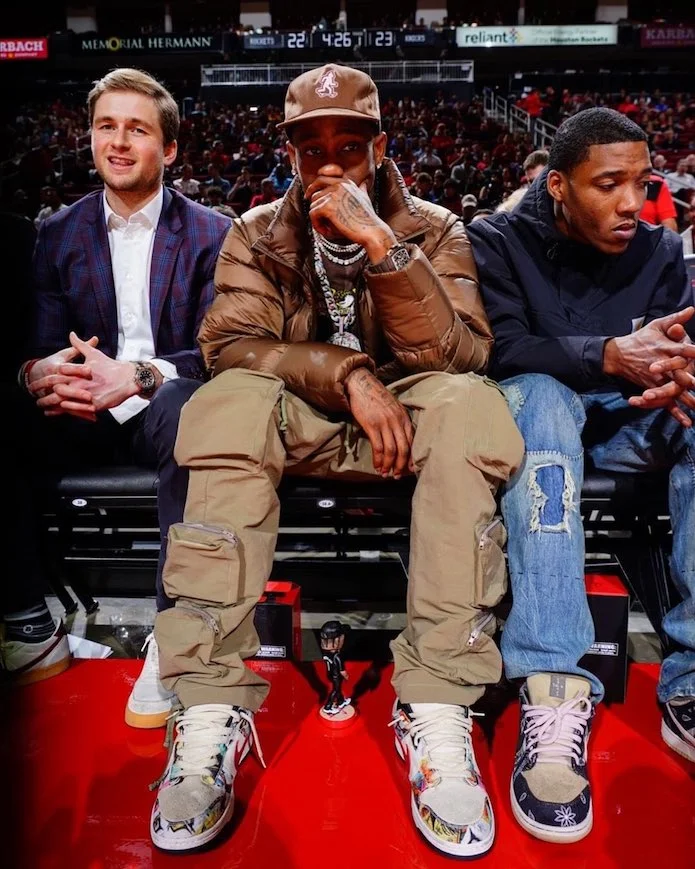 Kicking things off, we have Travis Scott wearing the Nike SB Dunk "Paris." Often considered a holy grail by many, the Paris Dunks are one of the rarest SBs on the planet. With only 150-200 pairs rumoured to be in existence, the sneaker released as part of the "White Dunk" exhibition. What makes the Paris Dunks so unique is the upper. Featuring artwork by Bernard Buffet, each SB Dunk has a slightly different upper. With resell prices well over €30,000, these are one of the rarest SBs ever.
Air Dior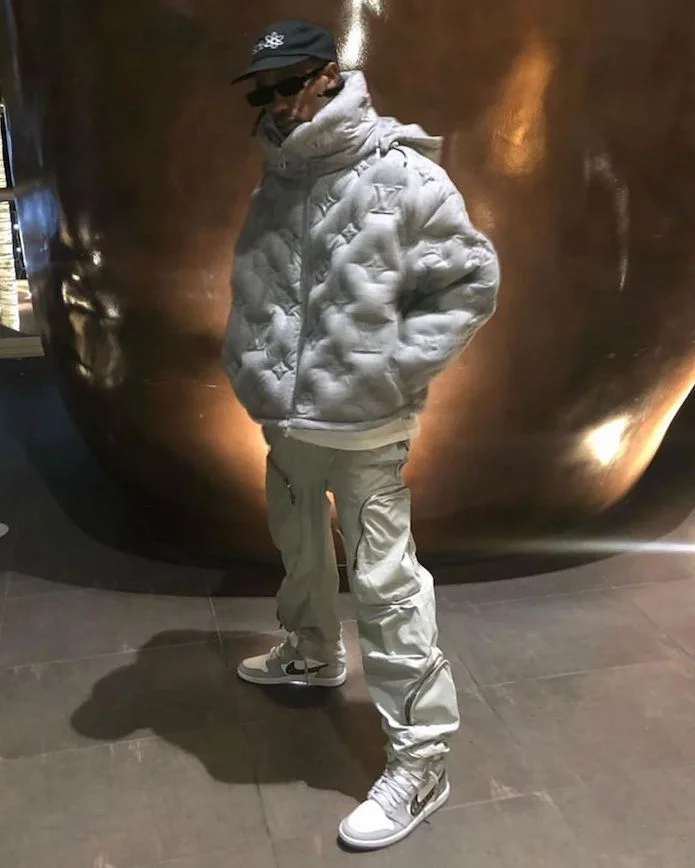 Being a member of the Jordan Brand family certainly has its perks. In 209, Travis Scott unveiled the Dior x Jordan collaboration to the world. The high-end sneaker, dubbed "AIR DIOR" broke the internet, sending waves throughout the fashion world. Travis Scott is fortunate enough to have one of the 8,500 pairs that are to be released. Paired here with a Louis Vuitton coat, this is definitely one of the best shots of Travis Scott wearing Jordans.
Travis Scott x Air Jordan 4 "Purple"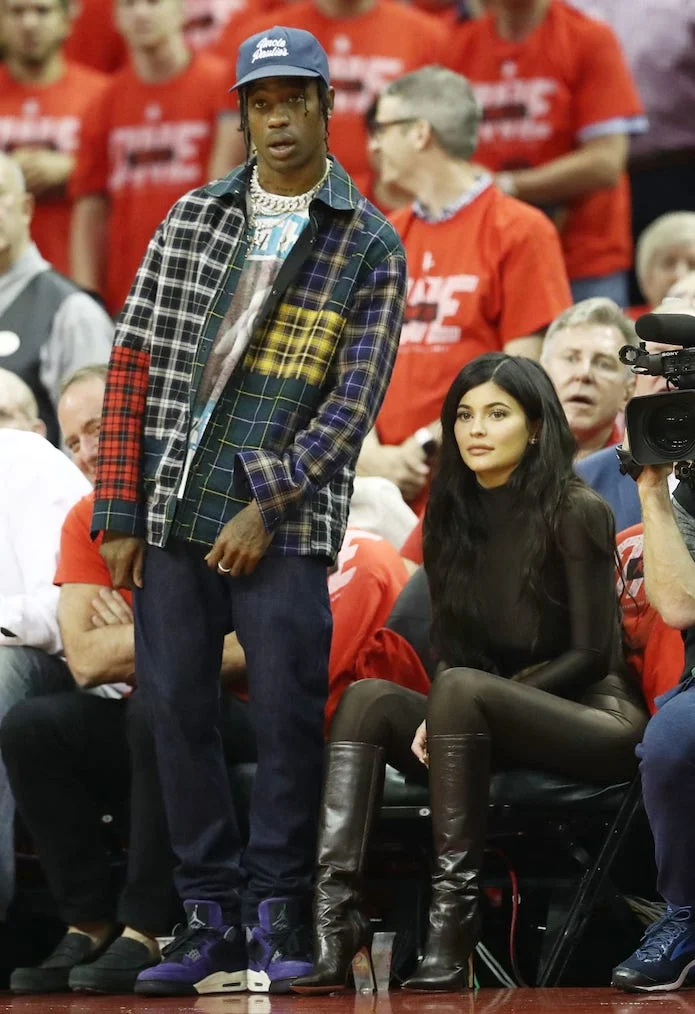 After debuting the Travis Scott Air Jordan 4 in 2017, many thought that was it for the rappers Jordan collaborations. However, after images surfaced of a purple friends and family version, the sneaker world was left wanting more. Complete in a purple suede overlay, the sneaker features custom heel tabs and Travis Scott branding on the inside. This is definitely one of the more exclusive AJ4s out there. Nobody knows how many pairs exist, but you can expect these to be less than 50.
Eminem x Carhartt Air Jordan 4 "Shady"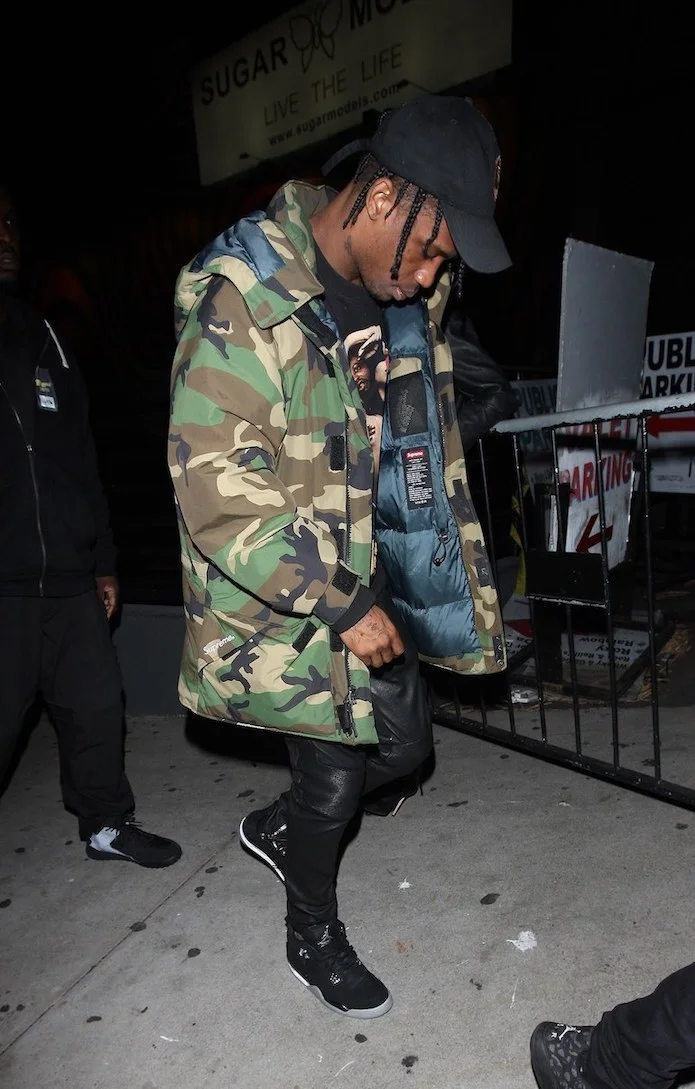 From one Air Jordan 4 to another, Travis Scott likes to keep it rare. He laced up the Eminem Carhartt "Shady" Jordan 4. Limited to only 20 pairs, and with each raffled off for charity, these are one of the rarest Air Jordan 4s on the planet. Complete with black denim, waxed laces and Eminem's hockey mask and reverse E logo, these are classics. When it comes to Air Jordans, Travis Scott is definitely one of the best.
Travis Scott x Nike SB Dunk "JackBoys"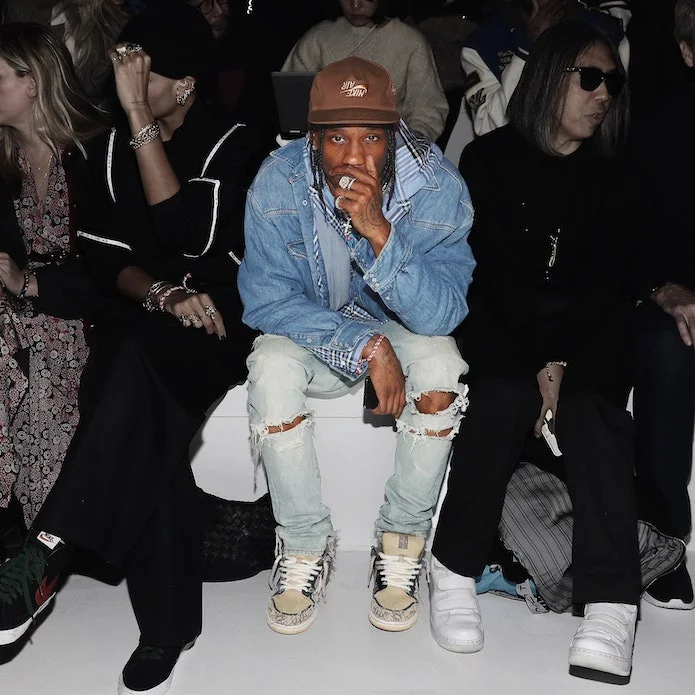 Having brought about the current hype surrounding the Nike SB Dunk, Travis Scott was given the chance to create his own in 2019. Debuted in the JackBoys video, the brand new Travis Scott Nike SB Dunk set the sneaker world on fire. The upper, which consists of alternating panels designed to wear away, was a big hit. As you would expect, these sold out instantly at skate shops around the world earlier this year.
JJJJound x Vans Old Skool "Green"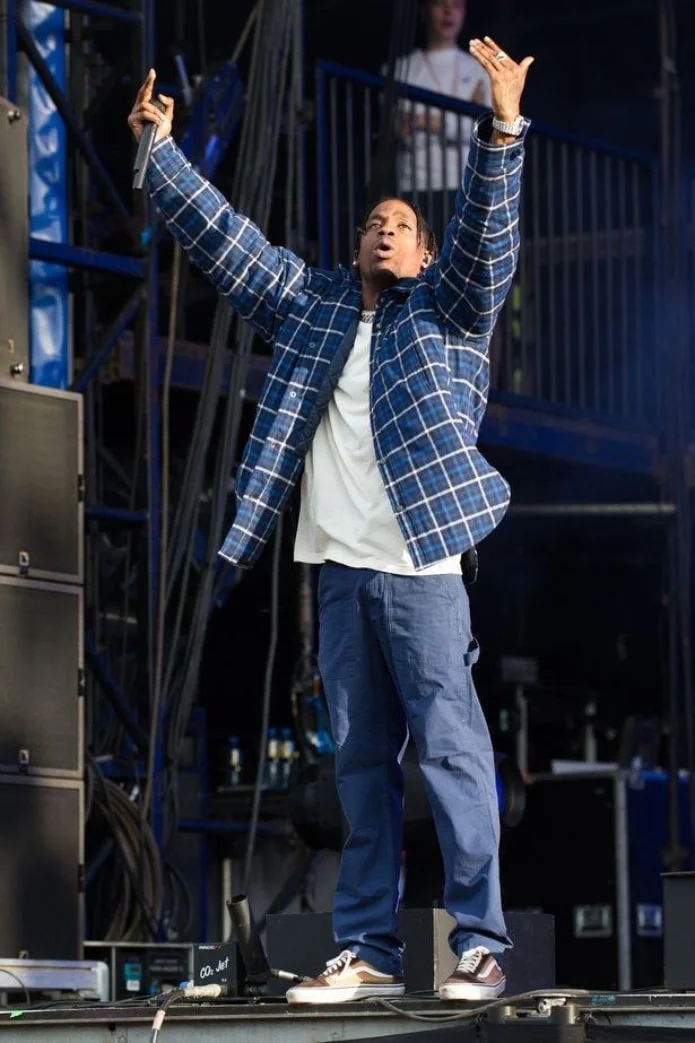 Travis Scott wearing Vans may come as a surprise, but when they're as exclusive as the JJJJound collaboration, you can see why. La Flame has often worn the JJJJound x Vans Old Skool, a simple collaboration that is a favourite of many fashion fans and sneakerheads. Sporting a brown canvas upper, the JJJJound x Vans quickly sold out when they released back in 2017.
Travis Scott x Air Jordan 4 "Houston Oilers"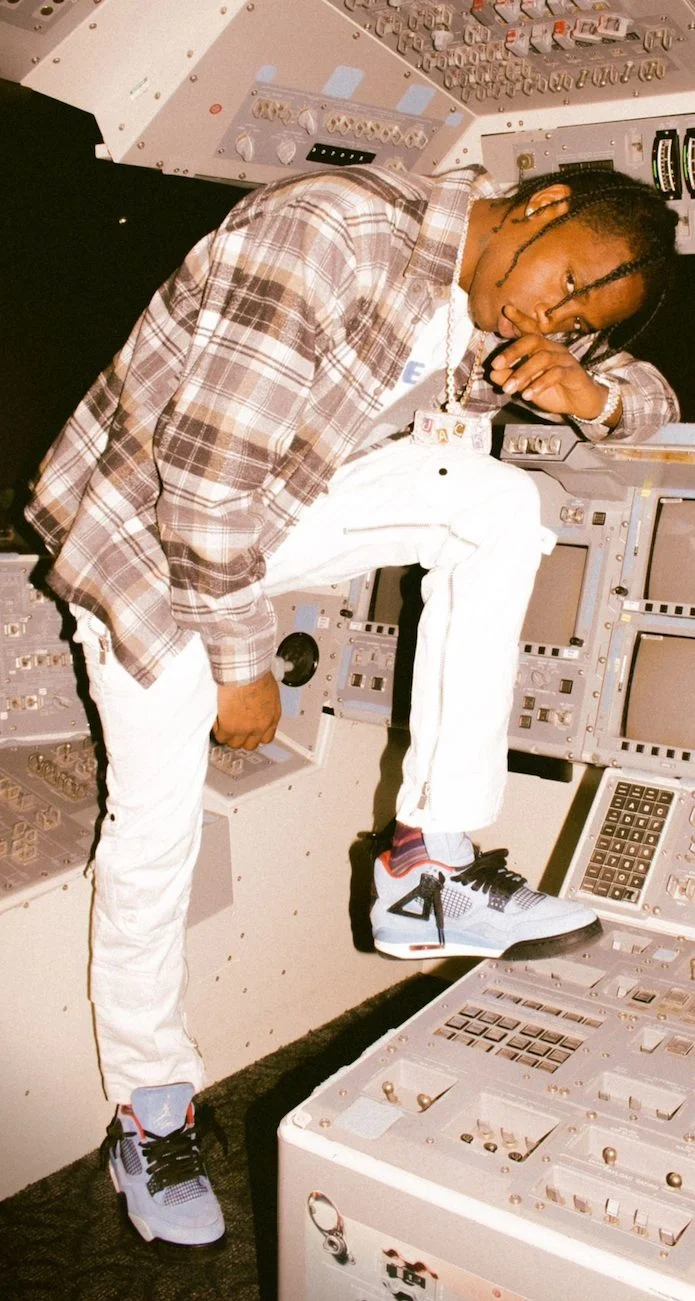 In 2017, Travis Scott was given the chance to create his own Air Jordan 4. Looking back at his roots, the rapper referenced his beloved Houston Oilers. The sneaker features a powder blue suede and comes complete with Cactus Jack branding on the heel and insole. An even rarer friends and family edition exists, with Nike Air on the back and an outline of the state of Texas on the insole.
Nike SB Dunk "What The Dunk"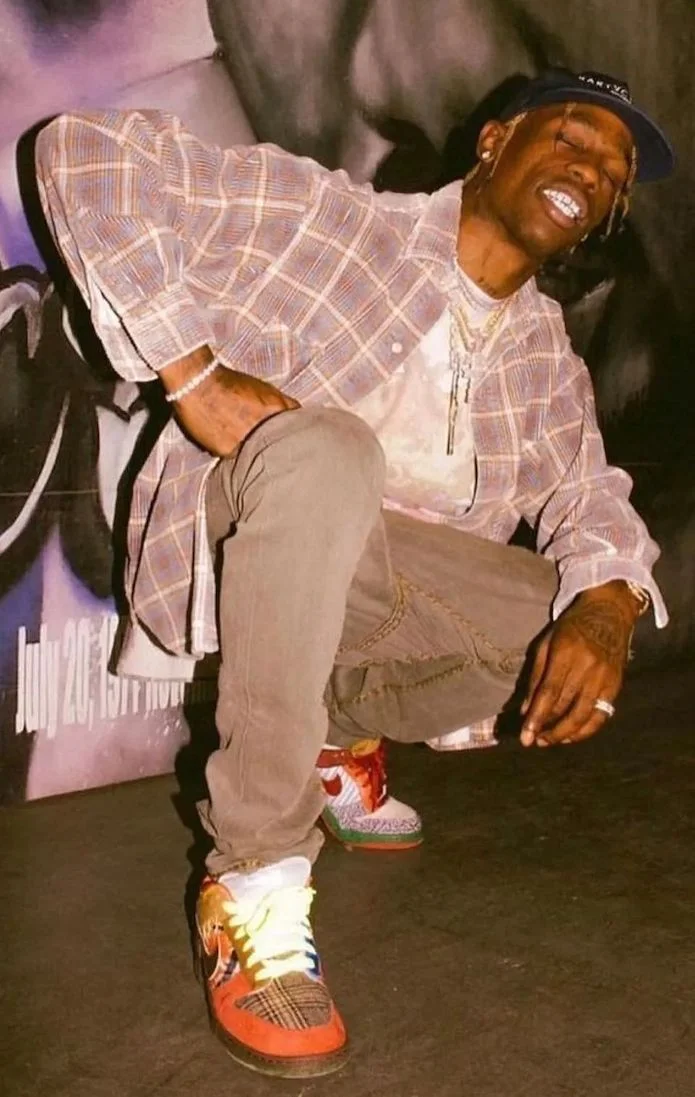 As any true sneakerhead will know, Travis Scott wearing Nike SB Dunks is not a new thing. The rapper has been one of the main reasons that the early 00s silhouette has seen such a triumphant return. Of course, Travis Scott also happens to have one of the rarest Nike SBs on the planet; the "What The Dunk." Released in 2007, the "What The Dunk" has a cult-like status amongst collectors. Comprised of 31 of the greatest Nike SB Dunk colourways, this is a serious piece of heat.
adidas Yeezy Boost 750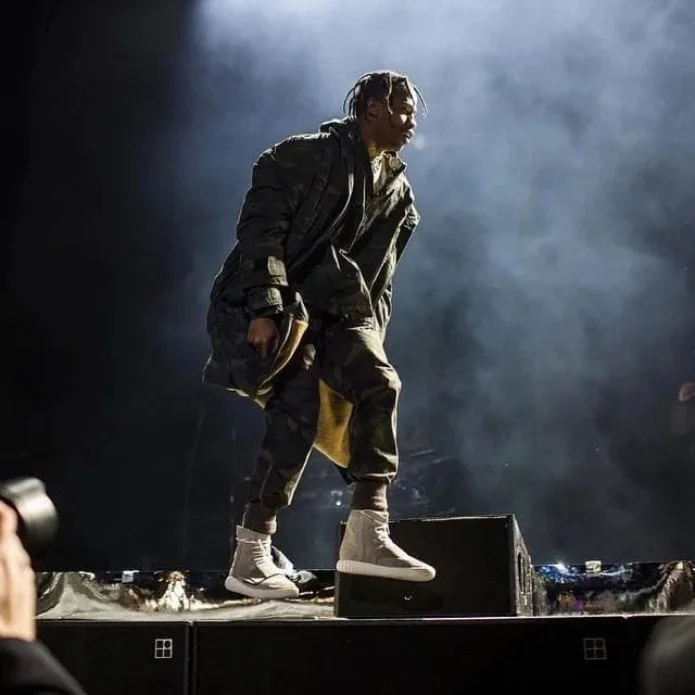 Before Kanye West became Travis Scott's brother in law, the two were very good friends. In fact, in 2014, Kanye hooked Travis up with a pair of his brand new adidas Yeezy Boost 750. Although Travis Scott wearing Yeezys may seem like a novelty now, but before he was a Nike and Jordan ambassador, it used to happen a lot.
Travis Scott x Air Jordan 6 "Cactus Jack"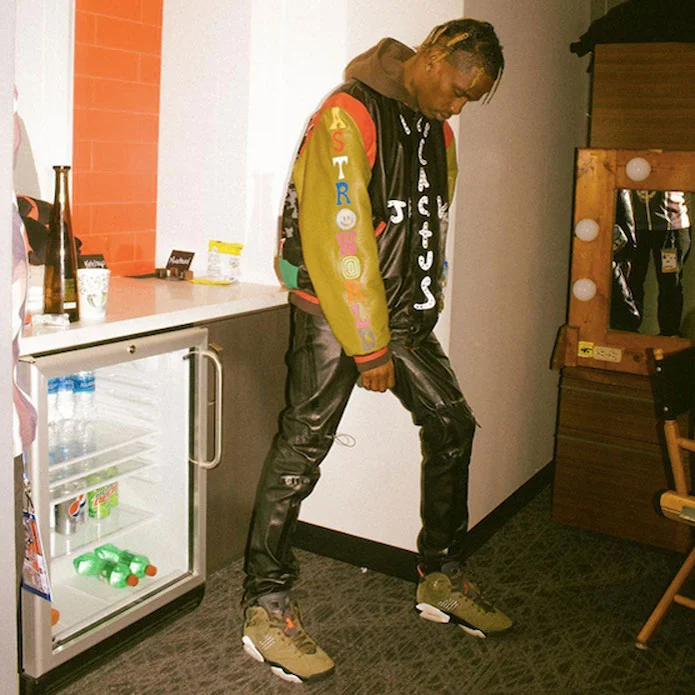 The Super Bowl is one of the biggest sporting events in the world. In 2019, the Super Bowl had 98.2 million watchers, one of the most-watched in history. When Travis Scott was booked to play alongside Maroon 5 for the half time show, many were sceptical. However, when a picture of Travis Scott wearing Air Jordan 6s emerged, the sneaker world took notice.
This would be the third Travis Scott x Jordan collaboration and was certainly the most memorable. A khaki nubuck upper featured a splash of 3M in the mesh and a pocket on the side. It instantly caught the attention of many. After a six month wait, sneakerheads were finally treated to the Travis Scott x Air Jordan 6 in October last year.
fragment design x Air Jordan 1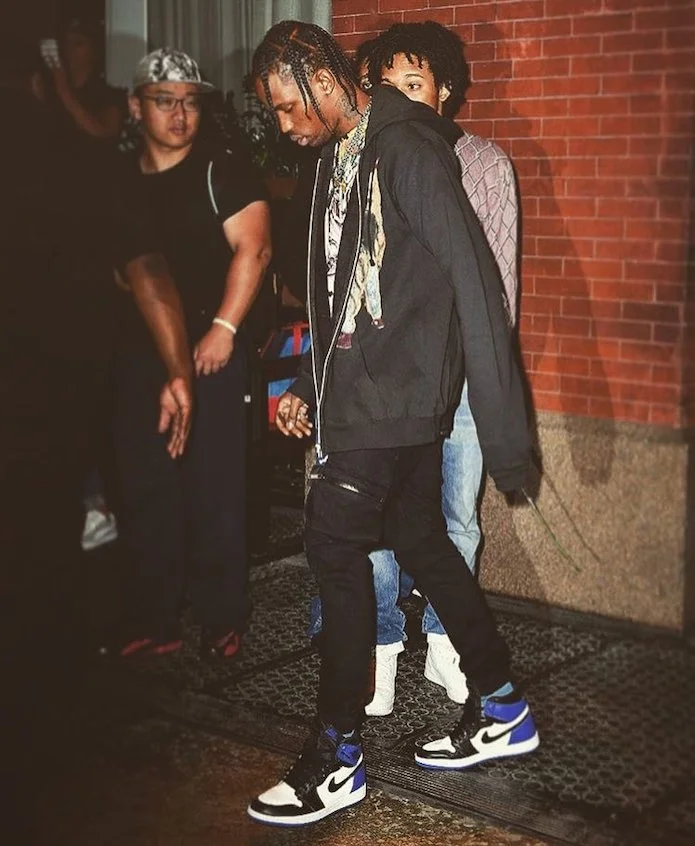 There is no denying the importance of the fragment Air Jordan 1. When it released back in 2014, the sneaker broke the internet. Of course, Travis Scott wearing these should come as a surprise. A combination of black, white and blue leather gives this shoe a vintage feel but with a twist. The fragment lightning logo is debossed on the heel, setting these sneakers apart from regular Jordan 1s.
Off-White™ x Nike Blazer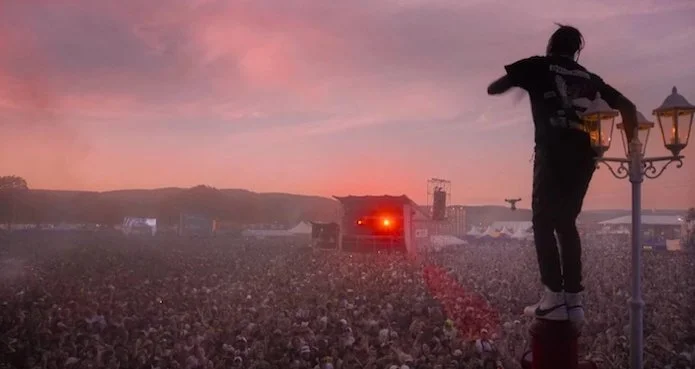 Being close friends with Virgil Abloh has a lot of benefits, with free kicks being one of them. In the Netflix documentary, Look Mom I Can Fly, Travis Scott was spotted wearing a pair of the Off-White™ x Nike Blazers. This sneaker needs no introduction and is still one of the most expensive Nike Blazers of all time.
Travis Scott x Air Jordan 1 Low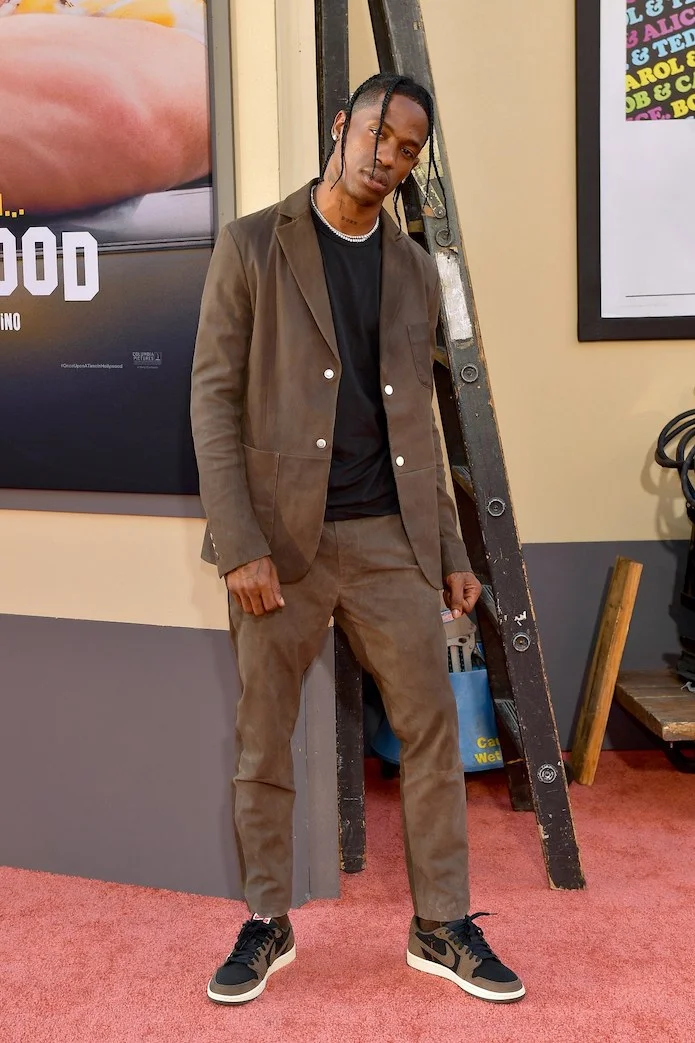 When you're stepping out onto the red carpet, you want to make sure you're turning heads. Fortunately enough, Travis Scott did just that last year. The rapper unveiled the Travis Scott x Air Jordan 1 Low when attending the Once Upon A Time In Hollywood premier. A combination of khaki and black nubuck, the sneaker features a reverse Swoosh on the outsole and custom Cactus Jack branding. This certainly had an impression on sneakerheads around the world.
Nike SB Dunk "Freddy Kruger"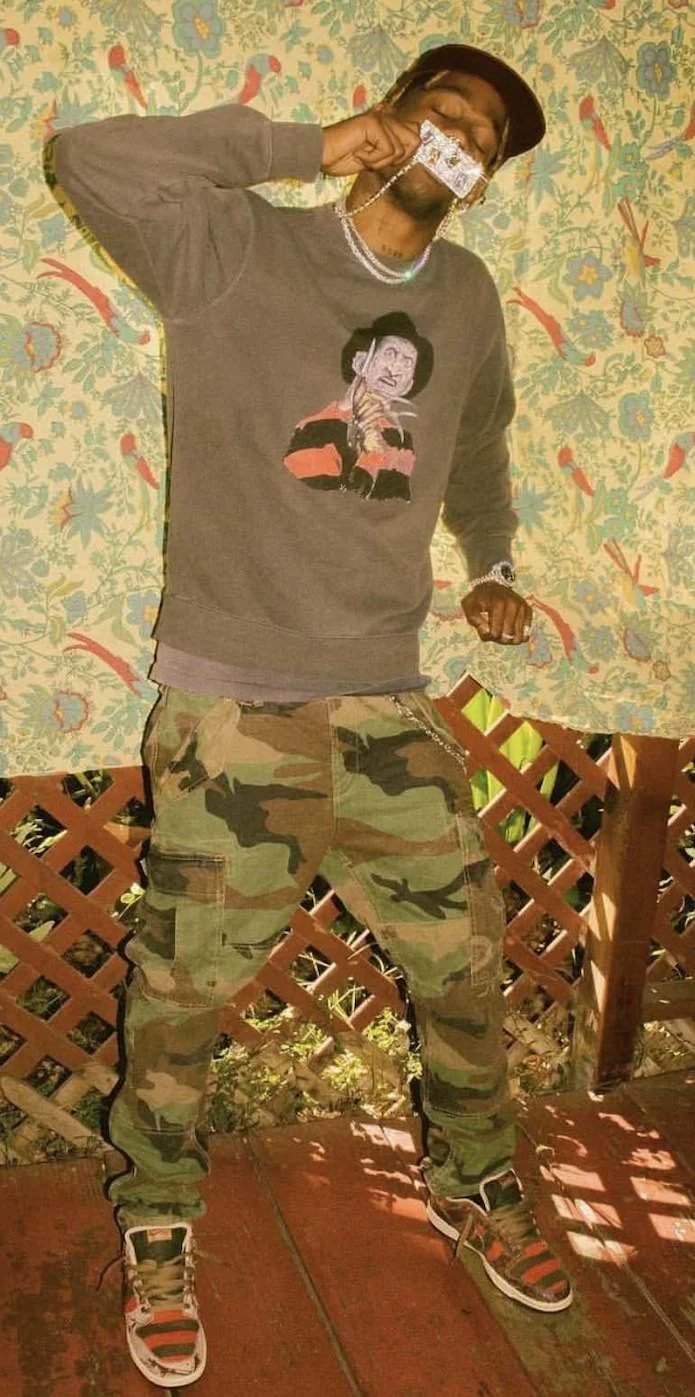 There are Nike SB Dunks and then there are Nike SB Dunks. These are the latter. The "Freddy Kruger" Nike Dunk has one of the greatest stories of all time. Nike produced a Halloween sneaker without seeking approval of using the obvious Freddy Kruger detailing. When the sneakers were on the production line, Nike executives were ordered to stop making them. They instructed workers to take them off and pour oil on them. Of course, that didn't happen.
The workers began pulling them from the rubbish, trying as hard as they could to get the oil off. No one really knows how many pairs of these actually exist, but it's safe to say it's in the hundreds. But, when you're Travis Scott, having the production pair isn't enough. On his left foot, he is rocking the sample Freddy Kruger Dunk. Just because he can.
Travis Scott x Nike Air Force 1 "White"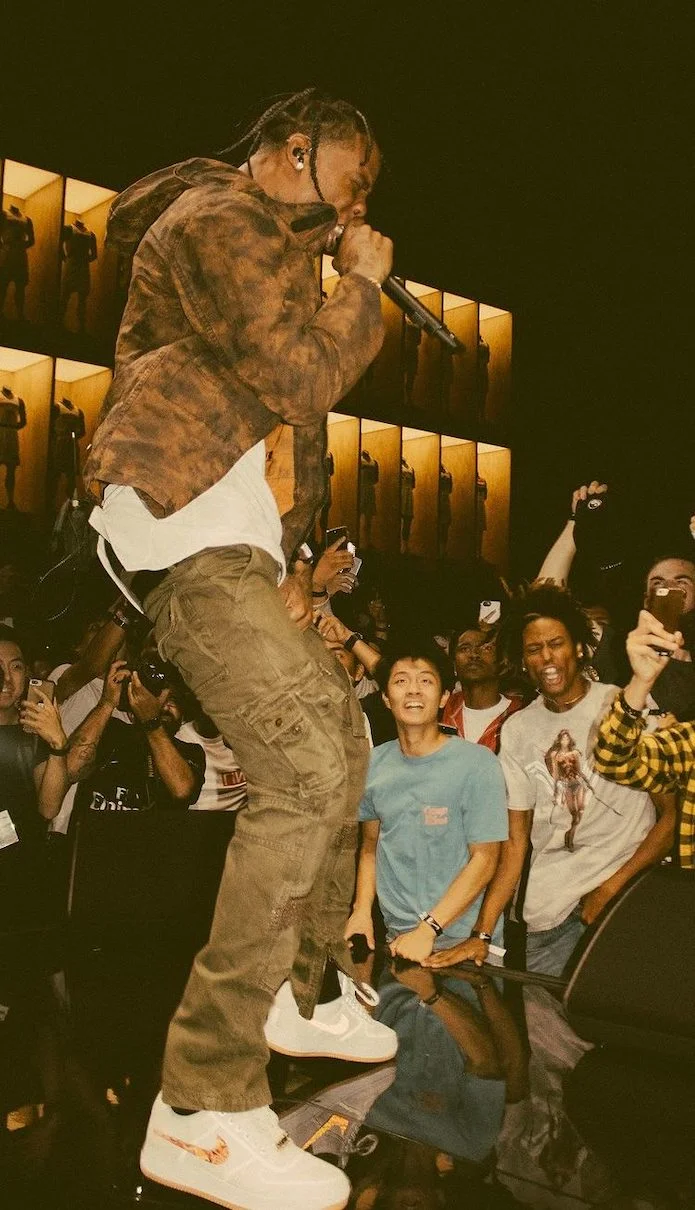 In 2017, Nike was celebrating the Air Force 1s 35th anniversary. The sneaker had become a staple in the wardrobes of sneakerheads all over the world. To commemorate the occasion, the Swoosh asked a number of collaborators to get involved, with Travis Scott being one of them. Here, you can see Travis Scott is wearing his Nike Air Force 1 "White." The sneaker featured removable velcro Swooshes, custom lace dubraes and a Cactus Jack lace cover.
Supreme x Nike SB Dunk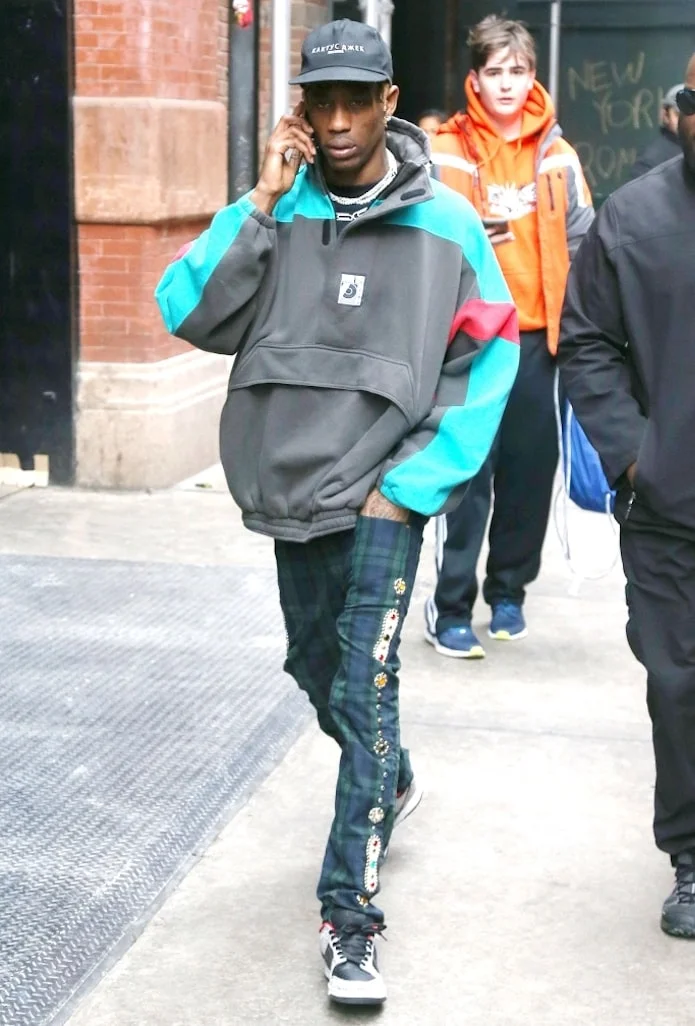 As we mentioned earlier, Travis Scott has been one of the driving forces behind the return of the Nike SB Dunk. With Cactus Jack being a self-certified sneakerhead, it's no surprise he's got some of the rarest Dunks on the planet. These 2002 Supreme x Nike SB Dunks are one of his best choices. Limited to 500 pairs, these have only increased in value since they originally released.
Travis Scott x Air Jordan 1 High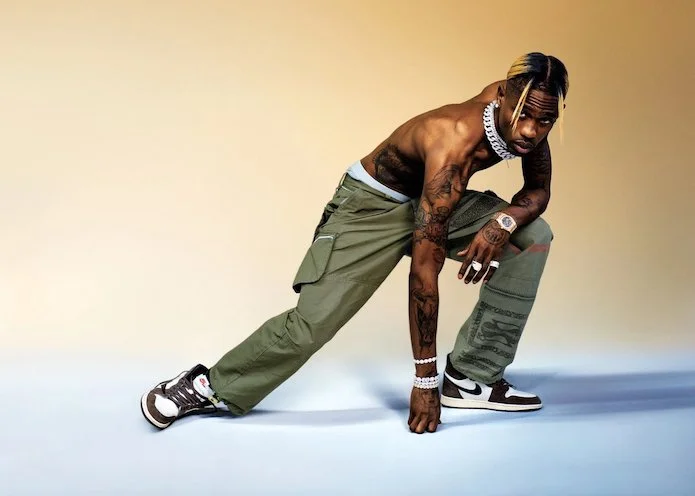 Being offered an Air Jordan 1 collaboration is something that very few people on the planet have had the chance to do. In 2018, Travis Scott was lucky enough to receive his own AJ1. The collaboration featured unique details such as a reverse Swoosh, Cactus Jack brand on the heel and even a stash pocket. Made up of premium tumbled leather and suede, this is going to be one Travis Scott x Air Jordan 1 that you don't forget.
Final Thoughts
We hope you enjoyed this list of Travis Scott's best sneaker moments. You've seen everything from old school Jordans to Travis Scott Dunks. As you can imagine, there were a plethora of Nike Travis Scott shoes for us to take a look at too. Travis Scott's outfits are arguably the best in sneakers right now, drawing on sneaker collaborations and his Travis Scott shoes to help him stand out. If you want to learn how to dress like Travis Scott, then head to the KLEKT Blog to find out more!