Over the past 12 years, Travis Scott has gone from a relatively unknown Houston rapper to one of the most recognised celebrities on the planet. His work with fellow musicians such as Kanye West, Drake and Quavo has helped open him up to the world of street culture. More importantly, La Flame has become a style icon in his own right. Often spotted in designer pieces and classic sneakers, Travis Scott has cemented himself as an influential figure in streetwear.
There is also no denying Travis Scott's importance in the sneaker community. His work with various brands has given him a persona big enough to match his hits. Collaborations with the likes of Nike, Jordan Brand and Helmut Lang have helped Travis Scott become a notable figure in the sneaker world. With his Air Max 270 React collaboration set to drop this week, we thought it was about time to take a look back at all of Travis Scott's sneaker collaborations.
From humble beginnings with Reebok to some of the most sought after Jordans in history, here are all of Travis Scott's sneaker collabs.
Reebok (2013)
Whilst this is technically not a collaboration, Reebok was the first big brand to give Travis Scott a break. In 2013, it recruited a 20-year-old Travis Scott to star in its Reebok Classic campaign. Taking to the stage in a pair of the Mr Stash x Reebok Classics, Scott explained that he was rocking Reeboks back in high school. This paved the way for Travis Scott shoes early on.
Helmut Lang (2017)

Having risen to global stardom after his Days Before Rodeo, Rodeo and Birds in the Trap Since Mcknight albums, Travis Scott had made a name for himself. Around the same sort of time, he also began attending the fashion shows of Louis Vuitton and Dior. Travis Scott's clear interest in fashion did not go unnoticed, with Helmut Lang offering the rapper the chance to collaborate on two sneakers.
Although the launch had been teased for several months, on January 30th, 2017, the Travis Scott x Helmut Lang collaboration was officially released. Made in Italy, the shoes featured premium materials and simple colour blocking. A high top and low top silhouette were released, with the tongue of each sneaker featuring a bull.
Travis Scott x Jordan Trunner LX "Cactus Jack" (2017)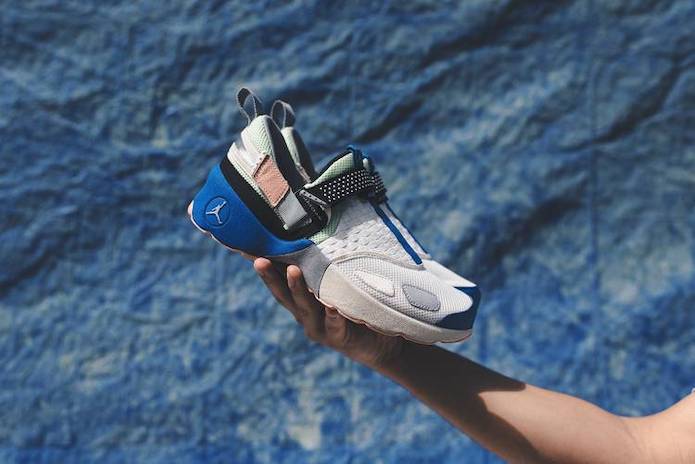 After his collaboration with Helmut Lang, Travis Scott was given the chance to collaborate with Jordan Brand. Travis Scott picked the Jordan Trunner LX as the model of choice. Although this was an unreleased friends and family pair, it was the first time that Travis Scott x Jordan Brand came together. According to La Flame himself: "I didn't want to do anything traditional…I've never seen the Trunner with so many colours on it. I wanted something different; to see that model differently."
Travis Scott x Nike Air Force 1 "AF100" (2017)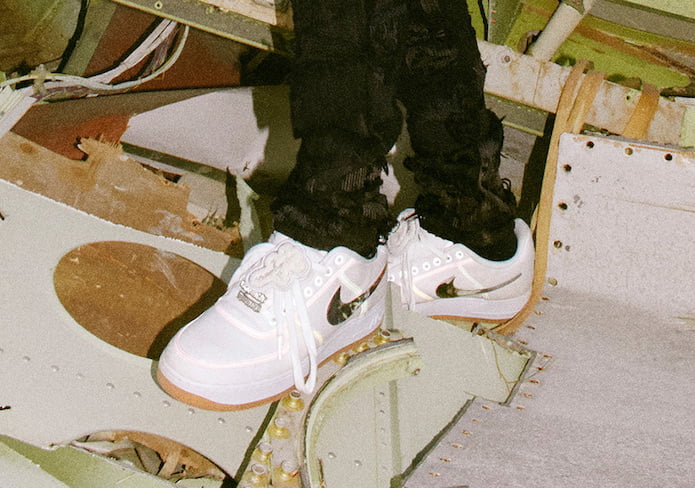 In 2017, Nike was celebrating the 35th anniversary of the Air Force 1. During this time, Nike gave several creatives their chance to remix the classic silhouette. Whilst names like Don C and Errolson Hugh were exciting, Travis Scott and Virgil Abloh stole the show. Travis Scott's take on the iconic model featured removable Swooshes as well as large patches on the tongue. A custom lace dubrae in the shape of a grill was a nice touch too. These quickly sold out on release day and have remained a grail since.
Travis Scott x Air Jordan 4 "Cactus Jack" (2017)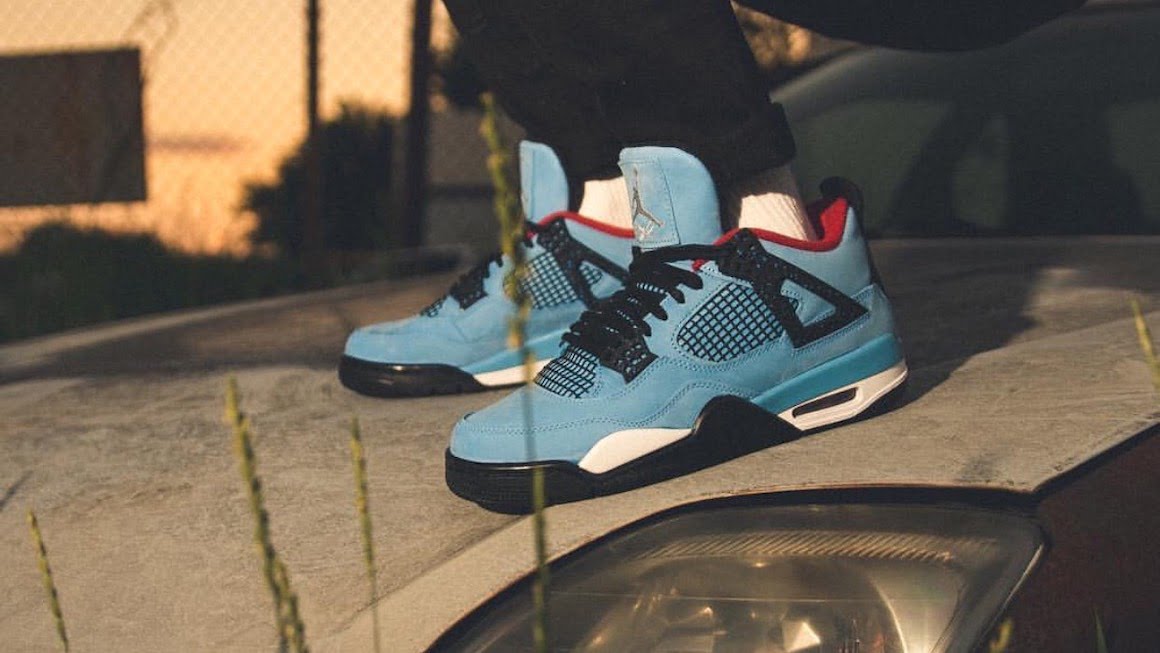 After a previous Jordan x Travis Scott collaboration in 2017, it was time for La Flame to work on a signature model. The first-ever Travis Scott x Air Jordan collaboration was the Air Jordan 4. Taking reference from his beloved Houston Oilers, Scott used powder blue suede against a white and black midsole. Custom branding on the heel tab as well as on the tongue made this an instant hit too. An ever rarer f&f version with "Nike Air" on the back and the state of Houston in the insole exists too.
Travis Scott x Air Jordan 4 "Purple Suede" (2018)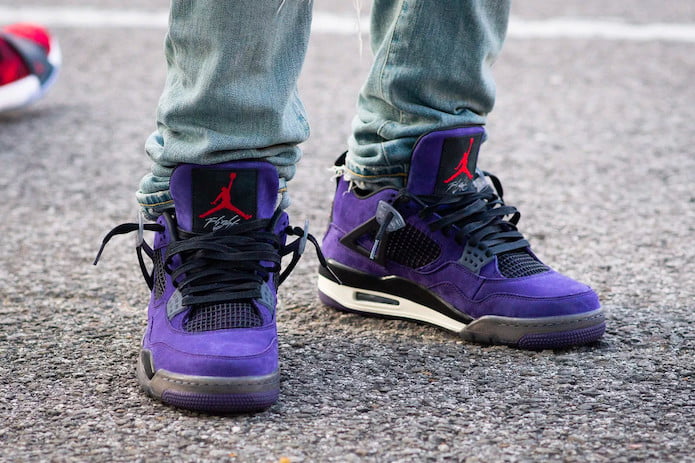 Nike and Jordan Brand is no stranger to dishing out exclusive friends and family pairs for collaborators. In 2018, OG Chase B was spotted wearing a never before seen Travis Scott x Jordan 4 in rich purple suede. The sneaker featured waxed laces as well as transparent eyelets, as well as the custom "Cactus Jack" and "Nike Air" heel tabs. With no exact figures known on these, it's hard to even estimate their worth.
Travis Scott x Air Jordan 4 "Purple Suede" (2018)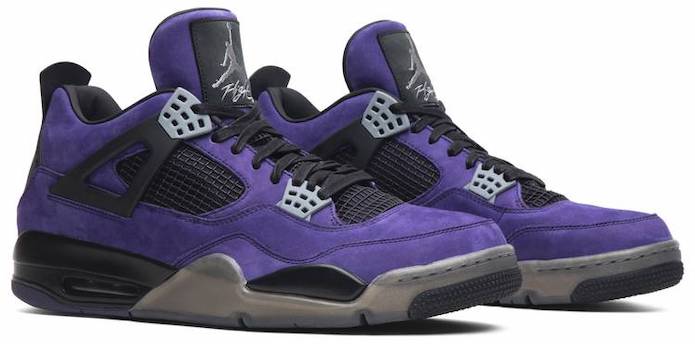 Identical to the pair above, an even rarer version of the Travis Scott Jordan 4 friends and family exists. This time, however, a black midsole is used throughout. It is rumoured than only 25 pairs of these were made, though that remains to be seen.
Travis Scott x Air Jordan 4 "Olive" (2018)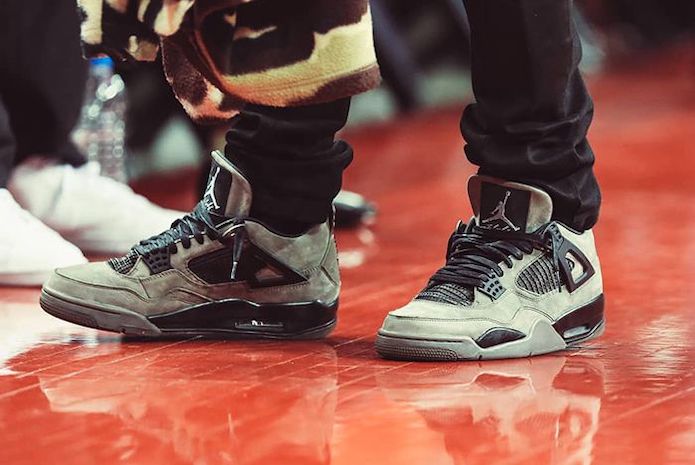 It's safe to say that Travis Scott really didn't miss his chance to create some limited Air Jordan 4s. Just a few weeks after the "Purple Suede" pair were seen, La Flame pulled out these "Olive" Jordan 4s. Featuring an olive suede upper, the sneaker features a black midsole and waxed laces. It has remained one of the most elusive Air Jordan 4s of all time, and for good reason. A rumoured 25 pairs are in existence, making them one of the rarest Air Jordan 4s of all time.
Travis Scott x Air Jordan 4 "Olive" (2018)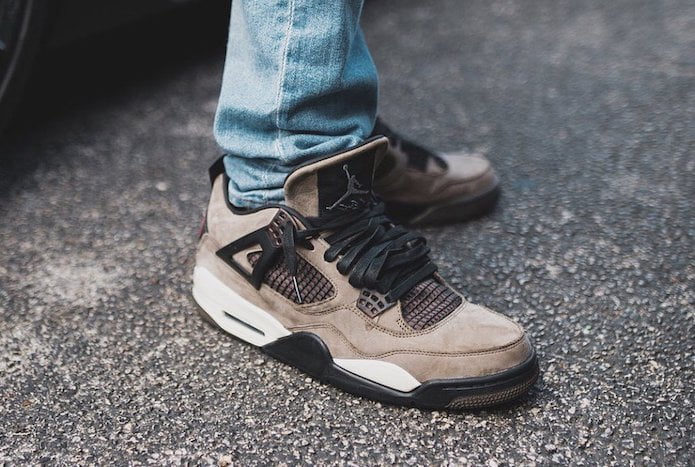 Just like the aforementioned pair, Travis Scott also created this "Olive" Air Jordan 4 but with a simple twist. A white midsole is contrasted with a translucent outsole and eyelets. Although these were not debuted by the man himself, they have been spotted a number of times on big collectors. Getting your hands on these is basically impossible but good luck if you want to try.
Travis Scott x Nike Air Force 1 "Sail" (2018)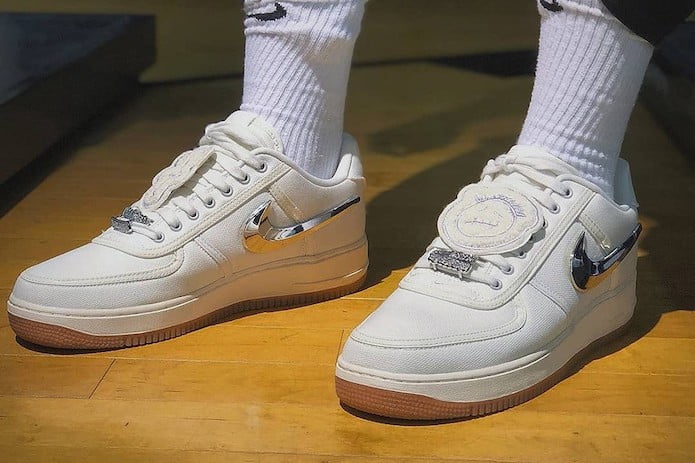 After the roaring success of the Travis Scott x Air Force 1 in 2017, Nike was keen to give La Flame another chance to repeat the winning formula. Utilising the same canvas upper as its predecessor, the "Sail" Travis Scott Air Force 1s used all of the same unique details as the previous version. The much earthier tone on the sneaker was a simple flip but one that definitely worked. Since its release, the Travis Scott x Nike Air Force 1 "Sail" has only continued to rise in price.
Travis Scott x Air Jordan 33 (2019)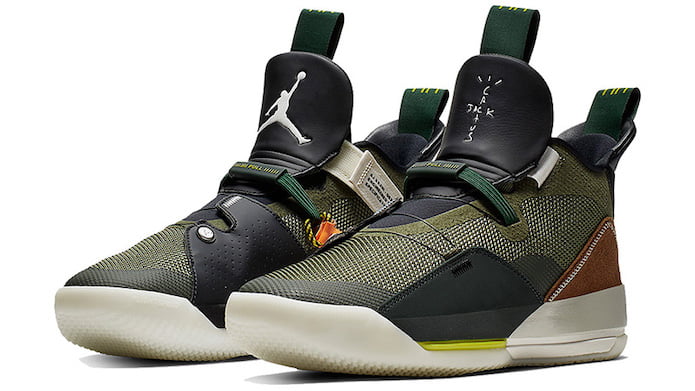 Let's face it, trying to make any new Jordan model a success is a tough job. In 2019, Jordan Brand recruited Travis Scott to put his spin on the Air Jordan 33. The sneaker featured Cactus Jack branding on the tongue and came complete in a khaki, black and brown colourway. It's largely been forgotten about due to it being a newer Jordan, but the Travis Scott x Air Jordan 33 is an important sneaker in La Flame's career.
Travis Scott x Air Jordan 1 (2019)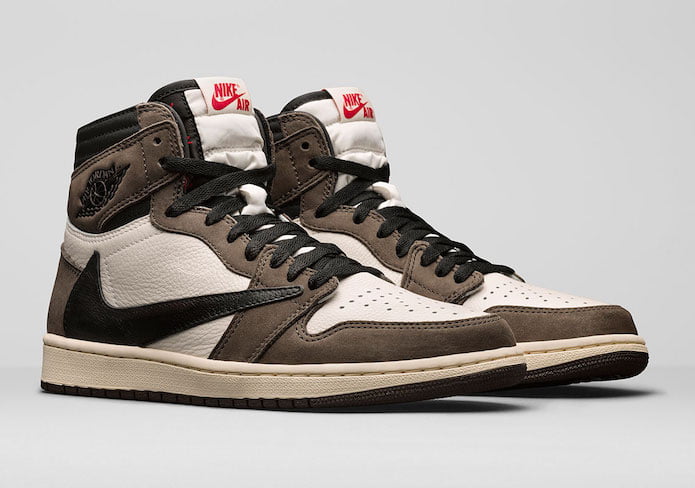 First unveiled by Travis Scott for Rolling Stone magazine, the Travis Scott x Air Jordan 1 was all over the internet within minutes of the interview going live. The previously unseen model got the sneaker world excited immediately. A combination of premium white tumbled leather was contrasted by rich brown suede throughout. Wanting to put his signature on this iconic Jordan silhouette, La Flame added a few unique details.
A stash pocket was incorporated into the upper by the ankle. On the heel, the Cactus Jack logo adorned the heel, with Travis Scott branding on the inside. It was, however, the reverse Swoosh that really got sneakerheads excited. Complete in black pebbled leather, the reverse Swoosh completed the sneaker. It has remained a hot sneaker on the resell market since its official release in May 2019, and for good reason.
Travis Scott x Air Jordan 1 Low "Grammy" (2019)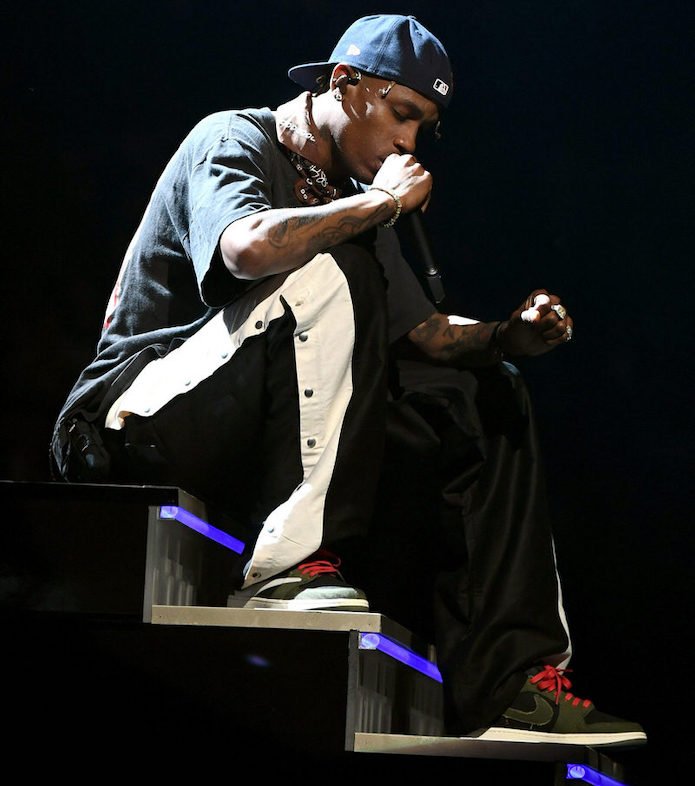 The Grammy's has always provided some of the most memorable sneaker moments in history. In 2008, Kanye West unveiled the Air Yeezy in true style. Recognising the opportunity to do the same, Travis Scott took to the stage at the 2019 Grammy's in a low top version of his Air Jordan 1. The "Grammys" Air Jordan 1 Low featured a Gucci style colourblocking, bringing green, red, white and black together easily. The Travis Scott x Air Jordan 1 Low "Grammys" has not been seen since.
Travis Scott x Air Jordan 1 Low (2019)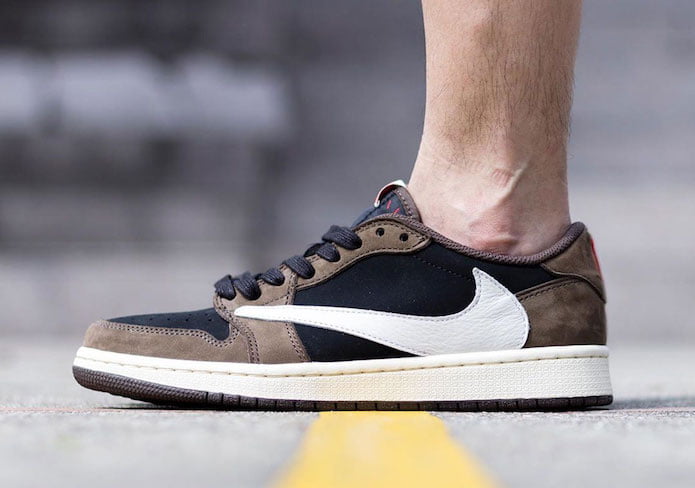 After the hype that followed the Travis Scott x Air Jordan 1 Low "Grammy", it made sense for a wider release pair to be made. The Travis Scott x Air Jordan 1 Low released in 2019 and was much rarer that its high top brother. A combination of black nubuck, khaki suede and a white tumbled leather Swoosh made this shoe an instant hit. It can be tough making an Air Jordan 1 Low stand up against an Air Jordan 1 High, but this pair certainly can.
Travis Scott x Air Jordan 6 (2019)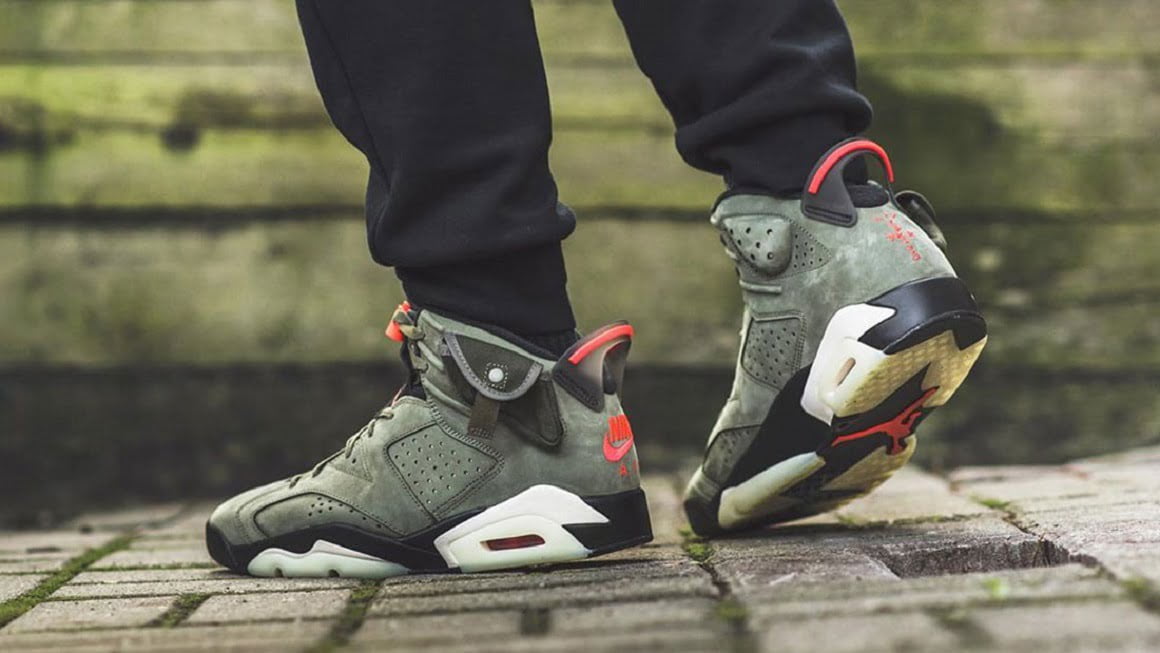 When Travis Scott was reportedly performing at the Super Bowl halftime show, many were sceptical over how it would turn out. Whilst the music performance may have been forgotten, the sneakers on Travis Scott and Adam Levine's feet were not. Not missing his chance to unveil the Travis Scott x Air Jordan 6, La Flame took the sneaker world by storm in minutes.
The previously unseen pair of Air Jordan 6s were given a Travis Scott remix. An olive nubuck upper featured was contrasted by a white and black midsole. Unique details like the stash pocket, frayed and transparent tongue and Cactus Jack branding on the heel and insole gave this sneaker edge. When the shoe dropped in October, it sold out immediately, quickly reselling for well over €1,000.
Travis Scott x Air Jordan 6 "Yellow" (2019)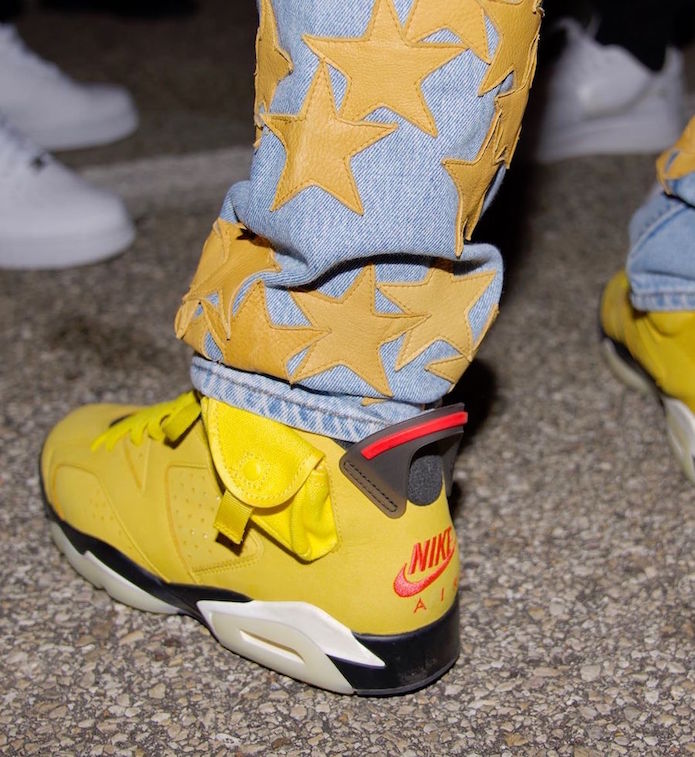 Just weeks after the release of the Travis Scott x Air Jordan 6 "Olive", Migos member Offset was spotted in a yellow pair. Using the same winning formula, the pair featured all of the details seen on the olive pair but used bright yellow nubuck. Originally thought to be the second instalment in the Travis Scott x Jordan 6 line, the release was never confirmed. It looks likely that this is a friends and family pair once again, folks.
Travis Scott x Air Force 1 "Cactus Jack" (2019)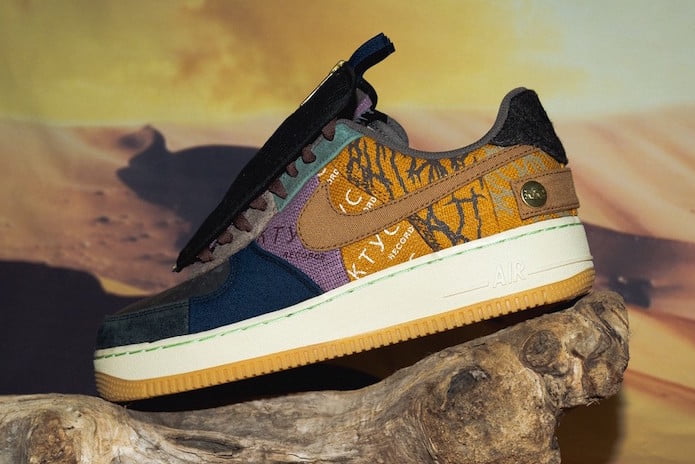 After first being unveiled in 2018, the Travis Scott x Nike Air Force 1 Low "Cactus Jack" was one of the wildest Travis Scott x Nike collabs of all time. When a lucky fan was given a pair by La Flame, the sneaker world was extremely jealous. Once the fan turned down $100,000 for the pair, many thought that that was it for the AF1.
Eventually releasing late last year, the Travis Scott x Nike Air Force 1 quickly became a favourite. Taking a number of different panels and stitching them together made for an interesting AF1. It also featured distinct "Cactus Jack Records" branding as well as a simple cream midsole and gum outsole. Dropping in full family sizing, it was the first Nike x Travis Scott shoe that the whole family could cop.
Travis Scott x Nike SB Dunk "JackBoys" (2020)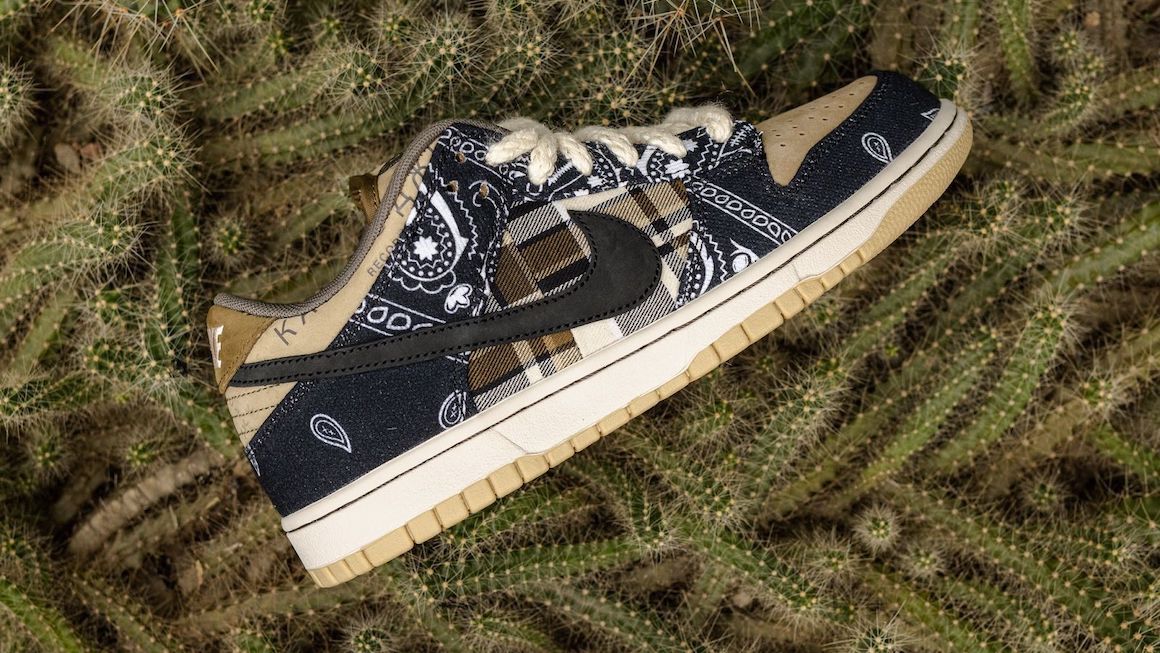 In late December of 2019, Travis Scott announced an EP titled JackBoys. The EP featured close friends Sheck Wes, Don Toliver, Luxury Tax and DJ Chase B. For the self-titled song video, Travis Scott was spotted wearing a previously unseen pair of Nike SB Dunks. Sneakerheads all over the world scoured the internet to find the pair. It would emerge later that this was, in fact, a Travis Scott x Nike SB Dunk collaboration.
Featuring multiple materials and panels, the Travis Scott x Nike SB Dunk "JackBoys" was as vibrant as the AF1. Tearaway patches give way to hidden detailing, with a cement print underneath referencing the Supreme x Nike SB Dunk from 2002. Moreover, custom Cactus Jack tabs on the tongue, thick rope laces and contrasting Swooshes made this SB Dunk an instant hit.
Travis Scott x Nike SB Dunk Sample (2020)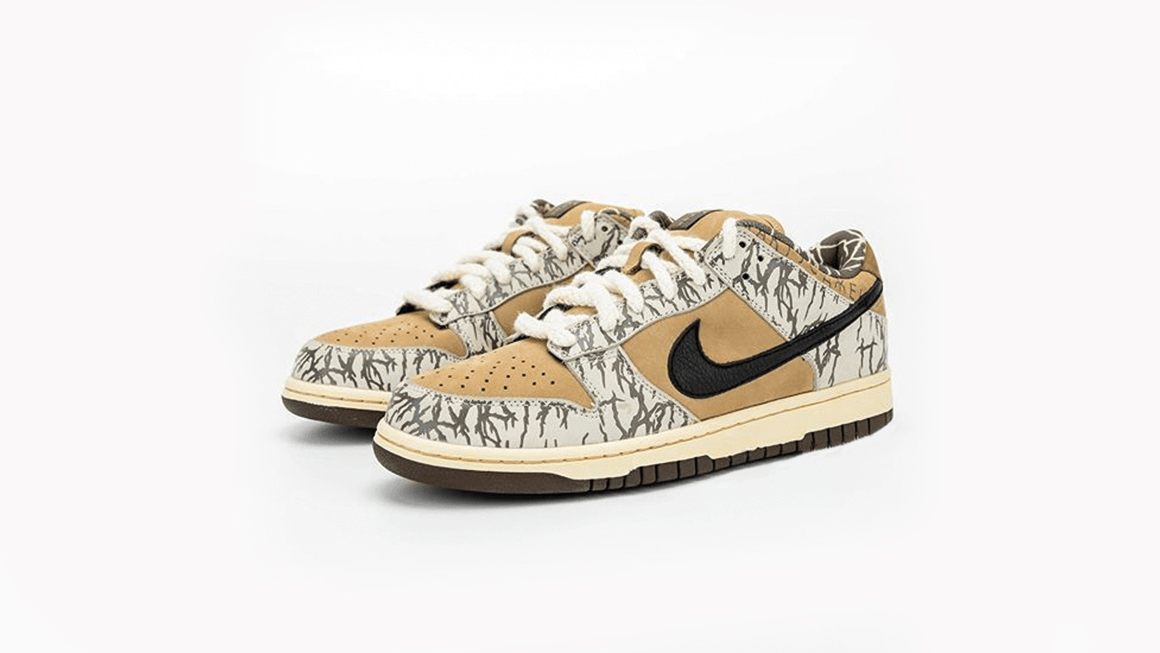 Earlier this year, and after the release of the retail pair, Travis Scott shared a sample of his SB Dunk collaboration. The sneaker featured a different approach entirely, using a different pattern on the panels and just black Swooshes. It's interesting to see the development from the sample to the retail, that's for sure.
Travis Scott x Nike Air Max 270 React "Cactus Trails" (2020)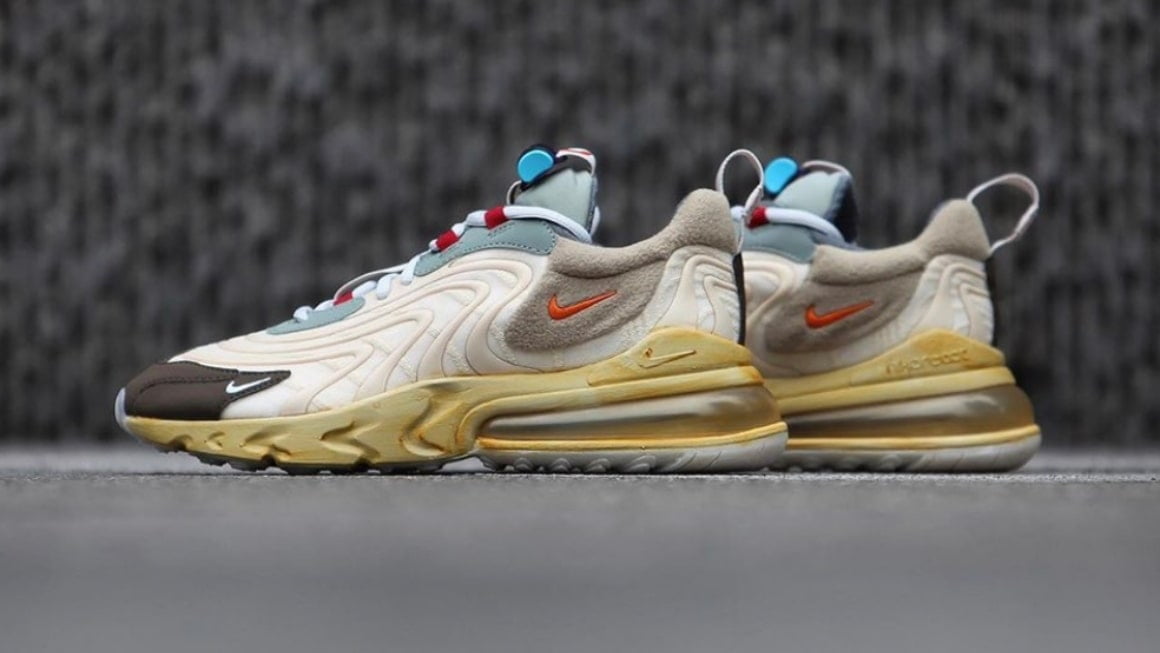 Originally debuted back in 2018, the Travis Scott x Nike Air Max 270 React has been one pair sneakerheads have had to wait a long time for. The first-ever Travis Scott Air Max collaboration is an unlikely model. As one of the newest Nike Air Max silhouettes, the 270 React seems a strange choice to start your Air Max collaboration career with. However, given Travis Scott's track record with the Trunner LX, it's not surprising.
Featuring a number of contrasting panels, the "Cactus Trails" Air Max 270 React is an eye-catching pair. Multiple elements and materials have been used, with custom Cactus Jack branding used on the heel tabs. Moreover, the sneaker comes complete with a spray-on Swoosh, giving sneakerheads the chance to customise the shoe themselves. This is definitely one of the largest Travis Scott x Nike shoes, and it's going to be one to remember.
Final Thoughts
We hope you enjoyed this look at all Travis Scott sneakers! It's been interesting to see how Travis Scott sneaker collabs have developed over time. With Nike and Jordan Brand giving him the opportunity to create so many great sneakers, you can be sure that there's more to come. If you are looking to cop a new pair of Travis Scott Nikes or Travis Scott Jordans, then head over to KLEKT now!