Football and fashion are inextricably linked. Whilst the two may not seem a likely partnership, it is difficult to imagine how football would look if it were not for the influence of fashion. From kits to jerseys and tracksuits to footwear, fashion has, and always will have an important part in the sport. In recent years, the link between football and fashion has only gotten stronger. What once was a way to identify fellow like-minded followers has now become a way to show off in streetwear.
Interestingly, the roles seem to now be reversed. Although fashion may have had an influence on football, the two seem to have swapped positions. There has been a dramatic shift over the last decade that now sees football influencing the world of fashion. In some senses, there is a level of irony about this all. Typically, football fans are seen as thugs, hooligans and pretty much everything that the fashion world is not. So why would brands like Balenciaga, Vetements and Supreme all look to football as a source of inspiration?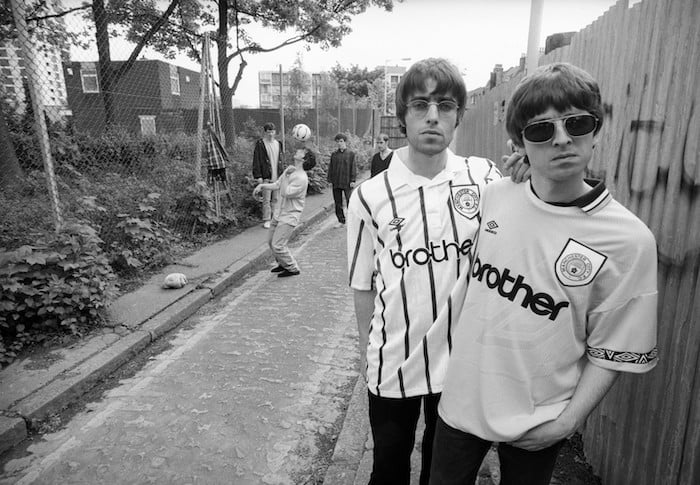 In order to understand this question, it's important to first take a look at how British football and fashion joined together. Despite its often negative connotations, football in the UK is one of the most influential parts of the entire culture. The sport has undergone a serious makeover in the last few years, but for many fans, they still hark back to the old days when they look at how to dress. Today, we'll be taking a closer look at the influence that British football culture has had on fashion.
On the Terraces
During the 1970s and 1980s, football violence was beginning to give the sport a bad name. English fans, in particular, had a thirst for fighting on the terraces. Firms such as Millwall, Chelsea, Liverpool and West Ham were all making a name for themselves as particularly troublesome teams to go up against off the pitch. The fighting became so bad that football hooliganism in the UK was dubbed the "English Disease." Noticed by their colours or scarves, football fans were easy to target by police on their way to match days.
Despite fans trying to avoid being caught by the authorities, there was something of a uniform that most football hooligans would wear. In the north of England, particularly in Manchester, the adidas Gazelle and Samba were the sneakers of choice. Gary Aspden, head honcho of the adidas Spezial line, knows all too well the influence that these two shoes had on terrace culture. "A lot of the fashion and style that I grew up with was all experiential," Aspden explained to Complex. "You would see 15-year old kids wearing a really expensive sweater with a pair of jeans that were semi-flared at the bottom with a pair of flat, gum sole suede adidas trainers."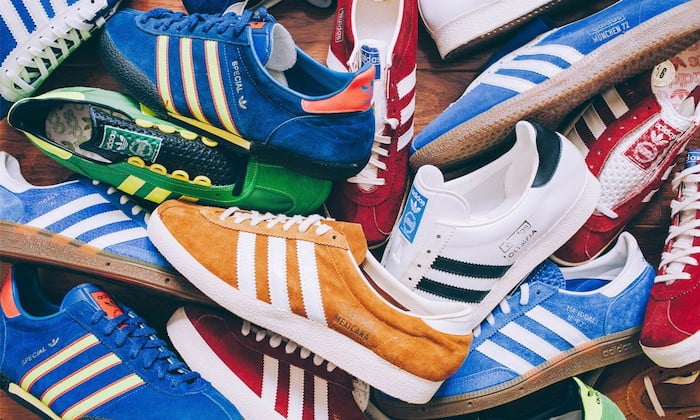 During the late 1970s, there was much social divide between the upper and lower classes. Football, with its reputation of violent fans and popularity amongst the blue-collar workers, was looked down upon by high society. The adidas sneakers worn by those in the north of England was the ultimate look for the lower classes. "[street fashion] wasn't celebrity led, it wasn't music led, it was genuinely coming from the very bottom end of society" Aspden states.
As the 1970s drew to a close, football hooligans realised that something had to change. Making themselves easy targets by wearing their team colours was becoming frustrating. The fashion that surrounded football had also begun to change. Hooligans were adapting, recognising that wearing their team colours was the easiest way to get caught. When fans started going abroad, however, they came across a solution that changed football and fashion forever.
When in Rome
When visiting Italy, British fans realised how differently their opposition dressed. By wearing luxury brands and names, these fans were left alone completely. They were not stopped by police and there was no trouble for them getting into the stadium. British hooligans understood that by dressing smarter, more casual and by dropping the team colours, they could move around and fight almost undetected by the law. In particular, hooligans would make their fellow football fans who were not fighters the target for the law. The new wave of football hooligan was now born, dubbed the "Casuals."
Casuals breathed new life into the world of football in the 1980s. Sporting names like Sergio Tacchini, Ellesse, Fila, Casuals fast became a regular sight on the terraces of the UK. Their newfound attire saw them escape the police and operate as they wished, being able to slip past almost undetected. It was here that football hooligans managed to change their approach. Terraces had swapped Dr Martens and bomber jackets for zip-up post tracksuits and polo shirts. It was here that the Casuals sub-culture thrived. 
As the style evolved, so do the brands of choice. After adopting heritage Italian sportswear brands, the Casuals would start to dress smarter, opting for more premium labels. For away days in Europe, expensive Italian labels like Stone Island and C.P. Company became the label of choice. Burberry and Aquascutum were a must-have for away days on the terraces, with hooligans beginning to take note of what they wore. Long gone were the days of scarves and shirts, with compass badges and goggle hoods taking over the terraces of matches around the continent.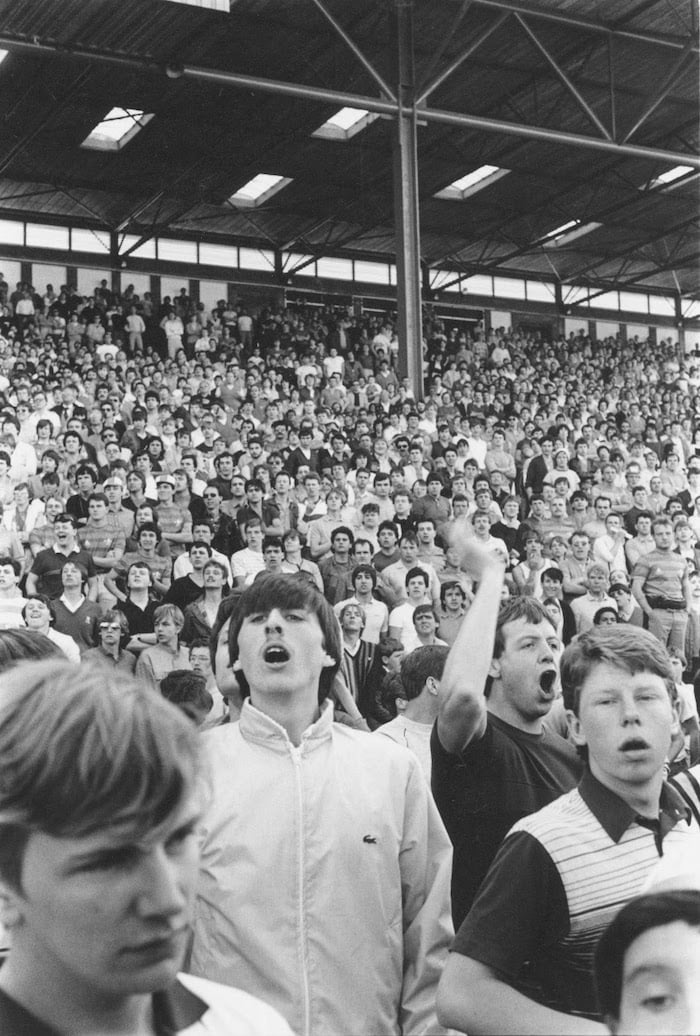 Whilst brands may try to avoid the connection, there is no denying how influential football hooliganism has been on fashion. Although brands like Stone Island, C.P. Company and Burberry may try and distance themselves from football thugs, there is no denying that hooligans turning an entire generation of people onto relatively unknown labels in the UK. Of course, that is not to say that British football hooligans did not inevitably pay the price. Though wearing sporty brands and expensive clothes may have worked at first, it would only be so long before the police realised who the troublemakers were. 
Despite this, there's been a resurgence of the original Casuals. Films like The Business and The Firm glorified the football violence and style that became a popular part of hooliganism in the 80s. Nowadays, things are beginning to go the same way. The 2017 BBC Three documentary Football Fight Clubs highlights a group of youths who have reverted back to the original casual style. Instead of C.P. Company and Prada, these, for want of a better word, kids, are donning Lacoste, Sergio Tacchini and adidas Stan Smiths: a knowing nod to those 80s hooligans.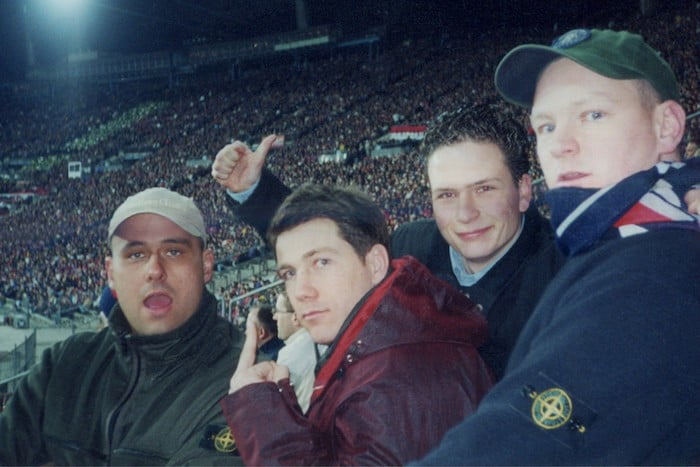 In 2021, football culture and its influence on fashion are still very much visible in the UK. It's not uncommon to see a Stone Island jacket, Burberry mac or Ellesse track top in London, Manchester or Liverpool, with casual culture playing an influential role in fashion up and down the country. Although the footwear may be different in each city, the uniform for British football lad culture and its wider circles has remained unchanged for the better part of two decades. It's here that we really see how football culture, particularly within hooliganism, has influenced the average joe. 
A New Dawn
Streetwear has always taken influences from various subcultures. Music, sport and trends play just as important a role in street culture as it does fashion. Whether or not some brands would like to admit it, football hooliganism has had a dramatic impact on their popularity. From premium sportswear brands to luxury Italian labels, there's no denying the football hooligan fashion has changed fashion. However, sometimes, it's what's been worn on the pitch that has more of a cultural effect.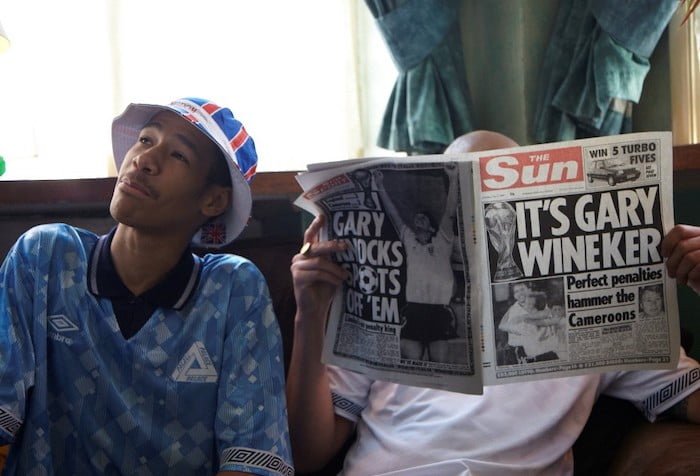 Umbro was the official England shirt manufacturer from 1984-2013, but fewer shirts are more memorable than the Italia '90 shirt. Worn by the England squad until they lost against West Germany in the semi-final, the image of Paul Gascoigne crying into his jersey is etched into the minds of every England fan. It was a moment that is still spoken about to this day. As a London-based brand, Palace knows the importance of football culture in British life. 
In 2012, Palace was given the opportunity to take this instantly recognisable shirt and put its spin on it. Lev Tanju, the founder of Palace, explained to DAZED that: "We all love and play football, and Umbro is wicked and super-English and I've liked it since I was a kid, so I thought it would be a fun project to do." The influence that football has had on almost every aspect of British culture is easy to see, particularly in the world of streetwear. Palace's homage to one of England's most iconic shirts breathed a new lease of life into football fashion. 
The full-circle moment that Palace's England shirt represented was a testament to the influence that football culture has. Selling out almost instantly, the Palace Italia '90 shirt marked how seamlessly streetwear and football can be merged. More importantly, it shows how large an impact football has had on the world of fashion, with Palace choosing to work with Umbro on reinventing one of England's most classic shirts.  
Final Thoughts
Despite its often negative connotations, football is the bloodline for many people in the UK. The Barclays Premier League is valued at an astonishing £8.5 billion GBP, with the value only looking to go one way. Although the hooliganism may have subsided, the effect that football has had on daily life, particularly in fashion. Brands like C.P. Company, Stone Island, Burberry and Prada are still popular amongst streetwear fans, as well as sneakers like adidas Sambas and Stan Smiths. The uniform of the football hooligan has shaped the way that young British men dress and with the Euros just around the corner, we're going to see it in full force.