In the world of sneakers, few pairs have as much importance from both a historical and fashion perspective as the Nike Air Max 1. Designed by Tinker Hatfield in 1986 and released to the world in 1987, the Air Max 1 has remained a cultural icon for the better part of 30 years. In that time, it has been reimagined, redesigned and reworked countless times, creating one of the most important footwear legacies on the planet. On top of that, the AM1 sparked a historic product line that is still revered to this day: Air Max.
Now, we're sure that you know all about how to style the Nike Air Max 1. Even now, Air Max 1 fashion is still extremely well documented and has not gone out of style. The birth of social media has now allowed us to see a whole host of Air Max 1 outfits and given us countless inspiration. With that in mind, we're going to show you how to style the Air Max 1 properly. We'll be taking a look at four pairs of Air Max 1s; two OG and two new school.
Without further delay, let's take a closer look at how to style the Air Max 1.
How to Style the Nike Air Max 1 OG "Anniversary Red"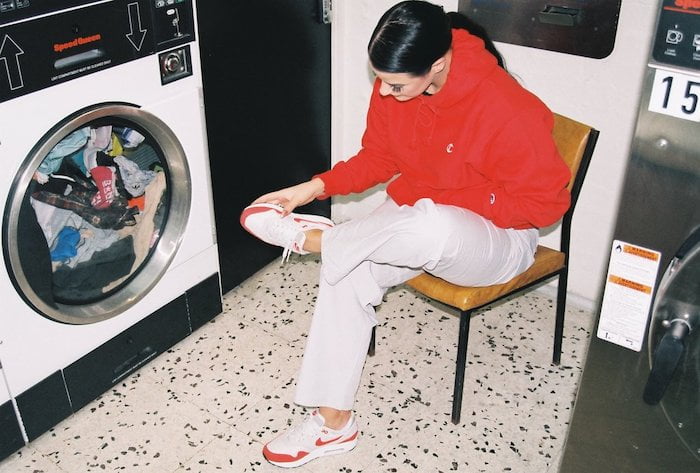 Style an icon requires some level of thought. For the most part, you're looking for the sneaker to be the main focus of the outfit without detracting too much from the shoe. Much like any sneakerhead outfit, you want people to make that all-important shoe contact before eye contact. It's vital to note that the tones really matter when styling the Air Max 1, especially the OG colourways. Above is a great example of how to get the right balance in your Air Max 1 fashion.
You can see exactly what we mean when you break down the outfit. A bright red hoodie creates a nice colour pop and matches the red of the Air Max 1 perfectly. The light coloured pants also build a nice bridge between the upper and lower half of the outfit, seamlessly blending the two together without putting too much emphasis on either section. All in all, this was a great women's Air Max 1 outfit and one that shows less really is more.
How to Style the Nike Air Max 1 OG "Obsidian"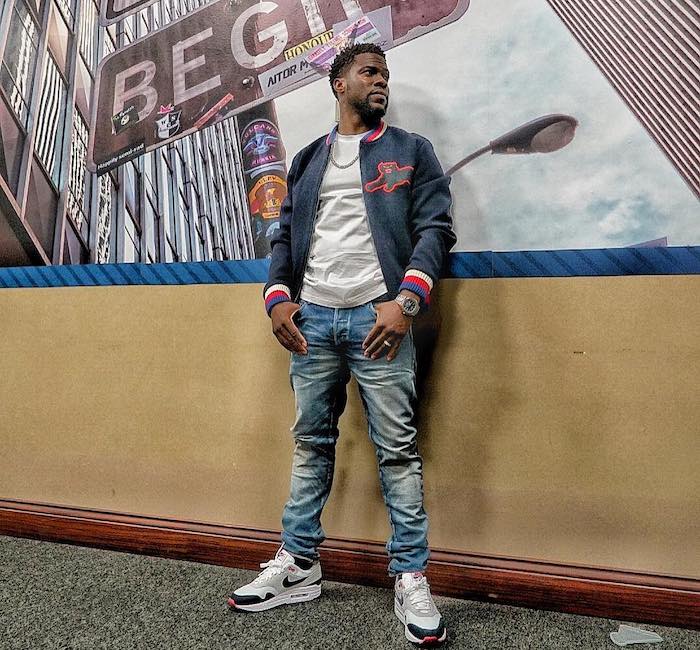 Kevin Hart is probably one outfit inspiration we never thought we'd use and yet here we are. The comedian and well-documented celebrity sneakerhead has been donning exclusive sneakers and general releases for the better part of two decades. Over the past few years, the actor and comedian has really stepped up his efforts on his outfit game, leading us to highlight how well he donned the Nike Air Max 1 OG "Obsidian" a few years ago.
Maintaining a collegiate look in this Air Max 1 outfit, Kevin Hart has really nailed this one. An open varsity jacket paired with a plain white T-shirt is always going to be a winner, but when you look at this Air Max 1 denim combo, things really fall into place. A pair of light, slightly distressed jeans means that the shoes can take pride of place, working nicely with all the elements used in this outfit. If you're looking for an example of how to wear the Nike Air Max 1, look no further.
How to Style the Nike Air Max 1 "Lemonade"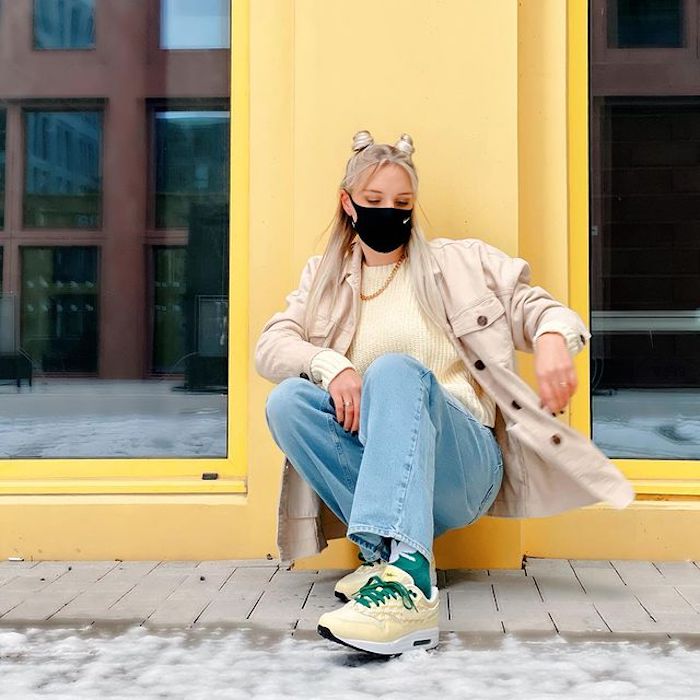 Let's face it, we all love a bright pair of Air Max 1s in the summer. Although the recent Nike Air Max 1 "Lemonade" may not have been to everyone's taste, it was a big hit with many sneakerheads. As one of the bolder pairs of Nike Air Max 1s to release last year, the Lemonade definitely requires the right balance in order to let the shoes shine. Thankfully, the outfit above shows you how you can get the best out of your new Air Max 1s.
Of course, there absolutely had to be some more light yellow in here. The chunky knitwear pictured above works perfectly with the sneakers and works really well with the beige overshirt. Relaxed denim also really helps to highlight the slim silhouette of the AM1, making this outfit balanced from top to bottom. Finally, a contrasting pair of green socks helps draw attention to the foot even further, bringing this Air Max 1 outfit to a close.
How to Style the CLOT x Nike Air Max 1 "Kiss of Death"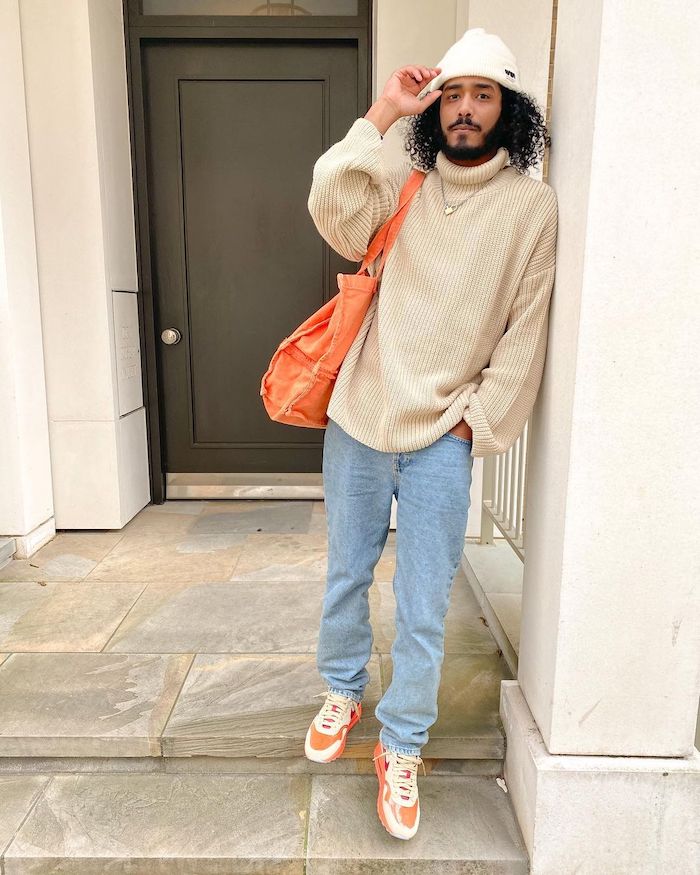 Although it may be one of the newest Air Max 1s out there, the CLOT "Kiss of Death" retro is definitely one of the best we've seen in recent history. After a 15 year hiatus, the iconic Air Max 1 collaboration finally made a return to the spotlight. The sneaker community rejoiced, with newer sneakerheads able to cop one of the most in-demand Air Max 1s of all time. With a transparent toe box though, it did beg the simple question: how do you style the CLOT x Nike Air Max 1?
The outfit above is probably one of the best outfits we've seen for the CLOT AM1s. Utilising the same tones found on the sneaker, the well-balanced upper suits the shoe perfectly. A heavy-duty cream roll-neck works with a lighter beanie to set a great base. Slim denim also creates a nice segway from the upper to the sneakers without detracting from the tones. Finally, an orange bag brings the whole thing together, ensuring that this is one CLOT Air Max 1 outfit you should be inspired by.
Final Thoughts
So, that concludes our How to Style the Nike Air Max 1 guide! We hope you enjoyed this guide and found some new inspiration for your Air Max 1 fashion outfits. From original Nike Air Max 1s to new Air Max 1s, there are so many pairs to choose from. With Air Max Day around the corner, there's never been a better time to refresh your AM1 outfits. As always, if you ever need any help, then head back to KLEKTIVE to recap this handy guide for more tips!