It's that time of the week where we catch up with another of our Team KLEKT members for 5Qs and 5As and this week, it's @annikamths. Having been collecting sneakers for over 10 years, Annika has had her fair share of heat. Despite not living near a major sneaker store, that hasn't stopped her from amassing a big collection of sneakers. More importantly, Annika stays true to the real reason for being a sneakerhead: wearing what you like.
Today, we'll be finding out a little bit more about Annika. We'll learn just what kickstarted her passion as well as some of her influences when it comes to sneaker collecting in this day and age. The good news is that Annika will also be running a special promo this weekend on her Instagram, so make sure you give her a follow to learn more. Without further delay, this is 5Qs and 5As with @annikamths.
Hey Annika, it's great to have you here. Can you please tell us a little bit about yourself?
Hi guys, thanks for having me. I'm Annika, I'm 26 years old and I live in a region called Saarland in the southwest of Germany right next to France and Luxembourg. I'm currently finishing my master's degree in North American Cultures and I work full time as a journalist.
I've been collecting sneakers since I was 16. I started almost 10 years ago, time flies! I usually buy most of my stuff online as we don't have any big sneaker stores in my region. It's hard to get limited shoes, but I'm not really into hype – I buy what I like. There are almost 200 pairs in my collection at this point.
It all started with a Nike Air Max 90. I didn't know anything about online shopping or sneaker stores so I got my first pair on eBay. There was only one left in a size US7m and I actually wear a US 5.5m. It took me a while to figure out my size in sneakers!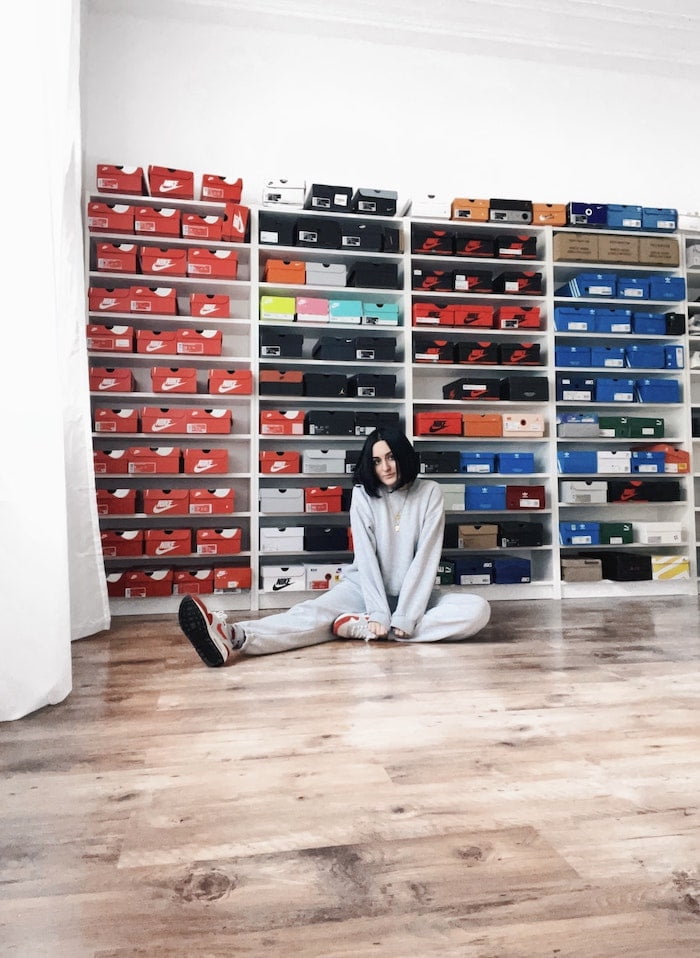 What are some of your favourite women's releases and what are some of your influences in sneakers?
My favourite women's release might be the Air Jordan 1 High OG "Panda." This colourway is currently the number one Jordan in my collection. The quality is amazing. I'm used to buying kids sizes with "cheaper" quality, especially when it comes to Jordans so, every women's release has really blown my mind when it comes to quality.
I don't have a specific inspiration when it comes to sneakers. I follow many sneakerheads on social media and love checking their content. But it is not only sneakerheads I get my inspiration from. There are many athletes, celebrities or fashion bloggers I look up to. I think it depends on a person's favourite style. Personally, I am not only interested in streetwear. There is a variety of styles that go with sneakers and this does not always have to be classical streetwear.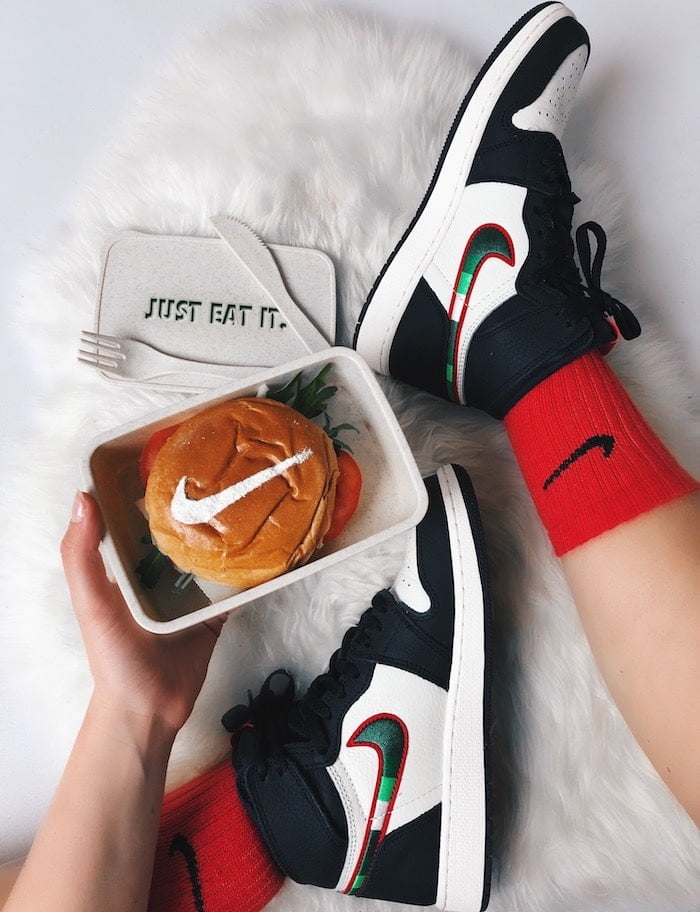 What's on your feet right now?
Right now, on my feet is the Air Jordan 1 Low "Chicago." I got this pair in NYC in 2016. It means a lot to me, but I would love to get the Chicago Highs one day. Fingers crossed!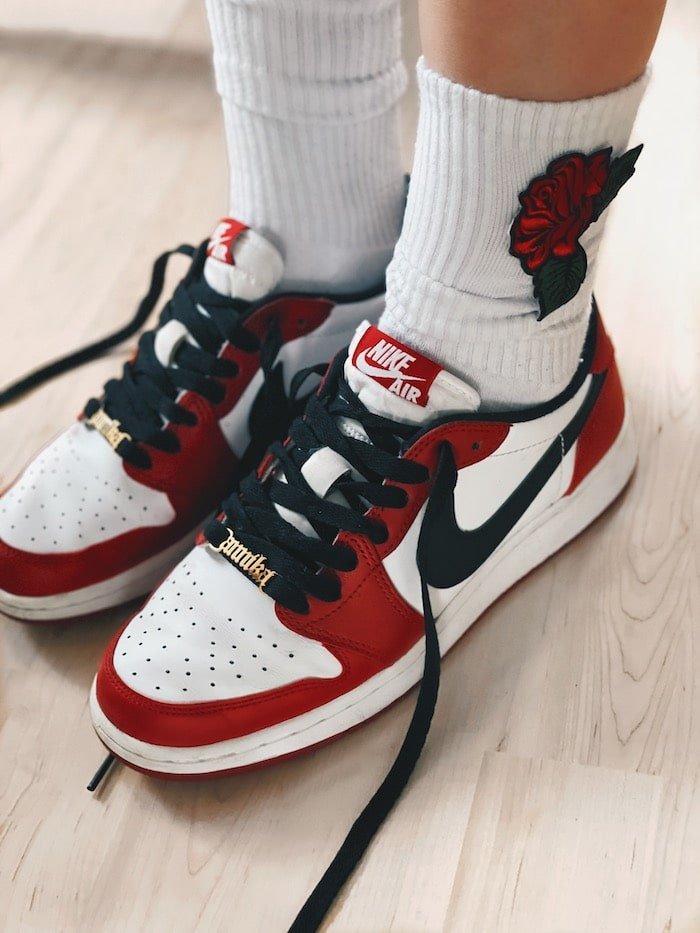 What is your Grail and why?
My grail is the Nike Air Max 90 "Infrared." I have two pairs in my collection and it's the shoe my passion for sneakers started with. It has a special place and meaning in my collection.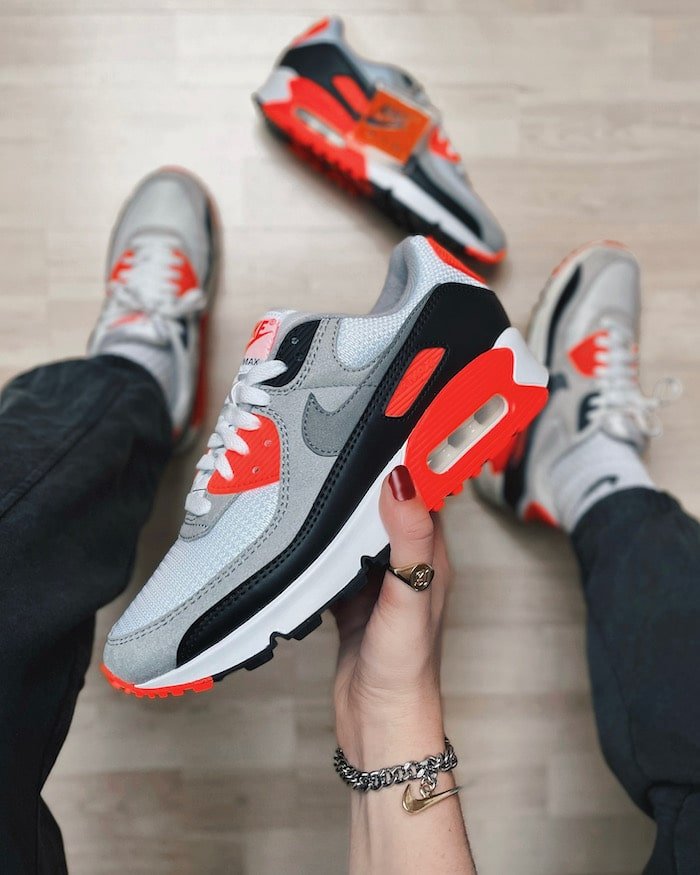 Can you tell us the top five sneakers in your collection?
My top five sneakers are: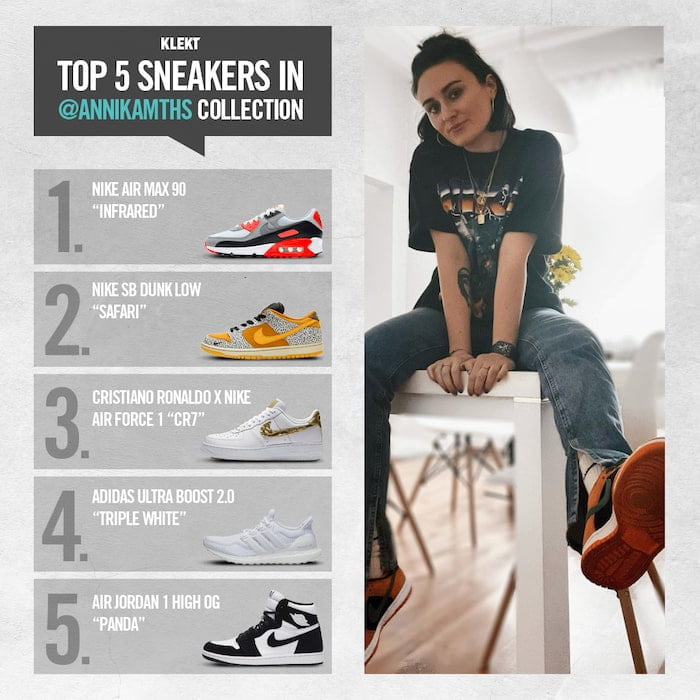 Make sure you follow Annika on Instagram!