Kicking off the latest instalment of 5Qs and 5As we have one of Germany's up and coming influencers, @palinaroza. The self-confessed sneakerhead has been collecting for the better part of a decade, fully immersing herself in the culture and learning a lot about sneakers along the way. Palina boasts a closet that almost any sneakerhead would be jealous of, with a rotation that even the most seasoned collectors would envy.
Over the past few years, Palina has dedicated her time to creating a distinct Instagram channel with unique sneaker content. Today we'll be learning more about Palina, her collection and her top five sneakers. We'll also be diving into what her into collecting, finding out more about the moment that kickstarted her passion for footwear. Make sure you follow Palina too as she'll be running a special promo for her followers this weekend. Without further delay, this is 5Qs and 5As with @palinaroza!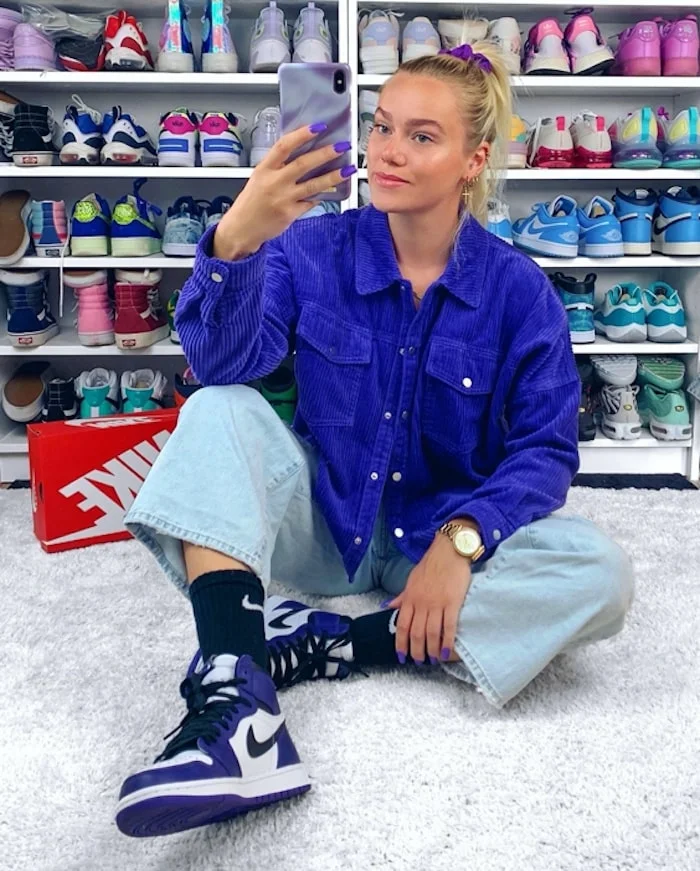 Hey, it's great to have you here (Instagram name). Can you please introduce yourself?
Hello and thanks for me having me! My name is Paulina, I'm 23 years old and I am a sneaker lover from Germany. I started collecting around eight years ago and at the moment I have around 300 pairs in my sneaker room. My collection is growing each day!
I started my Instagram account around five years ago and would show my followers my outfit of the day. Over the years, my focus has shifted towards more sneaker and streetwear looks but I love creating content today more than ever. I love being creative and sharing my passion with other sneakerheads from around the world.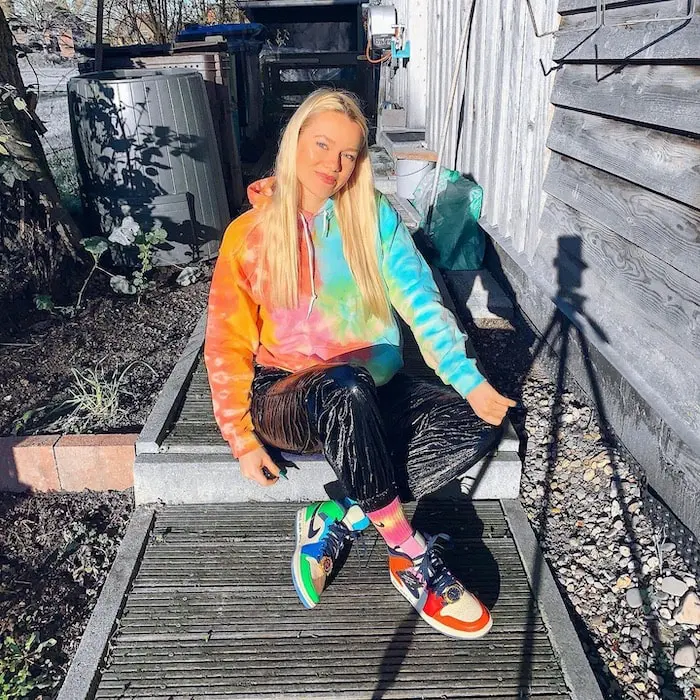 Was there a certain model or moment that kickstarted your love of sneakers?
Yes! When I was 15, I went to New York City for the first time and instantly fell in love with the massive sneaker stores in the city. I remember being amazed by the variety of models, brands and seeing so many sneakers in one place. I instantly bought two pairs and I still have them today. It was this trip that really started my love of sneakers.
What's on your feet right now?
Right now I am wearing the 2018 Nike Air Force 1 "Easter". I'm really into pastel colours at the moments and it's the perfect time of year to wear these AF1s.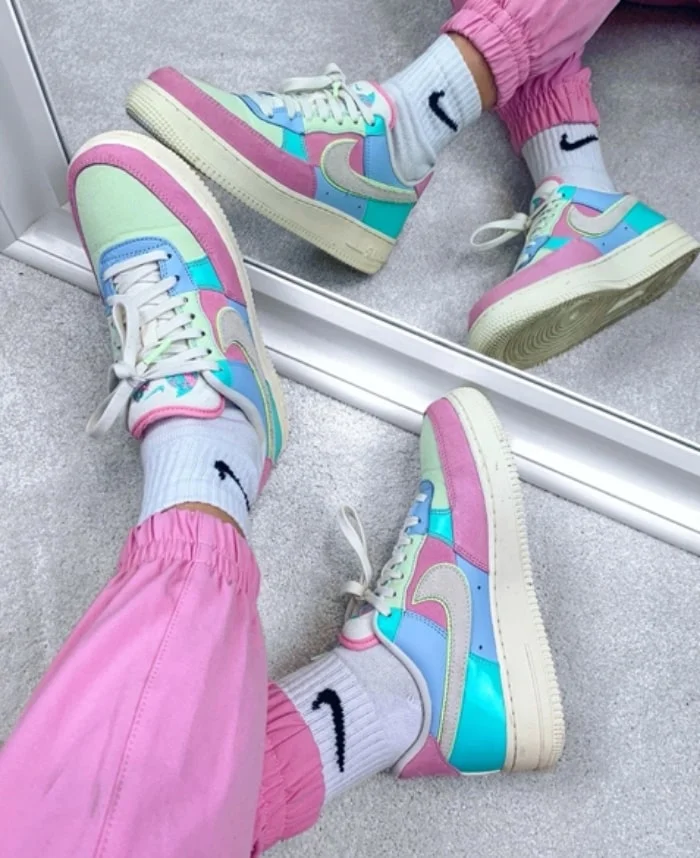 What other kind of shoes could we expect to see in your cupboard?
I am 100% a sneaker girl. I may have one or two pairs for formal events, but that's maybe one day in the whole year!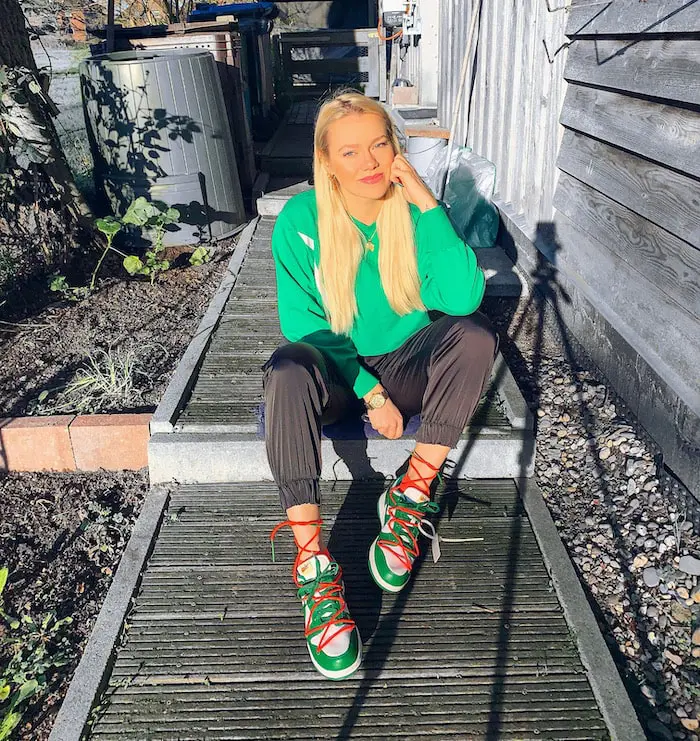 Can you please tell us the top five pairs in your collection?
1. Melody Ehsani x Air Jordan 1 Mid
I love the mismatched design on this pair and the details are crazy. The message behind the design and the fact that these were designed by a woman is also something I love. Melody Ehsani is a true inspiration to me!
2. J Balvin x Air Jordan 1 High OG
Everyone that knows me well knows that I love neon colours and a "loud" design". That's why this shoe is so me. It's not only because of the colours but also the special design of the Swoosh, the materials and the light pink midsole.
3. sacai x Nike LDWaffle "Pine Green"
Pink is my favourite colour so this colourway was always a big plus for me. The design of this shoe is so different from what we normally see, especially the big sole and double tongue – it's totally unique.
4. Nike Air Force 1 "Easter"
Besides my love of neon colours, I also love pastel colours too. "The more colours, the better" is a motto of mine! That's why I am still so in love with this pair after four years. In my opinion, this is the best AF1 colourway.
5. Air Jordan 1 High OG WMNS "Tie-Dye"
This is a really nicely designed shoe, especially the upper. I love the different blue tones and the tie-dye design on the leather. What a great AJ1!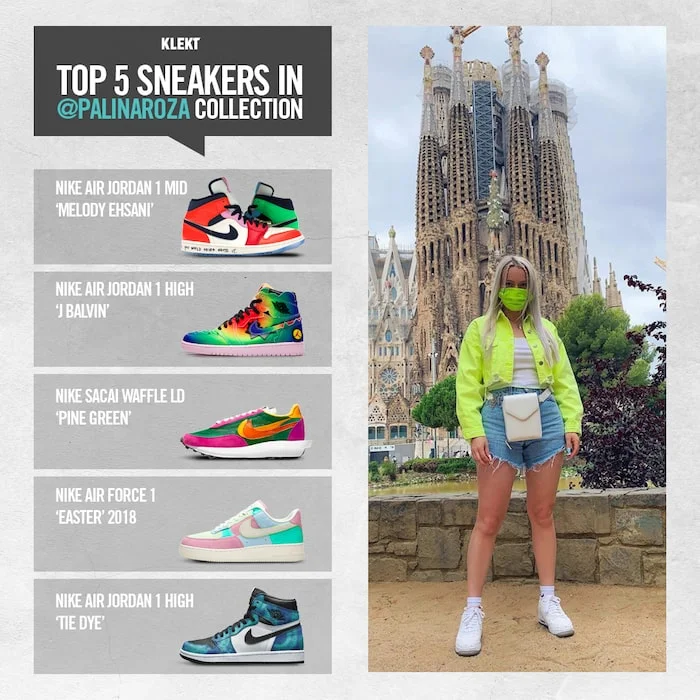 Make sure you follow Palina on Instagram!