When Supreme opened its doors back in 1994, it was a hub for New York's skaters. The small independent skate shop has gone on to become one of the most powerful brands in the world. It's collaborations with the likes of Nike, Jordan and Timberland have seen it become a staple in the fashion and footwear communities. However, one relationship that is longer than any of the above is Vans.
Vans was the first brand that Supreme ever collaborated with back in 1996. Since then, Supreme and Vans have dropped a number of desirable sneakers. Over the past 24 years, Vans and Supreme have made a number of highly collectible shoes. With the SS20 Supreme season well underway, we thought it was about time that we put together some of the best Supreme x Vans collabs in history just for you.
We'll be taking a deep dive into the Vans x Supreme archive, showcasing some of our favourites along the way. Without further delay, let's take a look at the best Supreme x Vans collaborations of all time.
Supreme x Vans x COMME des GARÇONS SHIRT (2012)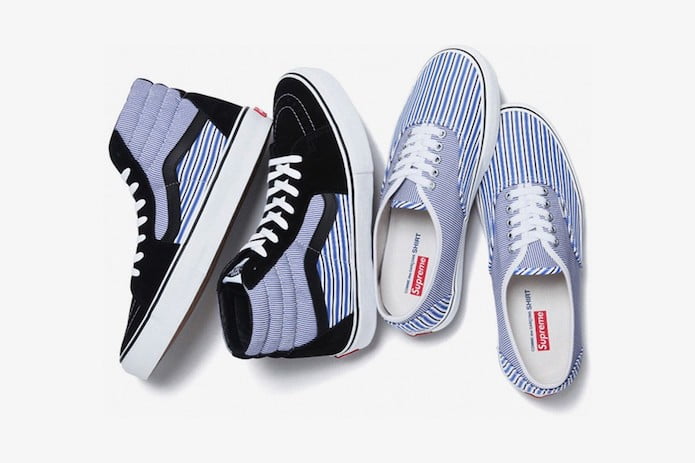 When Supreme announced that it would be collaborating with Vans in 2012, sneakerheads were excited. Having already churned out some of the best Vans collaborations in history, the footwear community knew that Supreme would deliver the goods. However, when it was announced that COMME des GARÇONS SHIRT was going to be involved in the process, the hype around the release got even crazier.
Using the same striped pattern that was found on Supreme x COMME des GARÇONS SHIRT collab, it was an instant hit. The choice of Vans silhouettes was the Sk8 Hi and Authentic. A white midsole, paired with white laces, made these the perfect summer shoe when they dropped. As you can imagine, these sold out instantly on release day, becoming a collector's piece ever since.
Supreme x Vans x Peter Saville "Power, Corruption, Lies" (2013)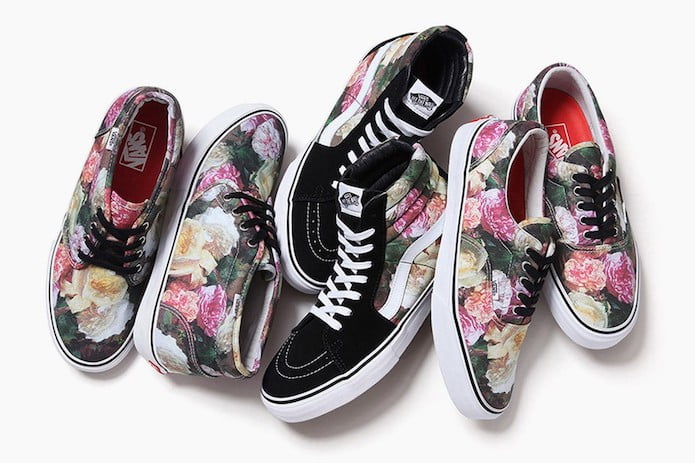 Continuing the theme of patterns, we had to include this Supreme x Vans collab so early in the list. In 2013, Supreme recruited British artist Peter Saville to drop a collection dubbed "Power, Corruption, Lies". The title, which comes from New Order's second album of the same name, featured the flower print artwork on a wide variety of items. With that in mind, Supreme tapped up Vans to paint three silhouettes in the same floral pattern.
Taking the Sk8 Hi, Authentic and Chukka boot, the Supreme x Vans drop was one of the most hyped releases of the season. The entire range of footwear sold out within seconds, with prices still regularly reaching over €500 to this day. Although every shoe in this three-pack Vans x Supreme drop is great, our favourite has to be the Sk8 Hi.
Supreme x Vans Caballero (2012)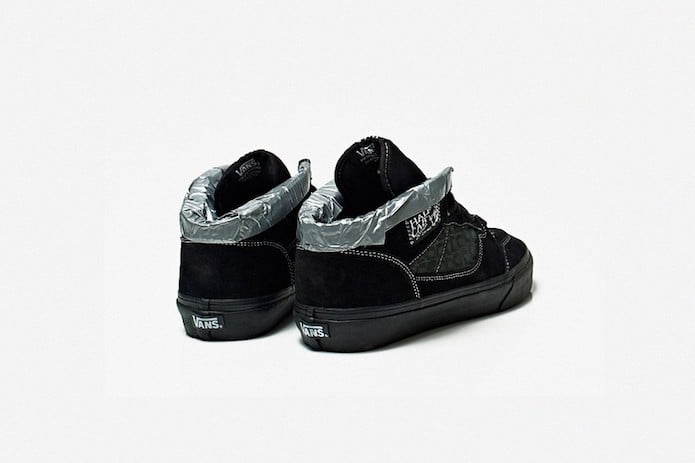 Back in 2012, the Vans Half Cab was celebrating its 20th birthday. The model, which had become a favourite of skaters around the world, is one of the most successful silhouettes in Vans history. Back in 1992, Vans rider Steve Caballero came up with the design after seeing skaters cutting the collar off their sneakers. As skaters needed a lot more flexibility around the ankles, the sneaker design seemed a no brainer.
Vans and Supreme recruited Steve Caballero to create this limited Half Cab. Limited to just 20 pairs worldwide, and exclusive to the Supreme Los Angeles store, owning a chance of these was slim to none. Caballero personally cut the collar, applied the duct tape around it and signed the shoe. This is a piece of Supreme x Vans history and is one pair that any serious collector would like to get their hands on.
Supreme x Vans Old Skool Snakeskin (2010)

This is without a doubt one of the simplest Supreme x Vans drops on this list but for that reason, it had to be on here. In 2010, Supreme and Vans dropped a simple snakeskin pack. 10 shoes were produced, five Old Skools and five Chukka boots. However, it's clear to see why the Old Skool was the preferred silhouette.
The Vans stripe was adorned in faux snakeskin, with five colourways, each wrapped in suede and canvas. When the sneakers dropped, they sold out almost instantly. Pairs do crop up now and then for a good price. They may be one of the cheapest Supreme x Vans collabs on this list but they're still one of the best.
Supreme x Vans x Playboy Sk8 Hi (2014)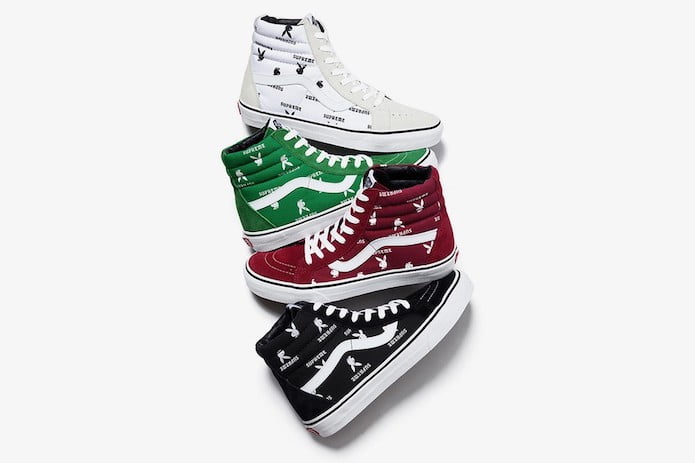 Although Supreme and the soon to be defunct gentlemen's magazine Playboy had worked together back in 2011, it was the first time that the iconic Bunny motif was about to be put on footwear. For Supreme's SS14 campaign, the two worked on a selection of Vans footwear. The Vans Old Skool and Sk8 Hi were the chosen models, with a distinct pattern adorning both footwear silhouettes nicely.
Dropping in four distinct colourways, Supreme, Vans and Playboy's collaboration was certainly eye-catching. Playboy's large Bunny emblem was adorned across the canvas upper, with white laces, and white Vans stripe and white laces creating a perfect balance. As you can imagine, this crude crep was one of the biggest drops of the season. And for good reason.
Supreme x Vans Authentic (2016)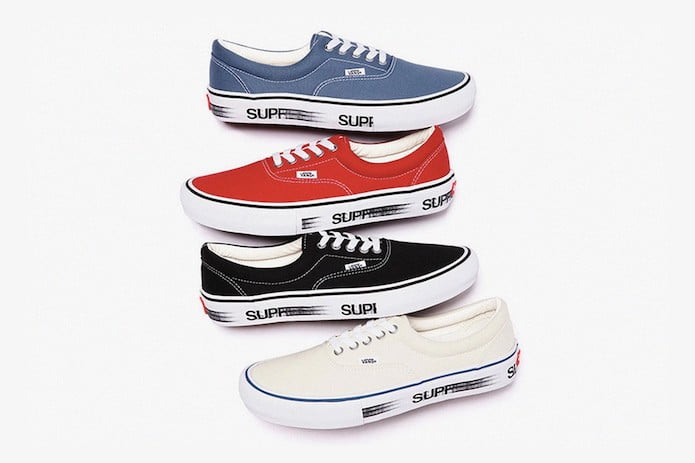 Supreme's motion logo is one of the best in the business. Inspired by Martin Scorcese's Goodfellas, the motion logo adorned this Supreme x Vans collaboration in 2016. Taking four of Vans most iconic colourways of the Authentic, the midsole featured a Supreme motion logo wrapped around the crisp white midsole, the simple flip gave this shoe an added edge. As you would expect this was an instant cop for many.
Supreme x Vans Old Skool (1996)

There is no way that we could go through this list without including the shoes that started it all. Back in 1996, a young James Jebbia had approached Vans to work on three Old Skools. In an interview with Vans, Jebbia explained that ""The Old Skool is iconic, classic skate. In 1996, it was one of the best shoes offered by Vans and really stood the test of time."
Supreme dropped a simple white and grey pair and two camo pairs. Each featured a small Supreme box logo on the eye stay, as well as being made in the USA. The shoe was well-received by skaters at the time and kickstarted the relationship between Vans x Supreme. Although there was an 8-year hiatus between the two after this, there's no denying the importance of this shoe. It showcased to big brands what Supreme could do if it was given the chance.
Final Thoughts
Supreme has dropped some of the most expensive Vans ever. Whilst the retail prices may be small, the resell value is not. We hope you enjoyed this list of some of our favourite Supreme x Vans sneaker collaborations. If you're looking for Supreme x Vans for sale, or to cop some Supreme shoes, head to KLEKT!