Hi everyone, my name is Kenny (@coapin_ on Instagram), I am 27 years old and I live in Orléans, a few kilometers from Paris. I am a journalist, community manager, and self-employed entrepreneur. Since my early childhood, I have always been passionate about the world of sneakers, particularly the silhouette of the Dunk SB.
This unexpected love was born from meeting my best friend, Kevin, who now lives in Barcelona. He made me discover and bathe in the wide world of skateboarding, and also allowed me to immerse myself in this culture and surround myself with the Orléans skate scene. So I started attending the only skate shop in the city, Digital, where I have been working for many years with manager Nicolas Simonnet.
In this interview, I'll tell you all about my unconditional love for the Nike SB Dunk. Here are my top 5!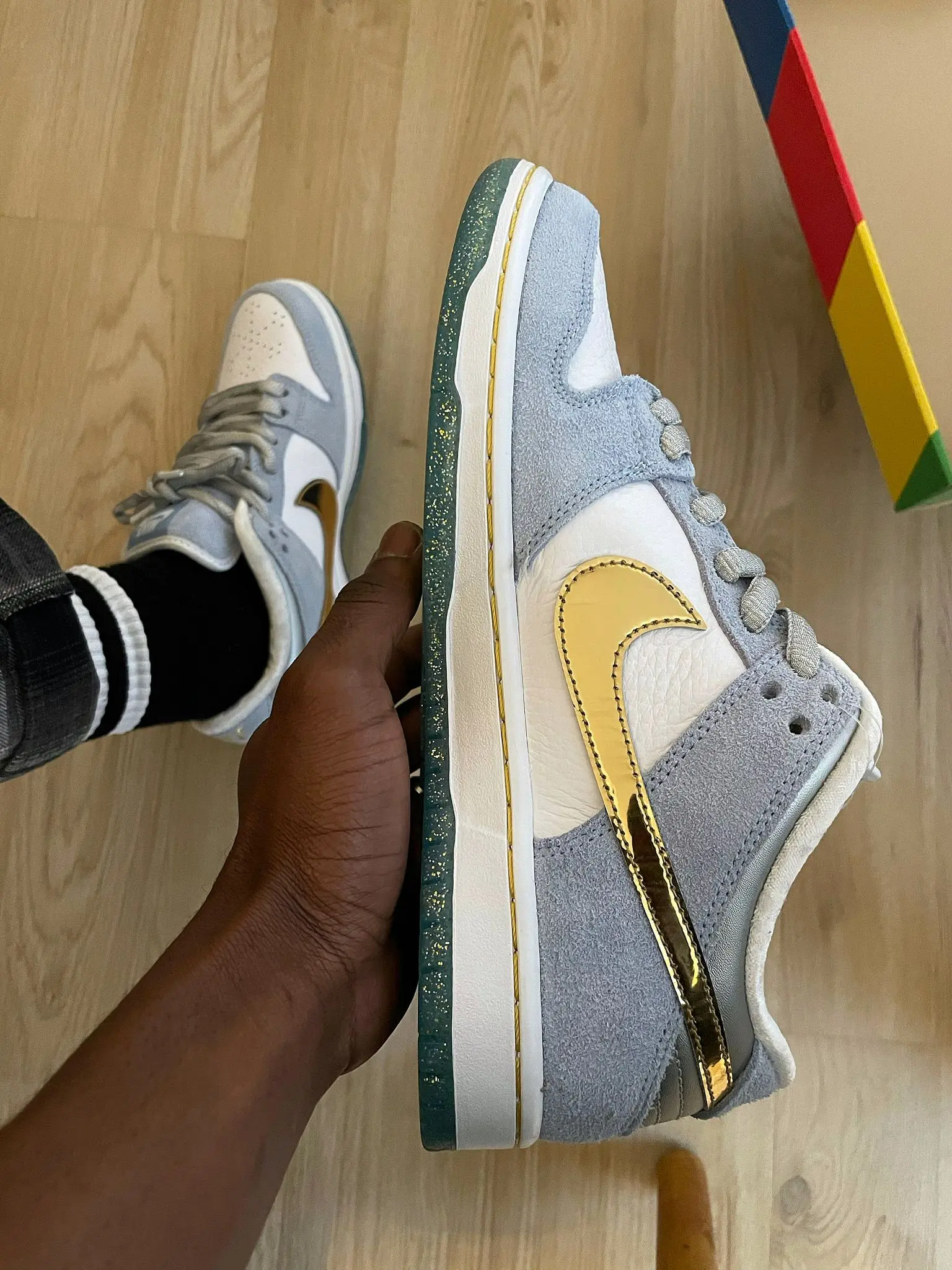 Christmas is fast approaching. That's why my first choice is Nike SB x Sean Cliver collaboration. Released in December 2020, the Sean Cliver Dunk fits well into the theme with its winter colour palette. There are golden and silver accents, especially at the level of the Swoosh and laces. Added to this are subtle perforations in the shape of a snowflake on the toe box and a sparkling icy sole. In the same year, Nike SB and Sean Cliver also collaborated on the SB Dunk x Strangelove for Valentine's Day. This pair is one of my favourites and stays nice and safe in my collection.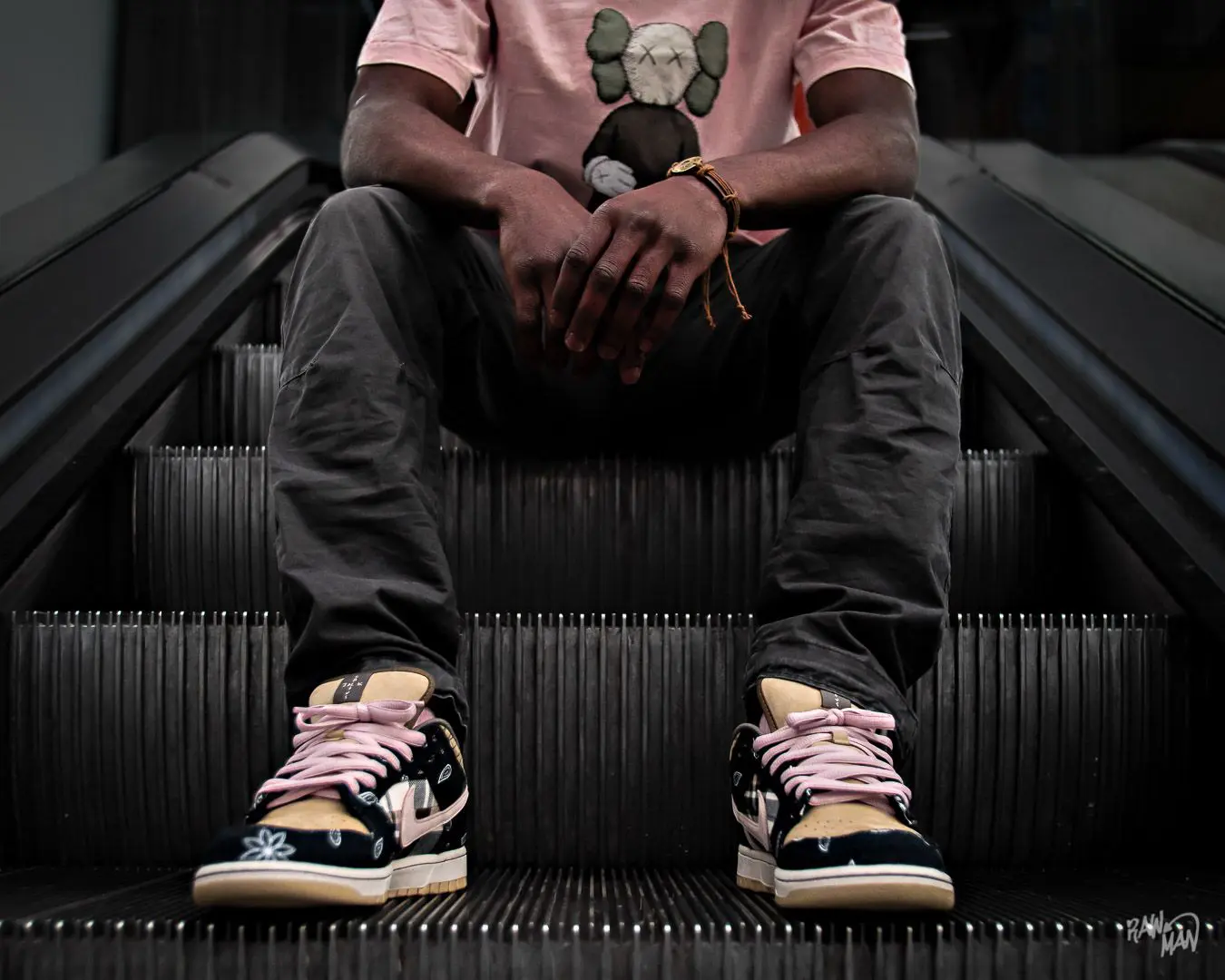 I know, we can never talk enough about this collaboration, but it would be a shame to make a top 5 without including the pair that has revived the beautiful days of the SB Dunk since its release 2 years ago. Being a big fan of Travis Scott's music and style, I naturally took the opportunity to get my hands on this grail. It was a very big journey.
Everything had to be managed carefully to avoid any inconvenience. We had to relocate the stock of pairs received to Digital Skateshop, provide a security perimeter, and manage the crowds front of the shop, what madness! The Travis SB Dunk is a story on its own when you know the weight of the artist and his love for Nike, especially the SB Dunk. He knew how to play with his creative spirit; the materials, the paisley pattern, the different colours and the rope laces give an indisputable charm to this pair. It's lit!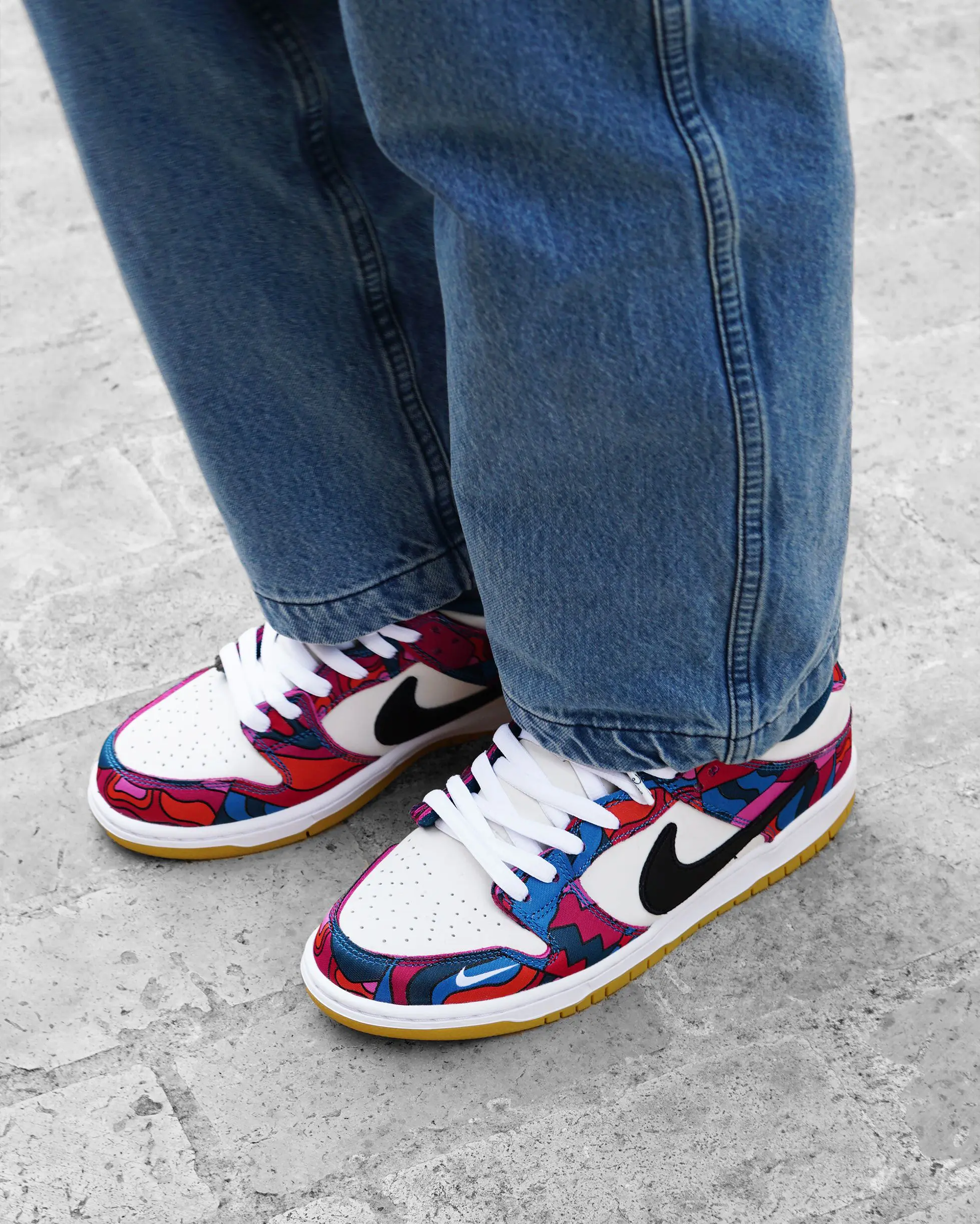 Dutch artist Piet Parra is no stranger to sneakers. Well-known in the world for his pop style with saturated colours, he has repeatedly partnered with Nike and Nike SB to bring out more original pairs from each other. For last year's Olympic Games, they gave birth to a new collab: the Dunk SB Low "Abstract Art". The pair reveals in me the child-like side with the arrangement of colours (blue, red, orange, pink…), its design is simply sublime. I already had in my shoe pile the first SB x Parra collaboration released in 2019. So I had to continue my quest to add the Dunk SB "Abstract Art" to my collection.
Any Nike SB x Parra collaboration has always been a success. Piet Parra adds freshness to our feet with his artistic touch and I am totally in love with it!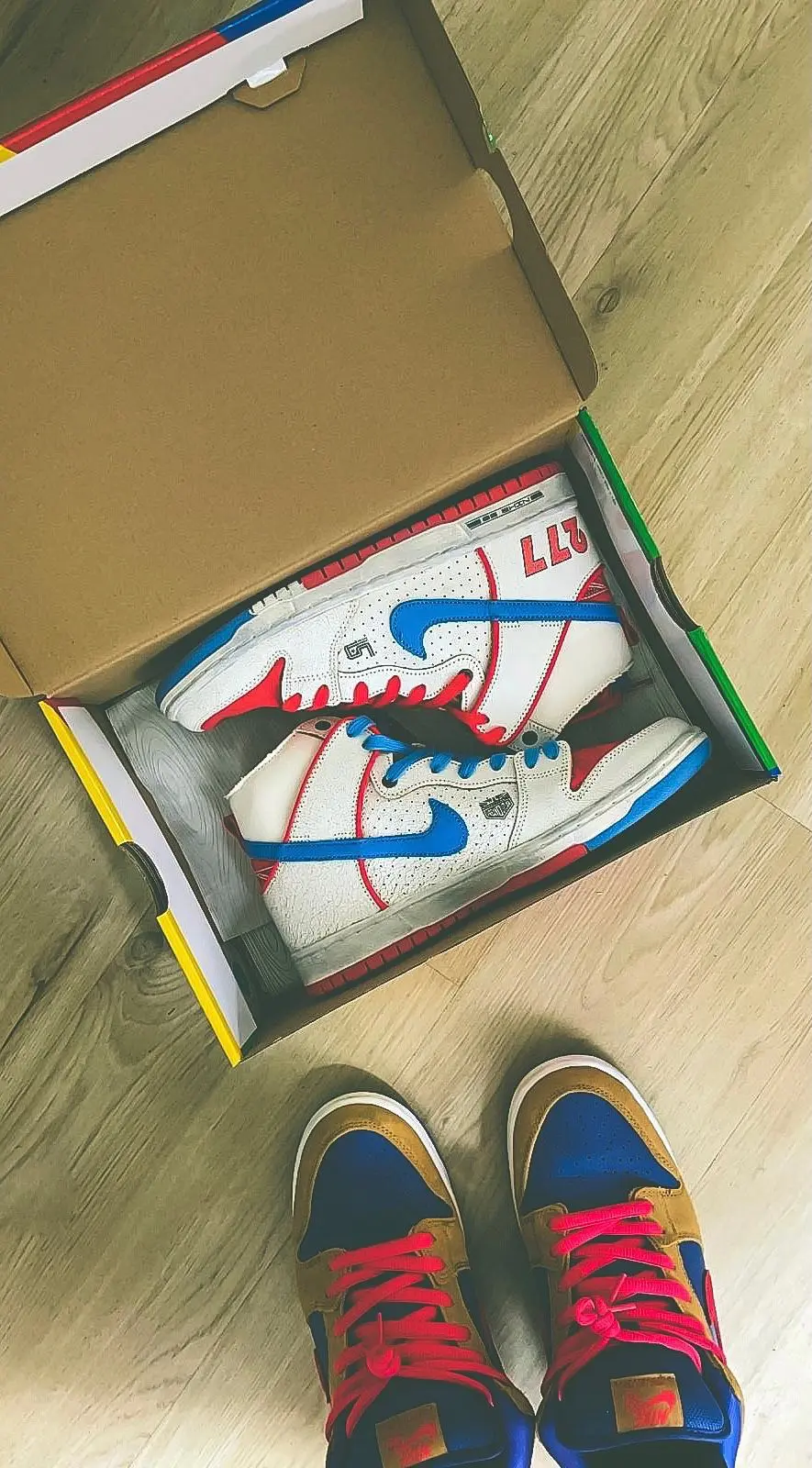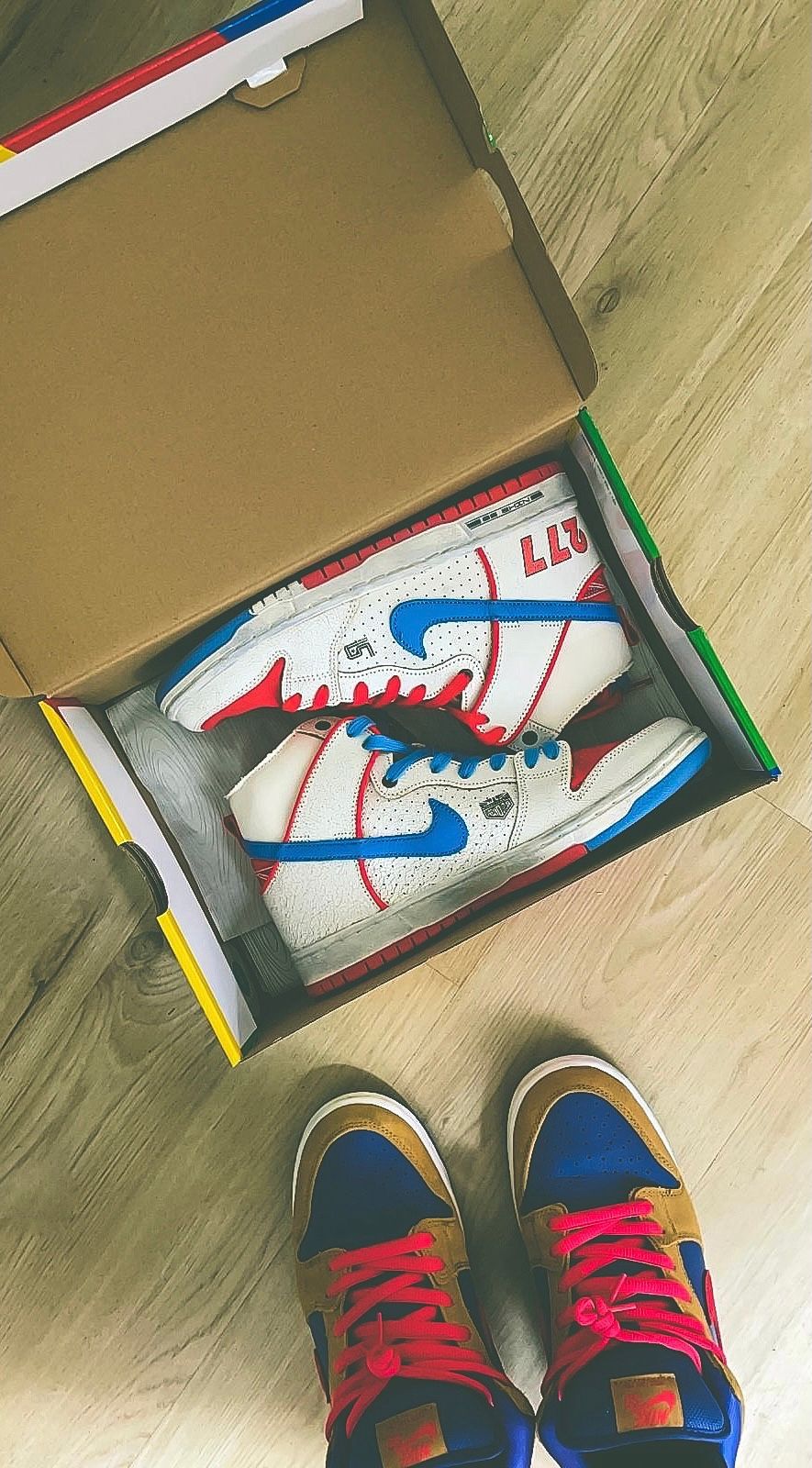 Ishod Wair is one of my favourite skaters. A great fan of vintage and racing cars, he represents at the same time several of my passions on his own. At the announcement of this collaboration with the purist and Porsche collector, Magnus Walker, on the Dunk High Decon silhouette, I fell in love with the work then and there. It's a pair of two-in-one combining skateboarding and big cars. Hoping to one day be able to acquire a beautiful car of this kind, I am content for the moment to be able to contemplate, smell and carefully preserve this masterpiece.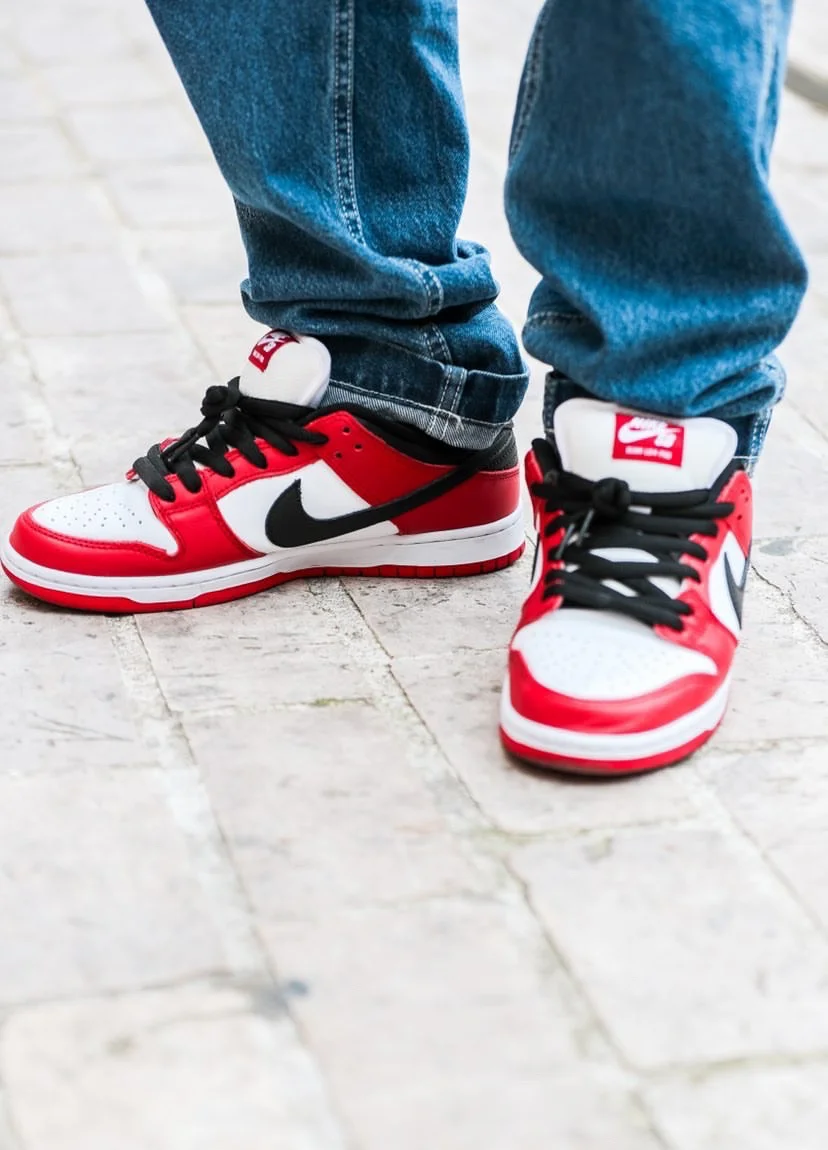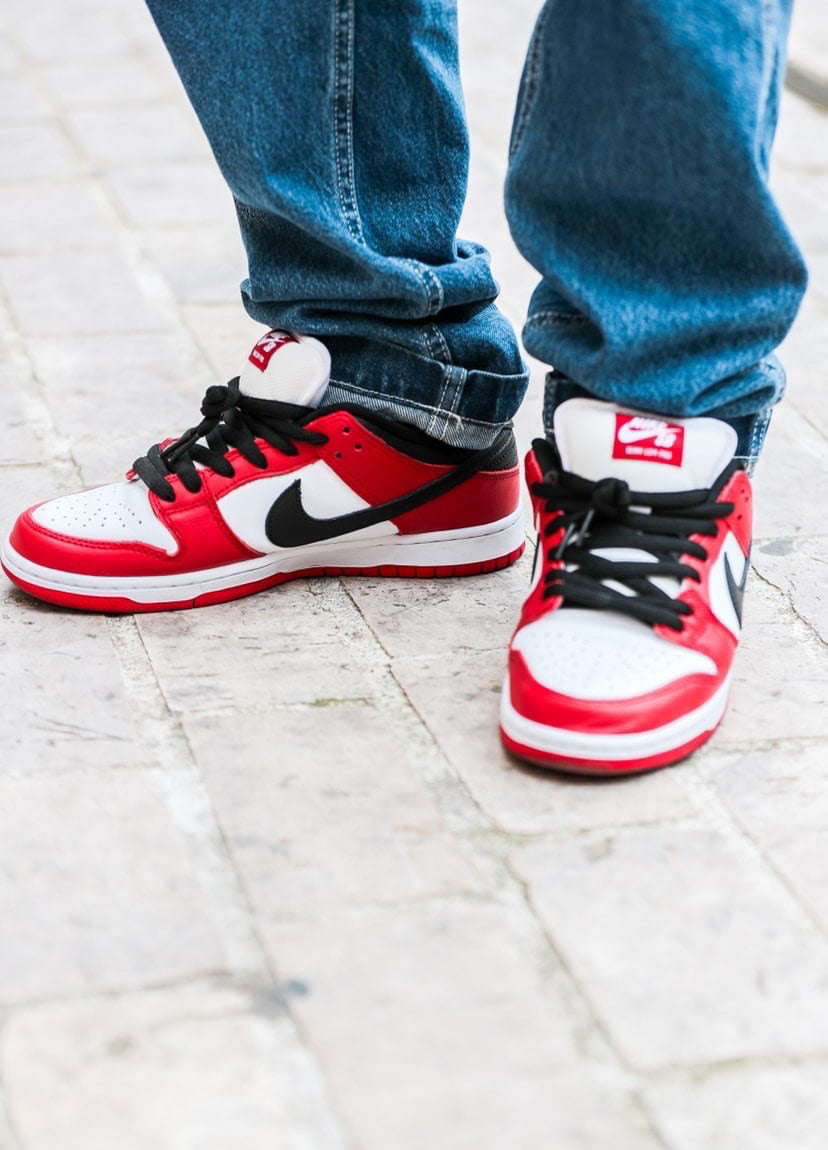 I come from the African community. I like basketball and its big names like Michael Jordan, and anyone who talks about him refers of course to the Chicago Bulls as well. So here is the last choice for my top 5: the Dunk SB "Chicago". First of all, it should be noted that this legendary colour has been used on several different models. This explains its popularity, highlighted by a bright red that does not go unnoticed. There's a lot to say about this pair, but I prefer to just let history do the talking.
Thank you for reading!